Hi there! I read an interview with Eric where he said he likes posting user stories on Zwift Insider – so here I am writing my Festiveresting story hoping someone likes the read!
First, some words on me: I'm 37 years old, a husband, a father of three, and a sports addict. In that order I would say, and I hope others say that too. Basically, I define myself as a runner. I did two triathlons before the pandemic, but got stuck on Zwift in 2019. As with everything fun I spend way too much time with it and have reached level 39, so I've put some miles on the roads of Watopia. The only thing I had left to do with all the badges and challenges was the Masochist badge and the Everesting. Early November I injured my foot, which kept me off running the roads – so here we are!
Preparation
Well, the main preparation was getting the "go" from the family! Maybe it went something like this:
Me: Hey, I got an idea!
My wife: 🙄 .. what is it?
Me: I'd like to do the everesting challenge!
Son: Dad, what is everesting?
Me: That's riding the height of Mount Everest in one activity. About 9km up.
Son: Cooool!
Wife: 🙄🙄🙄
Maybe it went a bit different, but the topic was on the table sometime in November. To put some social pressure on myself I shouted it out on social media. My sports bubble likes to use #allebekloppt for crazy sports activities (which means something like "all nuts"). To give it a special touch I called the challenge not a #vEveresting but #TripleZugspitzing. The Zugspitze (Germany's highest mountain) is almost exactly 1/3 of Mt. Everest, so instead of climbing 8848m my goal was set to 8886m. Almost the same, but some special labeling is always nice, isn't it? I planned it loosely for my Christmas holiday, as this is when I could spend a night riding without using much of the time needed for family life or work.
I used November/December to ride a lot more than before due to my foot. Holiday time came and the first idea I had was: why not ride the everesting within the Festive 500 challenge? But pandemic or not, the time between Christmas and New Year's is family time where it is difficult enough to get the hours to ride the 500km. With Coco pacing the pack it was quite easy though. I am used to hopping on the bike at 5AM to get some miles in before work (usually running, but biking works just as well), so I did 60-100k easily in the morning hours. With my kids having to knock off some roads as well I also had an hour or so in some of the afternoons, so I was done with the Festive 500 on December 28, giving me the rest of the year to knock off 6000km for 2021 (and 1250+ in December alone). Which is way, way more than I ever put in pedals in my life!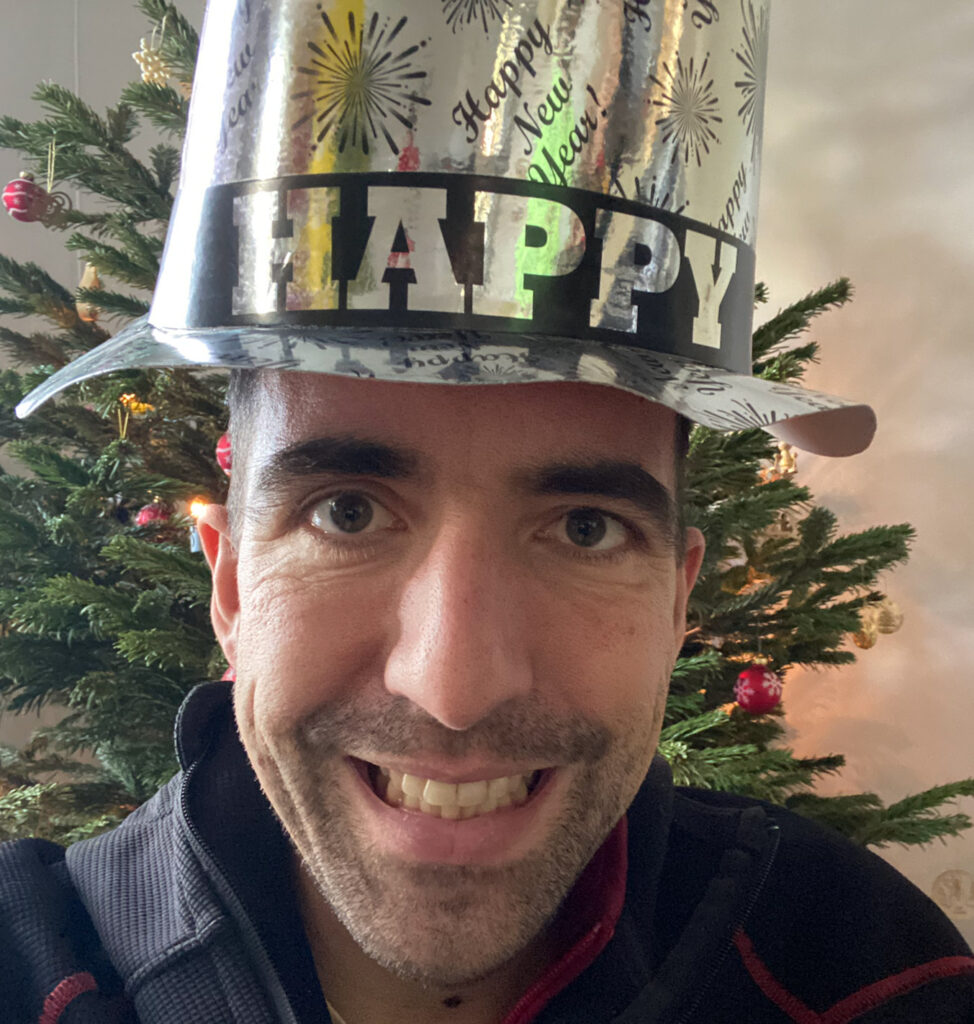 So on New Year's Day I carefully put the everesting back on the table again by asking, "Well what's our plan for the first week of the year? Is there time to sit a night on the bike?" "You really want to do that? So why not start now?" was the answer, and thus I was sitting on the bike at about 4PM on January 1st!
To get back on the topic: preparation was more or less not done. I didn't train climbing, instead with doing the Festive 500 the week before I rode more km in a week than I ever have. Completely flat. I didn't sleep that much the night before (given it was January 1st the reason should be obvious). What I actually did: I prepared a drink, placed some Clif Bars nearby, put on my clothes (literally nothing more than bike shorts and shoes) and off I went! What could possibly go wrong?
Everesting
I chose Alpe du Zwift as the hill to for my challenge (as nearly everybody does I guess). I used the 10 minutes or so riding through the jungle to write down the milestones in my notes app: as oxygen was still available in my brain I could do the altitude maths for each rep without the need of a calculator.
So this was the plan I had when I started the ride:
Road: Alpe du Zwift (each climb: 1036m)
Duration per Climb: Not sure. Goal about 1h 15min (+ downhill: about 10 min), say 1h30min in total per repetition
Total time: 8.5 times that trip -> say it will be 12h 30mins without breaks
Starting at 4PM that would be a finishing time of 4:30AM. Which was quite good, as everybody should be asleep then, giving me some buffer to be slower or take a short rest in between.
That was all I planned. I had a glass of isotonic drink and a bag of Clif Bars. While riding to the foot of the hill I put on my heart rate sensor (I usually just wear it in races) to have some control over my condition. Everything I missed by now I would have to get while coasting downhill. So up I went.
Climbing the Alpe
Riding at 2.8 watts/kg meant a bit less than 200W. I took the easiest gear I had, which left me with a cadence of just 60 rpm, but lead exactly to the watts I wanted. After the first few bends of the climb my heart rate settled in at 120bpm, which was just perfect for a long trip.
About 20 minutes into the first climb I recognized I was still riding the Tron bike. It might just be margins, but on a challenge like this every single bit might count, so I decided to switch the bike. First I checked which one to use here on Zwift Insider (don't know when I last visited the Drop Shop and I had some drops to spend), looked five times through the garage until I found the bike I wanted (the first sign of decreased oxygen?) and on with the Lightweight Meilensteins to continue my climb.
From here, everything went totally smooth. I chatted with some other riders attempting the everesting, watched the family riding their roads, and was at the top after 74 minutes. I passed the banner, turned around, hopped off the bike, and filled up my drinks. I also drank a glass or two of water/water-juice-mix right then. I took the bag of isotonic down to the bike to be able to fill it up there later at night and also took two bottles of Mate (a caffeinated soft drink if you don't know what it is) with me as well.
After being down: up it goes again! That's the rule! Off I went again, and from the beginning I was totally in. I found my cadence, produced the watts, and my heart rate was perfectly in the low 120s. The nutrition plan that came to my mind seemed to be fine: Having .5l of isotonic Drink + 1 Cliff Bar + x (another energy bar or whatever) per climb – that should fit my needs. This time I drank one bottle of Mate as well (another .5l + some calories) and I felt totally fine with it. 70mins and up I was again feeling perfectly good.
That really pushed me. Feeling good with my routine, I kept it! I drank a glass or two again, ate some pasta with the kids, and took two towels down to the bike this time. I always wanted to be back on the bike when the downhill was done. I did not want to pause for a long time in between, as I know I have trouble when getting back on the bike after a break. I also didn't sit down (except when I had to take a toilet break) but instead stood or walked around.
Same procedure every round: hop on, get the rhythm and climb the Alpe! It went as before: 200/60/125 were the numbers to go for and I went for them. Another climb and another 70min later I was up again. And the repetition started over. As the kids would be on their way to bed while I climbed for the 4th time I wished a good night to them. I took nothing down with me that time (did I finally have everything with me now?) and went up for trip number 4.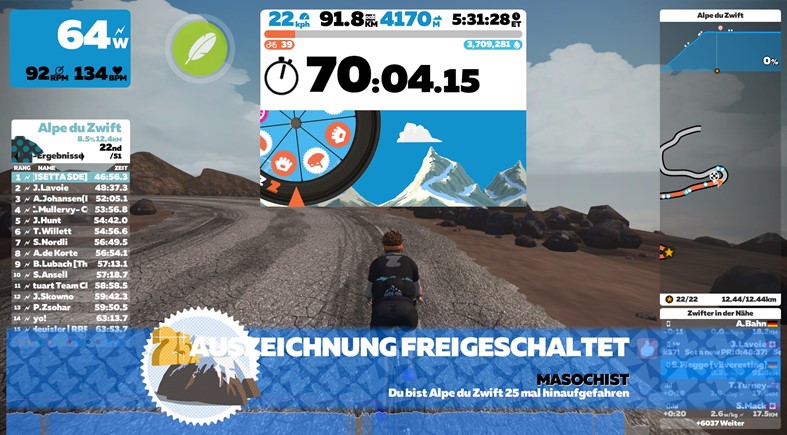 I know it's probably a bit boring to read, but this story has no cliffhangers. I found my rhythm, took the masochist badge after climb 4, and kept going. Round after round, just hopping off the bike while rolling down. Always matching the numbers, being mentally totally clear and knocking off climb after climb in about 70mins (+/- 20 seconds or so). The legs worked like a machine, doing their job.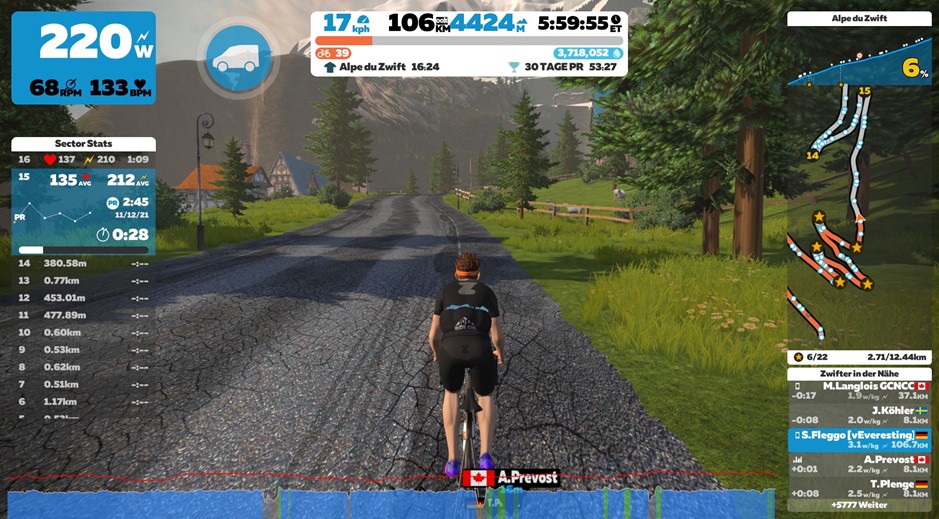 It was a series of great trips up the Alpe, and everything worked way easier than expected. The last time I tried vEveresting I dropped at 5,500m, but this time it went fine from the first to the last meter. I vEverested. I TripleZugspitzed.
I know this story missed the mental breakdown with the happy ending, but for me, it was way preferable that way!
I should write down something for you that might help. Here it is: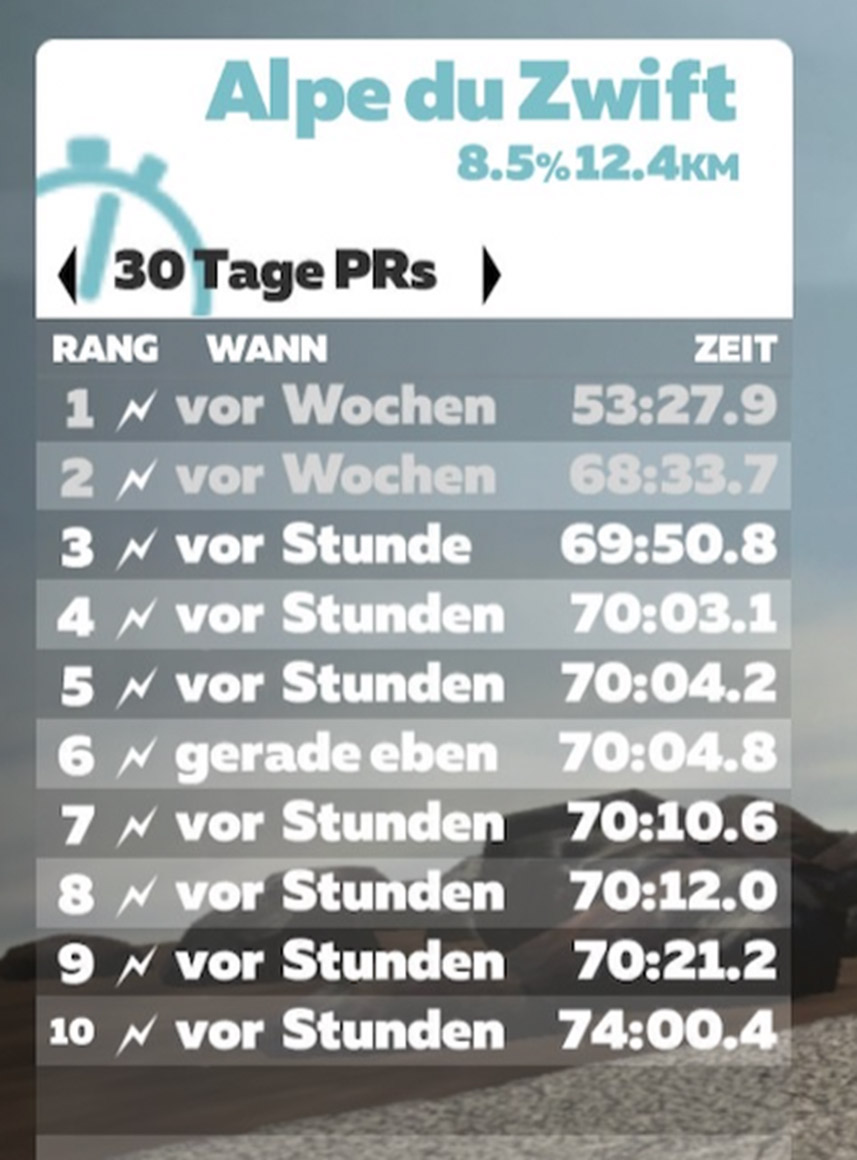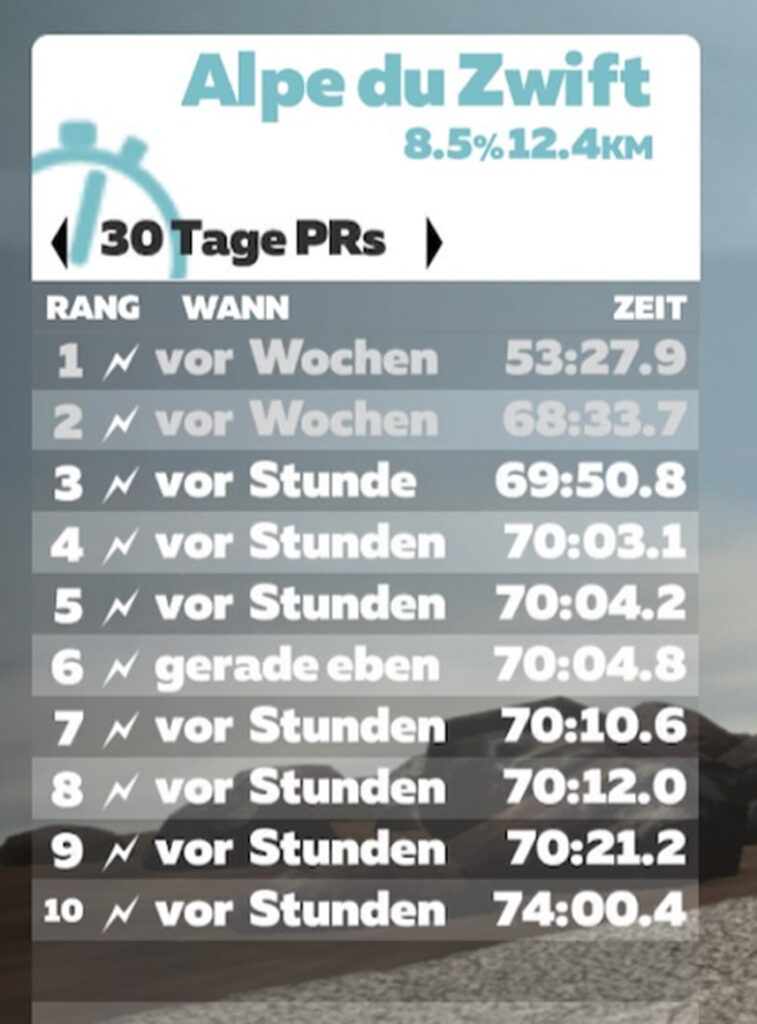 Get your nutrition! For me it was a key to get 0.5 liters while climbing + 1 Bar + x and 0.5-1 liters between the climbs. In addition 0.5 liters of caffeinated drink every second climb (with calories as well!)
Get your entertainment! First I had the family with me, then I had streaming (first dopesick – watch it! Then Ted Lasso for the good moods. Then some music and podcasts afterwards.) It was never boring at any time.
The Day After
The next day (Jan 2) was of course a relaxed one. The craziest thing was that I felt really good. No physical problems, no mental problems. So I made preparations for the next trip!
The Zwift Fondo Series was running, so I logged in to the last Bambino Fondo event at 6PM. No, I did not ride that. But I stood in the starting grid until 5AM Jan 3rd to ride it on my own. #allebekloppt, you know?
RIDE ON!
For the German speaking audience that made it down here: I also write a blog at www.likethewindt.de mainly about my running, but also cycling if it is notable. You'll find this text there as well (a bit different as I wrote both as it came to my mind and did not translate it). So feel free to hop over to have a look.