We're still in the very early days of indoor bike racing, so any time a new pro team is created it's worth looking into who created the team, why they did it, what the team is trying to accomplish, and how they're doing it.
Early this year Canyon announced their pro ZCC indoor team, and other pro teams are in the works as the cycling world begins to see indoor riding as its own worthy discipline. While these teams are taking some cues from outdoor cycling teams, they are also blazing new trails in terms of anti-doping, live streaming, and other ideas specific to indoor racing.
The new Evoq.bike pro Zwift racing team was unveiled just a few days ago, and it features some of our community's top racers. We caught up team co-founder Patrick Mahoney to learn more about the squad and their goals for the future. Enjoy!
---
Tell me about the genesis of the team. Who brought it together, when, why?
[PM] I've known Ian Jackson, one of the co-founders of the team, for a long time. Both of us are long-time cycling obsessives, and we've always talked about doing something together. When I moved to Nashville and met our other co-founders Brandan Housler and Patrick Walle, we were able to start moving things forward. But when we decided to debut the team with a Zwift squad, things really accelerated.
I've been working in esports for the last 5 years and have watched how games like Overwatch and League of Legends have impacted traditional sports. It's been disruptive for sure. And I think cycling is also primed for some disrupting. I'll be thrilled if our team can play a small part in this.
Would you say your team has a particular specialty (TTT, climbing races, flatter, races, etc)? Or are you trying to be competitive all around?
[PM] We are definitely a team of sprinters and puncheurs. We expect Adam Zimmerman, Neil Ostenfeld and Brian Hodges to be competitive in the sprints. And then Jake Simons, Patrick Walle, and Sean Pantellere will try and animate every race while being contenders in the "classics" type races.
Can you share some of the team's goals for this first season? Are you targeting any particular events?
[PM] We've just had our in-game kit approved by Zwift, so we are waiting for that to be pushed live and then we hope to be invited to all the invite-only races. We will make the 2020 US National Championship a priority – as you know Adam was National Champ in 2018. And of course (as I'm sure everyone is), we are very excited about the World Championships.
Who are the team's sponsors? And related to that: what makes this a "pro" team? Are the riders being paid, receiving free product…?
[PM] Our primary team sponsors are EVOQ.BIKE which is Patrick and Brendan's coaching company and Enshored, which is Ian's business process outsourcing company. The team is already having a positive impact on the EVOQ coaching business. For Enshored, they currently work with a number of disruptive tech companies and will be helping us deliver a lot of the post-production work for our video content. Starlight Apparel has been doing our kits. Also, MOAB, which is a local shop in Nashville, is a huge supporter. Mark Dement runs one of the best bike shops I've ever shopped at and we are thrilled to be partners with him.
As to the second half of this question, all our riders are given Wahoo trainers, Garmin dual-sided pedals as a second power source, team kit and reimbursed for all other direct expenses. We hope to be traveling to events later in 2020 and the team will pay for that as well.
Also, we believe that Zwift is going to usher in a new age of cycling and we feel that this will unlock a need for new sources of marketing content. So, all our riders will profit-share in any agency work that we do.
One area of concern for Zwift racing is the possibility of cheating. What is your team doing to keep its reputation clean?
[PM] It starts at the top. It is clearly stated in our rider's guidance material that cheating is grounds for immediate dismissal. We have provided each rider a scale and a 10-pound weight for weigh-in videos. As I mentioned earlier, the entire team is using Wahoo KICKR trainers and Garmin Vector dual side pedals for dual recording. We are working on a public online database that will fully disclose all of our rider's metrics in addition to what can be found on zwiftpower.com, and hope to launch this by late winter. We also look forward to participating in any future sport-wide initiatives and governing bodies as they form.
Anyone who has been around cycling for a while knows what's happened. We feel we have a clean slate here and we hope we all figure out a way to make things better than they have been in the past.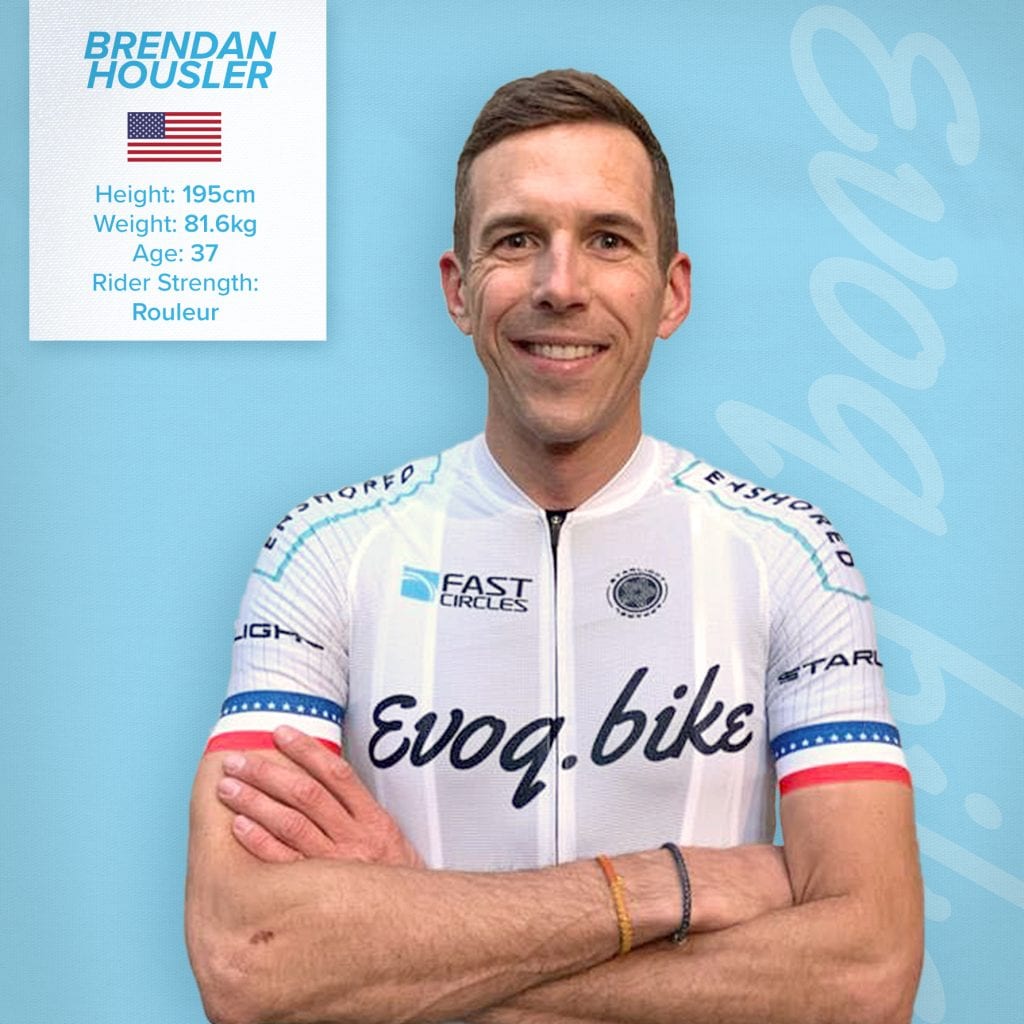 What else does the future hold for the Evoq.bike squad?
[EVOQ] We will be announcing our 2020 gravel/road roster in January. This team will be led by Brendan Housler. We will be doing USAC races but will also focus on gravel and gran fondos. Going back to the theme of disruption, we see the rising popularity of mass start racing to be another very positive development in cycling.