It's been a while since I last raced Crit City, so when I stumbled across an extra-long event on Downtown Dolphin I decided I'd give it a go. This would be a new experience, though: a 20-lap race instead of the 8-lappers I've been doing. How would extending the race 2.5x change my Crit City experience? There was only one way to find out!
In the end, even though I found yet another way to lose a race, I was happy with my performance. But I'm getting ahead of myself…
The Warmup
The race was at 11:10am, which is much later than my typical morning race. No bother, though: I had a small breakfast, worked for a bit, then kitted up around 10:30. Of course, I also chewed a piece of caffeine gum and put some PR lotion on the legs. I'm a creature of habit, and these two rituals, combined with a decent warmup, work well for me!
Usually, I put in around 10 miles on Zwift as a warmup. But today my PC and/or Zwift were moving a bit slow. It took several minutes to boot up, so during that time I kept spinning, getting warmed up. Then I decided to reboot the whole machine, to make sure everything was running well. In the end I got in my typical warmup, but only the last few miles were logged on Zwift!
Testing a Fit
Yesterday my local bike shop owner (and a good friend/riding buddy of mine) came out to the Zwift Insider Lab to help me dial in my bike fit a bit. It had been years since I've had any real "official" fit done, and I've tried various seats and bikes since then. On top of that, I'm still trying to find a saddle (and/or saddle position) that doesn't occasionally lead to numb nethers. So it was time.
He made some substantial changes, mostly regarding saddle position (a bit higher, and a bit more forward). So I was curious how I would feel on my first "real" ride. More on this later…
The Start
We had 39 riders in the start pen, and a large number were part of the "FUSION DEV" team, sporting Wahoo kits. "This could get interesting," I told myself. Typically teams in B cat aren't terribly organized, but with so many Fusion members in the race there was bound to be some teamwork happening. When would it happen, and what would it look like?

The start wasn't too bad: 330 watts average for the first 2 minutes. Before long, we settled into a rhythm: bump up the wattage a bit on the false flats, ease up on the slight downhills, go hard up the bricks to the prime banner, then regroup, fly through the downhills twisties, and keep chugging along through the lap banner. Repeat.
The pace was high, but not crazy. I didn't sense that we had any sandbaggers pushing the front of the race, but it was still fast enough that no solo riders could get away. I knew I certainly couldn't, especially with lots of laps left to go! So I sat in, conserved, and waited for the opportunity to make a move.
The Middle
The 8th lap would prove to be the most decisive of the race.
We were chugging along, slowly shedding riders here and there. The original group of 39 was down to about 20. I was near the back of the front group as we hit the bricks for the prime section once again. I shifted and stood up to hammer out another ~425 watt, 20-second effort over the bricks to the prime banner.
And that's when I saw it: a whole mass of blue Fusion (Wahoo) kits at the front of our group. Then as if on cue, they all stood and sprinted up the second half of the bricks, immediately opening a gap! I was too tired and too far back to respond, but I tried anyway, going hard into the gap for perhaps 30 seconds before giving up.
And that was it. 11 Fusion riders were up the road and increasing their gap, and my chase group of 7 or so was fading fast. I'd been caught sleeping. We all had! Not a single non-Fusion rider made it into that break. Race done. Win: Fusion.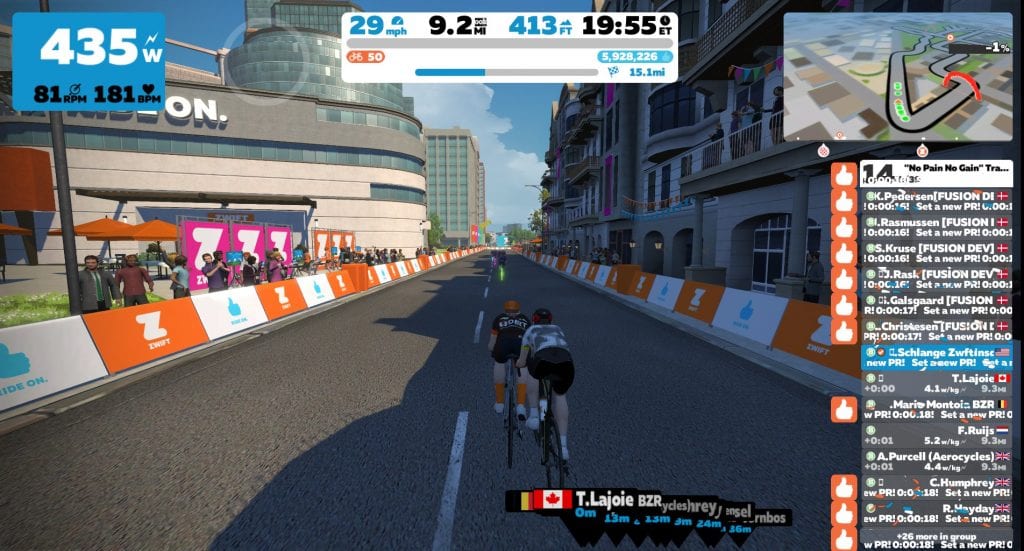 I chatted a bit with Kim Gydemand of Fusion after the race, asking him how the team planned and executed their attack. Here's what he said:
We didn't really have a plan coming in to this race, but because our main sprinter couldn't make we all knew that we had to try something before the sprint. During the first few laps we began talking on Discord about giving it a go on the hill and afterwards pushing hard on the bumps. Really just to loose a few riders.

It was our luck that rest of the blob was sleeping heavily and we succeeded in getting away with a rather large group consisting of only Fusion riders.
We had 12 laps to go, and I was happy to see that our small group wasn't just throwing in the towel and taking it easy. We kept on pushing, even as we saw the Fusion group's lead extend to 20 seconds, then 30. Two Fusion riders were in our small group, and Kim would later tell me "We also got intel on Discord from the chasing group because we had a rider placed among those chasing us." Smart!
The Finish
There were a few attempted attacks from our small group in the last several laps, but the effort was clearly wearing on each rider and nobody was strong enough to stay away. I started feeling little twinges in my calves with a few laps to go: the first sign that I'd be cramping up. Was it my slightly tweaked position, or the tough effort? Probably a bit of both.
One of the Fusion riders with us put in a hard attack well before the bricks began on the last lap, and I thought he might actually stay away. But we caught him at the Prime banner, then it was a hard race to the finish.
(It's worth mentioning that this race series, the "No Pain No Gain Transparency Racing Series", doesn't allow powerups. This was my first Crit City race without powerups, and I have to say, I prefer it with them! The randomness makes it more interesting. But regardless: there would be no aero helmet to help me in my final sprint today.)
I went hard from just before the hairpin turn, giving it whatever beans I had left and hoping I wouldn't cramp up. Somehow I was able to outsprint the rest of the guys in my group, so I came in 12th, with places 1-11 going to Fusion Development.
See my ride on Strava >
See race results on ZwiftPower >
Fusion's Finish
I asked Kim what the finish looked like for the Fusion breakaway. He said:
We talked about how race should end in the last few laps, and we decided it would be every man for himself with two laps to go. There was a small attack on the hill on the last lap but it all ended in a sprint…
Here's a video of the finish from Kasper, one of Kim's teammates who was also in the front group:

A Look at the Numbers
Curious how this race's numbers compared to my previous shorter race on Downtown Dolphin, I dove into the stats. (Note: A lot can change depending on the size/depth of the race field, but I think these two races make a good comparison case since my previous Downtown Dolphin race had a very similar number of riders as we had in this race, before Fusion broke away.)
Looking at the two races, the first 8 laps of this long race were quite similar to my previous 8-lap race. Just a little less speed and effort this time around, which isn't surprising.
Things really changed, though, once Fusion split off. Our small group didn't have the power to keep the speed up, so overall speed slowed, as did the wattage required to sit in with that slower-moving group.
8 Lap Race
20 Lap Race
(First 8 Laps)
20 Lap Race
(Full Race)
20-Minute Power


307
305
305
AVG Power
309
306
287
Max HR
187
184
184
AVG HR
177
171
173
Speed (mph)
28.5
28.3
27.4
AVG Lap
2:13.125
2:13.625
2:17.85
Long vs Short
Was the 20-lap race more fun than the 8-lappers I've been doing? For me, no. I generally like longer races over shorter ones – apart from the recent Crit City shorties, most of my Zwift races are in the 50-75 minute range. But with the course being such a short lap (1.2 miles) it gets a little boring, in my opinion. I'd rather my longer races be on longer routes.
Takeaways
Three key takeaways for me from this race:
Teamwork can really work. You may recall me mentioning after my second-ever Crit City race that I thought it would be fun and effective to work with several teammates to orchestrate a breakaway attempt on this course. This is the first time I've ever seen a team breakaway attempt happen on Crit City, and it worked really, really well. I think we'll see more of this from teams in the future.

Some commonly-seen outdoor racing teamwork is difficult (or impossible) to pull off in Zwift. But Fusion showed a kind of teamwork in this race that would be more difficult to do outdoors since positioning is more difficult there. (It's fairly easy to amass your riders near the front then go at the same time on Zwift. Outdoors? Not so much!)
I've got to be a more heads-up racer, especially when there are several members of the same team in the race. That was just a dumb mistake on my part.
The bike fit helped a bit. My power curve in Strava shows me hitting some 4-month PBs in the 22 to 56-minute range. So I'm happy with that! And the nethers weren't numb, at least this time.
Also, let me say: it was refreshing to look at the race results and see there wasn't a single sandbagger in the mix. That's how it should be. And, I think, that's how it will be, eventually.
What About You?
Have you seen teamwork on this level in Zwift races? Was it your own team, or someone else? What about longer vs shorter races on Crit City – what's your opinion? Comment below!