It's been nearly a month since we last updated you on Boone's "C to B" training project. In that previous post, Boone had hit the goal of C to B project, completing an FTP test that put him at 3.22w/kg. And we were asking the question: what next?
While we contemplated what our next goal should be, Boone kept riding, working hard at a mix of VO2 workouts, races, and steady 60-90 minute rides where he grabbed route badges while building endurance.
Here's an update on Boone's recent training…
New Goal
Our new goal for Boone is to see him upgraded to a B racer in ZwiftPower. In order to do that, he has to have three races where 95% of his 20-minute power averages out to 3.2w/kg+.
He's currently ranked as a C in ZwiftPower, and his three best races show 2.91, 2.88, and 2.79 for 95% of 20-minute power. So he's got some work to do, since he needs to add 0.3w/kg to his numbers in order to get that upgrade!
He's also set a secondary goal of climbing Alpe du Zwift in 70 minutes. He's climbed the mountain twice – 81 minutes the first time, 76 minutes the second time. Based on his current power numbers, though, we think he's probably already able to do it in 70 if he paces it well.
Boone has been riding 4 days a week (M-W-F and typically a race on Sundays). We've settled on a mix of five different types of rides.
Races: Boone has started doing mixed-category races so he is pushed to hang with the higher-category riders (more on that below).
VO2 Workouts: this is the cornerstone workout of each week. Nobody likes VO2 work, but we both agree Boone is getting a lot of benefit from these.
Pace Partner Efforts: we use the Pace Partners (C. Cadence or Bowie Brevet) to anchor fun, interactive steady or interval workouts. Lots of options here.
FTP Ramp Tests: we do ramp tests occasionally to measure progress via an objective test.
Badge Hunting/Recovery Rides: some days, Boone will just need a lower-intensity effort in the saddle. So he'll ride around 90 minutes at a sustainable pace, building endurance without burning out the legs.
Weight Loss Plateau
If you've followed Boone's training progress, you'll know he lost an astounding 50 pounds in his first few months of training, dropping from ~265 pounds to ~215. But since then, his weight has held quite steady.
This isn't surprising – anyone who has lost significant weight will tell you that your body hits a point where the "easy weight" has come off, and the lifestyle changes that got you to this point aren't enough to take you further. Boone is still determined to get down below 200#, but he's still working to figure out how to make that happen.
One thing's for sure, though: he's enjoying the lighter weight. We played volleyball for the first time this year a few days ago, and he's jumping higher, moving faster, and recovering quickly – a force to be reckoned with!
VO2 Workouts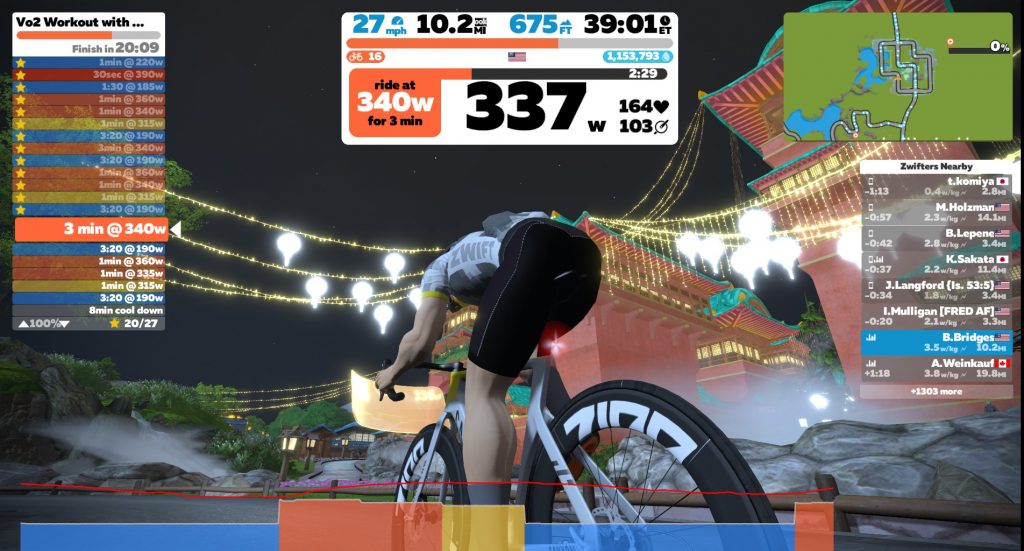 Boone's Friday afternoon VO2 workouts have been his cornerstone "max effort" weekly ride. We've tweaked them as we've gone along, but essentially it's a warmup followed by 5x 3-minute efforts at 110-115% of his FTP.
We've started mixing in some stepped intervals, so (for example) instead of 3 minutes at 340W we do 1 minute at 360W, 1 minute at 340W, 1 minute at 320W. Same average wattage over the 3 minutes, but you get the heart rate up quicker with the tough first minute, meaning your HR is in the VO2 range for more of the interval.
In the past three weeks we've ratcheted up his FTP setting from his old one (294W) to his new one (310W). Just last Friday he completed the workout at 310W – it put him right on the limit, but he did it! Even the lights and landscape of Zwift's new Makuri Islands map couldn't distract him from knocking out those final intervals.
Mixed Cat Racing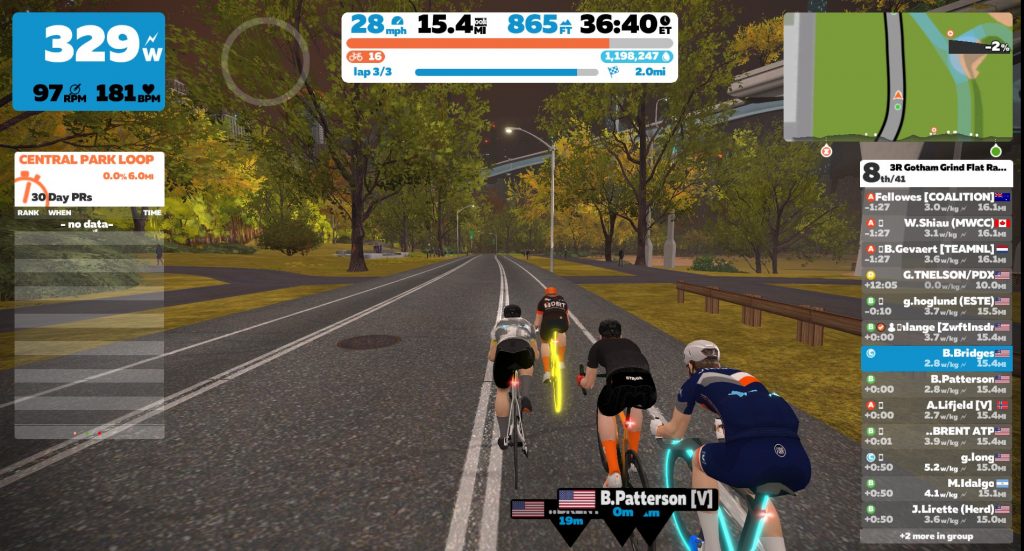 For the past two Sundays, Boone has hopped into the 3R Gotham Grind Flat Race which happens at 2:05PM Pacific Time. We've been trying these races instead of his standard Crit City efforts for two reasons:
We wanted to get some longer races in, so he has to push himself to the limit longer. These races last just over 40 minutes.
These are mixed category races, where all categories begin together. This means he can't just sit in the C peloton then sprint at the end – he has to push to the max to hang with the front group's A's and B's until he gets dropped!
These races have been a lot of fun, and the two weeks' results are remarkably similar. In both weeks Boone hung with the front pack for most of the first lap, then fell off into a small chase group of 5-8 riders which finished next behind the front group. In both weeks, all of the C's except for Boone got dropped early on, so he was in the chase group with A's and B's. And he finished well ahead of the next C.
The only downside of this race even is that it isn't well-attended, with only around 15 riders from each category showing up. It would be nice to get more C's in the mix, so Boone has more competition on ZwiftPower! But for now, it's working out well – he's received around 25 ranking points in each race, since he's beating some B and A riders each week.
This past Sunday I joined Boone in the race. I raced as a B, Boone as a C, but I was there just to work as a domestique for him, to help him get the best result possible. So I was calling out moves, chasing down attacks here and there, and dropping back to give Boone a while if he was gapped a bit.
He held his own mostly, and in reality probably would have achieved the same result without my help. But it was really fun to work as his sidekick and actually race together for the first time. We'll be doing more of this for sure.
Race 1 results on ZwiftPower / Race 2 Results on ZwiftPower
Takeaways
Boone is clearly getting stronger week by week, even if he isn't getting lighter. When it comes to races without long climbs, he's definitely a "strong C" at this point, although it'll take a significant jump in fitness to get upgraded on ZwiftPower.
He'll keep plugging away at the weekly training, then we'll probably jump into some mixed-category Crit City 8-lap races where he can hopefully set some new 20-minute PB's to get him upgraded to B status. Because Zwift racers know, if you're looking to cat up, Crit City is the place to do it!
Your Thoughts
Got ideas for Boone, or questions about his training? Comment below!