After a very successful "Couch to Cat C" project, Boone is now well into his "C to B" training block, where the goal is to see him hit 3.2 w/kg in his ramp FTP test and thus qualify as a B racer.
Our first two rides this week were pretty standard events, but it's the FTP test at the end that really makes things interesting. Read on to see how it all unfolded…
The Plan
As a reminder: the basic plan we've settled on contains a mix of five different types of rides. (Many thanks to Alan Dempsey of HPP Coaching for giving us solid advice that sets Boone up for success).
Races: Boone will race the C's every week or two to check his progress, work on race craft, and of course get in a good workout.
VO2 Workouts: this will be the cornerstone workout of each week. Nobody likes VO2 work, but we both agree Boone is getting a lot of benefit from these.
Pace Partner Intervals: we'll use the Pace Partners (C. Cadence or Bowie Brevet) to anchor a fun, interactive interval workout. Warm up with the pace partner, then sprint off the front for 15s. Or drop off the back, and put in a measured 2-minute effort to get back on. Lots of options here.
FTP Ramp Tests: we'll do at least two ramp tests to measure FTP progress.
Recovery Rides: some days, Boone will just need an easier effort in the saddle. Since he's still a beginning cyclist, even easy efforts are far from wasted.
Ride 23: Tour of Watopia Stage 5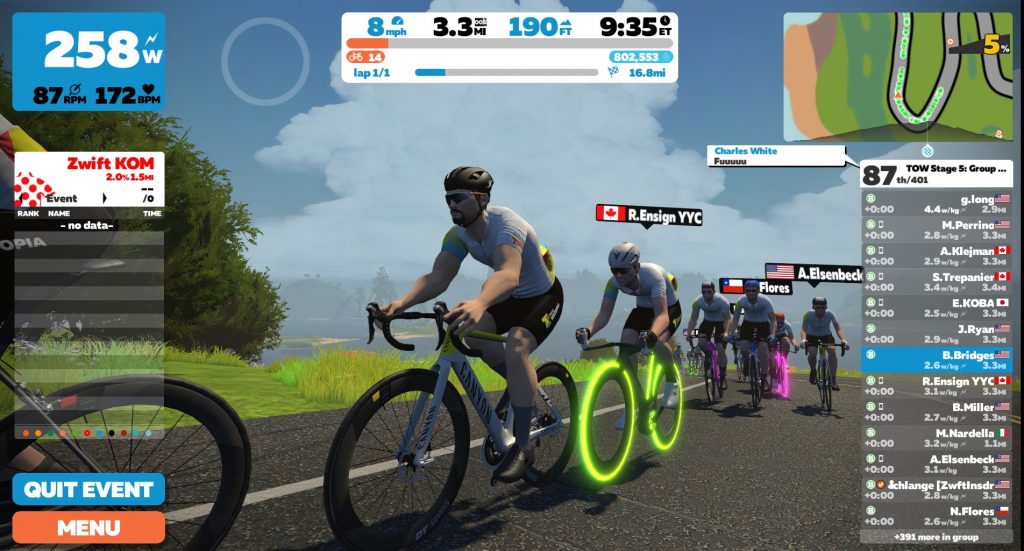 Boone hadn't taken part in a Zwift "group ride" yet, so I proposed we join a Tour of Watopia event for today's ride. Stage 5, in this case: one lap of the Mountain 8 route, the "shorter ride" for this stage. Since he's only level 14, the double XP wouldn't hurt!
I wasn't looking to push hard since I had a ZRL race the next day. So I just rode along with Boone, who put in a solid effort, setting some new power curve bests on the ride. We had a good time putting in short efforts to hold the wheels of certain riders, then working with our ever-growing group to chase down stranded riders in the final miles of the event.
This was a wonderful example of the power of the Zwift group ride experience. It camaraderie, but also a bit of competition. And in the end, everybody wins!
Ride 24: Welcome to Richmond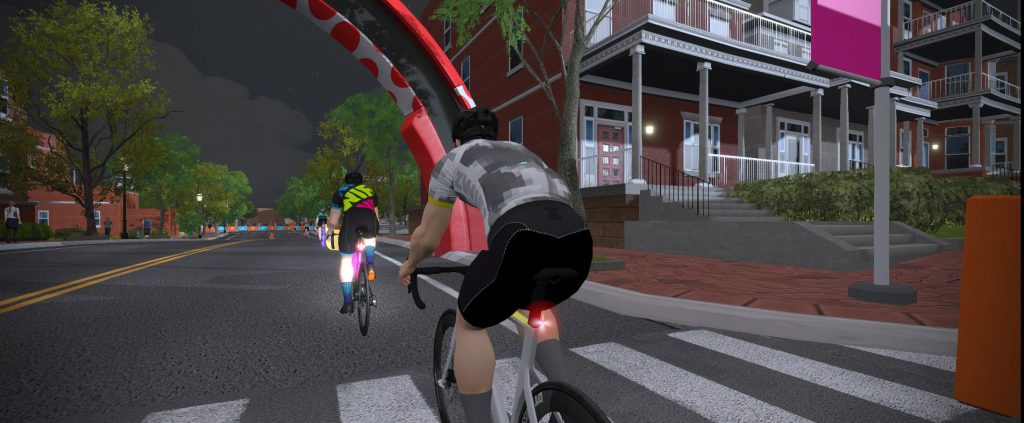 Today was a fast day for Boone ("fast" referring to not eating), so we wanted to do another steady ride. He wanted to ride some roads he hadn't yet covered in Zwift, so we jumped into a new world for him: Richmond, Virginia!
He'd been there IRL, but never on Zwift. He finished two laps as I explained to him why it's my favorite race course, even though I never win.
Ride 25: Ramp FTP Test
Boone hadn't done a ramp test in several weeks, so we decided today was the day. And I was feeling spry, so I decided I would do a ramp test along with him. Boone has repeatedly told me he pushes harder when I'm riding with him, so I figured we would both help each other by suffering together.
Here's where we stood before the test:
I've only done the ramp test once before, back when it was first released on Zwift. And I haven't tested my FTP using a standard protocol of any sort for over a year. Instead, I've just used the "95% of my best 20-minute power" estimation in order to determine my rough FTP, which was set at 310W.
Boone had last done a ramp test 6 weeks ago, with a resulting FTP of 294W.
After doing some rough math, I decided I should start the test 1 minute before Boone, in hopes that we would both be on our limit at the same time. I envisioned us each turning ourselves inside out, trying to not be the guy who stops pedaling first!
The Ramp Test starts easy (at least for bigger guys like Boone and I) at 120W, and steps up the wattage by 20W every 1 minute until you fail. You'll fail at a much higher wattage than your actual FTP – your FTP results is calculated by taking 75% of your best 1-minute power during the test.
I like to set a minimum target when taking these tests, so for me that was finishing the 420W interval. If I was able to do that, my detected FTP would be 315W – a respectable increase.
In Boone's case, he wanted to at least complete the 400W interval, which would give him a detected FTP of 300W.
We chatted in the early intervals, knowing the pain was coming soon enough. The Ramp Test is quite easy, then you start to feel it for a couple minutes, then it's just a few more minutes of pure suffering until failure. We were watching our heartrates on screen – mine was a bit below Boone's as things started getting hard, but then I caught up to him and we stayed pretty close until the end.
Boone crushed his 400W interval, and kept going well into the 420W section. His new FTP: 310W, exactly what my FTP had been set to going into this test!
As Boone stopped pedaling I had just a few more seconds left. I finished a bit more than half of the 440W segment, with a final FTP of 324W.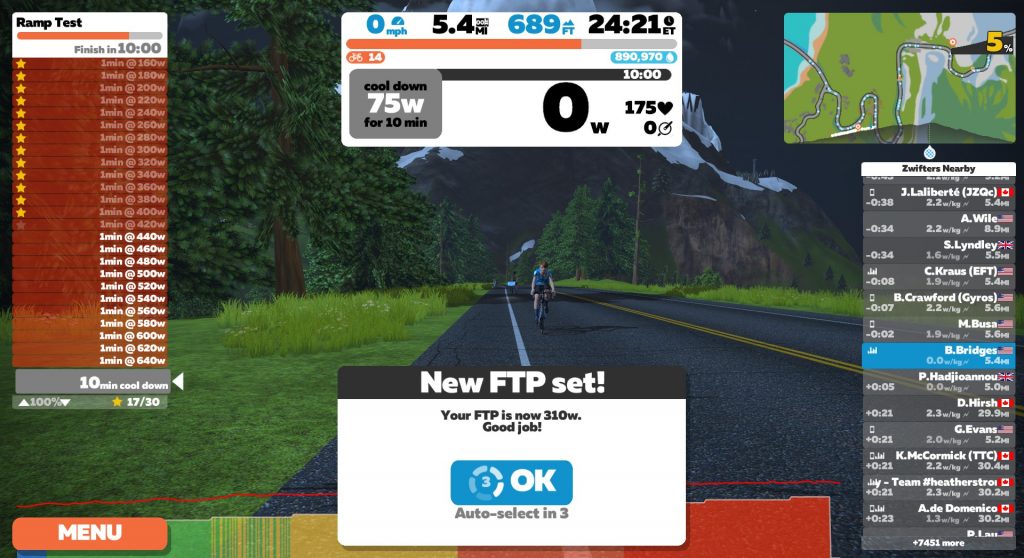 Week 7 Takeaways
If you ever need to take the ramp test, I highly recommend doing it with another rider on a voice call, and timing your tests so you're ending together. It's a super-motivating way to help you keep pushing.
Boone's Ramp Test result, along with his continued weight loss, puts him at an FTP of 3.22 w/kg. The goal of this training block was to hit 3.2 w/kg in his FTP test, so… that's another goal achieved! We were hoping to hit the goal in 6 weeks, and he finished it at the end of his 7th training week. Not bad. Not bad at all.
To B, or Not to B?
Now the question is: does Boone start racing the B's, or should he stay with the C's until ZwiftPower upgrades him?
He's never averaged over 3.1 w/kg in a race (and those are short Crit City events), so he's not even an "almost B" in ZwiftPower's eyes. ZwiftPower determines your category based on the "average of best 3 races in last 90 days (4.1 + 3.9 + 3.8 = 3.9w/kg)."
Should Zwift racers categorize themselves based on the results of FTP tests, or based on the category ZwiftPower sets for them? For riders like Boone, the correct answer isn't obvious. In Boone's case, as a rookie rider, I doubt he would be able to hold his newly-detected FTP of 3.22w/kg for more than 30 minutes.
Does he belong in the B's, where the front group in most races can hold 3.6w/kg for 45 minutes or more? Or does he belong in the C's, where you can average 3.36w/kg for 20 minutes and still be under the B-category 3.2w/kg mark based on the "95% of 20-minute power" calculation?
His new FTP says cat B (barely). His race numbers indicate cat C.
On the other hand, he's doing well in his C-cat Crit City races (although admittedly the pack sizes have been a bit small), and staying in cat C for short Crit City events may just stunt his growth. Wouldn't it be better to jump into the B's and really be pushed to the limit, with no chance of staying in the front group until the end?
Your Thoughts
Chime in below with your thoughts on Boone's cat quandary. We welcome your input!