After a very successful "Couch to Cat C" project, Boone is now well into the next training block: one we originally dubbed "C to Shining C", but have since renamed simply "C to B", as our new goal is to see him hit 3.2 w/kg in his ramp FTP test.
Here's how this week unfolded…
The Plan
As a reminder: the basic plan we've settled on for the 6 weeks contains a mix of four different types of rides. (Many thanks to Alan Dempsey of HPP Coaching for giving us solid advice that sets Boone up for success).
Races: Boone will race the C's every week or two to check his progress, work on race craft, and of course get in a good workout.
VO2 Workouts: this will be the cornerstone workout of each week. Nobody likes VO2 work, but we both agree Boone is getting a lot of benefit from these.
Pace Partner Intervals: we'll use the Pace Partners (Diesel or Cadence) to anchor a fun, interactive interval workout. Warm up with the pace partner, then sprint off the front for 15s. Or drop off the back, and put in a measured 2-minute effort to get back on. Lots of options here.
FTP Ramp Tests: we'll do at least two ramp tests to measure FTP progress.
Recovery Rides: some days, Boone will just need an easier effort in the saddle. Since he's still a beginning cyclist, even easy efforts are far from wasted.
Ride 9: Welcome to the Jungle
Today we were just looking for a steady effort after the previous day's race, and Boone felt like exploring some new roads. As I mulled over the options I realized he had never ridden the dirt of Watopia's Mayan Jungle – so that's where we went!
We both pulled mountain bikes out of our Zwift garages and headed for the ruins. After completing the lead in plus one lap of the Jungle Circuit, Boone noticed he got the route badge: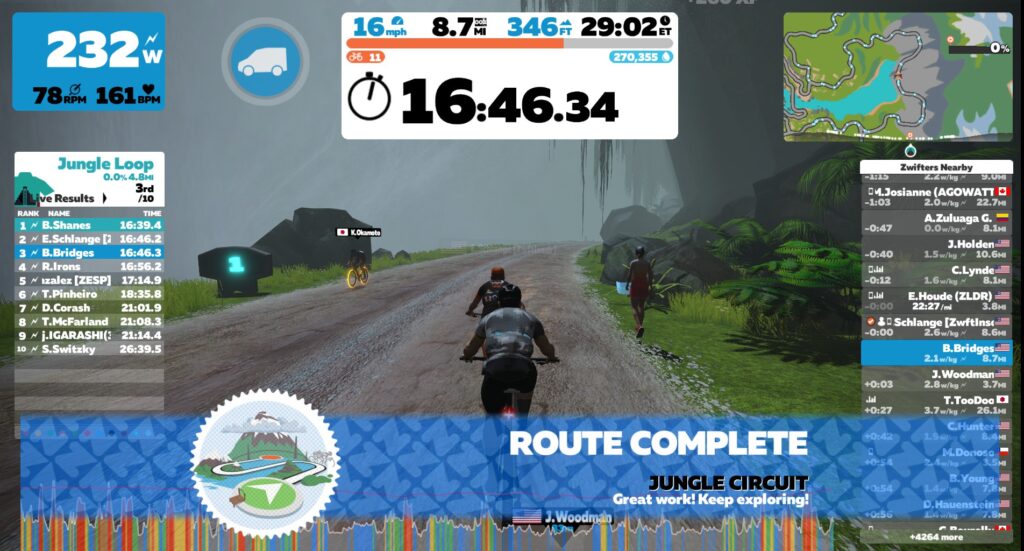 But what I noticed was the lap leaderboard – we had just done a lap only 7 seconds slower than the currently leader, and we hadn't pushed it anywhere near the limit. "You know what this means, right?" I asked Boone.
He didn't know what it meant.
Most Zwifters will know what is required in this situation, though. Obviously, we needed to hammer the next lap and grab that leader's jersey! (The Jungle leader's jersey is affectionately known among the Zwifterati as "The Horse Blanket" due to its design. It may not be the most stylish kit, but we were going to work for it anyway.)
16 minutes later I led Boone out in a short effort to the line, and he got the jersey! After averaging 290W for the lap, it's safe to say he earned it.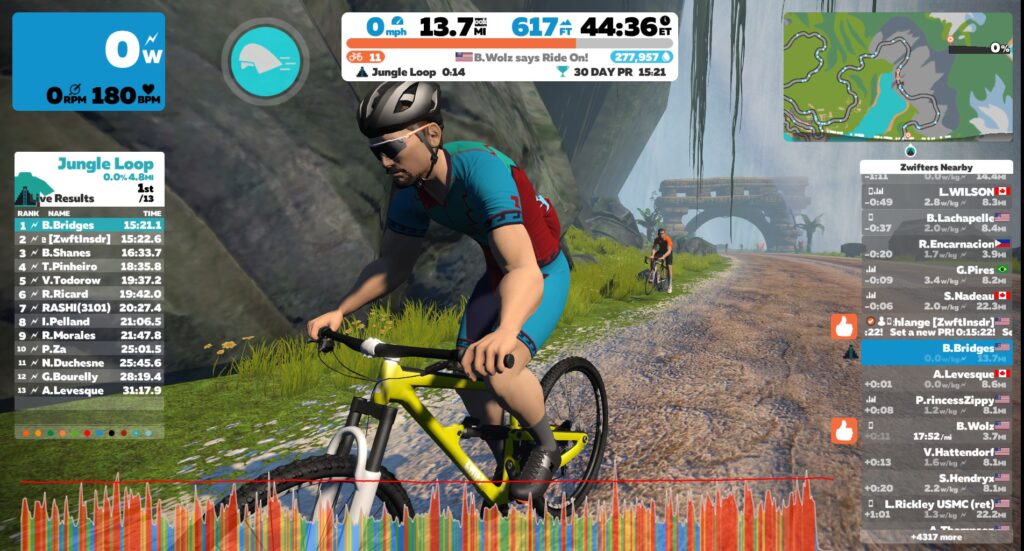 Next, we explored the new Mayan Bridge cutoff section a bit… then looped back to the Jungle start/finish. I figured we'd be done since we were at an hour, but Boone wanted to keep going! I think he just wanted to show off his horse blanket…
We rode another lap, for a total of 77 minutes – Boone's longest ride yet. A solid effort, stretching that endurance!
Ride 10: VO2 Workout in a "Keep Together" Meetup
Ah, the VO2 workout. Is there anything more suffery in the world of Zwift? I had told Boone I'd join him for a VO2 workout, and today felt as good as any for a bit of pain. So we loaded up an "enhanced" version of the VO2 workout Boone has been doing, extending the VO2 interval by 10 seconds and reducing the rest interval so it matched the VO2's length.
Download the custom VO2 workout file >
3 minutes, 20 seconds for each. 5x. Could Boone finish this "upgraded" VO2 workout? For that matter, could I?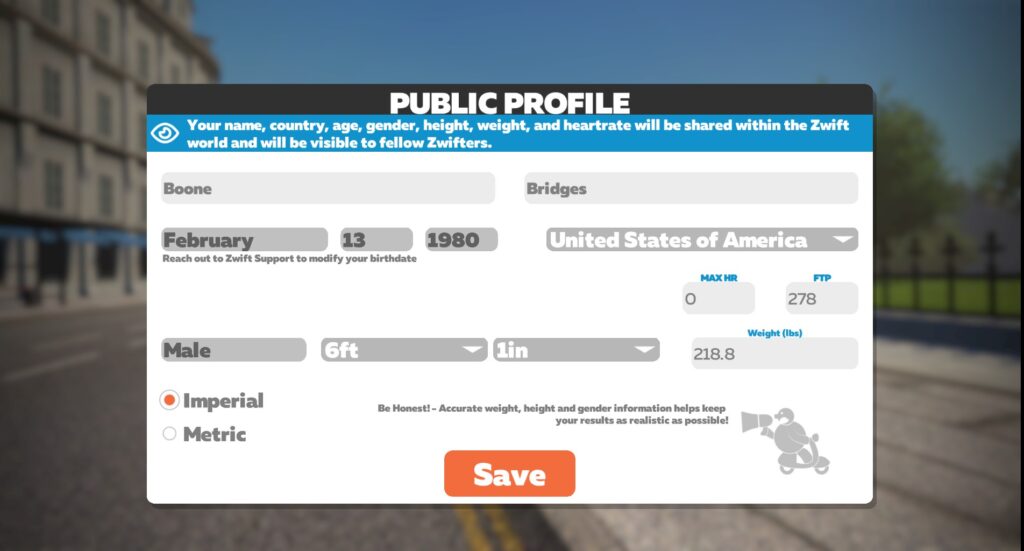 Pairing Snafu
In the warmup phase of the workout, Boone said his KICKR Bike didn't feel right. The resistance wasn't adjusting evenly, and his wattage on screen wasn't matching the target watts. What was going on?
I clicked around on our two computer screens and finally figured it out: I had paired to his KICKR Bike as my controllable trainer… and nothing was controlling my KICKR.
Talk about a confusing mess:
On my PC, Zwift was reading in the power from my KICKR, then adjusting Boone's trainer to try to hit my power targets.
On Boone's PC, Zwift was reading in the power from his KICKR Bike, then trying to adjust the bike's resistance to hit Boone's power targets.
No wonder his resistance was all over the place. Two PC's were battling for control!
The confusion happened because I was using ANT for the controllable trainers – and the KICKR Bike's ANT ID simply says WAHOO FEC XXXXX" just like my KICKR says. They just have different numbers – the KICKR Bike is a higher number than my KICKR.
After seeing lots of support messages over the years, I'm convinced that this sort of thing, causes a lot of confusion in households where people ride together.
Working Together, Virtually
We set up this ride as a "Keep Together" Meetup, and I used the ol' "workouts in a Meetup" hack so we both were following the same workout and riding together for the duration.
This could only work in a virtual environment like Zwift, of course . The workouts are based on percentage of FTP, so Boone's intervals wouldn't match mine exactly (his FTP was 278, mine 310. So his VO2 efforts were 320W, while mine were 355.) We could never do this workout outside and stay together.
But Zwift kept us together all the way round London and up and over Leith Hill. And that's why we love Zwift.
Unfortunately, the increase in VO2 length and decrease in recovery was a bit too much for Boone. A few seconds doesn't feel like a lot when you're sitting at the desk making adjustments, but when you're on the limit, it hurts! Despite having the best VO2 workout playlist in existence, we had to drop Boone's FTP bias down to 90% for the final two intervals, so he only had to do 290W.
It still pushed him to the edge, but he completed the intervals. As for me? Yeah, this workout hurt for sure. But like any experienced cyclist, I did my best to keep a straight face so Boone couldn't see me going to the dark side. That worked for the first few intervals…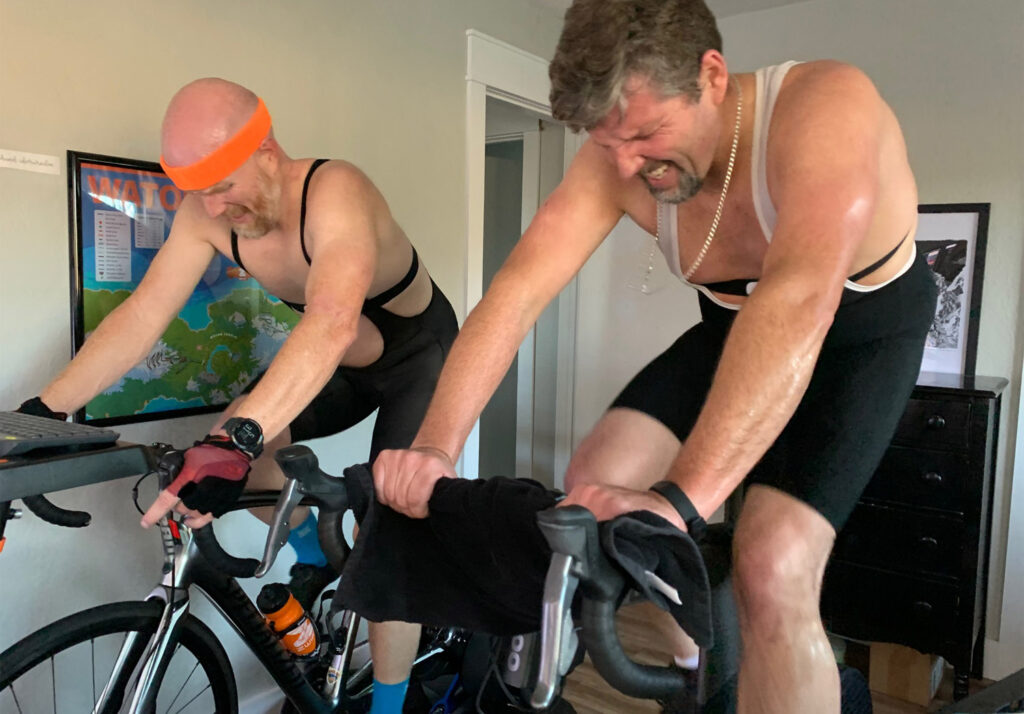 Ride 11: Ramp Test
Since we're halfway through this training block, we figured an FTP test was in order. It was a Sunday, so we invited a couple of local cycling buddies to join us on Zwift while Boone put in his effort on Fuego Flats.
Zane (who has made an appearance in past posts) joined us, as did my friend and backyard neighbor Mike. The four of us rode together, just clicking to "Join" the other riders as we entered the game. At the last minute, I fired up a Zoom meeting on iPhone, so the four of us had video and (admittedly poor) audio of each other.
After a quick warmup, Boone began the ramp test. We eased up, staying near him as he worked through the initial steps: 100W, 120W… 200W, 220W…
Things started speeding up, and eventually it went from slowing for Boone to sitting on his wheel as he hammered his way through the intervals.
Around 300W the effort in the draft became significant. But Boone kept powering on while Zane, Mike, and I sat on his wheel! I would announce as Boone began each new minute's interval: "320 watts!" "340 watts!"
He was on the rivet going into the 400W interval – but this was an interval he'd never reached in previous tests, so I knew he'd be getting an FTP upgrade today. He kept pushing to around 30 seconds into 400W before he couldn't turn the pedals any more.
294W. His last test ramp test (4 weeks earlier) said 278W, so this was a significant jump for sure.
Four weeks ago he was at 2.62w/kg. This new FTP test, plus his continued weight loss, puts him at 2.96w/kg. Up up up!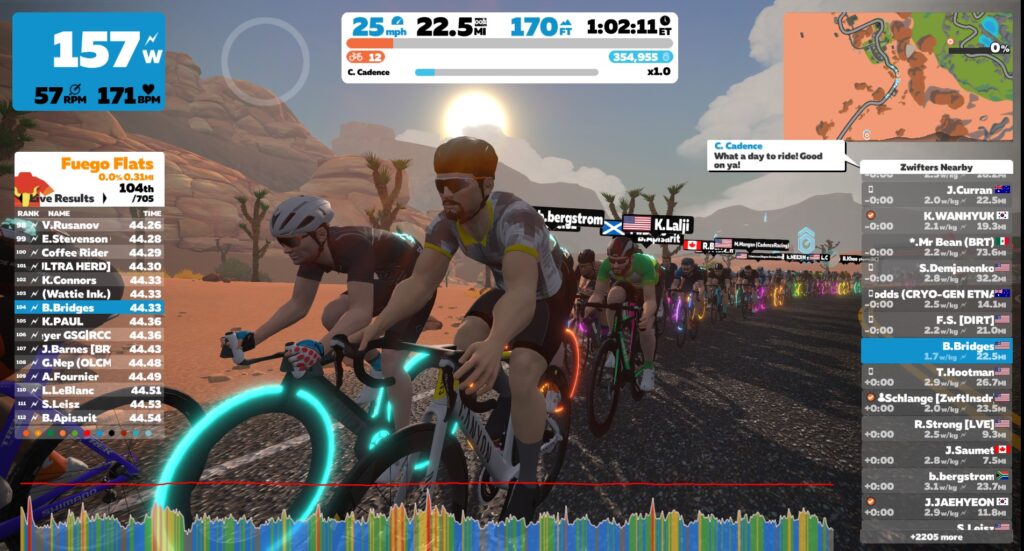 Week 3 Takeaways
Boone only got three sessions in this week since he was out of town for travel, but we made those sessions count, getting in that crucial VO2 workout. That's an important lesson to learn for anyone trying to hit fitness goals: if you need to skip a workout, don't skip the hard one.
I joined him for all three sessions, which was fun. I think perhaps riding with me is helping him to push his endurance a bit – there's something about having a stronger rider next to you who keeps pedaling that makes you think, "I can keep going, too." Of course, it also just helps pass the time. There are good reasons why cycling is such a powerfully social sport.
And he's definitely building endurance. Where 25 minutes with C. Cadence was a huge challenge several weeks back, that's a piece of cake now. In fact, we're going to try riding with Bowie Brevet next week.
Questions or Comments?
Post below!