Intro to Wireless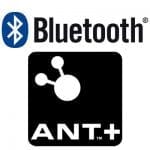 Cyclists use a variety of devices to measure their speed, heart rate, power, cadence, and more. When wireless versions of these devices first hit the market they used proprietary standards developed by each manufacturer, but today these devices typically use ANT+, Bluetooth, or both.
ANT+ has been largely popularized by Garmin, while Bluetooth is a more open protocol which has gained ground in recent years.
No ANT+ on Zwift for iOS
Zwift for iOS only communicates via Bluetooth. The desktop (PC and Mac) version of Zwift lets you connect directly to ANT+ devices using an ANT+ dongle, but if you want to connect ANT+ sensors to Zwift for iOS you will need to purchase a device which acts as a bridge between the ANT+ devices and Bluetooth.
This is where 4iii's ~$80 Viiiiva Heart Rate Monitor shines. Not only is it a heart rate monitor which can store fit file data, it can also work as an ANT+ to Bluetooth bridge.
Using the Viiiiva with Zwift for iOS:
Install the iOS app for Viiiiva on your iDevice.
Enable Bluetooth on your iDevice, open the Viiiiva app and pair your Viiiiva to your iDevice.
Wake up your ANT+ devices and pair them via the Viiiiva app. Be sure to click "Done" to save your pairing.
Turn off the Viiiiva app and start up Zwift, which will now be able to see your ANT+ sensors after it connects to your Viiiiva through Bluetooth.
Additional Notes
After pairing your ANT+ devices to Viiiiva you must turn off the Viiiiva app before Zwift can connect to your Viiiiva. This is a limitation of Bluetooth, not Zwift or the Viiiiva: Bluetooth devices may only interact with one app at a time.
Many smart trainers and power meters include cadence in their power meter ANT+ channel. If that is the case, do not pair up an additional cadence channel from the same ANT+ device or you will confuse the Viiiiva and cadence numbers will be wildly inaccurate.