Remember that moment when you felt delighted that Zwift added a new way to change your avatar to look more like your IRL self? Maybe they added a haircut that better represents yours. Or your IRL bike arrived in the Drop Shop. Maybe it was your team jersey, or your favorite helmet. Something that says to the rest of the Watopians: "This is me!"
I thought about these moments as I heard about Andy Shuttleworth's desire for a trike in game to mimic the one he rides IRL. And it made me wonder how and when Zwift will make this happen for him and other Adaptive Cyclists. My desire for my haircut in game now seems awfully trivial!
Who is Andy Shuttleworth?
Andy is a 66-year-old UK retiree who suffered a massive knee injury years ago while serving in the military. While trying to recover from surgeries and get back into fitness he found the recumbent trike was his only option for riding, and one he came to enjoy. In April 2020 Andy hooked his trike up to Zwift after hearing about it from a friend, and you might say the rest is history.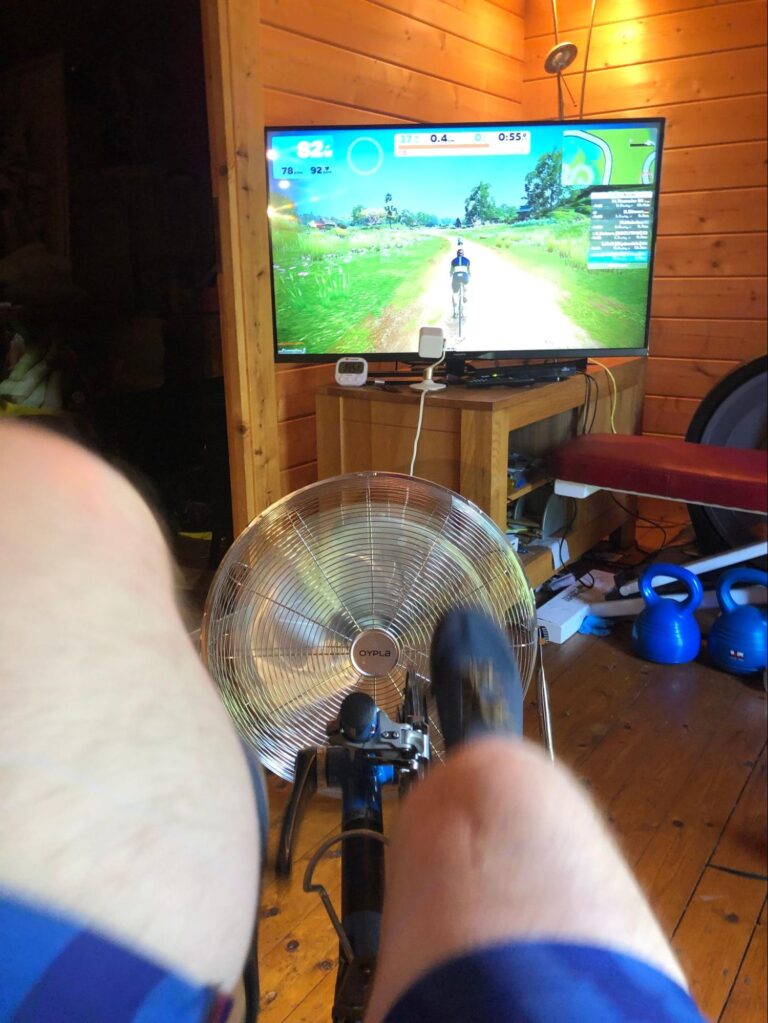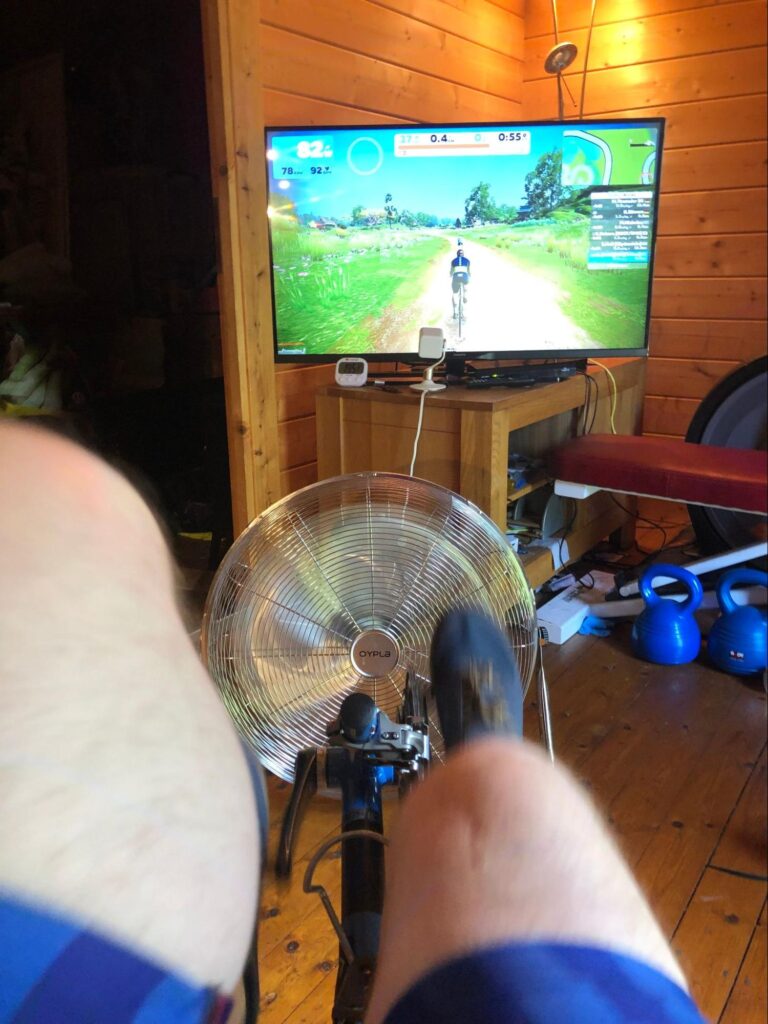 Choosing a Bike
When Andy chooses a bike from his Zwift garage his only options are upright bikes. What about all the cyclists in the world who ride recumbent trikes, upright trikes, and handcycles? They too will have to put their avatar on an upright bike. I was curious how many cyclists on Zwift are Adaptive Cyclists. Andy threw around some numbers in his recent interview with Simon Schofield on the ZwiftCast.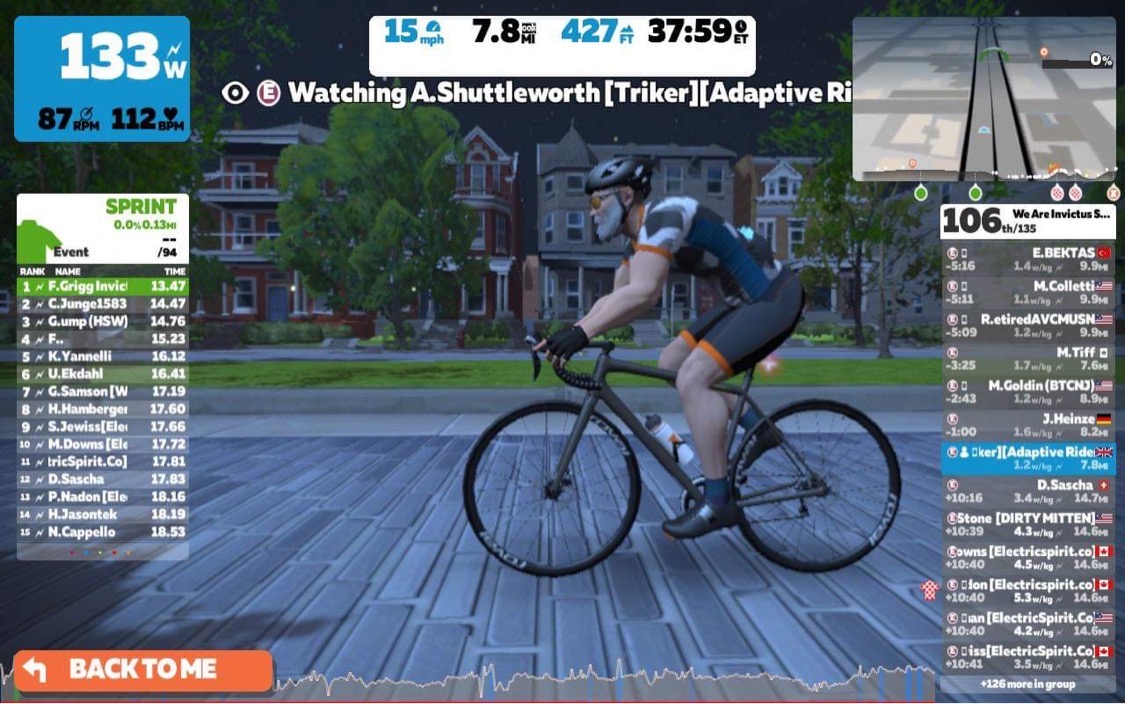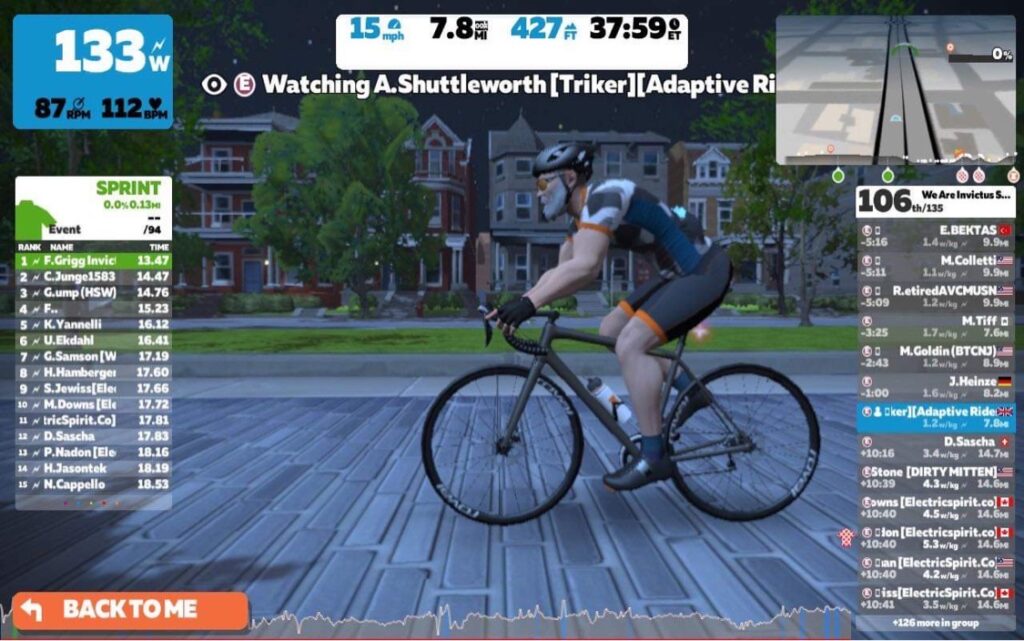 Who cares?
Why does it matter whether or not Zwift has bikes in-game for Adaptive Cyclists? I believe it's two-fold. Firstly, as far as I can see Adaptive Cyclists have put in a lot of effort to make adaptive cycling work for them and should thereby be able to show their trike or handcycle off with great pride. Secondly, the physics of adaptive bikes differ from upright bikes. Having a similar bike in game with all of its dynamics will aid in Adaptive Cyclists' fitness regime.
Zwift's Position
Obviously, Zwift doesn't currently give riders the option of using a recumbent trike, upright trike, or handcycle in game. But do they have plans to do so? We reached out to ZwiftHQ, and here's their response:
Estimates suggest around 15% of the world population lives with some form of disability. Our DEIB [Diversity, Equity, Inclusion, and Belonging] approach is to focus on impact at scale – ensuring that we prioritise those thing that will impact the most people. We recently completed a large research study looking at the needs of athletes with disabilities, particularly those already in the Zwift community. The research study focused not only on hand cyclists but all types of disability to give us a better understanding of how to best tackle this area in the most equitable way possible – for all types of disability. The Challenged Athletes Foundation (CAF) was an instrumental partner in this first phase of research, and are one of our major Social Impact partners.
The results of this study will ultimately help us form the product solution which is currently being discussed. We know that progress on this area has been slower than many would like. Andy's campaign has been certainly heard, alongside the many other voices, and Zwift is listening. There are many vocal supporters of this movement at Zwift HQ and we hope that the product solution, when ready, will help improve the accessibility and representation for many more people on Zwift.
Adaptive Advocacy Month (AAM)
We're happy Zwift has taken notice, but we think the change could happen sooner if we ALL join Andy and his friends in their 32-day campaign called Adaptive Advocacy Month (AAM). This campaign began as an effort to get Zwift to see the importance of offering alternatives to upright bikes. Why is this campaign 32 days? Well, it's for the month of March, PLUS April 1st, when Zwift often has trikes in-game for the sake of April Fools Day.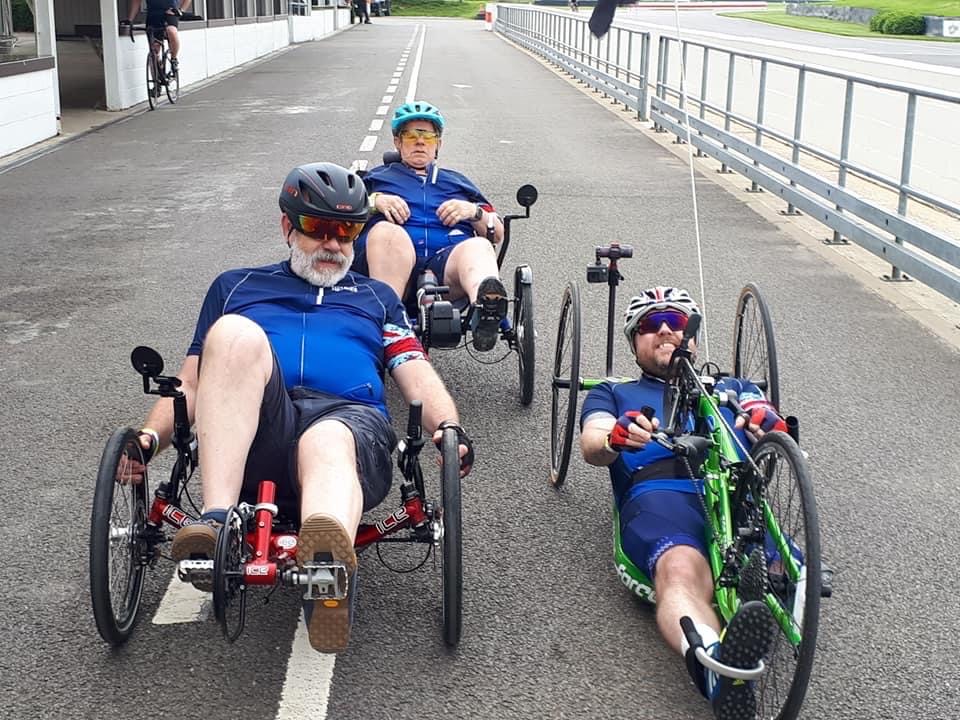 Here's how you can join in:
Change your jersey to the Zwift Camo 2 kit. As Andy says, "We've chosen this [kit] as it's available to virtually everyone [level 9 unlock]…and because the idea has sprung out of the military adaptive riding community who simply love camo. Most of all it's because all adaptive riders are camouflaged within Zwift. Gray because it emphasizes we don't stand out. No one really sees us."
Change your Zwift name to one of the following:
If you are an Adaptive Rider: Fred Bloggs[Triker][Adaptive Rider]
If you are a Supporter: Freda Bloggs[Upright][Adaptive Advocate]
Ride this way wherever you're Zwifting, through April 1st!
One of my favorite things about the name change is that we can then go in and search for anyone with "Adaptive" in their name and see all the riders and advocates!

Won't you help Andy and other Adaptive Cyclists get their bikes in game?
Questions or Comments?
Share below!