The grueling outdoor Absa Cape Epic MTB race is running from October 17-24 this year, and race organizers have partnered with Zwift for a series of daily short rides leading up to the big event.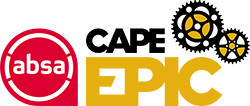 About the Race
The Absa Cape Epic is the most televised mountain bike race in the world and the only eight-day mountain bike stage race classed as hors catégorie by the UCI. Held on the rugged Western Cape of South Africa, each year's race features around 700km of distance and 16,000m climbing.
Schedule and Routes
For the 8 days leading up to the big IRL race (Oct 4-11), events are scheduled on the half hour every hour.
Each day's event is held on a different route
There are no categories – everyone rides together
All riders will be placed on a special Qhubeka-edition Buffalo bike
Each ride features a different Zwift PowerUp Podcast episode with a Qhubeka ambassador being interviewed about how the bicycle changed their life
Route Details
See event details and sign up at Zwift.com >
Are These Races?
Not officially – they are classified as group rides and won't count toward race rankings on ZwiftPower.
That said, many riders will race these events, for the fun of it. You do whatever you'd like!
Kit Unlock

Complete any of the events to unlock the Cape Epic kit.
About Qhubeka
Qhubeka is a global charity that moves people forward with bicycles in Africa ("Qhubeka" is an Nguni word that means "to move forward"). People earn bicycles through Qhubeka's programs, improving their access to schools, clinics, and jobs. Funds raised by this campaign help children get to school, participate in sports, and improve access to job opportunities.