Editor's note: Garry Twiss is a long-time member of the first Zwift team I ever joined (Team TFC) so we've raced virtually together many times. When he messaged me about a new project for the Zwift community I knew he was onto something special. As I see it, Garry's ZwiftChallenge is a novel tool for our community, since it helps motivate each of us to push harder while exploring all the challenging routes Zwift has to offer. (I didn't realize until I connected my Strava account to ZwiftChallenge there were several routes–the big ones–I still hadn't completed on Watopia.)
I asked Garry to write up a post about the genesis of this project, and the details of how it works. Here's what he had to say.
---
Its 7:23pm and I've got my eye on a Zwift session this evening, but the first hurdle to clear is the usual family routine of preparing school and work lunches, walk the dog and getting the kids to bed. There's a race at 8pm, or a group ride at 8:15pm. I can make either, I just need to get the kids to bed and make my wife a coffee (for good measure!).
7:38pm, lunches made, the dog was walked before tea and my wife has everything under control and gives the green light for me to head to the Zwift cave! Bonus. It's 7:50pm, so do I want to warm up for the race or wait for the group ride? Do I want an all-out hour effort or an easy spin with an optional mini race at the end? Truth is, after the usual hectic work/life balance I just want to get on and ride!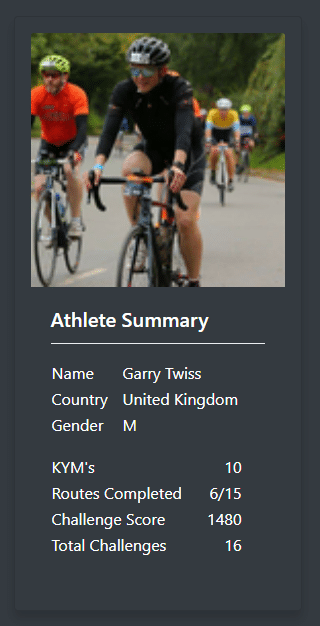 Zwift has made it so easy for those seeking fitness to be engaged in a workout while physically on our own usually in a cold garage or outbuilding. My non-cyclist friends just can't understand how I get so enthusiastic about exercise, whilst my cycling friends can't understand how I can go an entire year riding indoors (well, that is until they try it.) The biggest pull for many is the convenience that Zwift is ready when you're ready. There's no travel time to the local gym, there's no weather to negotiate and there's no class to be on time for. The work/life/fitness is balanced according to your schedule.
Despite the relative ease of the platform we all need a goal, something to point towards. A famous Yankees player once said "if you don't know where you're going, you'll end up someplace else" – Yogi Berra. Trouble is, not everyone is a competitive racer or aspiring professional athlete, so as much as we read the myriad of fitness articles that will give us more power in 12 weeks, or rapidly improve our recovery time with various supplements, for your average Zwifter do these really make much difference? Do I need to balance my 'base period' and 'peak period' and build a training plan with periodization? For me, probably not. But I want a challenge, a goal and something to achieve on my terms according to my schedule.
This is where the idea of ZwiftChallenge came from. I wanted to find all the toughest routes on Zwift that would naturally challenge me. There are now many indoor cyclists who have invested in smart trainers and additional accessories to further immerse themselves into the virtual worlds on Zwift. Being one of them, why do I want to reduce the trainer difficulty or turn it off so I don't end up into the downward spiral of a workout in ERG mode? Listing all the challenges was eye opening when I realized I had only completed 4 out of the 15 routes. I had something new to do, a goal to aim at! On top of that, each course profile was going to test my ability and put my smart trainer to work.
So ZwiftChallenge was built to allow automatic tracking of that goal. Using Zwift Insider's verified Strava segments I connected to Strava to track just those challenging routes and display them in the Palmares page, to show the achievements made so far and which courses are still left to complete (I have many!). Three Sisters is a particular favourite as the course profile provides an excellent workout with natural recovery periods built in. I also hadn't realised just how many challenges there are on Zwift so it was a case of stick to what you know.
The Palmares page was a big tick in the box, I liked what it was telling me and gave me something to work towards. The only downside to the bigger challenges is time. Something like the Mega Pretzel requires my whole afternoon or being able to start much earlier in the evening. So how can I repeat a challenge and be rewarded for my efforts? Where's the motivation?
Another pull factor on Zwift that taps into our inner competitiveness are the timed segments in game where you can go for a PB or challenge the live leaderboard. The problem I face, however, is that I am your average athlete and end up in an average position on the leaderboard. Which is fine, it's just not something I can use for motivation. So how can I create a leaderboard that puts everyone on an even footing?
This is where the points system came from. Using points that are relative to your own effort, everyone has the chance to earn the same amount of points. On top of this, if you work hard and try to beat, or get within 5% of your best time (not someone else's) on a given course, you are rewarded with bonus points. If you beat your previous best time you become the King or Queen of your own mountain, which is summarised in your athlete summary by the acronym KYM or QYM. Without delving into sports science of power numbers, stress scores and heart rate zones, the general rule is the more points you earn, the fitter and faster you become.
So now the motivation comes from completing all of the current 15 challenges on Zwift, gaining as many KYM's or QYM's as you can, and climbing the leaderboard through your own effort.
The 2018 leaderboard so far has seen some impressive entries, and we are still waiting for that rider who has completed all 15 challenges. But everyone has the chance to climb the leaderboard, just plan to ride those challenges and see your points and your fitness grow.
Feedback has been very positive, so whilst Zwifters continue to register their Zwift Challenge efforts, development is underway to create 12 annual game periods to see how many points you can generate in blocks of 4 to 5 weekly intervals and hopefully by spring, deliver you sportive ready for the outdoor (or even indoor) season.
Are you up for the challenge?