Yesterday I was feeling handy, and decided to build a device to place beneath my front wheel so I could steer smoothly while riding Zwift's FutureWorks:Steering course.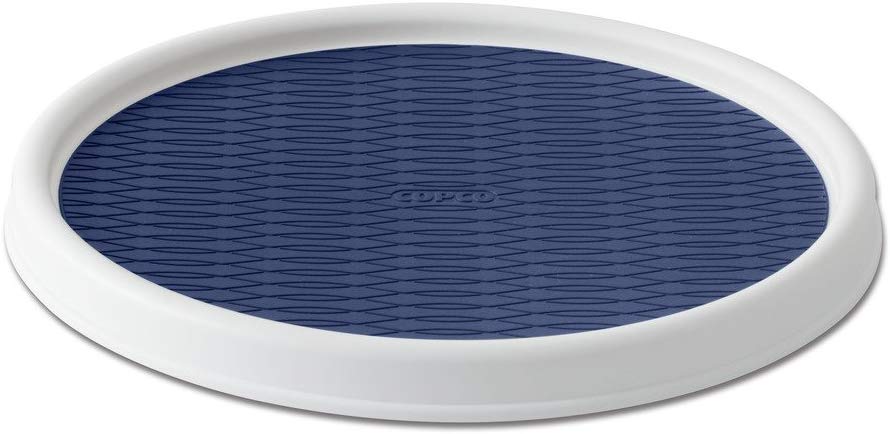 Luckily I'm in the middle of a home remodel, so I've got construction scraps and various tools sitting around just begging to be used. I only purchased one item for this project: the turntable.
For less than $7 shipped to my door (thanks Amazon Prime), it was a smoking deal.
What You'll Need
Materials Used:
Tools:
Location, Location, Location
The most challenging part of these steering devices is getting the angle right. You can simply place the turntable on the floor under your front wheel, but the results won't be ideal. You will see your trainer's legs wanting to "walk" forward as you steer, making it obvious that your steering is putting a lot of stress on your frame.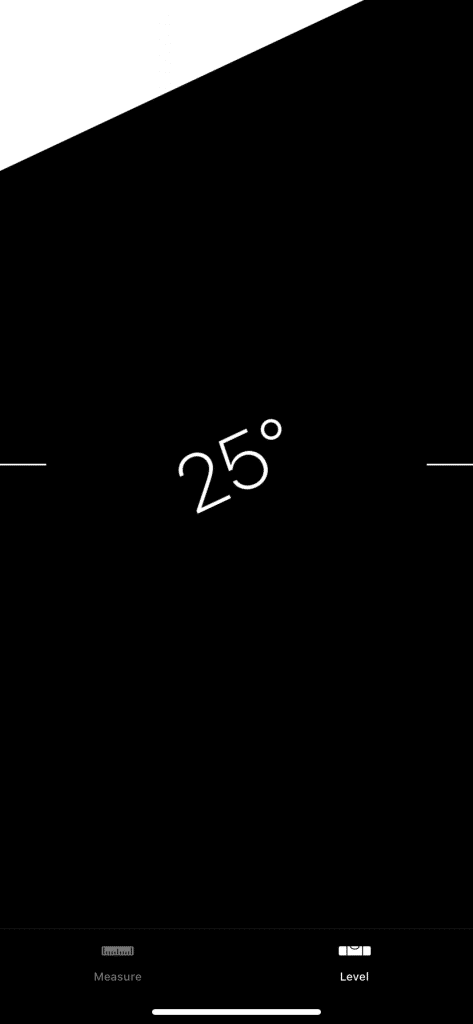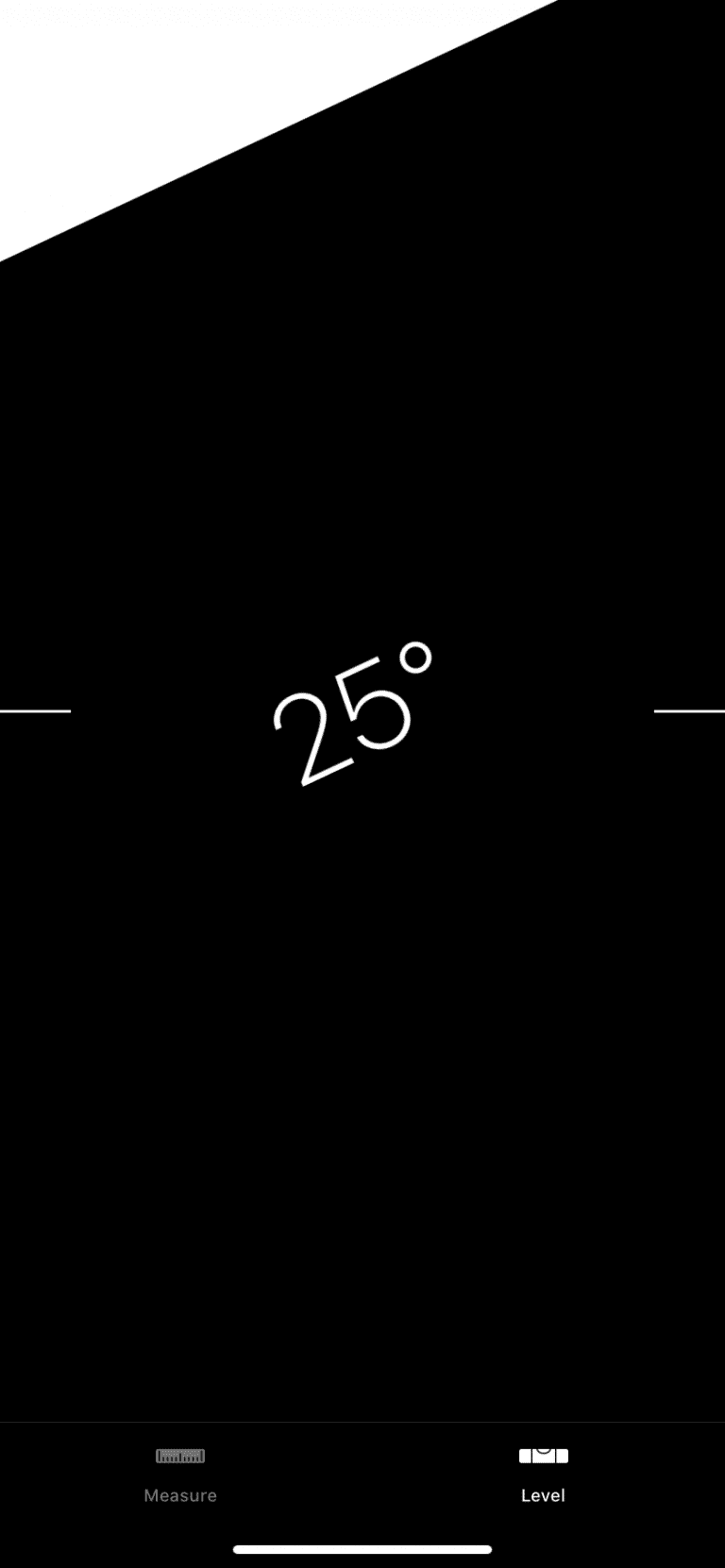 Your bike behaves this way because your front wheel does not pivot where it contacts the ground. Instead, it pivots at a point several inches ahead of that contact point–where your forks would hit your wheel if they kept extending out.
So your turntable needs to be centered on that pivot point. And although it doesn't have to be perfect, the closer you get the less frame stress/trainer "walking" you'll see.
The Build
So I started by measuring my fork angle with my iPhone's "Measure" app. It said 25 degrees–easy enough. So my steering platform would need to be tipped up at a 25 degree angle.
Then I went outside to figure out how I'd build it. Quickly enough I devised a rough plan–use some stiff, thin leftover laminate flooring for the platform, cut angled boards for the sides so it's tilted at the correct angle, then attach my turntable to the platform.
Setting the miter saw to the correct angle

Sides, ready to be nailed to the laminate

Some of those nails went a bit wonky. But it'll work for now.

Added a piece on the front for stability. Solid as a rock!
Once I got to work it took all of 20 minutes to piece together. I added an extra scrap to the end for stability, glued it all together, and the end result (before putting the top of the turntable on) looked like this: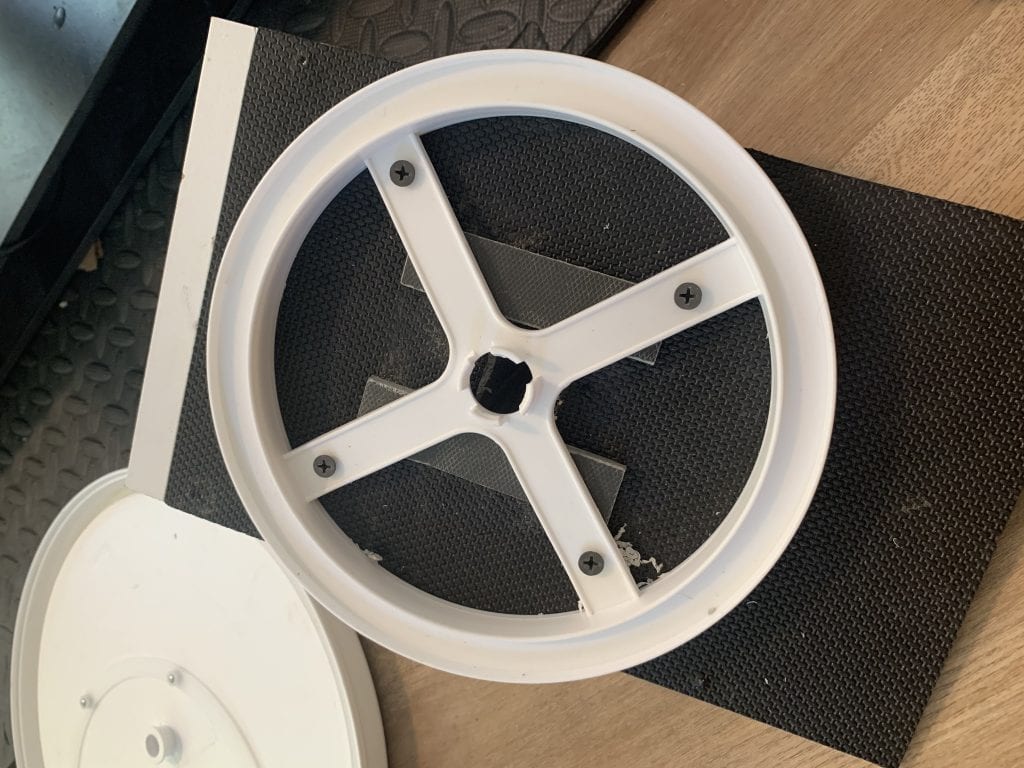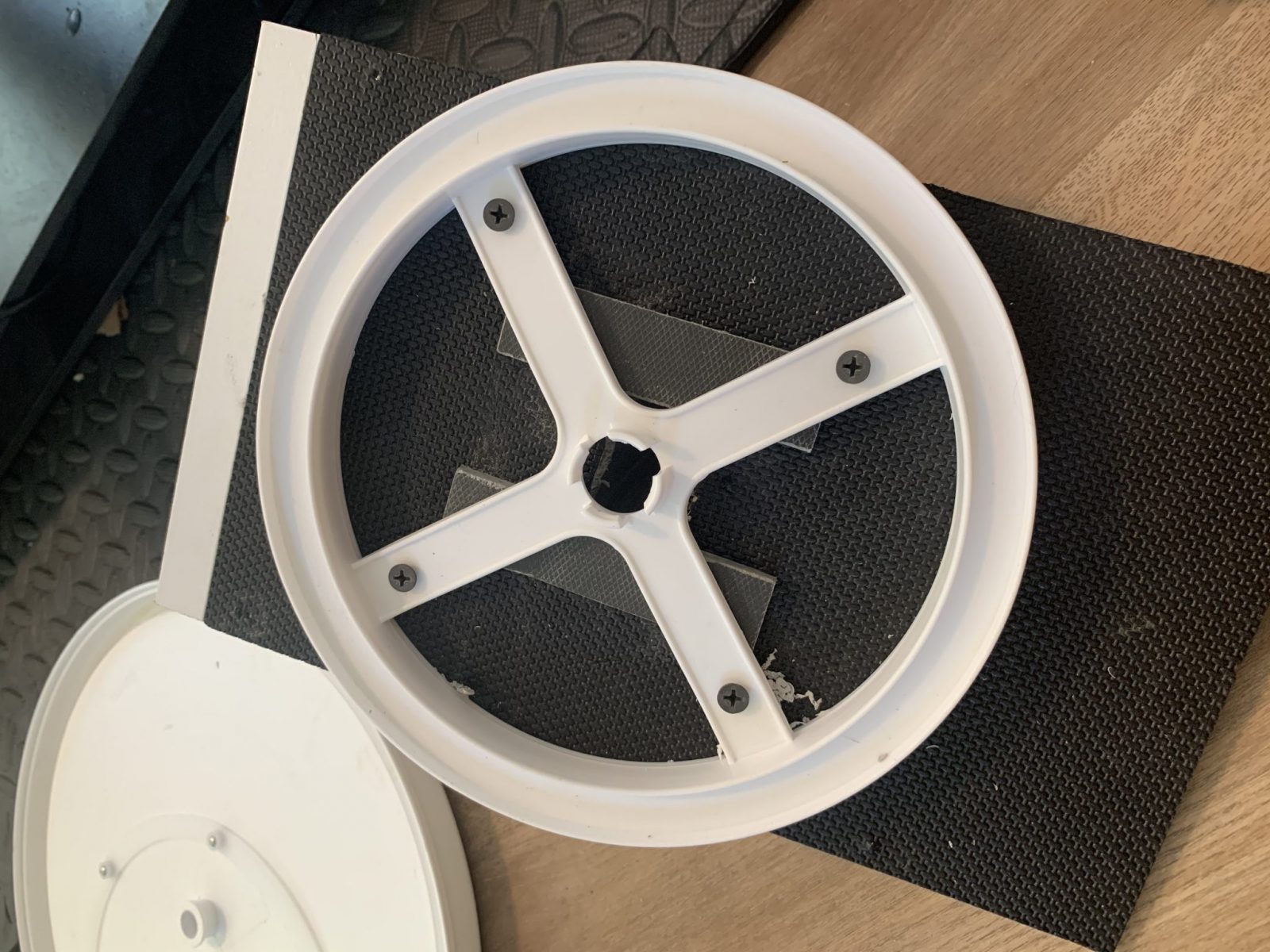 Those extra scraps of laminate flooring are there to shim the turntable's arms so they didn't bend (and perhaps break) when screwed into the platform. I also cut a hole in the middle of the laminate so I could remove the turntable in the future without destroying it.
You'll have to figure out how to best attach whatever turntable you purchase.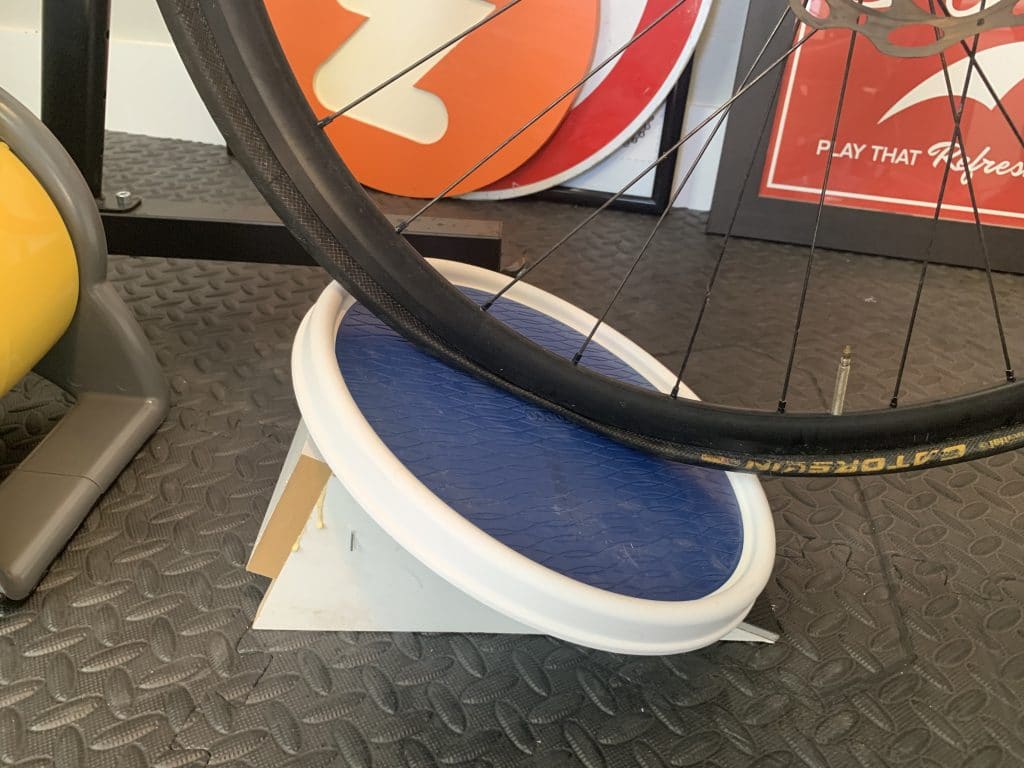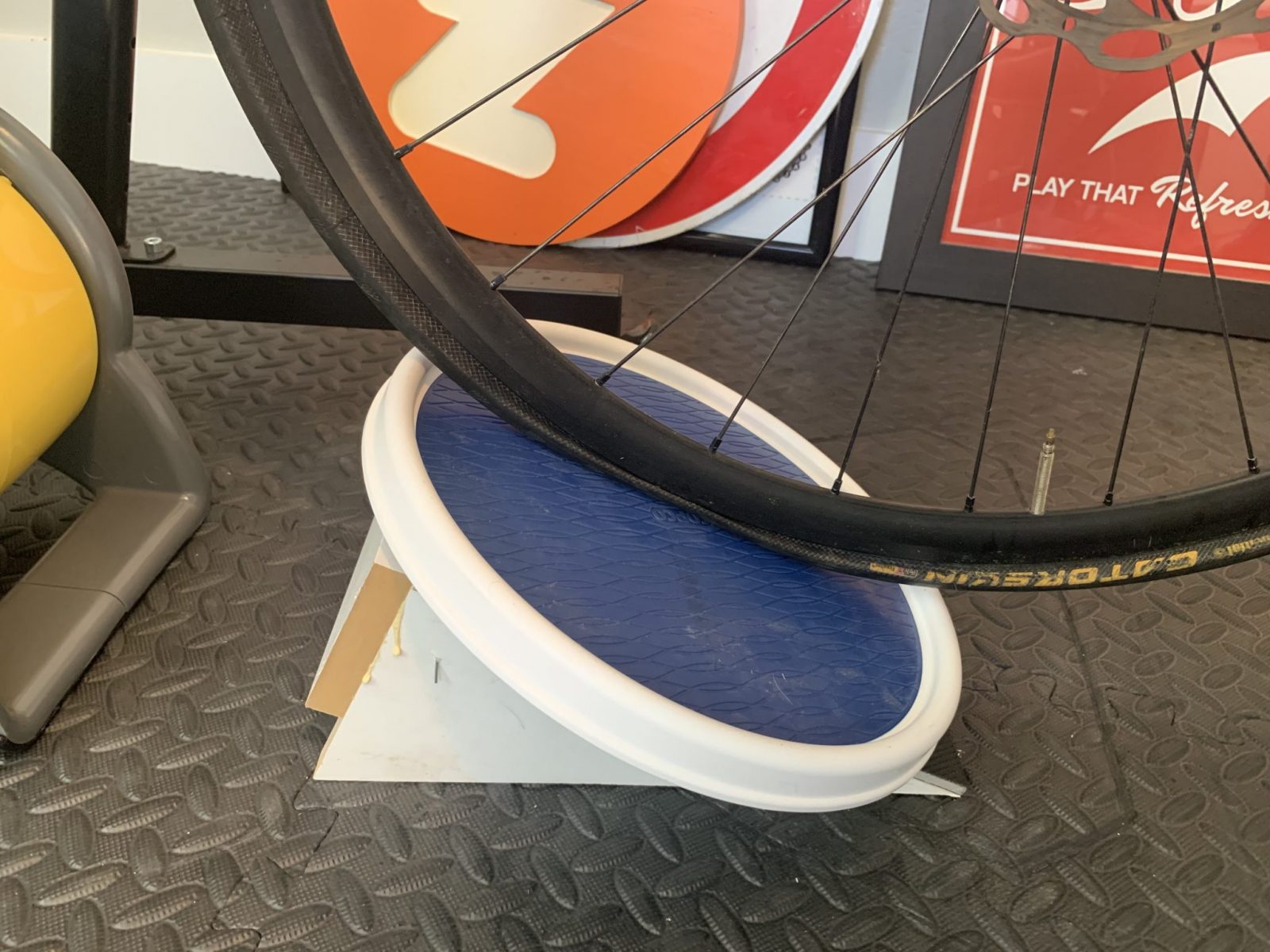 Here's the finished product in my under-construction office/pain cave. (And yes, I know my tire is flat…)
I was curious whether there would be an issue with the platform sliding forward as I applied downward pressure, but so far it has stayed put. And the steering feels great!
Thanks for Reading
Hope this helps you out if you're looking to build a simple steering platform.
Got other ideas for how this could be done? Share them below!