They say that Zwift racing is the hardest in all of cycling. And after three years on the platform, racing everything from Wednesday Night Worlds to the Zwift Racing League to the UCI eSport World Championships for Team USA, I can confirm that Zwift racing is harder than anything I've ever done. 
There's a whole new level of suffering you can unlock when you are riding a stationary trainer, because you don't have to worry about crashing. You can sprint with your eyes closed and ride so hard that it feels like you're about to pass out. I've done both of those before in an attempt to win a professional-level Zwift race. 
Somewhere in between casual pedaling and eye-crossed sprinting, Zwift racing is fun. Thousands of Zwifters compete on the platform every week, and the numbers keep on growing.
In this post, I'll give you my top Zwift racing tips for everyday cyclists. Whether you've been on Zwift for three years or three days, I can almost guarantee you will learn something new today.
These are my Top 5 Zwift racing tips from me, a professional Zwift cyclist, who went from Zwifting on a dumb trainer to the UCI eSport World Championships.
Tip #1: Know The Race Course
Regardless of your Zwift level and experience, you should always know the course that you are riding or racing. I've lost count of how many times I've heard someone complain that the course was longer than they thought, that they had no idea there was a dirt climb, or that the course ended with an uphill sprint.
There are so many ways to recon the course including the Zwift app itself, the Zwift Companion app, or right here on Zwift Insider. In my vast experience, Zwift Insider provides more detail than any other platform, including maps and graphs of the entire course, plus the sprint and KOM/QOM segments along the way. 
When you are starting out with course recon, you should first look at the distance and elevation of the course. Know if there are any major climbs, and how long and steep they are. Also find out if there are any surface changes such as gravel, dirt, or cobblestones.
You can find more information on course KOM/QOMs, surfaces, sprint points, and more in the master list of Zwift Course Maps and Details on Zwift Insider.
Tip #2: Warm Up Before a Zwift Race
Zwift races always start with a hard effort. Sometimes it's a full-on 20-second sprint, and sometimes it takes five minutes at threshold before the pace finally settles down. Whatever it is, the start will always be hard, and you need to be ready for it.
I recommend riding for at least 15 minutes before the start of a Zwift race, and 20-30 minutes is best for most riders. If you have a standard warm-up protocol that includes hard efforts to prime your muscles before the race, make sure you leave yourself enough time to get that done. You never want to sprint off the line on cold legs.
Crucially, you should practice your start timing before the flag drops. Before every Zwift race, you will see a countdown, and when that clock hits 0:00, the banner drops and the race is on. It's best practice to start winding up your power with a few seconds to go, and then hit it hard as the clock hits 0:01. This will give your trainer time to spike when the banner drops, and launch you off the line at nearly your sprint speed.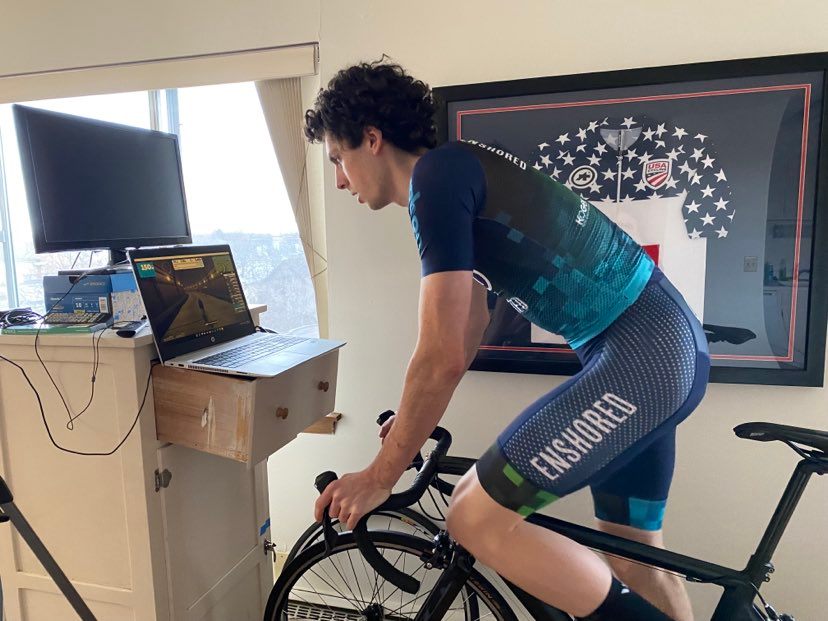 Tip #3: Maintain Your Focus Throughout the Race
Staying focused is one of the most underrated difficulties of virtual racing. It's actually quite easy to get distracted when you are listening to music, riding a stationary trainer, and staring at a screen. That's because there aren't many things grabbing your attention – outside, your focus is on the pavement in front of you, the upcoming corner, the wind, your speed, and your position in the pack. But on Zwift, those distractions are gone.
It takes practice and repetition to keep your focus during a Zwift race. Keep your eye on the minimap in the top right-hand corner of the screen, and watch the riders' names just below that. In those graphics, you can see the pack – whether it is stringing out or bunching up – and the riders immediately surrounding you. If their numbers turn red, that means someone is probably attacking.
Don't beat yourself up if you get dropped whilst not paying attention. It happens to the best of us, and I've seen pro-level Zwifters get dropped on a descent because they were scrolling on their phone trying to find their next song.
Tip #4: Practice Riding Efficiently
You should never finish a Zwift race with the highest average power in the peloton. All that means is that you wasted more energy than everyone else, yet you all finished together. Unless you win using a solo breakaway, there's no reason you should be expending more energy than everyone else.
Riding efficiently also comes from having a good training plan. Better fitness equals better efficiency, and the best way to get fit is by following a structured training plan.
Practice saving energy in the draft by holding your position in the peloton without drifting too far forward or back. This is an art as much as it is a skill, and it takes time to perfect. Keep an eye on the right-hand side of the screen to see what w/kg other riders are doing. If everyone is riding at 2.5-3w/kg, there's no reason you should be doing more than 3w/kg unless you're attacking.
If you do start to drift too far back, keep an eye on the screen – remember, maintaining that focus – which will show "CLOSE THE GAP". That means you are drifting out of the draft from the riders in front of you, and you need to up your power output to close the gap. It doesn't take a full-on sprint to accelerate back into the draft, but this is a very common mistake amongst beginner Zwift racers. 
Tip #5: How to Win a Zwift Sprint
When it comes to the final few kilometers of a Zwift race, it most often comes down to a sprint. With 1km to go, you need to be near the front of the peloton (20-30th wheel) and watch the riders around you carefully.
Maintain your position as best you can without drifting too far forward. Remember that you don't need to be 3rd wheel with 250 meters to go like in real life. You can ride through the peloton in Zwift – you don't have to swerve around riders in the final sprint, so it's easy to go from 15th to first in less than 100 meters.
In terms of sprint timing, 200-250 meters to go is the best time to launch in a flat, all-out sprint. But if the gradient changes – in an uphill sprint – or the surface is dirt rather than pavement, the speeds will be much lower and you should wait to launch your sprint.
The best thing you can do is – coming full circle – know the course. If you know the course, that means you know the finish, and you should know when to launch your sprint.
Lastly, the size of the peloton will affect your sprint timing. The bigger the peloton, the earlier you should launch your sprint because the pace will be high and there are likely to be last-second attacks. In a smaller peloton, you can afford to wait until the last 200 meters to open up your sprint. Or, you can try attacking with 1km to go and solo to the win.
Don't be afraid to try something new, especially if you're unsure of your strengths. Who knows – maybe you'll find out that you have exceptional one-minute power and that becomes your go-to move at the finish.