September marks the end of the summer holidays and for many, the return to work or school.  For 36 undergraduates, though, it marks the end of a special summer because they took part in Zwift's US Intern program.    
These interns (or "Zwifterns") have spent the last 12 weeks learning new skills as they work alongside Zwift employees (or "Watopians" as they are called internally), actively helping shape the business through unique projects.
The Zwiftern program was developed by Joy Osborne, Director of University Talent Engagement, but made possible because CEO Eric Min and Chief People Officer Lee Readman provided support to ensure this program was a reality.  Joy's team is small but dynamic and consists of Kristen Hermosillo, University Talent Engagement Program Manager, and Marissa Gomez, Senior Talent Engagement Specialist.  These three form the UniTE team which is agile and delivery-focused. Through their efforts, Zwift expanded the intake of undergraduates from 11 in 2020 to 36 in 2021, a threefold increase in the space of a year.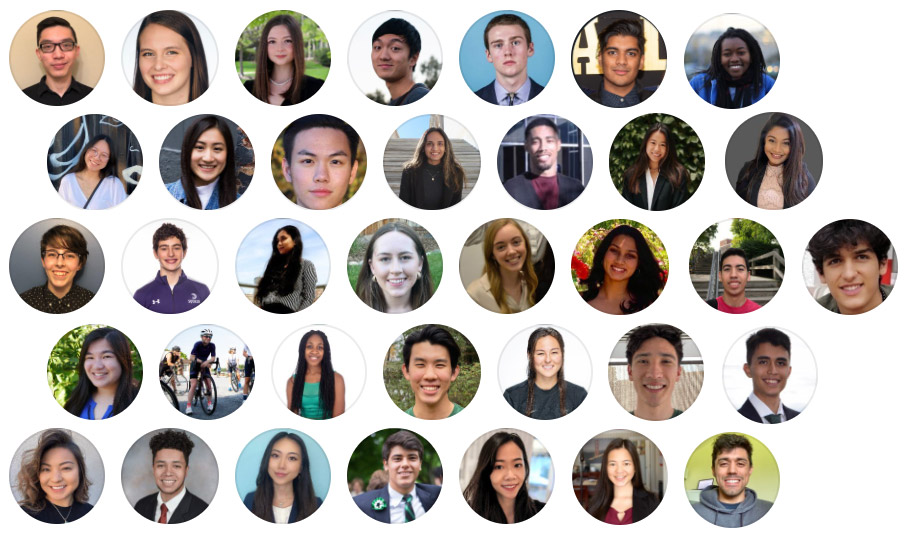 About the Program
The program gave university undergraduates based in the US an opportunity to work in Zwift for a 12 week period. The internship was structured to create a unique and positive work experience for the Zwifterns and focused on 3 key areas:
Business
Community
Performance and Growth
These are referred to as the "3 Pillars" which, as Kristen explained, have the purpose of helping the Zwifterns "learn about Zwift and what it is to be Zwift" which includes most importantly how they can personally add to the developing culture. The program offered students the opportunity to work closely with Watopians, showcasing their skills, work ethic, and most importantly their potential. All this along with a genuine opportunity to learn and secure offers of employment!
For Zwift, it was an opportunity to engage with the next generation of talent who live and breathe tech, thus helping build the future of the company and fostering their potential. 
Joy explained that one of the important factors of the program was to "create a space to enable the students to create their own career adventure." 
The underlying objective of the program is identifying and fostering potential Watopians.  This ethos carries over into the Zwift platform as seen with the Zwift Academy, which provides the opportunities for all of us to improve our cycling with the very best, getting the chance to secure a professional cycling contract.  
Operating Remotely
What is remarkable is that the intern program operated completely remotely, with all Zwifterns (with the exception of two) working from home.  This was because, like many businesses around the world, the Zwift offices have been closed since the onset of the global pandemic.  Despite this inhibiting factor, Joy and her team were able to adapt still deliver on the program's goals.
As the summer progressed and the vaccination program across the US accelerated, it became clear that there was potentially an opportunity to meet up in small groups.  Seizing the opportunity, Joy and her team organized and hosted three COVID-safe gatherings, enabling the Zwifterns to meet in person with the prerequisite being that you needed to be fully vaccinated. All Zwifterns were, and as you can imagine, all safety protocols and adherence to government guidelines were followed very strictly.  To lessen the need to travel, these "Meet-Ups" were hosted across the US at different locations.   
Program Structure
As mentioned earlier, the program was structured with 3 key focuses, or "3 Pillars" to support the Zwifterns on their journey.  They were as follows: 
Business
First and foremost, Zwifterns were hired to work alongside Watopians, undertaking real-world tasks.  They were part of the team and contributed like any other employee to the success of the business.  In addition to getting overall exposure to the business and Zwift's vision, they were invited to attend specially designed seminars where they engaged in Q&A sessions hosted by the Zwift Leadership team, including Eric Min.  And of course, like any employee, they were invited to participate in company meetings.   
As well as their day jobs, they formed small project teams and were tasked with solving real Zwift business challenges. Like any project, they had to understand the requirements, create a solution, test it, and report on their findings.  
Their achievements, including their group project, were presented at a 2-day conference which was structured to provide them the opportunity to not only showcase their achievements but to learn from keynote speakers.  In addition, part of the conference was specifically designed to highlight the types of career paths they could take, with the focus very much being on the 'journey' and not the 'destination'.   
Community
The Zwifterns got a sense of the good work that the company undertakes within the local community by engaging in their own Social Impact event.  In July, Zwift partnered with ArtHouse Kids and they were involved in an art program that was delivered to a Title 1 school in Long Beach, California, where Zwift HQ is located. Zwift provided funds to support access to art supplies and classes where students would have otherwise not had access. The Zwifterns went through an art class as a group and their session was later delivered to the students at school.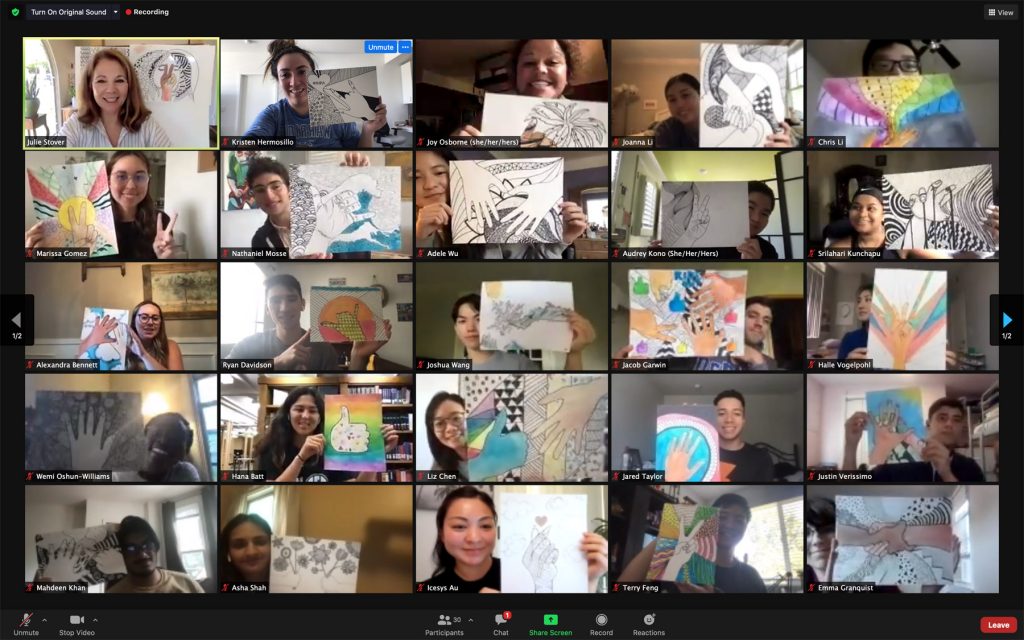 Joy and her team made sure that despite working remotely, the Zwifterns were able to get an appreciation of the culture of the Zwift organization. To do this, a mixture of events were hosted to develop a community among themselves.  A Zwiftern Council was created, giving Zwifterns leadership experience in a business environment and creating bridges between their group and departments.  Through the Council, well-being events were organized for the Zwifterns such as virtual Yoga classes, and even a virtual tour of the Zwift HQ office was undertaken, enabling them to see what their potential office would look like.  They even created a video to thank their managers and colleagues at Zwift for their support during their internship.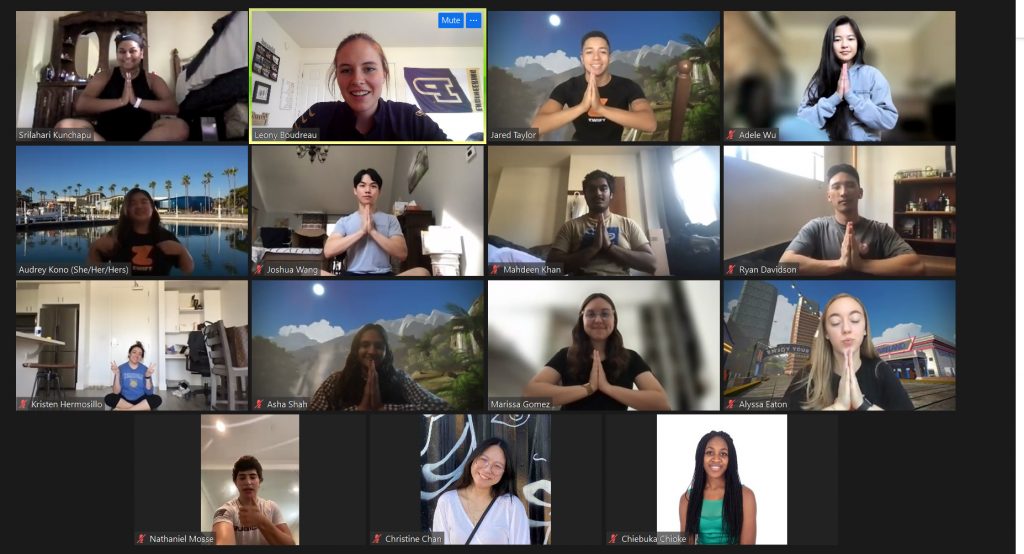 Through this, Joy and her team succeeded in ensuring that the group had chances to undertake leadership roles, develop relationships, and have fun while at the same time gaining a greater appreciation of the Zwift community and culture.
Performance and Growth
The Zwifterns were assigned to Business Units and I caught up with Ruben Perez, a Software Engineer who mentored one.  Ruben noted that his Zwiftern "wanted the real experience of being a Software Engineer" and to that end, he immersed himself in the task at hand and was involved in the delivery of a real-world product. 
For those that have commenced Zwift Academy, there is a function where you can review your segment times and compare with earlier rides – a really insightful feature to help highlight your progress. Ruben's Zwiftern was directly involved in the development of that feature. Accomplishing this meant learning new coding skills, the IT delivery platform, and integrating with his new team.  
Ruben noted that his Zwiftern did an "amazing job" and became an integral part of the team which resulted in being offered the opportunity for future employment at Zwift.
The View from the Zwifterns, in their own words
I caught up with a couple of the Zwifterns to get their views on the 12 weeks spent at Zwift, Lucas Jerez was placed in the Software Engineering department and noted the following:
"My summer internship at Zwift was nothing short of transformative. The university recruitment team and the larger Watopian community put together a program where interns are valued and given plenty of opportunities to learn… which, in my opinion, ought to be the cornerstone of any internship. Here at Zwift, providing interns opportunities is front and center. Case and point: I was specifically asked by my Engineering Manager what I wanted to work on and told that she'd put me there. The opportunity to work and learn about what you want and the company's investment into personal and professional development is something that separates Zwift internships from others. They truly cared about us getting the most out of our experience at their company." 
Leony Boudreau had an equally positive experience and noted:
"My experience as a Zwiftern this summer was truly memorable! It was really awesome to work with and learn from so many welcoming and dynamic Watopians while being challenged and doing meaningful work! I want to give a huge shout-out to the UniTE team, Joy, Kristen, and Marissa, who constantly encouraged every Zwiftern to perform at our best in our job as well as continuing to grow as individuals. 
Along with our internship, we had numerous opportunities dedicated to our personal and professional development. The UniTE team went beyond expectations to deliver an experience that represented Zwift's culture of growth and inclusion. Some examples include a 2-day virtual conference where we learned from so many insightful leaders and presented our business challenge projects to Watopians, they set-up calls so that we all get the chance to meet awesome leaders of the company, and most of all, they regularly communicated with all Zwifterns to make sure everyone was having fun! I also had the opportunity to participate as Co-Commissaire, in the "Zwiftern Council", with Jared, Srilahari, and Alyssa. We were an advisory council between the Zwifterns and the UniTE team to create an enriching experience for all Zwifterns, which also helped us practice leadership skills throughout our internship. The idea of a Council was genius! My mom works in Human Resources, and I told her she should do this with her intern class because it really improved the experience for everybody! I'm looking forward to staying connected with other Zwifterns no matter where we will end up in the future."
Post Internship
Those students who were lucky enough to receive offers of employment have now transitioned into a very unique phase called "Ready to Ride."  Zwift will be keeping in touch with these Zwifterns so that when they finish their studies, their transition into the workplace will be seamless, enabling them to 'hit the ground running' with their careers. 
It's a perfect situation for these students, as they can enjoy their final year(s) of study in the knowledge that their future is secure and that when they start work, they will be reconnecting with people they've already spent 3 amazing months with. Ride On!    
How to Apply for the Next Intake
If you are an undergraduate and based in the US and want to contribute to the success of an expanding, dynamic, and vibrant global organization while simultaneously kick-starting your career, then you might want to consider applying to the next Zwift intern program.  This can be done by visiting the Zwift website and applying for the job that matches your interests and skillsets.  The internship advert will be posted on 29th September 2021, for summer 2022 placement.
*Special thanks to Joy Osborne, Kristen Hermosillo, and Ruben Perez for their help with this article.