We've teamed up with Le Col to turn Zwift Insider's in-game "Ride Smarter/Ride Harder" kit into a beautiful IRL kit now available to Zwifters worldwide!
Today through March 27th
order the kit from Le Col here:
lecolcustom.cc/collections/zwift-insider
About the Design
Our kit arrived in Zwift in February 2022: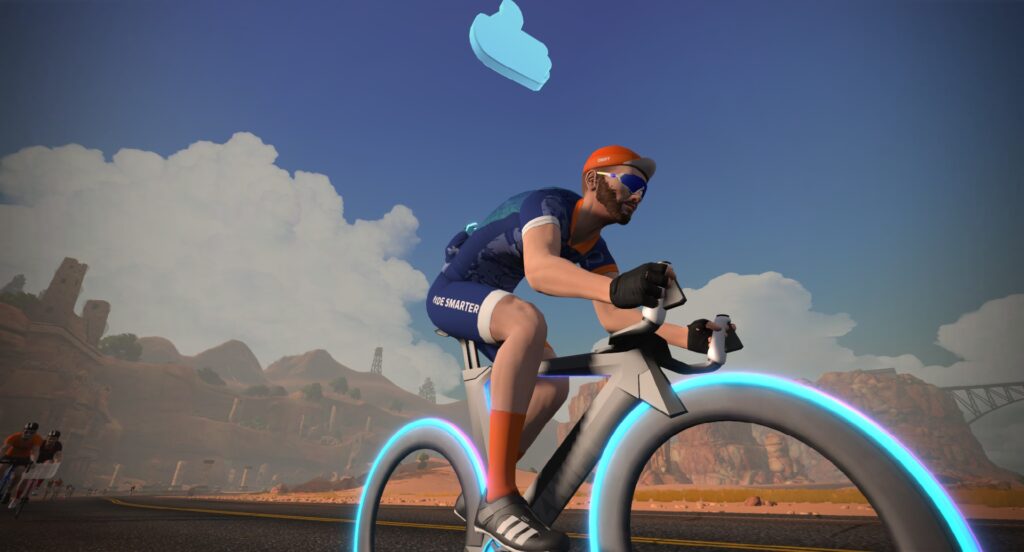 It includes the phrases "RIDE SMARTER" on the right leg, "RIDE HARDER" on the left, and "DIG DEEPER" on the lower back. The jersey uses portions of the Watopia map as a watermark/pattern on the back and front.
The IRL version of nearly identical to the in-game kit, although colors have been tweaked a bit: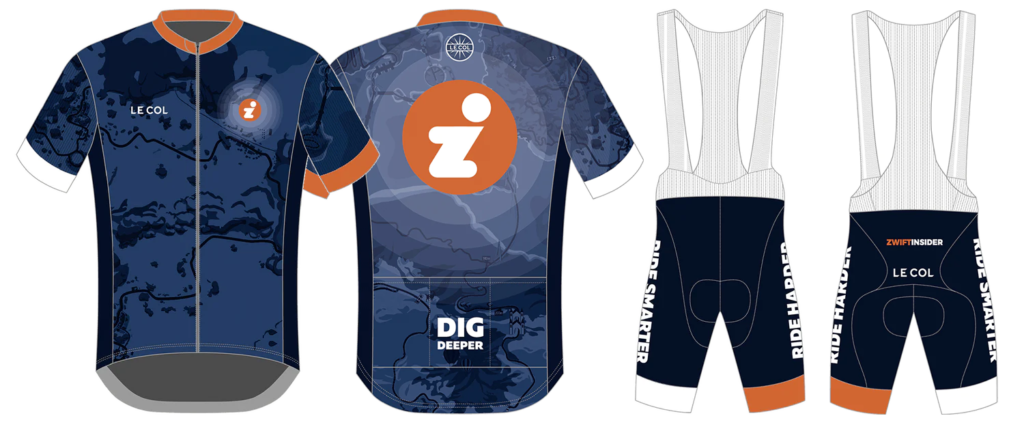 You've Got Options
We're offering the kit in three different styles:
Le Col's "Club" collection "offers a relaxed fit, which is practical whatever the style of riding." This is the perfect kit for riders looking for looser, more casual kit.
Le Col's "Elite" collection "suits riders looking for a close fit and supportive feel on their ride." This is your go-to "race fit" kit.
Le Col's "Pro Air" collection is made from lightweight, breathable mesh fabrics for optimal cooling indoors and outside in the heat. The best indoor kit we've ever tested (read our recent review)!
All three options above are available in men's and women's versions.
A Solid Deal
Le Col prices their custom kits competitively, so you're able to get high-quality custom club kit at a great price compared to retail pricing. Two examples, taken from the indoor kit which we love so much:
Pro Air Jersey retails for $170, Zwift Insider's pro air jersey is ~$113.
Pro Indoor Bibs retail for $225, Zwift Insider's indoor kit is ~$133.
A Few Notes
Our Club store pricing shows in British Pounds, since Le Col is located in the UK. Here's a currency converter if you need one.
Your order should ship 8-12 weeks after the ordering window closes on March 27.
This kit can only be ordered now until March 27th. (We may do another order window in the future, but no promises!)
Read the custom FAQs for more info.
Read to order? Visit lecolcustom.cc/collections/zwift-insider.
Unlocking the In-Game Kit
Don't have our in-game kit yet?
Complete any event listed under the Zwift Insider Club to unlock our in-game kit.
Question or Comments?
Share below!