Wahoo's design collab with Le Col made waves in 2020 when they rolled out their first eye-catching indoor kit. Even if you haven't seen it IRL, you've probably seen it on Zwift: the elite-level Wahoo Le Col men's and women's race teams wear the kit in game, as do their community racers: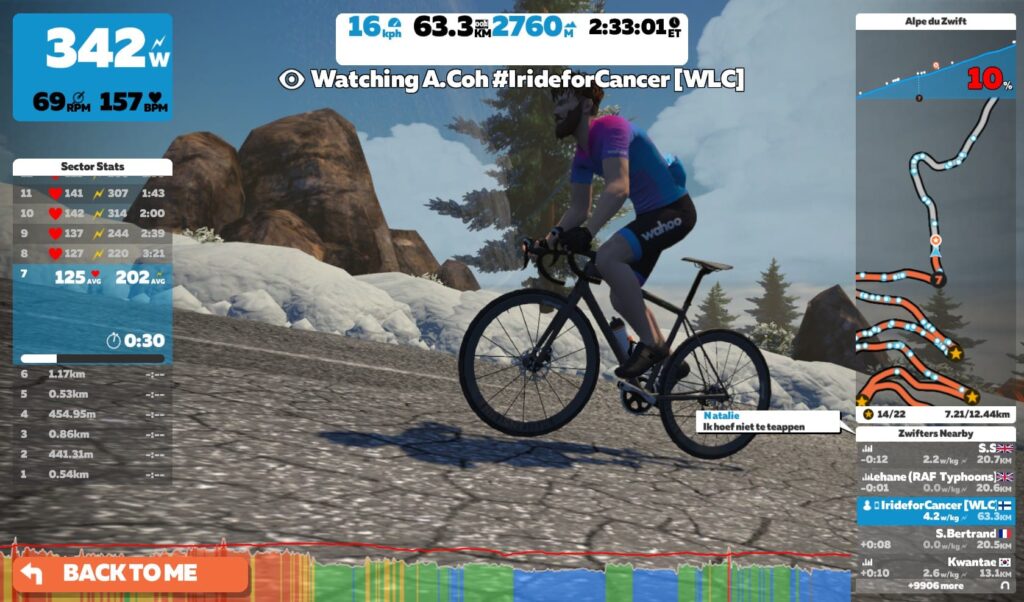 I reviewed the Le Col x Wahoo kit back in 2020, but Le Col x Wahoo continued refining their indoor offering after its initial release, so in June 2022 I picked up the new bib shorts and jersey to test and review.
Shop the Le Col x Wahoo Indoor Collection >

Le Col offers the kit in two color schemes – the eye-popping blue/pink version you'll also see in game, and a more subtle black/blue version. I went with blue/pink, since it matched what I see in game.
Le Col x Wahoo Indoor Training Bib Shorts
While I was impressed with the first version I reviewed in 2020, the current version is even better. Adapted from Le Col's lightweight summer bibshorts ("pro air" shorts used by WorldTour teams on the hottest days), these are simply the most refined indoor-specific bibs I've tested.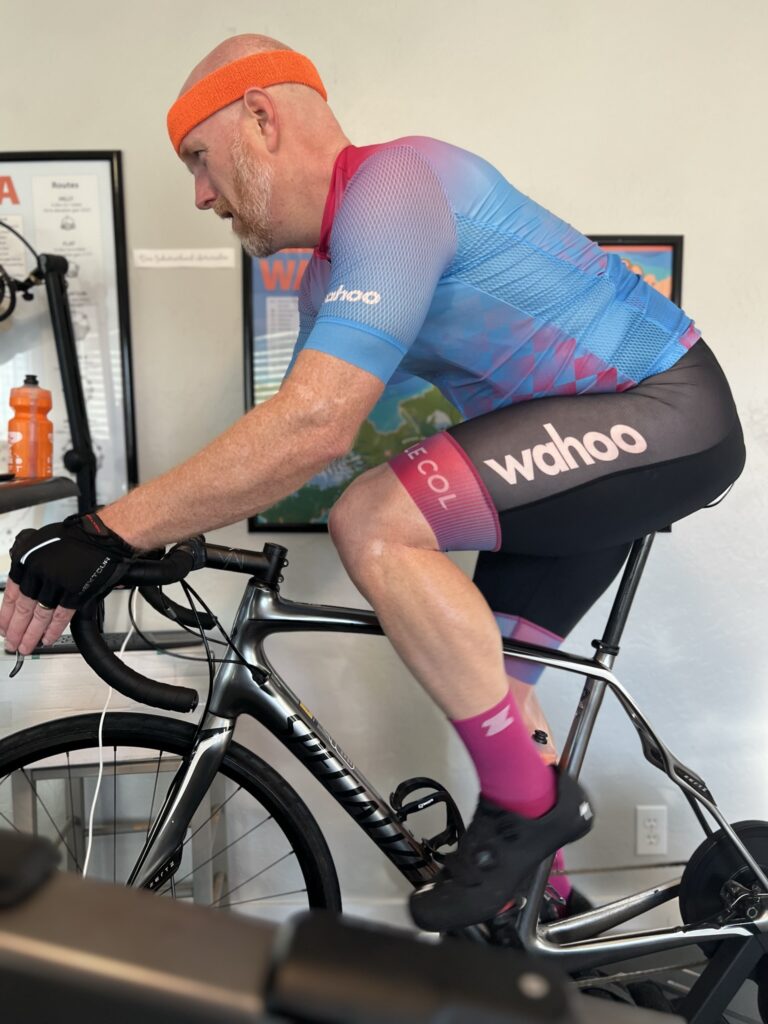 The shorts use a super lightweight perforated cloth on the front of the leg panels, and the leg gripper band is also lightweight and breathable. The mesh used for the uppers/straps is also very breathable, and the front of the bibs is lower-cut than most bibs, providing more exposed skin area for better cooling.
These fabrics are lightweight and breathable enough that they never feel heavy or soaked with sweat, as long as you have good ventilation.

The challenge with lightweight fabrics used on many indoor-specific kits is that they can also be quite fragile. Somehow, though, Wahoo seems to have done the impossible with these bibs, creating a very breathable bib short you can tug onto your legs with some force and throw into your laundry repeatedly without seeing seams popping or tears appearing. After several months of weekly use, these shorts are holding up as well as any other bib shorts I've owned.

Chamois fit is a very personal thing, but I prefer thinner pads, especially for indoor riding. Le Col's chamois is a bit thinner than most, while still offering plenty of protection. For their indoor kit, they've modified the chamois in the front for increased comfort when riding in the same position toward the nose of the saddle, as many riders tend to do indoors.

I ordered the large bibs, and the leg length was a bit longer than you'll often find on lower-end bibs, but right in keeping with pro-quality bib styles nowadays.
One fit-related note: while these shorts feel true to size when worn, the uppers aren't as stretchy as typical bib shorts due to the way Le Col reinforced the edges of the mesh which makes up most of the straps. Because of this, you may feel a bit more "cramped" when getting the straps over your shoulders, and having a quick potty break without taking the straps off may prove challenging.

I'm of the belief that indoor-specific kit doesn't need most of the "extras" you might find on higher-end outdoor bibs (reflective tabs, hidden pockets, emergency medical info tags, etc). Le Col seems to agree, and they kept these bibs lightweight and simple. The features they include are well-executed, the shorts are well-built, and the overall design is refined. On top of that, you have two "looks" to choose from, while other companies offer a single design for their indoor line.
Le Col x Wahoo Indoor Training Jersey
The jersey, like the bibs, is a custom-branded take on Le Col's "pro air" jersey. The initial version of this jersey (from 2020) was made almost entirely of a lightweight 3D mesh fabric, very much like Castelli's indoor jersey. The current version uses that fabric for the sleeves and sides of the torso, but uses a heavier, more robust fabric for the main front and back panels. The sleeves are also a bit longer on the current version.
Having used both versions extensively, I have to say for dedicated indoor use I actually prefer the older version because it's a bit more breathable than the current version.
Of course, each rider has their own priorities and preferences regarding kit. I contacted Yanto Barker, Le Col's founder, to ask him why the jersey was changed from its initial version to the current version. Here's what he said:
"The original material was good I agree, but it was very sensitive to snagging and so could be ruined if it went in the wash with Velcro mitts or anything scratchy. For me, design has to be user friendly, and we took feedback from customer reviews and my own experience to improve the product. Obviously, we all have our preferences, but the new jersey performs from a wicking perspective just as well as the original, but it will last longer and is more durable, so much better value while retaining all the technical performance of the original design. It is important that we rate a product from a full 360-degree assessment and don't get caught focusing on one detail at the expense of others. For me, I have to apply an all-rounded approach that is not just my preference to represent all used cases of the product; this is what we did, I am rigorous about this and tireless in the pursuit of improvement."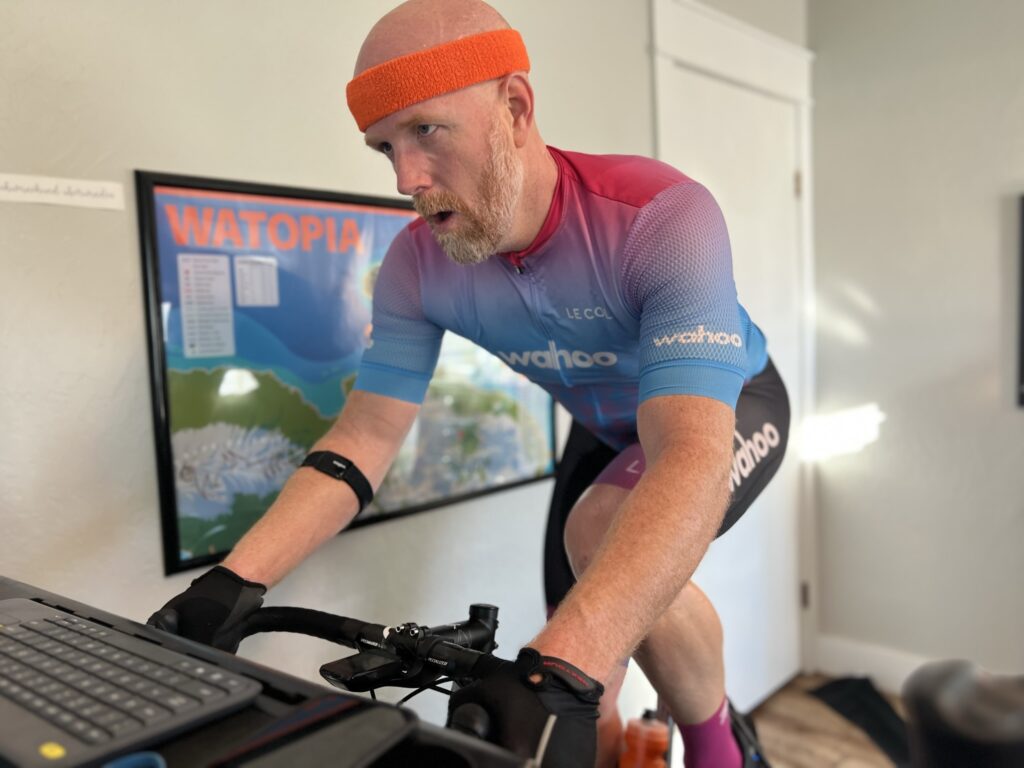 I ordered the large jersey based on Le Col's sizing guide. Sizing was excellent, with a bit more room in the chest and stomach while riding compared to medium jerseys I purchase from other makers (I'm sort of between a medium and large, depending on who makes the jersey). The neck opening was roomy, and the sleeves aren't as long as some of the "pro fit" jerseys I've worn, which is a good thing for indoor kit!

The jersey is much more breathable than a typical outdoor kit, thanks to its 3D mesh sleeves/sides and lightweight, perforated wicking front and back panels. Still, it's not as breathable as other indoor/summer jerseys I've used, including the initial version of the Le Col x Wahoo jersey.

As Le Col founder Yanto mentioned above, swapping more traditional fabric for the 3D mesh made the kit more robust and durable. I can agree with that assessment, as I haven't seen any damage after many wearings and washings (including washing with velcro gloves, the ultimate mesh-tearing no-no!)

It's a well-conceived jersey, with nice touches like "Ride Faster/Ride Further" printed on the waistband gripper and a lower/wider neck for improved ventilation. While some super light indoor jerseys may be a bit too transparent for outdoor riding, this jersey would perform well outside in hot weather and indoors on Zwift.
Final Notes
I've worn this kit nearly weekly on Zwift and outdoors over the past 9 months, so it's fair to say I've put it through its paces. And over that time this became my favorite indoor kit – the one I grab first when I'm looking forward to an especially hard or long effort.
I gravitated toward this kit for its superior breathability when outdoor temps rose especially high over the summer months, and I was never disappointed (except when I lent the jersey to a local friend and didn't get it back for weeks because he liked it for hot outdoor rides!)
Le Col x Wahoo clearly listened to feedback from their team riders and refined this kit into a strong combination of everything you're looking for indoors: breathable, comfortable, durable, and stylish enough to show off on your live stream.
Shop the Le Col x Wahoo Indoor Collection >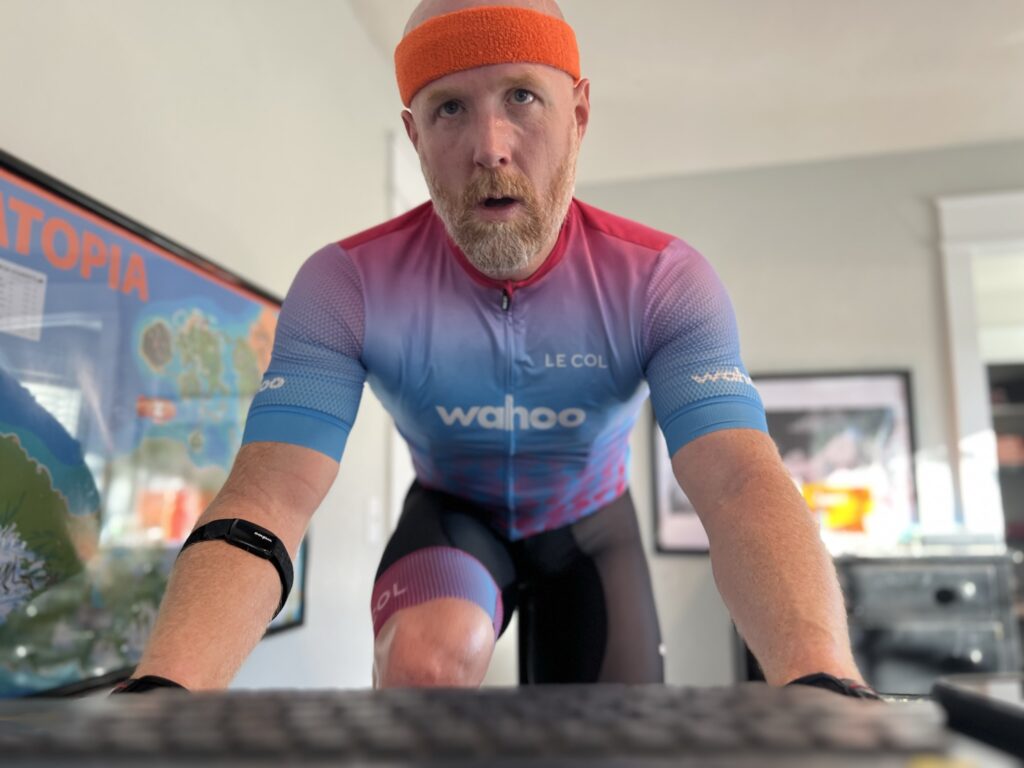 Zwift Insider's Custom Kit
I was so impressed with Le Col's indoor line that I chose it for Zwift Insider's first-ever custom kit, which we're announcing today with this post!
The store opens today and closes in two weeks (March 20). Once the store closes, production will take 6-8 weeks, then everyone's orders will ship.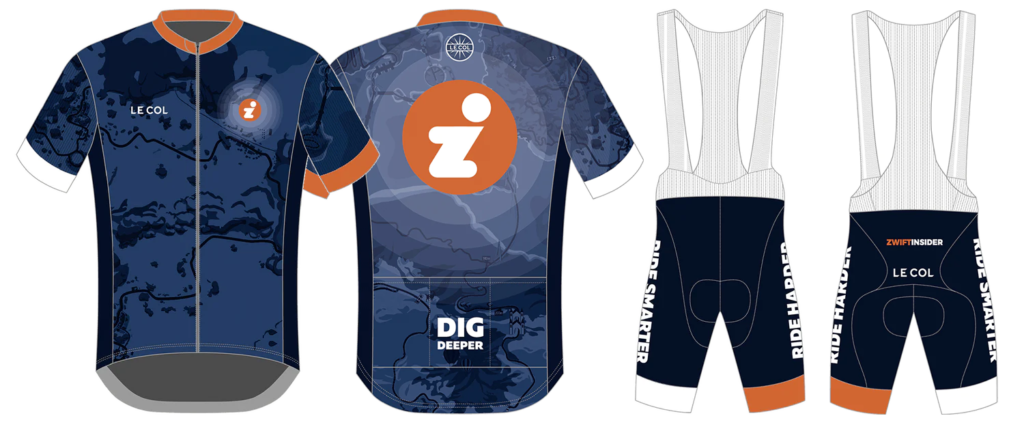 Questions or Comments?
Post below!