UPDATE 3/28/17: Yesterday ZwiftHQ put out the call for Apple TV beta testers. Read more here >
---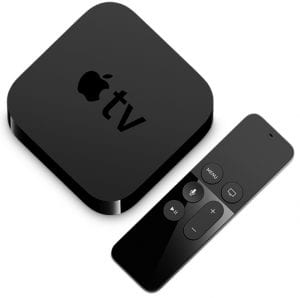 We've heard talk of Zwift coming to Apple TV for several months now, but the major barrier was Apple limiting the app bundle size to 200MB, forcing Zwift's programmers to break the app into different pieces before it could run on Apple TV.
Last Thursday (January 12) Apple announced they have increased the app size limit from 200MB to 4GB. While this wasn't major news in Apple's world, this move eliminates the main barrier ZwiftHQ was facing in bringing Zwift to Apple TV, so it has certainly moved Zwift's tvOS launch date up significantly.
Quoting Game Master Jon Mayfield:
… tvOS lets you have huge applications, however the .app file could only be 200MB before. That meant you had to chop things up into pieces and manage these pieces coming down. It was going to be the same MB as iOS, just a lot more hassle to deal with.

Now that hassle is gone.
ZwiftHQ has already showcased Zwift on Apple TV publicly, but there is still some work to be done on the interface before it can launch.
What's the Big Deal?
With the 32GB Apple TV available for $149US, this puts Zwift within reach of even more users.
Zwift running on Apple TV is important because Apple TV is the lowest-price new device which can run Zwift. Yes, you can find used computers or iDevices more cheaply, but there are no new systems in this price range which can run Zwift at a decent level of quality apart from Apple TV.
#RideOn!