This continues my series of broad, foundationless speculation regarding Zwift feature development. One of my favourite pastimes!
First I took a high-level view of what could be next for Zwift. This generated over 300 comments, and even more on social media platforms. Cleary feature development is a subject that Zwifters love to debate. Following this, I took a deep dive into the future of racing on the platform, specifically how a ranking-based matchmaking system could work.
Today I will be looking specifically at Zwift Clubs – a FutureWorks feature that will hopefully see a broader release and some significant development progress in 2021.
What is Zwift Clubs today?
Zwift Clubs has been rolled out to a select beta audience made up mostly of the larger clubs and event organisers on the platform. The current feature set is quite limited; you can join a club, message within the club, and see total statistics for the club's riders.
For a more detailed breakdown of Clubs as it exists today, please see Eric's most recent Clubs feature breakdown.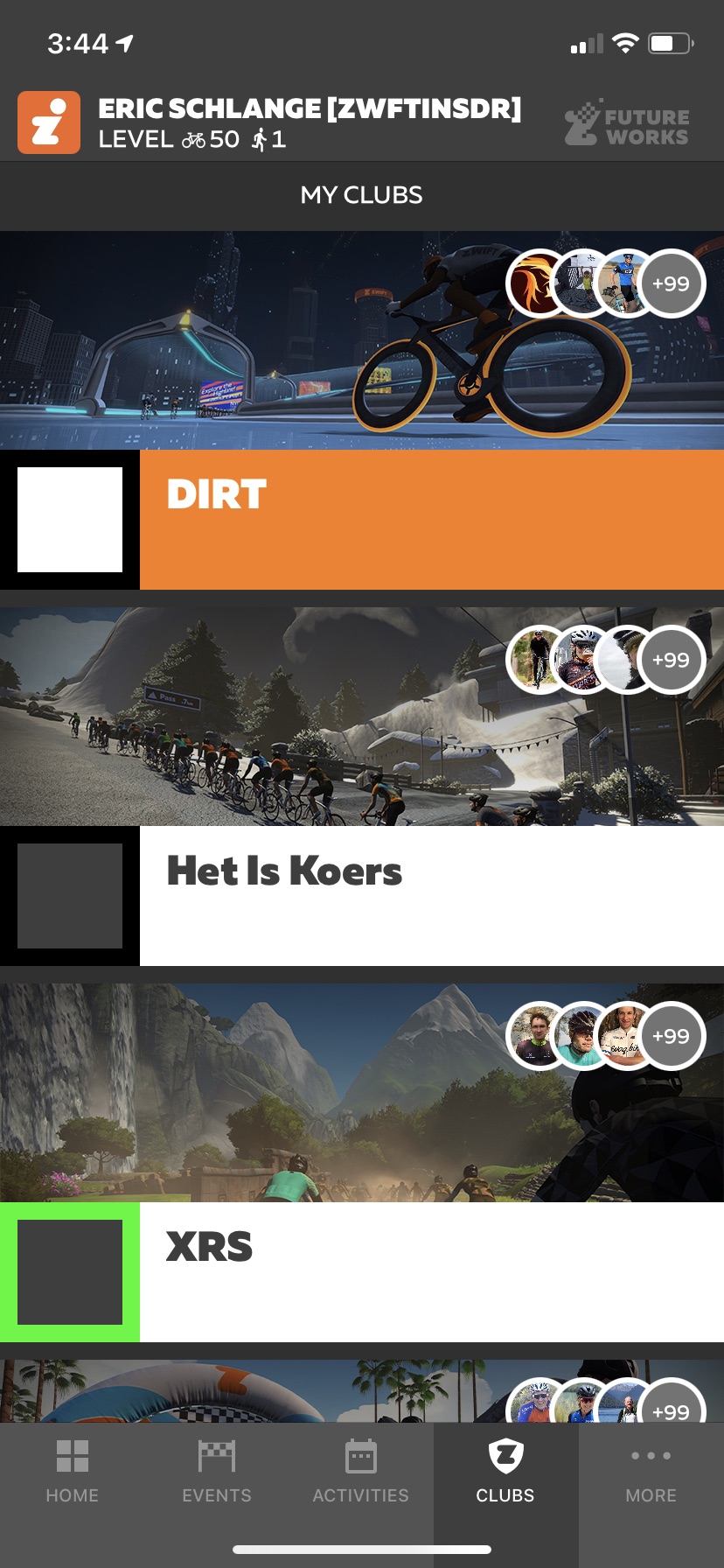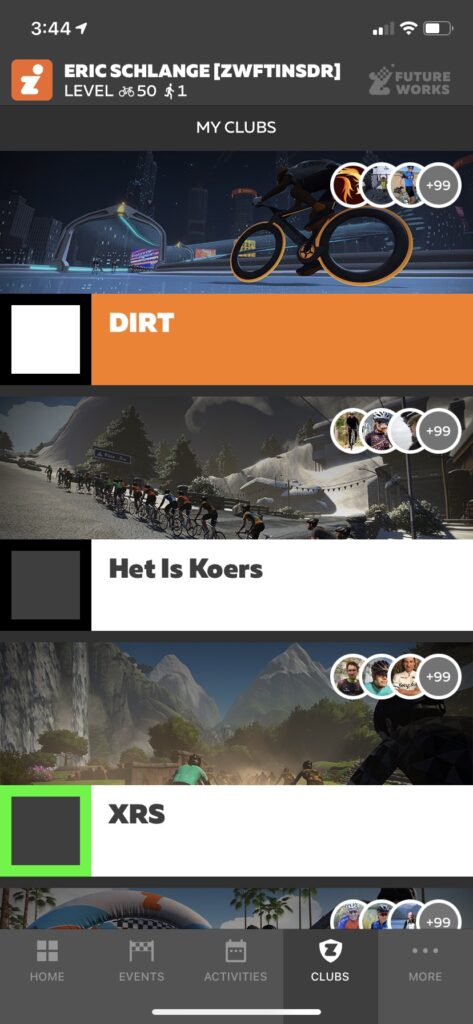 What type of clubs are there?
Before we look at the potential of this "system", it is important to understand the types of groups that would consider themselves clubs, as their usage and use-cases can differ significantly.
Zwift virtual clubs – these are the likes of DIRT, CryoGen, BRT, and my own Socks4Watts. Communities of Zwift users who for the most part may have never met in real life, but come together under the same banner for Zwift races or events. Their numbers can be in the thousands, and for event series like the ZRL they may manage dozens of teams. They are also the most common hosts of official Zwift events.
Real-life clubs – often governing-body affiliated, these clubs typically organize real-life group rides and events with formal (paid) membership. (My understanding is that much of the boom in Meetups at the start of lockdown came from real-life clubs organizing group rides for their members.) They are typically interested in being able to arrange rides, group workouts, or events directly through the platform for their membership base.
Less formal clubs – maybe groups of friends that like to ride together in real life, or are using Zwift as a way to keep in touch and keep fit at the same time. They would use clubs as a way to better engage with their friends and share the content that Zwift has to offer. For example, they could see which rides their club mates have signed up to, or challenge each other for most miles/kms in a month.
It's worth noting that a given individual may identify themselves as part of all three types of clubs.
What features can be contained within Clubs?
Meetups and Races
Within a club, you should be able to organize a meetup and invite everyone in the club with one click. It should be possible to plan these far in the future, and have a calendar of future meetups visible that you can join or decline. It should be possible to stage these meetups as races or time trials with full race capability, including start pens and finish lines. These types of events are only visible to club members.
Hosted events
These are events hosted by the club that are publicly visible, much like the events that we see today in the Companion app. It should be possible for club members to view and attend club-organised events from the club page. It should also be possible for club admins to create and submit events from this page. It is likely that Zwift would need to grant public event capability to certain clubs, and approve events once they are submitted.
Target club races/rides
A club should be able to flag publicly available rides or races as target events for the club. These should be visible in the club calendar for members to join.
Club kit
This is a big one, but not an easy one. Clubs that already have an in-game kit, should be able to access a setting that grants the kit to all of the club's members. If somebody leaves the club, they lose access to the kit.
For clubs without an in-game kit, a basic kit selector should be available. With a selection of colours and patterns, most clubs should be able to closely replicate their real-life kit, or at least select something unique to identify themselves with the game.
Communication
Within the Clubs portal, it should be possible to message members and post announcements. It is unrealistic that you will be able to replicate a feature set like Facebook groups, so the functionality should focus on the key elements to update members, and provide links to Discord, Instagram, club website, Facebook, etc.
Sub teams
Maybe an advanced feature, but it should be possible to subdivide a club with a parent-child relationship. This allows for a club to keep its portal relatively clean while allowing subgroups to communicate privately without clogging up the main feed.
Stats
The Club portal should host all of the club's statistics – distance and elevation league tables over time, club member rankings, overall club ranking, etc.
How can Zwift Clubs be used in the wider world of Zwift?
Once Zwift has developed Clubs, it becomes possible to group riders together elsewhere in Zwift which enables a number of possible functionalities…
Races
Within a race, teammates can be clearly identified in the rider list and mini-map to help with team tactics. Potentially the game mechanics could also be adjusted. Imagine if you could auto-steer to the wheel of a teammate before a break, or if there were team-based powerups that gave all of your teammates in the vicinity an aero or drafting boost. This could increase the ability to execute team tactics.
TTTs
If Zwift can identify teams, it becomes possible to use the conveyor system for TTTs. Drafting could be limited to only your teammates so passing other teams is no longer an issue. It could also then be possible to use TT bikes in TTT events!


Local chat
There should be an option to make in game messages only visible to your club members. That way if you are in a race and spot a teammate, you can privately plan an attack without it being visible to all riders.
Your Comments
Well, that's my brain dump for the potential of the Clubs feature. How do you think you would use it? What have I missed? What feature set would you like me to explore next time?