Registration opens today for Zwift Academy 2023 (sign up in game, online signup available soon). Now in its 8th year, Zwift Academy continues evolving to be one of the most popular events on Zwift and a testing program for all riders. This year's program incorporate races for the first time since 2018, and there a few other changes as well, including the pro contracts for winners.
Read below for complete details on Zwift Academy 2023, including everything you need to know if you're chasing the pro contract!
Intro to Zwift Academy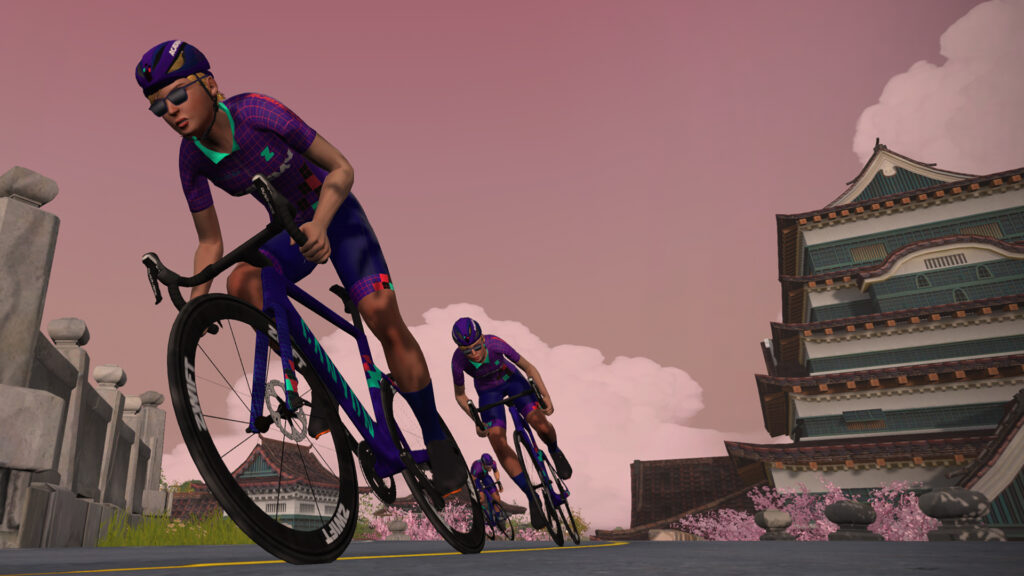 For those unfamiliar, Zwift Academy is an annual event that serves two purposes. First, it's a global training program for cyclists of all levels. Secondly, it's a worldwide talent ID competition that has placed multiple riders onto WorldTour teams.
While the talent ID competition is fun to watch, the vast majority of ZA Road participants are "everyday" riders looking for a fun way to gain fitness. Zwift says, "Zwift Academy workouts are a great introduction to structured training which will help Zwifters boost fitness and increase cycling strength."
New for 2023
Each year Zwift Academy evolves as Zwift tweaks the structure to improve everyone's experience. This year's Academy is a lot like 2022's, except for the addition of races, longer workouts, and a change to the pro contract awarded.
Races Required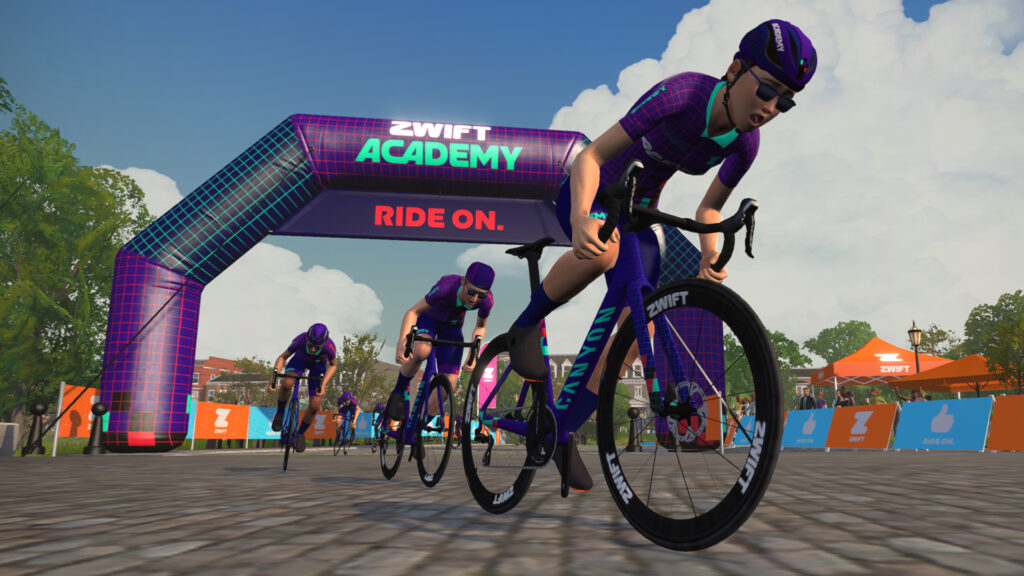 For the first time since Zwift Academy 2018, riders are required to finish races in order to graduate. Specifically, two different Zwift Academy races will be held, and you must complete each one. Details below….
Longer Workouts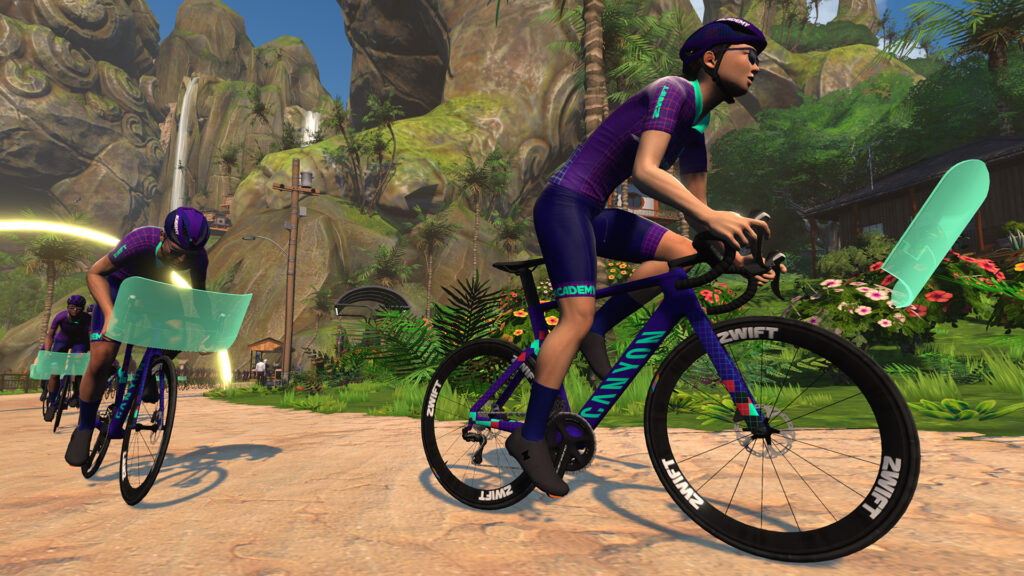 Like last year, this year's six required workouts come in both short and long options. But this year both the workouts have gotten a bit longer. In fact, some of the long workout options are ~90 minutes long!
Development Program Contracts

In past years, women's winners have earned a contract for CANYON//SRAM's World Tour team, while men's winners in recent years have earned a contract for Alpecin-Deceuninck's development team.
This year it's the same for the men, but for the first time the ladies winner will get a contract for CANYON//SRAM's development squad instead of the World Tour team, providing a formal and sensible training/testing pathway to the World Tour for both the men's and women's winners.
Workout Details
Zwift Academy's six workouts will be available on-demand in your workout folder, but will also be available as group workouts on the hour daily on this schedule:
Workout 1: Nov 6-12
Workout 2: Nov 13-19
Workout 3: Nov 20-26
Workout 4: Nov 27-Dec 3
Workout 5: Dec 4-10
Workout 6: Dec 11-17
Zwift says, "Workouts range from explosive anaerobic workouts that will strengthen your sprinting skills through to endurance-focused workouts that will help improve your aerobic efficiency – ideal for tackling those hills."
Here are the details of each workout:
Workout 1: Explosive 30s

Ignite your engine to sharpen your explosive speed and build your stamina for race-winning moves. This dynamic workout focuses on two critical power durations, 30-second and 2-minute. 30-second efforts mimic attack covering and punchy courses, while 2-minute efforts simulate late-race attacks and final climbs.
Long: 79 minutes // Short: 42 minutes
Workout 2: Fatigue Fighter

Take exhaustion head-on in a session that tests your aerobic endurance. In this workout, you'll conquer 8-minute efforts that will push you over your FTP after you've already built up some fatigue. Teaching your body to be resilient against fatigue is the key to success for long, hard rides and races.
Long: 82 minutes // Short: 44 minutes
Workout 3: The Finisher

Get a glimpse of what the real-world demands of race-winning sprints are in professional racing. With a workout that simulates end-of-race conditions by inducing fatigue, and then challenging you to deliver high-intensity efforts when it matters most, you'll soon be practicing your winning salute.
Long: 91 minutes // Short: 42 minutes
Workout 4: Fast Twitch HIIT

In racing, being able to adapt to pace changes is often what separates the champions from the rest. Hone your muscular coordination and pace-change readiness to follow attacks or punch up hills, and push your limits with some challenging VO2 max efforts in this high-intensity session.
Long: 65 minutes // Short: 37 minutes
Workout 5: The Steady State

Heart rate precisely shows the stress your body experiences during training and racing. In this extended, steady-state workout, target a consistent heart rate to boost your Time to Exhaustion and optimize your aerobic engine. Remember, these prolonged sessions can be tough both physically and mentally. So, pick your favorite playlist and dive in!
Long: 81 minutes // Short: 49 minutes
Workout 6: All-Out Burn

Push your limits with a 5-minute all-out effort in this workout. It's crafted to gauge your max VO2 capacity after fatigue kicks in. By assessing your 5-minute effort post-intensity, you'll be testing your peak aerobic capacity—reflecting real-world competition scenarios.
Long: 82 minutes // Short: 45 minutes
Race Details
Races will use Zwift's standard category enforcement, and events will be available multiple times daily from November 20-December 17 (see schedule).
Race 1: Scotland's Rolling Highlands
2 laps for A/B categories, 1 lap for C/D
Total Distance: 23km for A/B, 14.1km for C/D
Total Elevation: 183m for A/B, 106m for C/D
Click for Rolling Highlands route details >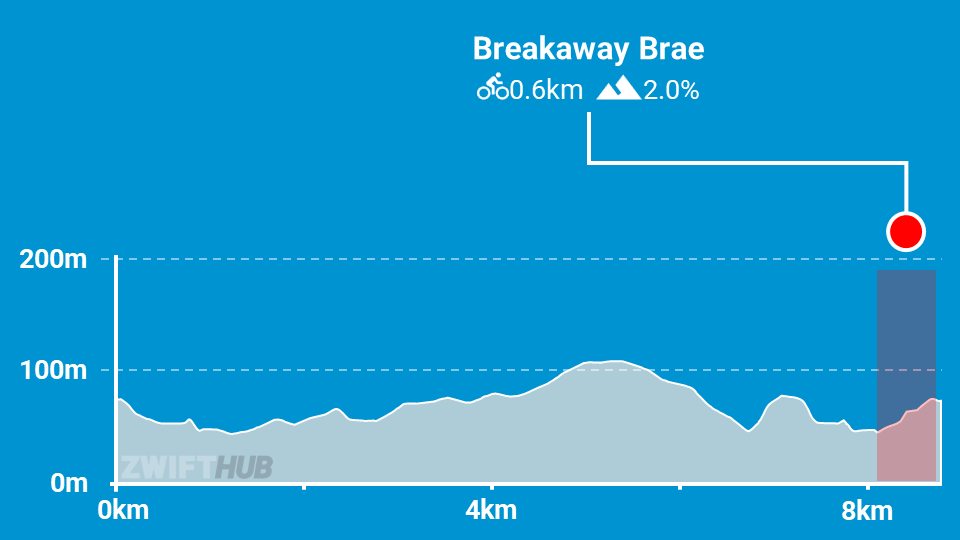 Race 2: Richmond's Cobbled Climbs
3 laps for A/B categories, 2 laps for C, 1 lap for D
Total Distance: 27.8km for A/B, 18.6km for C, 9.5km for D
Total Elevation: 403m for A/B, 270m for C, 136m for D
Click for Cobbled Climbs route details >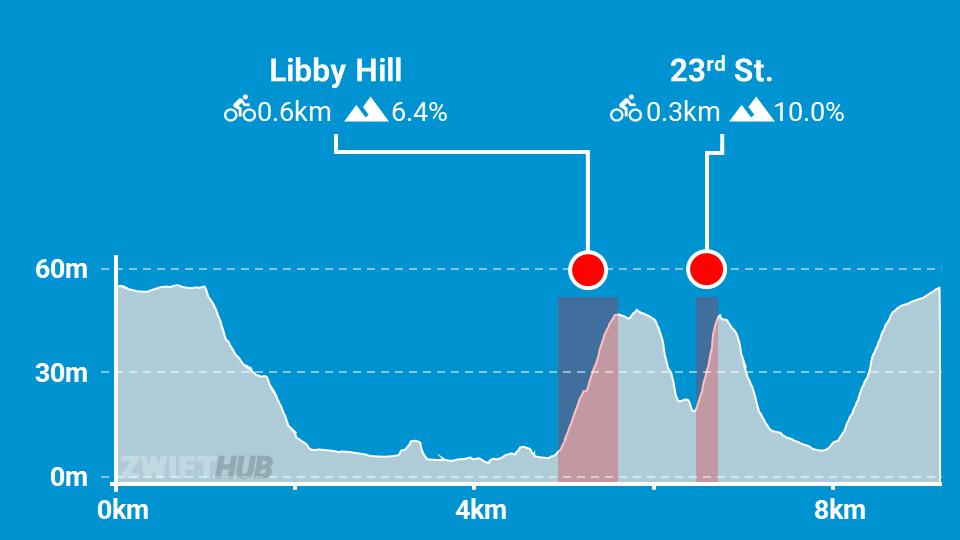 Academy + Companion App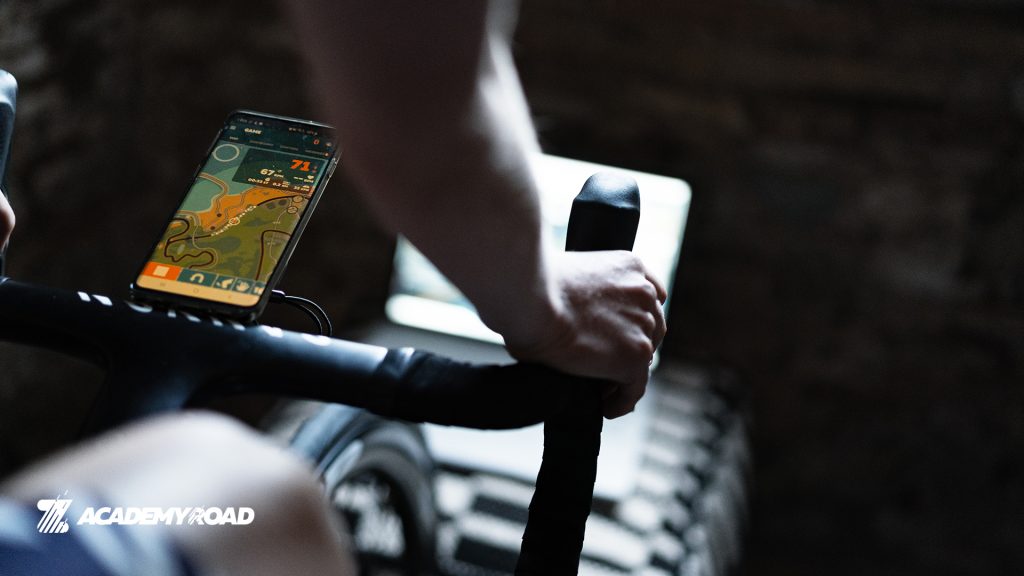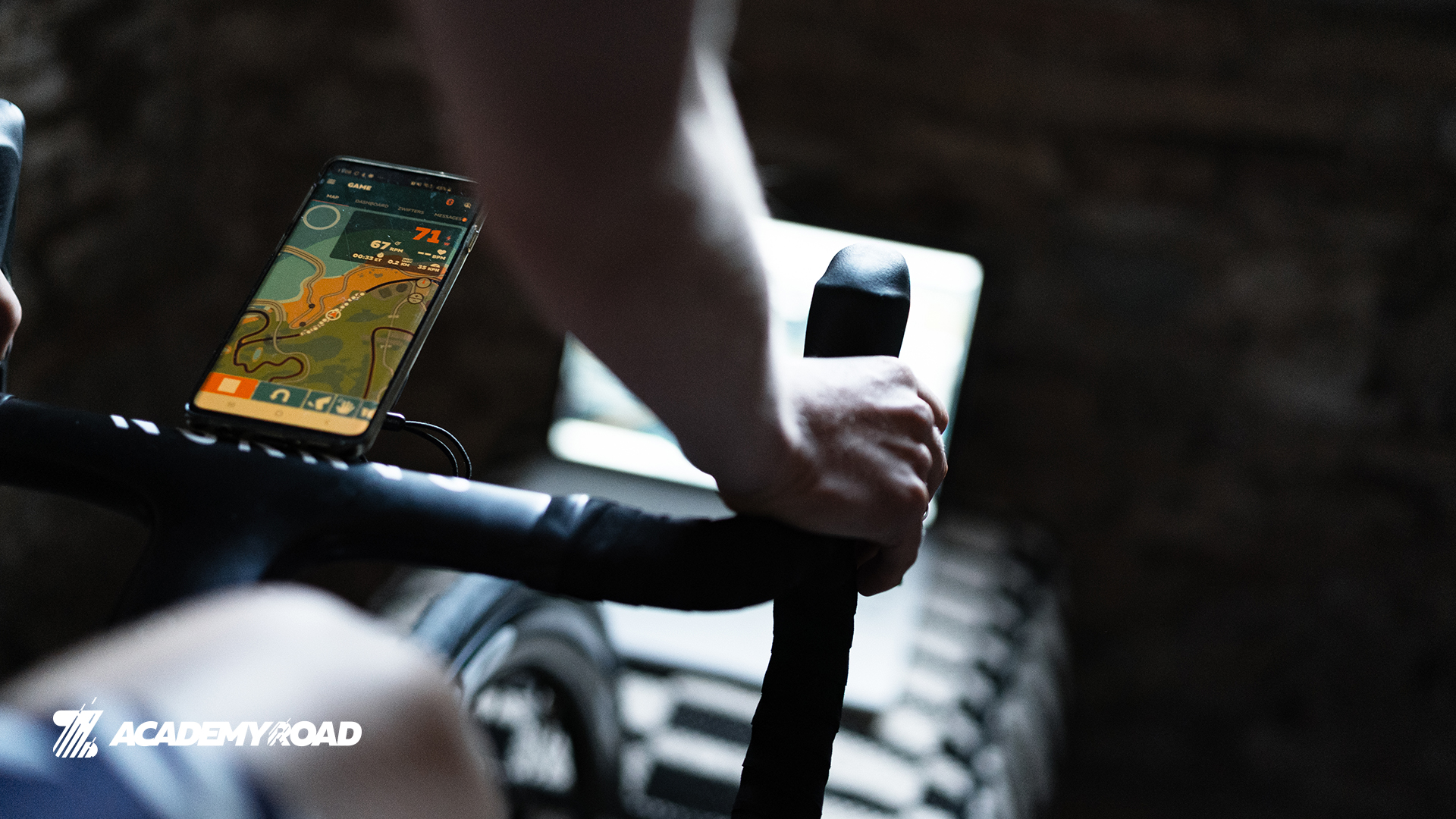 The best place to track your ZA Road progress and gains is via Zwift's Companion app. Here you'll find the results of your races as well as a progress meter showing which workouts you have left to complete!
Additionally, the Companion app is very useful when completing workouts in Zwift. Did you know you can adjust your FTP bias via the app if the workout is too difficult? Get 5 Companion app workout tips from Shane Miller >
Graduation Requirements
To complete Zwift Academy 2023, participants must complete a total of 8 rides:
All 6 Zwift Academy workouts (group workouts or individual, your choice)
Both Zwift Academy Races
Riders pursuing the pro contract will need to put in some extra work. See below for details.
Key Dates/Schedule
October 30: Zwift Academy registration opens online and in game
November 6: Zwift Academy begins
December 17: Zwift Academy ends
Unlocks
Riders will unlock new kit as they progress through the program:
1 events: unlock ZA kit
3 events: unlock ZA cap
Any race completion: unlock ZA aero helmet
All 8 activities: unlock Zwift Academy 2023 paint job for Canyon Aeroad 2021 frame (you'll need to buy the frame, though!)
Pro Contract Competition
In this year's Zwift Academy women will be vying for a 1-year pro contract with the CANYON//SRAM development team and men will be chasing a spot on the Alpecin-Deceuninck development team.
If you want a shot at the pro contract you have to jump (ride?) through some additional hoops. Here are the key rules for all riders who want to be considered for the pro contract:
Important Rules
Pro contract contenders must meet the following requirements:
Be aged 18 years or older as of January 1, 2024.
Graduate Zwift Academy 2023
Complete the long version of all six structured workouts and both races.
Ensure your height and weight are accurately entered into Zwift before you begin the program.
Use a heart rate monitor for all Zwift Academy events.
Use a smart trainer or smart bike with +/- 2.5% accuracy.
See the full list of requirements here.
Coaches
Returning again this year are ZA Road coaches Stephen Gallagher and Dan Fleeman. Both are experienced and strong bike racers, indoors and out!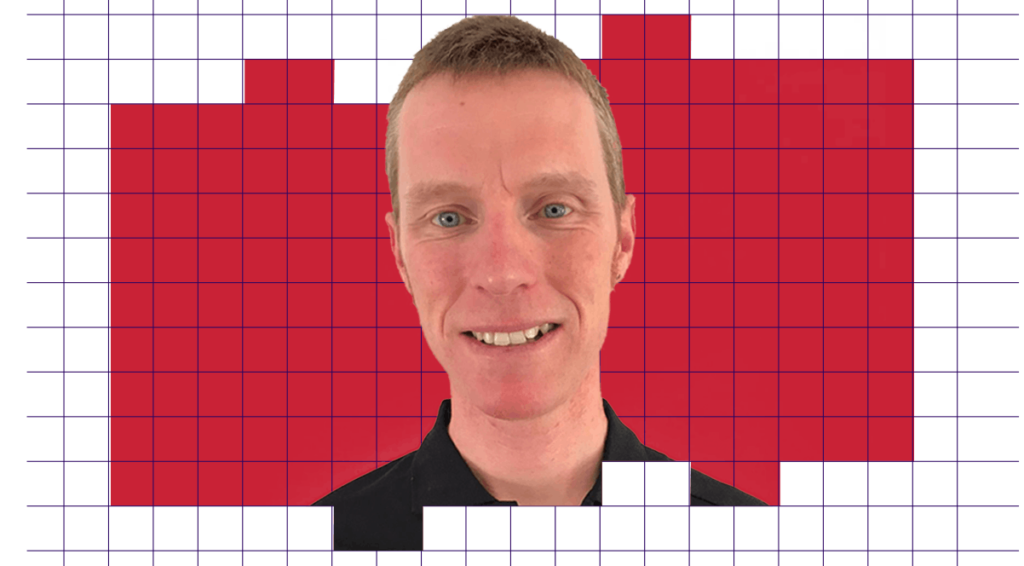 Stephen is a lifelong racer who's represented Ireland at Worlds and European Championships. He designed the structured workouts as a journey—one that educates and asks you to push yourself on the bike. Read his bio on DigDeepCoaching.com >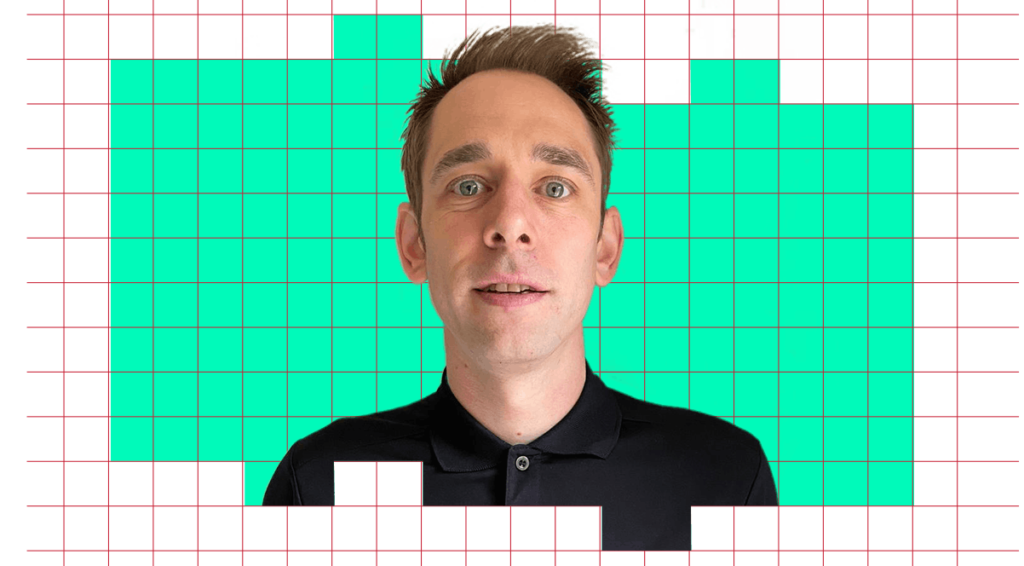 Practically born on a mountain bike, Dan's medal-winning history as a Brit racer speaks for itself. He brings a rich knowledge of training and structure for a program that's as tough as it is smart. Read his bio on DigDeepCoaching.com >
Ready to Get Started?
Sign up in-game, or do it online at zwift.com/academy.
Questions or Comments?
Post below! We'll do our best to answer any questions, and may reach out to Zwift HQ if you have queries we can't answer.