The finals for Zwift Academy Road 2022 have just finished, and Zwift partnered with GCN to bring you a series of 5 episodes documenting the finals process.
Each day this week will see the release of a new episode, and today the series begins!
As a reminder, here are the 10 finalists (to learn a bit about each rider, see this post):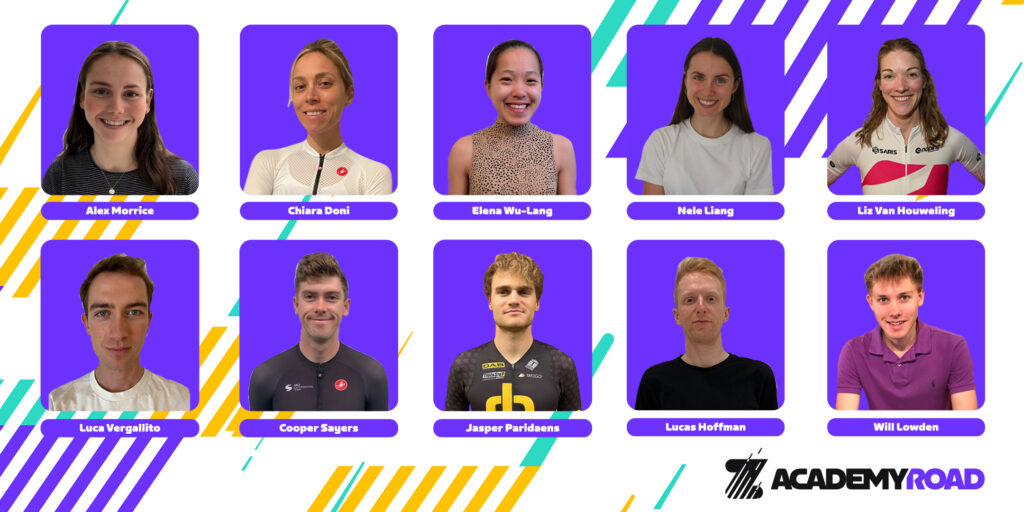 Unfortunately, Liz Van Houweling flew all the way out to Spain for the finals only to be struck with Covid-19, taking her out of the competition. Best wishes for a quick recovery, Liz!
Watch Episode 1:
Episode Summary (Spoiler Alert!)
This year, the challenge has moved from from Mallorca to a top-spec cycling facility in southern Spain.
We meet the pro team judges: for Alpecin-Deceuninck we have DS Christoph Roodhooft and Kristoff de Kegel, Head of Performance. For CANYON//SRAM we have Beth Duryea, co-owner and DS, and Magnus Backstedt, Head DS.
After breakfast, finalists arrive back in their hotel rooms after breakfast to find their beds covered in Zwift and team kit. New kit day – always the best day! The riders get kitted up and head to the indoor studio for a Zwift fitness test where riders must put in 4 full gas efforts:
20-second sprint from a dead stop. Riders aren't allowed to get out of the saddle or change gear.
3-minute effort
6-minute effort
10-minute effort to test aerobic capacity
After the test, CANYON//SRAM's Beth and Magnus agree that the women's numbers were quite even across the board, and there are no big standouts. For the men, Kristoff is most impressed by Luca's numbers.
Were there any weaknesses spotted? Beth mentions that Elena's pacing on the 6-minute effort was a bit off, while Kristoff says Jasper was perhaps a bit weaker on the day than the other four men, with his cadence dropping at the end of each effort to around 80 rpm. He also suffered more than the others in the heat.
All of the riders suffered in the indoor test room's heat, but the coaches use this situation to see how the riders handle adversity.
Riders of the Day
At the end of the day, the judges select their riders of the day. The two Italian finalists get the nod: Chiara (who paced her efforts to perfection and executed the test very well) and Luca (who smashed every effort with power numbers that stood out to the judges).
Coming Up Tomorrow
On day 2, finalists will be out on the roads with the pros, and they'll also take on a cheeky hill climb time trial. Watch this space for episode 2!
Questions or Comments?
Share below!