ZwiftHQ has quickly taken advantage of Strava's new policy toward virtual miles, rolling out their first-ever Strava challenge soon after announcing the official availability of Zwift Run.
The Zwift 10-in-10 Challenge is simple: Run 10 miles in 10 days, between February 15-24, 2018. Miles can be on Zwift or outside, from one run or multiple efforts.
More Details
Here is the full description of this challenge:
Celebrate the launch of Zwift Run with the first ever Zwift Strava challenge.

Run 10 miles in 10 days and you'll be entered to win new running gear from Zwift & Wahoo.

Any pace, any place, all you have to do is run ten miles. For an extra challenge, push yourself to go further or go faster than ever before. Try a new route. Maybe even do your fastest mile indoors.

That's right, virtual miles count just the same as outdoor miles for this challenge. Try running on Zwift and explore new running routes through underwater tunnels, over snowy mountain tops, and even in a Mayan Jungle.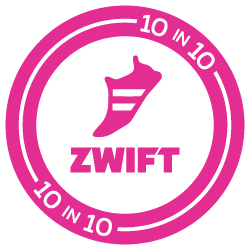 Over 23,000 participants were already signed up at the time of this post!
Prizes
Everyone who completes the challenge will receive the digital finisher's badge for their trophy case.
Participants who complete the challenge will also be entered to win running gear from Zwift (t-shirt and shorts) and a TICKR FIT heart rate monitor from Wahoo.