Strava has announced that creators of partner challenges now have the option to allow virtual rides or runs to count toward their challenges on Strava. According to their press release,
Indoor virtual activities are categorized as those that include GPS, distance, elevation, and time data from a simulated route. Strava's own challenges will continue to count only outdoor run and ride activities towards challenge goals.
The Good News, or the Bad News?
On one hand, this is music to Zwifters' ears. We all know our virtual activities consist of real hard work, and deserve to be counted toward challenges.
On the other hand, this announcement makes it clear that Strava's own challenges will continue to only allow outdoor activities. Since the vast majority of Strava challenges come from Strava themselves, this rule change, in practice, does not change much. Currently Strava's challenge page lists 11 active challenges. And although it is not always clear which challenges are "partner challenges" and which are from Strava, based on the challenge logos I would guess only 2 of the 11 are partner challenges.
Le Col is Le First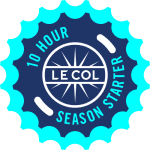 The "Le Col Season Starter" challenge is the first to allow virtual rides. Oddly enough, the challenge's homepage says nothing about allowing virtual rides. In fact, under "Additional Info" it states, "Manual entries, private activities, and trainer rides will not count toward your challenge effort."
But I joined the challenge and uploaded a Zwift ride, and it counted. So there you have it.
A Good First Step
Overall, I see this as a step in the right direction. Hopefully soon Strava will begin allowing virtual activities for their challenges as well.