The sixth race of Zwift Racing League 2021/22 Season 3 is Tuesday, May 10th, and it's the Queen Stage. This course features the longest climb of the season, and riders strong enough to get away on the climb will be treated to the added bonus of sprint and finish points that follow.
This is also the last race of the regular season. We have the semi-final and finals coming up next. (There's been some confusion about how these races will work, so watch for a Zwift Insider post discussing these soon, as well as race recons.)
We've put together a complete race guide including tips for bike choice, powerups, and crucial segments. Ride smarter… ride harder. Let's dig in!
Looking At the Route: Innsbruck's "2018 UCI Worlds Course Short Lap"
The 2018 UCI Worlds Course Short Lap has one key feature, and it comes early: the Innsbruck KOM (technically called the Römerstraße Climb, but nobody calls it that). This is by far the biggest climb of the ZRL season, and it will, for a large part, determine who gets the sprint and finishing points waiting up the road.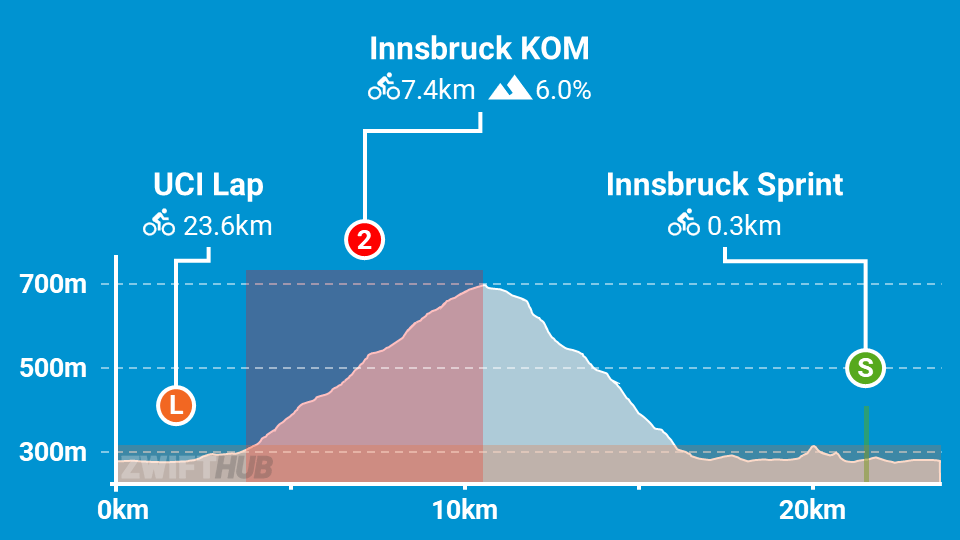 There are three key portions of the course which deserve highlighting:
Innsbruck KOM (3.3km in): 7.4km long at 6% (Strava segment), this climb takes top riders around 16 minutes, while middling Bs are closer to 25. It makes for an excellent FTP test, in fact. Many portions are draftable, so being on a wheel is beneficial. Once you finish the climb, find a good group on the descent, then work to catch riders up the road.
Leg Snapper (19.9km in): you should be somewhat recovered by the time you reach the second climb of the day – the punchy Leg Snapper (Strava segment). 430m at 6.9%, this is basically an all-out effort that breaks up the group heading into the sprint.
Sprint (21.6km in): this is a longish (300m) flat sprint, and with no powerups it's going to be all about timing and power. Keep in mind you've got the finish just 2km up the road!
This course is called the "2018 UCI Worlds Course Short Lap" because it was featured in the 2018 UCI Worlds road race. If you find the course challenging, consider this: the men's elite racers began in Kufstein and ride 84.7km to Innsbruck, then they completed this circuit 7 times. Amazing!
Read all about the 2018 UCI Worlds Course Short Lap route >
PowerUp Notes
No powerups will be given out during this race. Due to a Zwift bug powerups have been unreliable in ZRL (and other) events lately, so WTRL made the wise decision to just disable powerups for everyone until the bug is fixed in the next Zwift update.
Bike Choice
The key feature on this route is the KOM, so going with a climber or all-arounder is probably your best bet. Based on our frame and wheel tests we've estimated the following time savings up the KOM for various popular setups over the standard fast aero rig:
| | |
| --- | --- |
| Frame + Wheels | Time Saved |
| Specialized Venge S-Works + DT Swiss Disc | 0s |
| Tron | 8s |
| Canyon Aeroad + DT Swiss 62 | 11s |
| Scott Addict RC + ENVE 7.8 | 12s |
| Specialized Aethos + Lightweights or Alpinists | 19s |
Of course, going with a pure climbing rig will cost you in the sprint. In the end, riders must choose a rig that will support your race plan – pure sprinters may choose an aero bike then plan to go easyish on the climb and smash the sprint for FTL points. See our See Tron vs Top Performers Comparison Chart for a helpful comparison of various popular setups.
More Route Recons
Many events are now being planned each weekend on the upcoming ZRL route. If you're not familiar with this course, jump into one of these events and do some recon! Here's a list of upcoming 2018 UCI Worlds Short Course events.
Looking for a video recon, with lovely British commentary to boot? Check out the recons below:
Si Bradeley
Strategic Options
Points Distribution
The maximum points a team of 6 could earn in this race.
Based on the chart above, it would appear as though finishing points are most important, while KOM and sprint points are less so. But mind this: the KOM comes first, and will be the major selection point which defines the finishing groups. So what sort of strategies will we see employed?
Climbers gonna climb: strong climbers have every incentive to go hard on the KOM. This will earn them KOM points, and drop the sprinters so there is less competition for sprint and finish points down the road.
Slacker sprinters: pure sprinters who have no chance at KOM points may go easy(ish) on the climb, saving their legs for a big effort on the sprint in a bid to grab FTS points. Those sprinters may even choose a more aero bike/wheel combo for maximum advantage, and if a team has multiple sprinters they may choose to work together and benefit from each other's draft.
The chase is on: over the top you'll see chase groups form and try to pull back the front riders in the ~11km before the sprint point. Teams without riders in the front group would be especially wise to put in the work on these chases.
Maximizing in the middle: most riders will find themselves in no-man's land, unable to grab KOM points, but not strong enough to get sprint FTS points, either. These riders can essentially ignore the intermediates in an attempt to maximize their finishing points. That means a nearly max effort on the KOM to hold their best pack position, then recovering before the Leg Snapper for another hard effort to hold position. Sit in on the sprint, and save the legs for the finishing sprint. Then go go go!
Your Thoughts
Care to share your thoughts about Tuesday's big race? Comment below!
About This Series
The Giant Tips ZRL series is sponsored by Giant Bicycles and delivers helpful tips for upcoming Zwift Racing League stages so you can unleash your full potential.
Giant is the world's leading brand of high-quality bicycles and cycling gear. Part of the Giant Group founded in 1972, the brand combines craftsmanship, technology, and innovative design to help all riders unleash their full potential. Learn more at giant-bicycles.com, or visit one of their 12,000+ retail stores around the world.