My race week centers on the two WTRL events – Tuesday is Zwift Racing League (ZRL)… Thursday is for the TTT. Martin and Steven of WTRL have cracked the code of making Zwift racing practical and I'm all in!
Each week I publish a recce filled with a course profile, bike recommendations, and even some target times. If you like your recces delivered visually find me on YouTube here.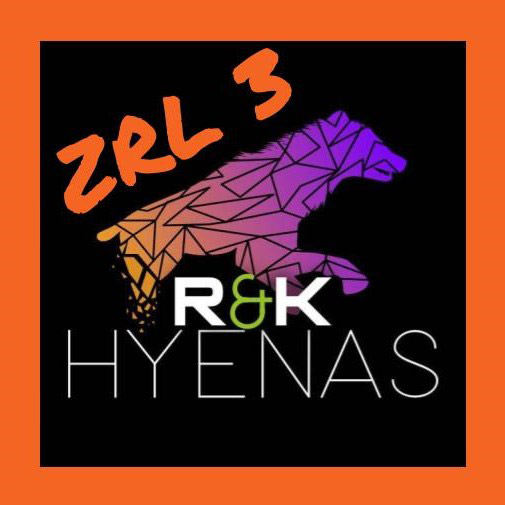 I rode ZRL Season 1 and 2 with a small contingent of rebels from Rowe & King, first in the Ewoks, then the Droids. But for season 3 the club is going to town with ZRL – ten teams to start and new rider requests coming in daily. I will be with the 11-rider squad of the R&K Hyenas. I hope to see all 10,000+ of you out there on Tuesday!
What's a Team Time Trial
Season 3s opener is a Team Time Trial. If you're a returning ZRL racer you know the drill (skip this section!) but if you are new to ZRL and haven't ridden in the Thursday league, you've probably gathered the Team Time Trial format is different from your everyday rides and races. Let's explore that a bit…

In the ZRL TTT your team of 4-6 riders sets off at a pre-ordained time (more on this later) and works together to get around the course in the fastest time possible. Sounds simple… and it is. But the trick is in how you get the best performance out of the team.
What makes a TTT different?
What makes a TTT different? Basically it's about the teamwork. In a normal race on Zwift, you are pretty much on your own. You might get comfort in seeing team jerseys, but frankly that's about it. In the TTT you are working together the whole time: using the stronger members to help the weaker members, using climbers to pull the team over the hills… you get the idea. The mission is to either be in front of the team pulling, or be safely in the draft resting.
Sherpa Dave's 5 tips for a better TTT:
Master the team start
Assuming you all survive the team delay time, make sure you coordinate the start as a team. My teams always does a 20-second countdown, and we start pedaling at 5 to make sure the trainers wake up. You should aim to be in formation and at race pace within 15 seconds with no stragglers.
Communicate
Discord is the way to go here. Share clear and crisp updates so everyone knows where you are and how your legs are doing.
Have a plan
Whether it is a speed target, a

w/kg

target, or something else, make sure everyone knows what they are meant to do. If there is a significant hill, have a plan for it… and a fallback plan!
Situational awareness
Know who is ahead of you, and who is behind. If you see a 1-second gap anywhere say so. Look after your teammates.
Have fun!
Whether it's getting to know each other in the pen, chatting afterwards in your group chat system of choice, or bantering mid-race, make sure you have fun. R&K Team Captains all do a weekly write-up to capture the team's spirit, culture, and humor so we end up with fantastic intra-team and cross-team community. I highly recommend it!
Douce France route recon
One fast lap… that's all this is. But this route is a little more technical that it looks at first.
Take a look at the ZwiftHub profile below. The route starts with three rollers which change into a series of small bumps and then is pretty much flat from 7km to 10km before you start the climb up the aqueduct. The aqueduct climb starts well before the actual KOM marker. After descending (around 11km) the route is mostly flat (there are a few little rollers) all the way to the finish at 24.1km.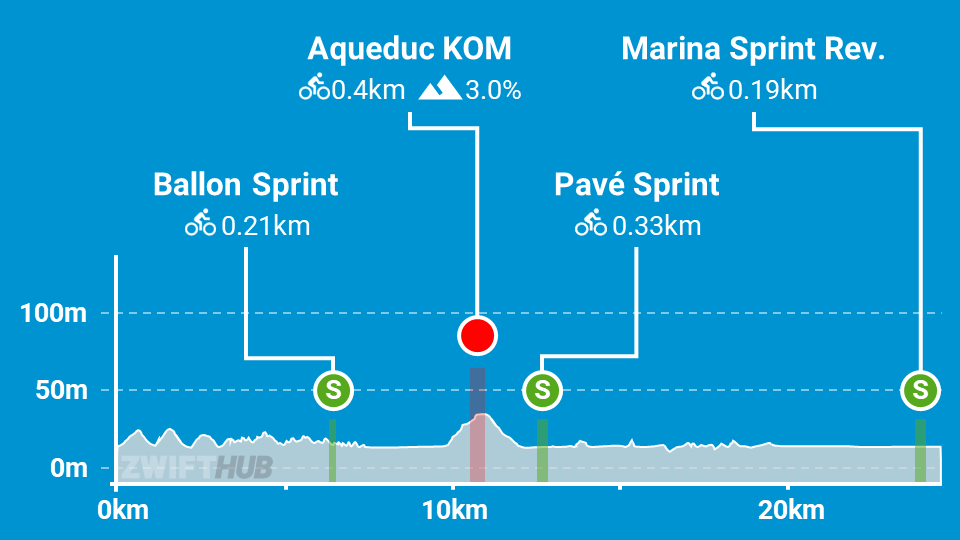 What to ride?
Bike recommendation on this route is pretty straightforward: aero rules the day. I will be riding my S-Works Venge with the pretty Super9 disc wheels. You should pick your most aero bike and wheels.
See Fastest Bike Frames and Wheels at Each Zwift Level if you need help knowing which setup you should use.
Route Recon Rides
This is a popular group ride route so if you like company. check the event listing on zwifthacks.com. Additionally, France is one of the guest worlds Saturday through Monday, so you can easily free-ride the route.
That said, I rode this route yesterday so you don't have to… France is one of the most beautiful Zwift worlds but on Tuesday you will be going too fast and hard to notice. Here is my recon ride in glorious HD!
And here's a recon from Rick at No Breakaways:
Race breakdown
This is a beautiful ride, almost perfect for a Team Time Trial. I break this route into four sections:
Three small hills to get you started (3km)
Bumpy stuff for the next 5km, then flat to the aqueduct hill
Up the aqueduct hill and down the other side
Flat with occasional bumps for the remaining 12km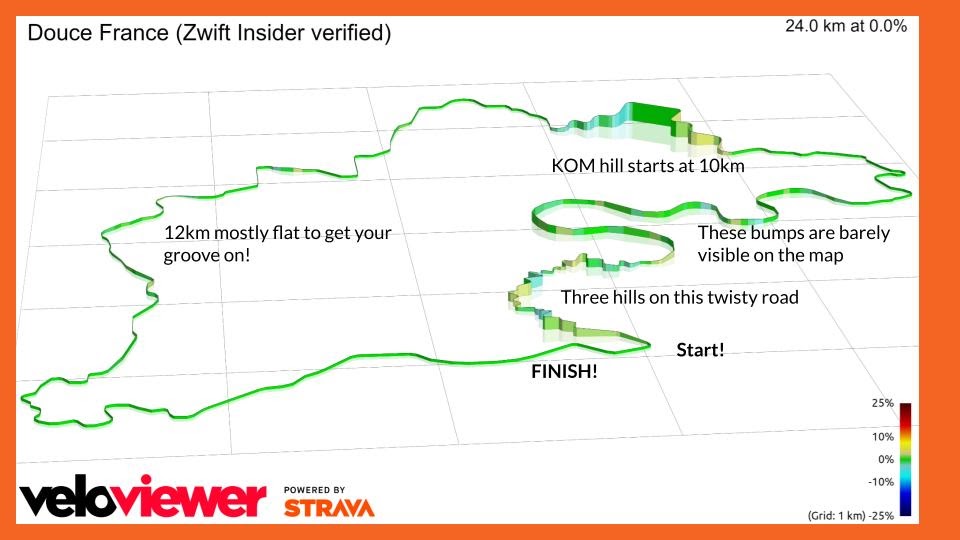 Part 1 – Three small hills
Don't underestimate these three small hills. They start at 1km and the road is windy, so it can be challenging to get your group working well together. Keep an eye on your teammates and keep communicating. Don't over-exert here, your first priority is to stay together.
Part 2 – 5km of bumpy stuff
Each of these bumps is tiny – maybe 1 or 2 meters max… but the repeating change from ascent to descent will throw everyone off. The effect is similar to the dreaded Esses in Watopia. What is helpful here is a strong voice – a DS if you have one, but in reality (sorry DSs) anyone will do. Just call out the top and bottom of each bump reminding the team to manage their momentum.
At 8km, shortly after the Ballon Sprint, the terrain settles down and it's flat until you begin the climb to the aqueduct.

Part 3 – Up and down the aqueduct
Many will tell you this is a 400 meter hill averaging 3% – in fact, that's what the ZwiftHacks map says. That is just the timed KOM though! The hill itself starts at the 10km mark and is 800m at 2.5% manifesting as a series of short 5% steps. The descent is the same, 800m at -2.5% in a series of steps.
From 24km to the start/finish gate is 1.2km of downhill and flat. Finish with a group sprint to show the crowd what you're made of.

Part 4 – Mostly flat to the finish
Once you descend the aqueduct (approximately 12.4km) it is mostly flat all the way to the finish.
That's 12km for you to get into formation and ride like the wind. There are a couple of minor bumps along the way but nothing to slow you down.
Wrap up
If you're new to the TTT format this route is a wonderful starting point. A little technical undulation at the start to see how well you operate as a team, but a long flat section at the end to practice formations.
If you are experienced at TTTs this is a flat out ride. Start with 6, end with 4, claim your points!