UPDATE Nov 22 2020: this post has been updated to include the latest intermediate information, since the Aqueduc KOM was added after publishing, and points have been reduced from top 5 to top 3.
The seventh week of Zwift Racing League is upon us, and it's going to be a battle between the wattage workhorses and the punchy climbers as we tackle custom lengths of France's Petit Boucle. Let's dig into the course, including some tips for bike choice, Strava segments for the custom routes, and more…
Looking At the Route: France Petit Boucle
Here's a route preview from Rick over at No Breakaways:
Route Breakdown
This route is super flat, except for a few sections. Here's the profile map – keep in mind this shows the entire route, but for ZRL we are only racing part of the route. We've pointed out the finish lines for each group below.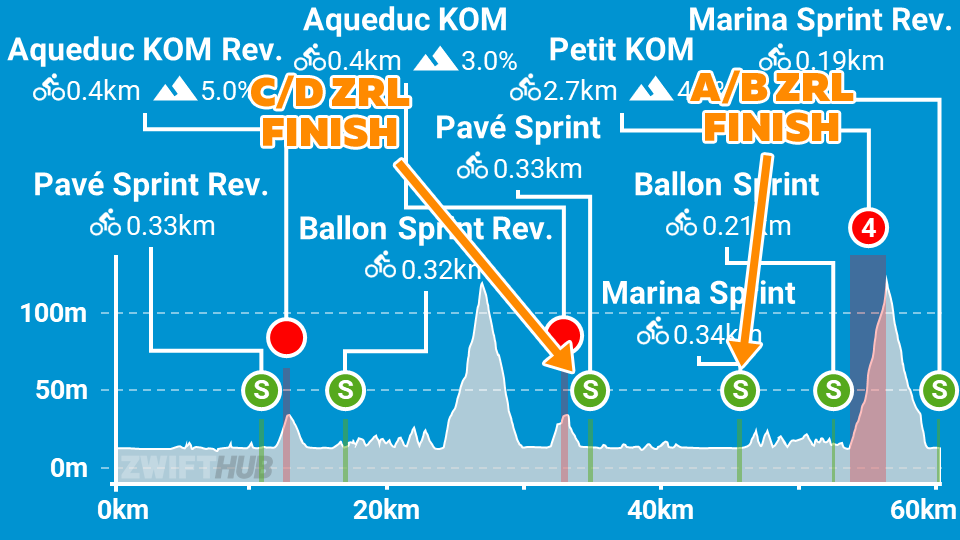 The Pavé Sprint Reverse is an intermediate for points, so timing it well will be key if you're going for points. But keep in mind only the top THREE get points on intermediates this week.
Then we hit out first bit of climb, the Aqueduc KOM Reverse. This is really a sprint climb, but it's for intermediate points, so expect an all-out push to the line!
Another sprint is just up the road, the Ballon Sprint Reverse. This is the last intermediate point option before the big climb which may see many of the top sprinters dropped.
Next we hit the twisties ("Les Intestins") – no big climbs, but lots of little ups and downs, so be careful to maintain a good position in the pack.
Then it's a left turn and up the big climb of the day – the backside of the Petit KOM. At around 2.9km and 3.7% average grade, this climb is comparable to London's Box Hill and the Watopia's Volcano KOM (both of which are a bit longer):
Unless teams are riding aggressively, chances are good that the front pack in your race will still be quite large when you reach the base of this climb. This is where the stronger climbers will put in massive efforts to try to drop sprinters so they can break away and score more intermediate points (A/B groups) or win (C/D groups) on the upcoming Pavé Sprint.
But before that sprint there's the Aquaduc KOM Reverse – the final change for extra points for C/D, and another chance for extra points for A/B.
The Pavé Sprint line is the finish for C and D groups, just over 36km long. A and B groups will continue on for another flat 11km, finishing at the Marina Sprint with just over 47km.
A/B Group Strava Segment (47.3km, ending at Marina Sprint)
C/D Group Strava Segment (36.2km, ending at Pavé Sprint)
Bike Frame/Wheel Choices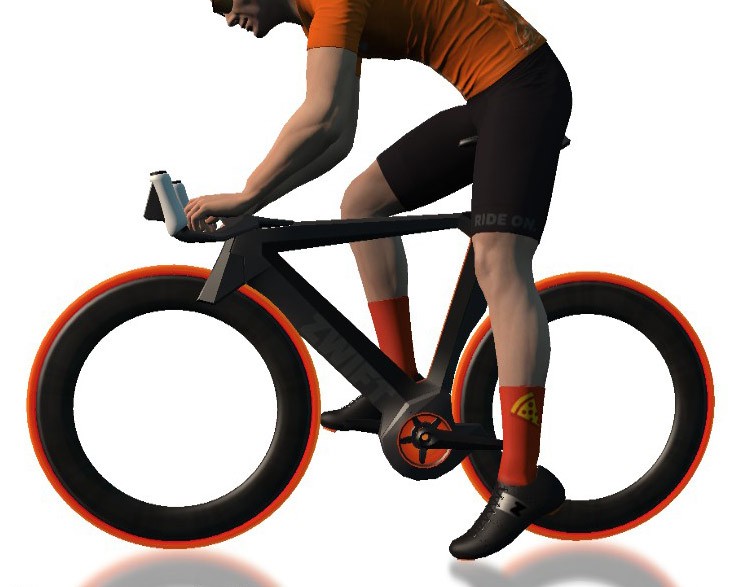 We haven't done test laps of this route, so we don't have hard numbers to show you this week. With only a small portion of this course being uphill, an aero setup is going to save you the most energy over the full route. But will a slightly lighter-weight setup help you just a bit on the crucial climb up the Petit KOM's backside? And is that bit of advantage worth the hit you'll take on the flats?
That's a question you'll have to answer for yourself this week.
Strategic Options
There are 5 intermediates on Petit Boucle, each awarding extra points for the first three over the line (3, 2, and 1 points). They come in this order:
Pavé Sprint Reverse
Aqueduc Q/KOM Reverse
Ballon Sprint Reverse
Aqueduc Q/KOM
Pavé Sprint (Premier/A/B only)
Sprinters, rejoice! There are definitely some opportunities here for you to earn some points for your team. Even if you get dropped on the big climb, you can contend for the points in the two flat sprints before that.
It will be fun to see what happens after the big climb. If a reduced group of stronger climbers is up the road, will the pure power riders behind them be able to work together to pull them back?
And before that big climb, will the pure power riders be pushing the pace in order to drop (or at least tire out) the climbers?
The Petit Boucle backside isn't terribly steep, so there will probably be a decent number of smart non-climbers who make it over the top in the front group. These "Peter Sagans" will be the riders to watch for in the final moments of the race.
Lastly, powerups: there will be five opportunities for a powerup on this route (4 for C/D riders). Make sure you know how each powerup works, and use them wisely!
Your Thoughts
Care to share your thoughts about Tuesday's big race? Comment below!