When I started cycling at age 49 I tipped the scales at 120kg and never exercised. Three years later I've lost the weight (down to "almost" 75kg) and I'm on Zwift most days! If you like my content – check out my Youtube channel for race livestreams and more.
For over a year now, the Thursday WTRL TTT has been the center of my week and Zwift Insider has been wonderful in letting me share that obsession with you.
Each week I will give you a profile of the upcoming route, guidance on bike choice, and some target times. This week I added something new… a video highlight reel recap of Watopia Figure 8 last week.
The TTT is an amazing ride, but if you can't ride (or even if you can ride, but want more action) don't forget to tune in to the live TV show on Zwift Community Live's YouTube Channel at 6:15 (UK time), or even my own livestream event.
Watopia Figure 8 recap
I didn't do any time predictions for Watopia Figure 8 – it was our first time on the course (insert random excuse for laziness here…) but I did livestream the Vixens AND I created a highlight reel for the ride. Let me know your thoughts as a comment in Youtube, or even a "Like":
Our Guest spokesperson from Team Giant Camden this week is Bernard Fromson who rode with Team Living on a Prayer (so named as with 4-riders, they were "only halfway there"… geddit?):
Captain Diego Prada was wearing his customary headband, doing John McEnroe impersonations and generally keeping us entertained in the pen. We were ready for the start and to be shouted at, abused, and accused of being at least a mile out of line.
Banner up, a quick 5 min delay and off we went. Almost a perfect line from the start and a tidy run for the first 8km till we got the reverse KOM. We struggled up the hill, got overtaken on the steepest part and all recovered on the supertuck descent. Newcomer this week, Lauren, said she'd only be able to keep up for half the race, but kept creeping into the lead position.
The second KOM climb split us badly. Your correspondent almost got dropped but fought hard to get back. We held together, and with a heroic sprint finish made it to the end.
Team Giant Camden run 8 teams – but my other contribution comes from an outfit with just 3 – vAmos, Blast and Crew. Here's the report from Mark B of CICC Blast:
We assembled at the line and Fraz and Robbie took umbrage at my suggestion that if the two of them and Gerry all finished the ride without an IT glitch it would be a first. Less than 2 mins later Robbie's comms packed up but he was still there in person, and could see us, so off we set.
Course had some trip hazards but we stayed pretty well together with Chris and Gerry pulling good-goes on the front. Frenchman Olivier declared early that he was a protected rider, but with the hairdo he had on his avatar probably costing him 20w he did well to stay with it till the second hill where he and Scots Gerry formed the auld alliance to ride home keeping each other company, probably moaning about the English.
This left 4 of us who swapped effectively to spin it home in a respectable time – the only disappointment being CICC Crew finishing who crept home 50m in front of us.
Thursday 11th March – Greater London Flat
This is a two lap race with a long lead-in. It was last ridden in a TTT in July, and before that in April. In April I was with the Paris-based CICC-B team but had a mechanical, in July I was with R&K's Lattee team, the Hyenas where we pulled a 42m time with 6-riders. I hope we will do better this week with 7 (8 if we are lucky) riders.
The ride starts with the usual London lead-in – from the Tower along the Thames before taking the sharp right turn up Northumberland Avenue to Trafalgar Square. A quick up and back along The Strand before heading on to The Mall for the start/finish gate to start lap 1.
Each lap is pretty straightforward. Up and down Constitution Hill (not very hilly), and along Birdcage Walk. Don't bother looking for the birds in cages as they disappeared once James the 1st popped his cloggs.
Onto Millbank, running alongside the Thames again, which turns on to Grovesner Rd, then turn right on to Chelsea Bridge Rd. You are now 12km in to the ride.
1km later there is a very slight bump up as you head around Sloane Square and on to Sloane Street. From here there's a false flat (2%) until you hit Brompton Road at 14km. From here you will pick up speed as you head into the Hyde Park Corner underpass, then lose it again as you head up Piccadilly.
The Piccadilly ramp is the most arduous aspect of the lap – 1km at around 3% – ending when you make the sharp turn onto St James Street. After that it is 1700M downhill or flat all the way to the start/finish gate.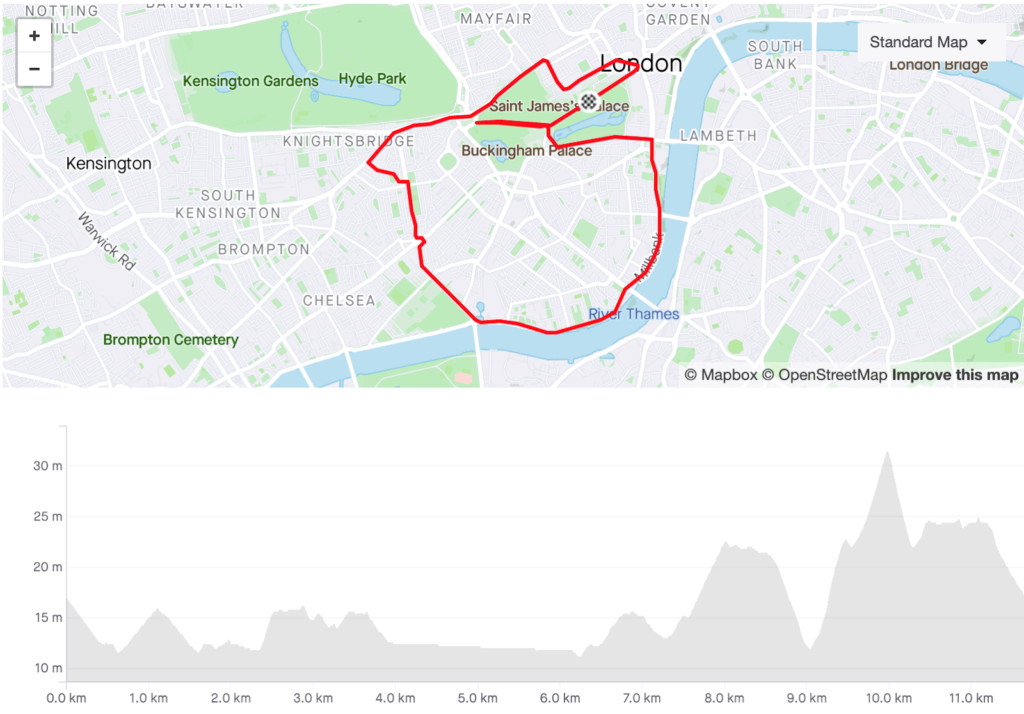 Being so popular, this route has plenty of resources. There is a Zwift official race recce that breaks the race down well. As always the recce is an analysis of a scratch race rather than a TTT, but good reading all the same. It highlights the two main areas to be aware of – Northumberland Ave (from the Thames to Trafalgar Square) and the Piccadilly rise.
Eric has a couple of useful Strava segments – the one that does a lap from the pens, and one for the lap from gate to gate.
What to ride?
This is one of the flatter routes in Zwift and as such aero rules. I will be on the S-Works Venge with the fabulous and pretty 858/Super-9 wheels. On this course, Venge beats the Tron handily.
If you don't have these bikes, pick your most aero setup. Here are some recommendations on equipment at various levels but check out Eric's page that looks specifically at the best bikes for a flat course :
Level 6 Zwift Aero frame and DT Swiss ARC 62 wheels
Level 13 Canyon Aeroad 2021 and Zipp 808s
Level 18 Specialized Venge with Zipp 808s
Level 25 Cervelo S5 with Zipp 808s
Level 33 S-Works Venge with ENVE SES 8.9
Level 35 S-Works Venge with Zipp 808/Super 9
Level 45 get those 858/Super 9 wheels and pair them with the S-Works Venge
I know I say it every week but it is doubly important this week. Get the Tron! It may not be the fastest on this route, but only other bike/wheel combo beats it… and you need to be Level 45 to get that combo!
The Giant Camden "Get the Tron" series is in full flight. This link on Zwifthacks will let you know the currently scheduled events – and the next one is Rising Empires on Sunday – sign up for it here. Team Giant Camden are well known for being a friendly lot and while they are based out of a bike shop in London, they have 200+ racers from all over the world with a very strong female contingent. The Tron Hunter rides are open to all!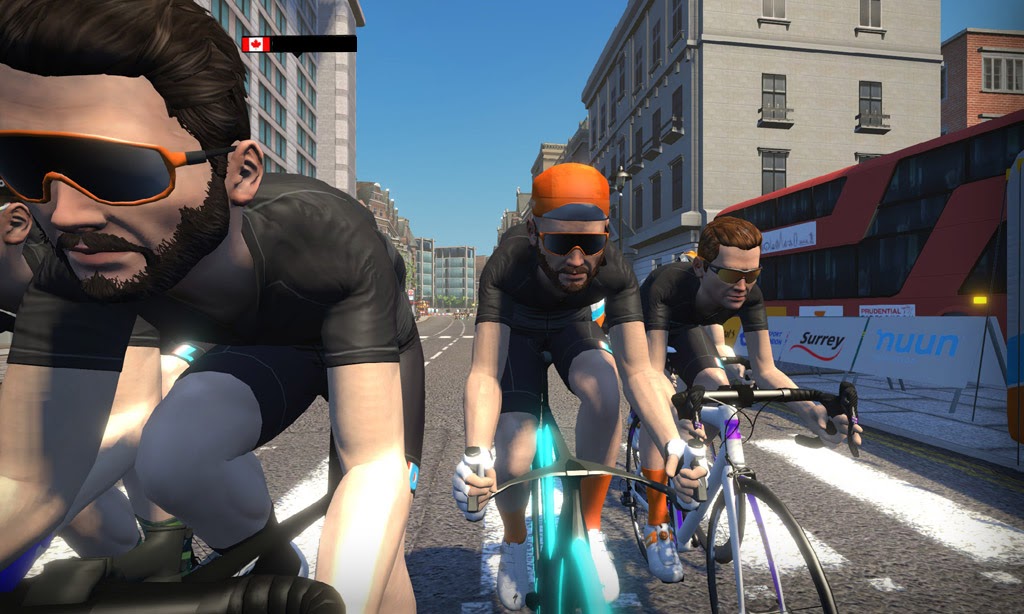 Route Recon
There are loads of choices for a recce ride – check out the event listing on zwifthacks.com to see for yourselves.
But if you're more inclined to read my recon, here we go!
Unlike last week this is all pretty flat – no big bumps in the road to break up the teams, but there are a few areas to watch out for:
From the pens it is a nice flat start, allowing you to get into formation and go. 3.7km into the ride you make a sharp turn onto Northumberland Avenue – that's a 150m stretch at 4%. Keep the weight-weenies in check to prevent a split.
It's pancake flat until you can see the start-finish gate through the arches, then you get a nice 1% almost imperceptible descent to pick up speed. You go through the gate at 5.9km.
It is mostly flat from here to the Hyde Park Corner underpass. You'll pick up speed as you enter the underpass at a ride distance of 15km.
Up and out of the underpass and you are on Piccadilly which goes on for 900 meters and averages 2% – broken into two 3% sections with a flat in the middle. You will see the end of the climb approaching because the road turns sharp right.
From here it is all flat or descending for the remaining 1.7km to the start/finish gate at 17.8km… then repeat one more time.
Mostly flat to the underpass (26.9 km).
Head up Piccadilly… with tired legs, you might have four obvious candidates for a fast finish.
Don't forget to sprint the downhill from the arches to the start/finish gate!
Target times
This route has been ridden three times in 2020. April saw the best time of the three. I believe we will be slightly faster than December across the board – but not much.
| | | | | |
| --- | --- | --- | --- | --- |
| Category | April 30th #54 | July 16th #65 | Dec 10th #86 | My prediction |
| Vienna | 42:47 | 42:41 | 41:40 | 41:30 |
| Doppio | | | 37:05 | 36:30 |
| Espresso | 37:09 | 37:10 | 37:39 | 37:30 |
| Frappe | 39:06 | 39:17 | 38:51 | 38:45 |
| Latte | 42:09 | 42:08 | 41:35 | 41:25 |
| Mocha | 47:38 | 47:22 | 46:48 | 46:45 |
Ride summary
This ride doesn't have any steep hills – nothing that will break up the team completely like last week. The main issue will be pushing hard on tired legs, and weaker members of the team falling behind. A week for Discord and good teamwork!