One fast lap… that's all this is. 24.1km plus a lead in of one click making it 25.1km all the way around. This is one of the shortest and fastest TTT routes. It's not as flat as it looks, but pretty flat all the same.
This is basically flat to the aqueduct (about halfway around), a continuing series of rollers that starts around the 17.5km mark and three decent bumps at the end. The trick is to handle the rollers like the Esses – use momentum and communication to carry you through at speed.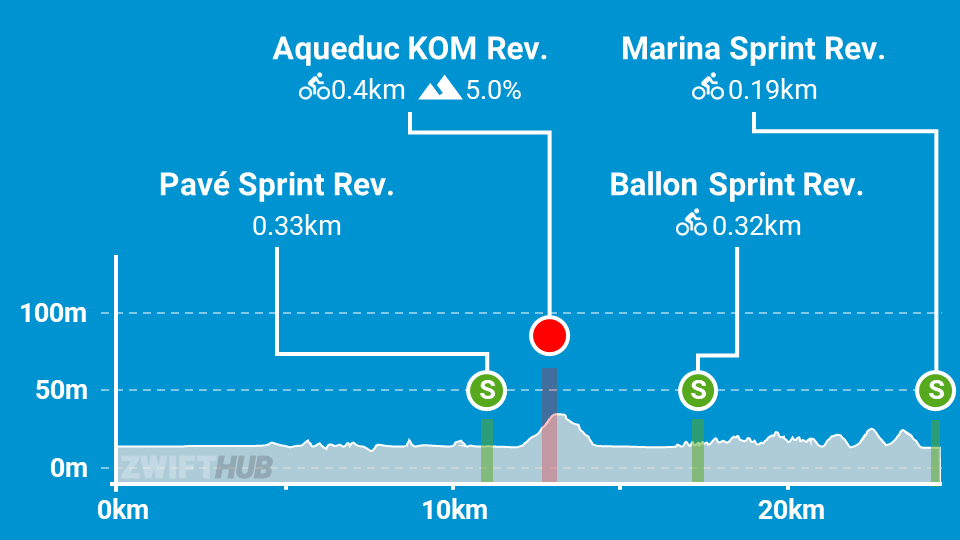 What to ride?
Bike recommendation on this route is pretty straightforward. Aero rules the day. I will be riding my S-Works Venge with the pretty Super9 disc wheels and you should pick your most aero setup.
Here are some choices – but if you want to look at all the options head over to Eric's main page.
Level 6 Zwift Aero frame and DT Swiss Arc 62
Level 10 Canyon Aeroad 2021 with DT Swiss Arc 62
Level 10 Canyon Aeroad 2021 with ZIPP 808s
Level 25 Cervelo S5 with Zipp 808s
Level 31 Cervelo S5 with ENVE SES 8.9
Level 33 S-Works Venge with ENVE SES 8.9
Level 35 S-Works Venge with Zipp 808/Super 9
Level 45 S-Works Venge with Zipp 858/Super 9
Route Recon Rides
This is a popular route. Over the next week you will find dozens of events on the ZwiftHacks event listing.
France is a beautifully-rendered world – my favorite of all of them. On Thursday you will be going too fast and hard to notice, so make sure you have a look at my recon ride (with new musical selections this week courtesy of Streambeats!)
Race breakdown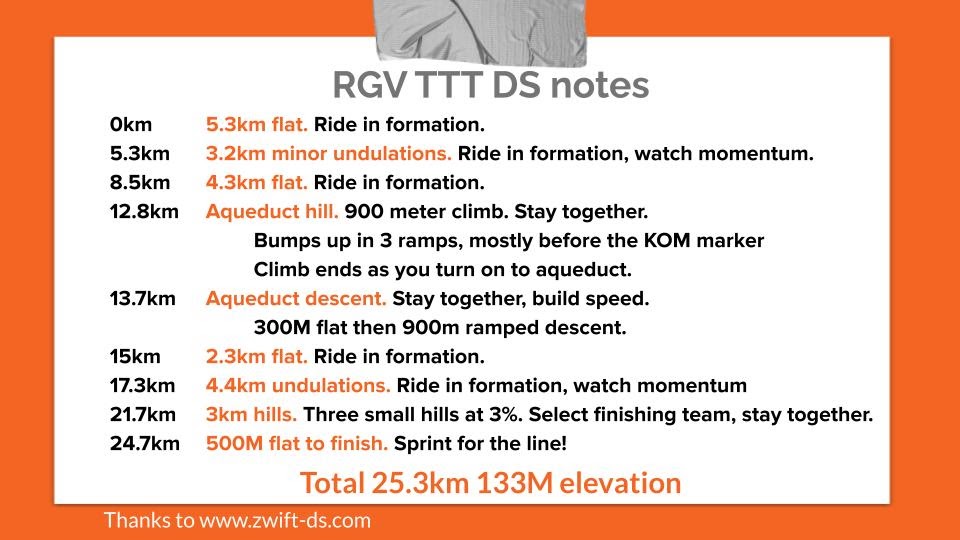 It's a beautiful ride, almost perfect for a Team Time Trial. I break this route into four sections:
Flat for 13.5km
Up the Aqueduct hill and down the other side
A little more flat
Bumpy stuff then a flat sprint to finish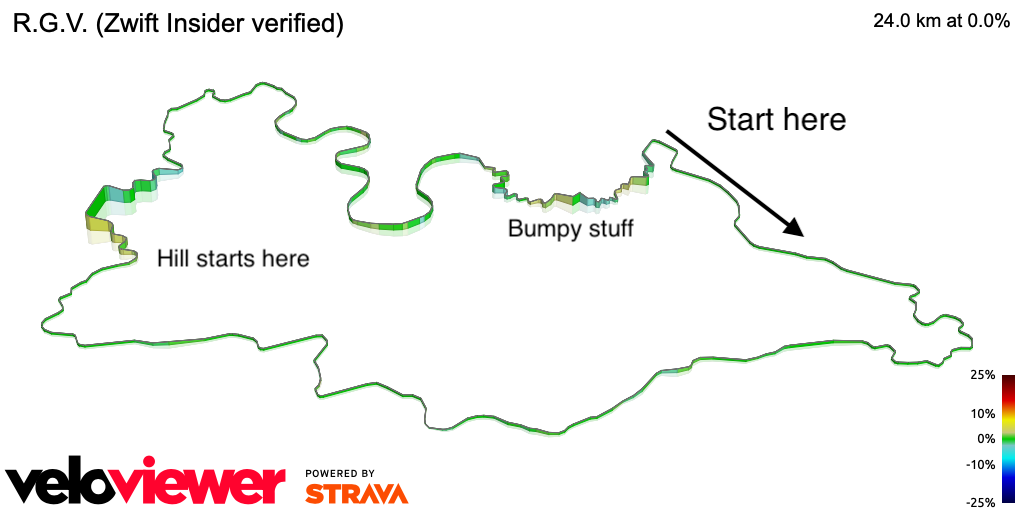 Part 1 – Flat
R.G.V. is the perfect route for a team that is still learning about each other. It starts with a 13km flat to sort yourselves out then gets a bit more technical but never too much.
Use the first flat section to work out your formation (whether you are blobbing, running a paceline, or something else). And get to know each other's strengths and weaknesses.
Those with more experience will just get in formation and ride!
Part 2 – Aqueduct Hill
Many will tell you this is a 400-meter hill averaging 2.5% starting 13.5km into the ride. They lie. What they are telling you is where the Aqueduc KOM starts, and that segment's overall statistics. Unfortunately, the KOM segment starts two thirds of the way up the hill – and ends halfway along the flat.

Right around 13km you will begin the rise – it is 2.5% on average and goes for 900M. The trick is that the actual aqueduct hill starts at 12.8km and bumps up in three ramps – two of which happen before the KOM marker. Even so, it's not that hard. The technique here is simple – don't let your lighter riders race ahead. It's not that bad and if you're careful you will barely notice it.
Part 3 – More Flat
After a 500m flat across the Aqueduct itself you'll drop back down the other side and it will be flat once more until you hit 17.3 km. This is a good time to regroup after the climb/descent and get yourself back into formation.
Part 4 – Bumpy Stuff
This is the most challenging part of the course. A series of undulations – at first each one is just a meter or two (barely there!) but they are just enough to mess with the team's momentum. You will be exhausted by now so concentrate on staying together. 4km of that sets you up for three small hillocks – each one approximately 10m ascent at around 3%. This whole area winds around and around, making it hard to get your bearings. Keep your eyes on the rider in front and stay there!
Don't underestimate these three hillocks. The team will be wiped out by now if you have been going fast enough, and these three will split what's left of you. Just remember you need 4 across the line, and it is the 4th rider's time that matters.
From 24km to the start/finish gate is 1.2km of downhill and flat. Finish with a group sprint to show the crowd what you're made of.

Target times
I was surprised to find we haven't TTT'd this route since August. ZRL have done it, but not the Thursday crew. So, here are my predictions to land a coveted PL spot. I'm being brave and having a go at predicting the Vienna classes this week!
| | | |
| --- | --- | --- |
| | Vienna | Mixed |
| Doppio | | 31:50 |
| Espresso | 36:50 | 32:45 |
| Frappe | 37:20 | 33:20 |
| Latte | 38:50 | 35:40 |
| Mocha | 42:30 | 39:55 |
Wrap up
This course is not as boring as it looks at first. The last third is actually pretty technical – think of the Esses but stretching for a couple of KM – then three hills! But overall it's a lovely course for a fast TTT. Plenty of flat to practice your skills, and a little bit of technical undulation at the end to see how well you operate as a team.