Zwift has offered automatic weight syncing from FitBit and Withings/Nokia scales for years, but sometime around May 2020 something broke and Zwift accounts were no longer being automatically updated.
This has been an annoyance for me, because I purchased a Withings Body+ scale (get it Amazon here) a couple of years ago specifically for its Zwift integration. So I was happy when I finally saw some action on the Zwift forum topic addressing this bug!
Based on official replies in that forum topic, Zwift fixed the issue for FitBit users in early January 2021 – but they're still working on a fix for Nokia since it's a separate problem.
The good news is, since it's working for FitBit, Withings users have a simple workaround to start getting their weight automatically updating again! In very simple terms, what you can do is set up a free FitBit account, then connect it to your Withings account so your scale sends data to FitBit. Lastly, connect that new FitBit account to Zwift. Viola!
The data flows like this:

Here's the step-by-step process, if you're using a web browser to do the setup. (Presumably this can also be done from a mobile phone using a browser and the FitBit/Withings Health Mate/Zwift Companion apps, but I didn't document that process below).
Step 1: Create Fitbit Account
Creating a new FitBit account is free and fairly painless. Just visit accounts.fitbit.com/signup and walk through the steps.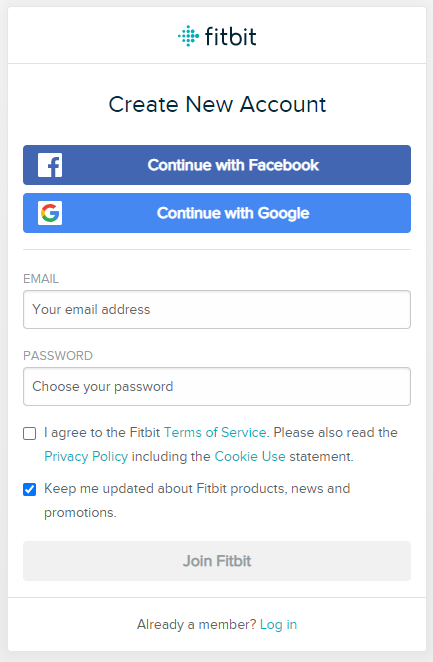 You'll need to do all the normal account setup stuff: verify your email, enter age and weight, etc.
Step 2: Connect Fitbit Account to Withings Account
Next, let's get your new FitBit account talking to your existing Withings account. (If you don't already have a Withings account… well, that would be odd, since it would mean you never really used your smart scale's capabilities. That said, you can set up an account at account.withings.com – you'll need to connect your scale to that account as well.)
Visit fitbit.com/weight/withings to connect your new FitBit account to your existing Withings account. You should get a series of screens like this: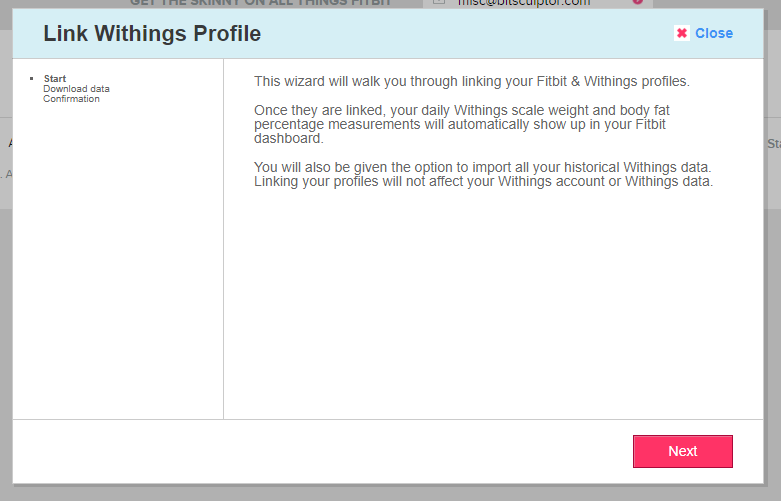 You will be asked if you want to import historic readings… you can do this, or skip it. It doesn't really matter for Zwift, since Zwift just stores your most recent weight reading.
Step 3: Connect Zwift Account to New Fitbit account
So now your weight data is being sent to your new FitBit account. We just need Zwift to start talking to the FitBit account! Easily done.
Visit your my.zwift.com connections page (my.zwift.com/profile/connections) and click the FitBit logo to connect your FitBit account. You'll see a confirmation screen like this (I selected "allow all" – some users report that just checking "weight" didn't do the trick):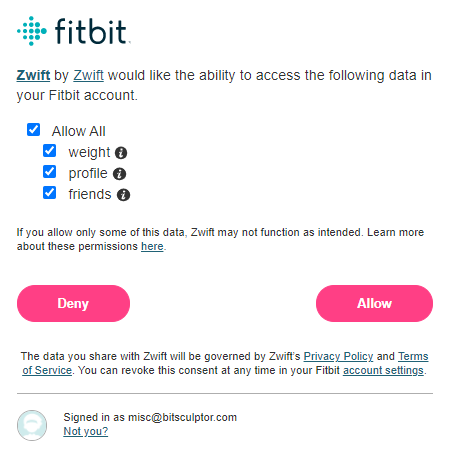 All Done
That's it! Weight should now be syncing from your Withings > FitBit > Zwift automagically.
Once Zwift fixes their Withings connection things should continue operating properly even with this little hack in place.
Questions or Comments?
Share below!