Editor's note: Ian Murray is using Zwift to train for the International Triathlon Union Long Course World Championships held in Odense/Fyn, Denmark July 2018. His weekly Zwift Insider series discusses the previous week's training and the plan for the upcoming week.
---
Week 6 was a crazy busy week in preparation for a couple of weeks of travel for work, and Week 7 was torturous, as the travel brought me out of the Caribbean into the arctic north of Miami, FL. Holy hell did I suffer in the freezing cold! Week 8 is not what I originally had planned. Due to the government shutdown, my follow-on travel did not happen, and I returned to the warmth of the Caribbean earlier than planned. Time to hastily replan my Week 8!
Week 6
Well, I had a good plan. After a crazy hard week, I would take a moderate week before heading out on two weeks of work travel. Unfortunately, it didn't turn out as moderate as I would have liked, you know, the best laid plains of mice and men and all of that jazz. I got my training in, but the work week was nuts. I know, nobody cares about my work week. You just want to hear about my suffering during training.
Coming off of a recovery week, I felt ok. Not awesome, but I felt ok. I successfully avoided another round of getting sick unlike most of the people at work. I consider myself fortunate that I don't have petri dishes running around at my house with the sole goal of spreading their germs to me, so I could escape some of the threat. A nice easy 8-mile run followed by a 3800m swim opened up the account early in the week, and things progressed nicely. Despite longer than normal days at work and a little less sleep than I normally prefer, I felt good rolling into my Friday departure. Arriving in Key West for a couple days with friends before heading to a conference in Miami, I was pretty stoked. It would be my first open water swim of the training block in my new wetsuit, my second swim ever in that wetsuit.
Little did I know, but the need to wear a wetsuit, while not abnormal for this time of year, proved to be a bit of foreshadowing for the upcoming week. More on that later. On Saturday morning, I met up with a small contingent of Evil Elf Racing athletes, and we got started with the ritual. Yes, that meant applying a significant amount of body glide and forcing our skinny bodies into super tight wetsuits. Completely unplanned, we all had Roka brand wetsuits, each of a different model or color. We looked like an add in a magazine. Quite humorous to be honest. Once ready, we walked into the brisk water and got down to business. Did I mention that this was my second time in this wetsuit? Yeah, well about 1500 meters into it, I discovered a new area of my body that could chafe. Lesson learned for next time. For the most part everyone got through the swim ok, only losing one to the sharks this time. Someone has to pay the sea gods, I guess.
The last day of the week meant that it was time to get a nice long run in with my buddy, Seth. Due to the chillier temperatures, we decided to meet up at 8:30 AM rather than pre-dawn like we used to do when I lived in Key West. We started our run in the frigid 57 degree Fahrenheit air and 20 mph winds. On lap one of our two-lap course, it wasn't so bad. Lap two was a bit rough. The wind was really blowing, and it started to take a toll on the legs. The pace dropped off a little bit from miles 7 through 9 and mile 12 or so. Not ideal, but we got a little over 13 miles done in about 1:55. We certainly did not hammer the pace, as that wasn't the goal, but we were both happy with the run and glad to be out of the wind. I can neither confirm nor deny whether the post-run breakfast included some awesome blueberry scones from Old Town Bakery in Key West (a must if you are there). The solid run was a great way to end the week. Planned TSS – 655, Completed TSS – 650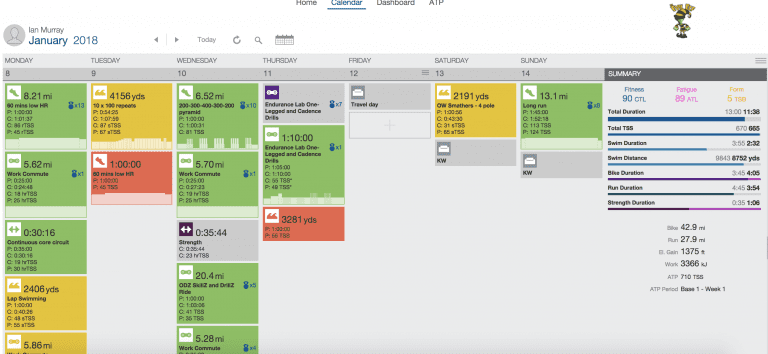 Week 7 – The Frozen Tundra
Week 7 started with a cool strength workout on the beach with some friends, followed by a long drive back up to Miami. There's nothing like rolling around in the sand early in the morning to get the blood pumping. After an uneventful four hours in the car, I dropped my gear at the hotel and went for an 8.5-mile run to knock the crap out of the legs. I didn't want to hit them that hard, as I had a fitness test planned for Thursday morning, so I kept it easy. Plus, I just needed to move. Tuesday came, and I hit another easy run of just about 7.5 miles with a few pick-ups. The weather wasn't too bad. The cold front was starting to come in, so I could feel the temperature had started a slow drop. Things held the same through my short run on Wednesday, which was interrupted by a weigh-in and a brief strength workout.
By the time Thursday morning arrived, the bottom had fallen out of the weather market. Seriously, it was 42 degrees Fahrenheit with a good bit of wind. What the hell? How was I supposed to be outside in those arctic conditions. I mean, seriously, it must have been a similar feeling to being in Antarctica with the penguins. Ridiculous! Anyway, all of my strength work and running paid off, as I maxed out the fitness test, running a 10 minutes and 53 seconds for two miles. Not bad for a masters-aged runner. I elected to take Friday off, as the temperature was still about 45 degrees, and I did not want to suffer any more in the cold. Besides, I had a long run planned for Saturday and wanted to save a bit.
That turned out to be a good idea. My original plan called for about 13.5 miles. I ended up doing 17.6, with the first 13.1 going in 1:33 and change. I was pretty stoked, as I did the run with only about 150 calories ingested before I started and one water stop at a water fountain at about the 11-mile point. The temperature during the run was more or less equivalent to the temperature I should face in Denmark, so the success of the run gave me a sense of confidence for being able to knock out 30K in July after the run. That being said, the run did beat me up a little bit, and I decided to take a recovery day. Being north of 40, I have really put a lot of emphasis on listening to my body. Any extra aches or twinges make me pay a little special attention, especially when traveling. Overall, it was a pretty solid week of running and a good one from which I can build. Planned TSS – 446, Completed TSS – 443

Week 8 – What To Do During a Shutdown? Planned TSS – 1039
So, I had planned on being in San Diego this week for another conference, but the shutdown had a negative impact on that. Now, I have to get back to the office as normal. The question then becomes, "What to do when there isn't much work because most people are not at work?" Well, that is almost a silly question to be honest. The answer is simple: add more TSS. I have a little more planned this week than is necessary. My plan calls for 780 TSS, but I need to make up a little swim and bike from last week, now that I will be able to do it. Depending on the schedule, I may not get everything in, but I'll give it a go.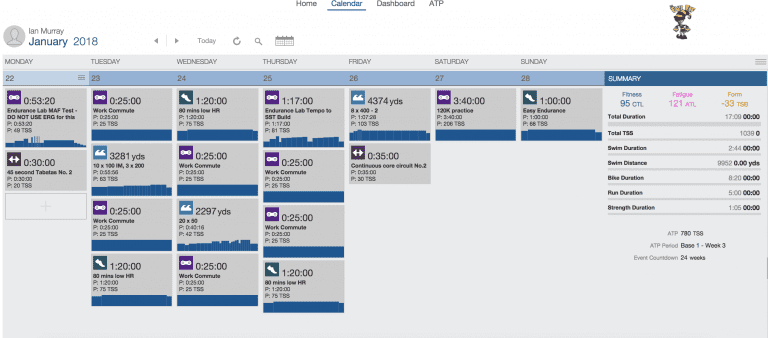 That's it from here for now. Sorry for the gap in putting out the notes, but it's been a bit hectic, as you can tell. Looking forward to seeing you out there on course. Until then, Ride On!