Editor's note: Ian Murray is using Zwift to train for the International Triathlon Union Long Course World Championships held in Odense/Fyn, Denmark July 2018. His weekly Zwift Insider series discusses the previous week's training and the plan for the upcoming week.
---
After an absolutely tough week, I was looking forward to some good recovery this week. The plan was well-conceived, with some good workouts spread throughout the week. A good bit of spacing between the few harder workouts meant the overall stress level would be pretty low.
Then, my neighbors happened. I like a good party as much as the next guy, but my week was shot. Grrrrrr…
Who Needs Sleep?
I know many people who speak about their ability to function on five hours of sleep per night. They say, "Sleep is a crutch. That eight-hour nonsense doesn't apply to me." Yeah, well, I'm not that guy. I love sleep. In fact, back in my college days, I was known to throw down an epic 12-to-13-hour sleep-a-thon every now and then. Yeah, I had some good sleep endurance. Nowadays, that only happens when there is alcohol or an Ironman involved in the preceding night's festivities. No, at the relatively young age of 41, I have accepted that I no longer can sleep like a teenager or early twenty-something. I am still good for a solid seven to eight hours per night, though. I can throw down on the pillow for seven hours, day in and day out. I still have it.
Well, that is unless my neighbors have something to say about it. You see, I live in Santo Domingo right now, and we are in the holiday season, like many places. However, there is a difference here that doesn't exist in other places in which I have lived. This year, the noise and alcohol ordinances were suspended from 22 December until 7 January. That means alcohol can be sold 24-hours per day, and the police will generally not respond to noise complaints… day or night. Anyone who has heard me on the Coaches Corner podcast knows that I am a huge advocate for getting the necessary sleep to properly recover from workouts and realize gains. During last week's epic TSS fest, I was good… through Wednesday. Everything changed on Thursday. Starting that night and for the following three, one or more of my neighbors had a party. No big deal, you say? 9 PM to midnight, you say? WRONG! Try 10 PM to 4 AM for four consecutive nights. Loud music from huge, blaring speakers shook my house. Seriously, had I had a heart attack, there would have been no need for a defib machine. The bass from the speakers would have kept my heart pumping blood for those six hours.
As you can probably guess, my body didn't react well to the lack of sleep, and my immune defenses fell like the temperatures in the Northeast US right now. On Monday, I felt the cold coming on and decided to scrap my planned workouts. By Tuesday, I was in full-on DayQuil mode, and my boss still sent me home. Apparently, I was super pale and white even by my own standards. I went to my go-to solution and hammered back some NyQuil when I got home Tuesday afternoon. I ended up sleeping almost 15 hours that night (see, I still have it) and woke up feeling much better. By then, my week was pretty much shot. I threw in a short run on Wednesday before hosting the ODZ SkillZ and DrillZ Ride and felt almost back to normal. I kept Thursday and Friday pretty light to finish getting better for the weekend to try to at least attempt to salvage the week.
I ended up doing the TeamODZ Goats & Bears event Saturday morning to start off my weekend. I was going to do an Endurance Lab workout, but I felt that I needed to see if I could bring myself to the brink of vomiting or dying. Both almost happened. I had a peak power of nearly 5 w/kg and maxed my HR out at 180 with a 5-minute peak of 176 while climbing the radio tower. I pretty much repeated the same effort in the last few kilometers of the race. I thought that my heart would explode, and I would have puked had I eaten breakfast before the race. To cap off the morning, I did a strength workout, the Continuous Core – No Legs workout from the Endurance Lab. I just wanted to make sure that my arms and core muscles were as smoked as my legs. The day ended up with about 130 TSS. One more workout to go: a nice long, steady run on Sunday morning.
The run ended up being a bit of a bear. Much to my chagrin, the wife wanted to run outside today, and I was forced off the treadmill. With a temperature of 83 degrees and almost 100 percent humidity, it was a lot tougher of a run at an easy pace than I would have preferred. I knocked out just under 10.5 miles, doing the last bit with the wife on a run/walk cycle. Other than being completely drenched with sweat, it felt good to get a dose of Vitamin D. To those suffering the cold weather in the US right now, sorry to rub it in, but that's the way it goes sometimes. The week ended a little short on the planned TSS, but it was a good finish. Planned TSS – 555; Completed TSS – 497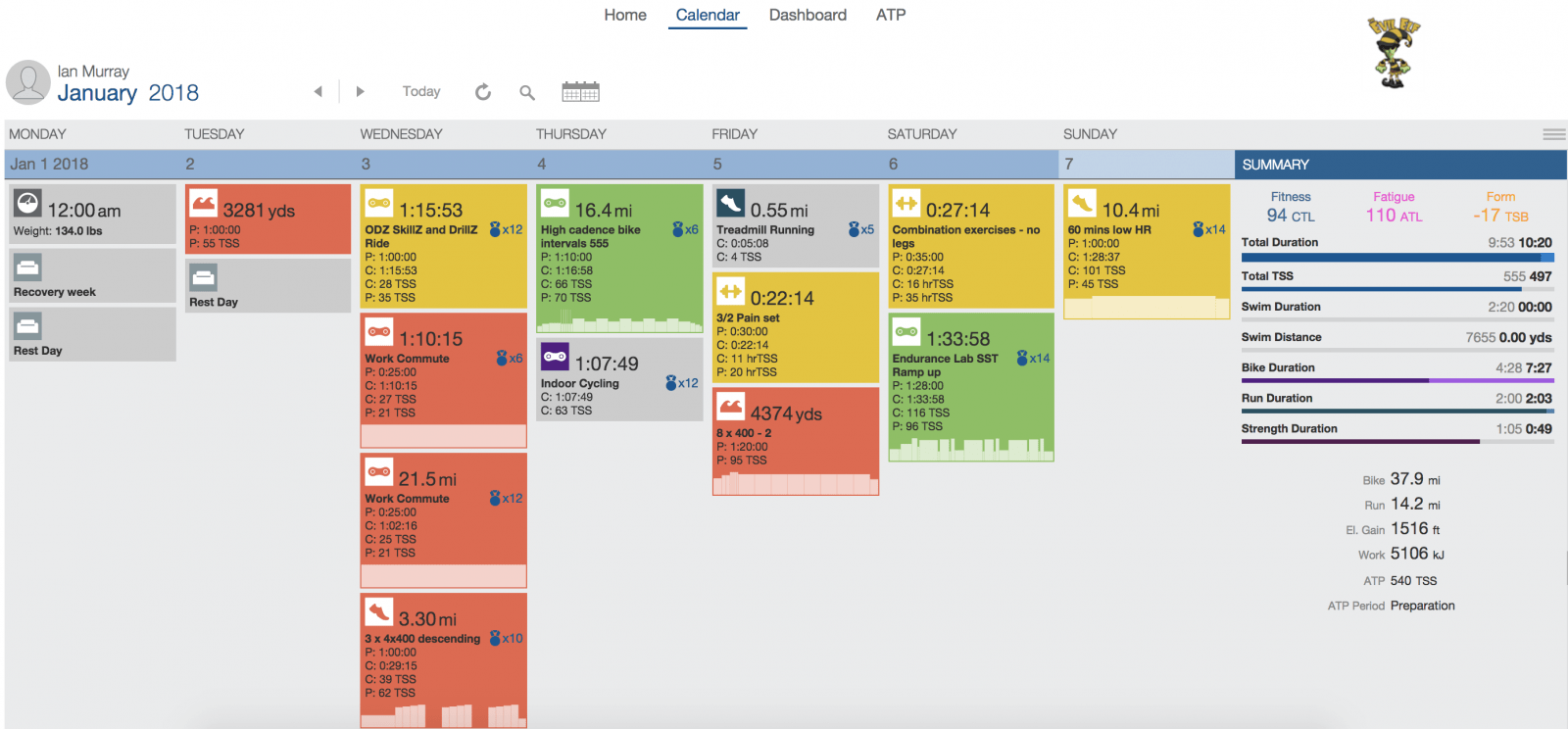 Cramming in the Workouts – Planned TSS – 740
Unfortunately, the upcoming week means that I will have to do some traveling very soon. Thus, I won't be able to hit the TSS numbers prescribed by TrainingPeaks, as I won't have my bike or access to a pool. I will be limited to running and strength workouts. Well, I will be able to this week. It's just going to hurt.
Next week, I'll be checking in from the road. Due to work travels over the following couple of weeks, I will be relegated to the outdoors. I'm not sure what I am going to do without the Ride Ons flowing in during workouts, the people cheering for me in London, and the interesting scenery around Watopia. Oh well, I guess I'll have to interact with my surroundings. So far I'm pretty happy with training, despite the few hiccups. Thanks for following along, and until next time, Ride On!