Editor's note: Ian Murray is using Zwift to train for the International Triathlon Union Long Course World Championships held in Odense/Fyn, Denmark July 2018. His weekly Zwift Insider series discusses the previous week's training and the plan for the upcoming week.
---
The second week in Quebec was an interesting week.  The weather is still not what I prefer for daily life, but it's pretty nice for training.  I also have had to balance studying, tourism, training, and World Cup watching.  All in all, it's been pretty busy.  Ok, not really, but it's been fun.
Linear Distance Versus Volume
When discussing the previous week's training with a TeamODZ teammate, he gave me some grief about my choice of words.  I stated that I was happy to get back to a higher level volume of training.  He informed me that running was just linear distance not volume.  I guess that he is correct from a geometry perspective, but nobody likes Andy much anyway.  So, I'll just ignore his comments.
I started out the week with a nice easy run in the late afternoon to get the legs moving.  It started getting a little warmer later in the day, so I actually ended up sweatier than I expected despite not really pushing that hard.  Immediately following the run, I headed to the hotel gym to do the Endurance Lab Butt Crusher workout.  Well, I wouldn't call it much of a gym.  It's more of a walk-in closet with a treadmill, an exercise bike, and a universal machine plus a little bit of space to do some core work.  I had to get a little inventive and constantly move the pad when not lying on the ground.  The workout is a quick but fun strength workout focused on the legs and glutes.  It really works some of the balancing muscles, as well as the larger muscles.  Check out the video of the different exercises here, https://www.youtube.com/watch?v=jY0s5KxznBs.
After the strength work, it was time to get my grub on!  Ruby and I decided to hit a restaurant nearby because it supposedly had a good Tex Mex menu.  Yeah, it didn't.  I can't say that I am shocked that Quebec is not a hotbed of Tex Mex cuisine.  Anyway, I decided to order a bit of local faire, poutine.  Poutine is basically french fries with a red wine-based sauce and chunks of cheese on top.  I had some buffalo chicken added to it, but even that couldn't save it for me.  I'm not sure how people eat poutine.  At least, I can say that it was better than ketchup chips.  For those that have not experienced that culinary disaster, ketchup chips are potato chips with a ketchup-flavored powder on them.  They may also have a bit of garbage juice sprinkled on them, too, for extra bad flavor, but I can't confirm that.  They just taste awful.  Thanks for the recommendation, Marc!
Tuesday, I decided to get in some tempo work.  Well, it wasn't so much of tempo work as VO2 work.  I did a power-based workout that involved 4 minutes at 290W with 1 minute at 50-75W (walking really) repeated 9 times.  As I planned to swim in the afternoon, I did the workout in the morning… in the freezing cold morning.  Ok, it wasn't that bad, but it was colder than I prefer.  I started feeling better this week, as my diet has improved over last week.  I now have my lunchtime salad, eliminating at least one incident of fried food each day.  After watching the late game, I headed out to the pool near the hotel.  The pool is pretty nice… for playing around, not for swimming.  The way that it is divided left me with an 18-meter length to use.  Oh, I also had to dodge people playing around.  It made for a bit of a difficult swim, but I got in about 2500 meters.  I guess it was better than nothing.
On Wednesday, I got in another easy run, as my legs had not quite recovered from the previous day's torture session.  Let me tell you, being on the road for pretty much the last four weeks has taken a toll on the body.  Warming up seems to take a bit longer right now, but that may also have something to do with the cooler temperatures.  Since I needed to get a good swim in, I decided to look for a different pool.  I found one about a mile from the hotel and made the uphill trek to it.  When I got there, I found two lanes for lap swimming, a fast lane and a slow lane.  Normally, I prefer to get in the medium lane, as I don't consider myself to be one of the faster swimmers.  As I took my time getting my swim cap and goggles ready for action, I surveyed the competition.  I know.  It wasn't a race.  However, two or more people swimming next to each other can quickly devolve into a race.  This turned out to be no different.  Unlike normal, though, I was the predator in the water and not the prey.  Ok, I know that sounds a bit dramatic.  But, other than when swimming alone, it is rare that I am the fastest swimmer in the pool.  Overall, I didn't have my fastest times ever, but I was consistently on the faster side.  I felt good.  I felt so good, in fact, that I celebrated with a pizza and ice cream for dinner!
Thursday morning came really early, and I was not sure what to expect as I headed out to do some 800-meter repeats.  The morning was also the coldest of the week so far.  It was not the morning I had hoped for when I decided on this workout.  We got to the park, and it was time to get to work.  I set out on my 2K warm-up, complete with drills and striders, finally arriving at the point of departure for the efforts.  Now, I need to be honest here: I selected the location for the repeats based on a Strava segment.  A Strava segment that I thought I could KOM.  Yeah, I am not too proud to admit it.  I went KOM hunting.  Besides, it was a great stretch of trail for the efforts, only a little bit of elevation change, no turns, and no road crossings.  The Strava segment showed a 2:40 time for a .5-mile effort, which is roughly 800 meters.  It turns out that the segment was closer to 900 meters, and the start and finish points were a bit tough to determine based on the map.  Either way, I set about the business of making myself hurt, and hurt I did.  Like Tuesday, I focused my effort on power vice pace, mostly because I wasn't really sure of the start/finish point.  I went back and forth six times along the path, hammering the trail and coming close to puking a few times.  It was worth it, though.  I ended up taking the KOM by 4 seconds, averaging 5:08/mile for the segment (https://www.strava.com/activities/1652540034).  I can now officially call myself a multi-national KOM holder!  Woo hoo!  Small victories, I guess.  
On Friday, I took a new route that turned out to be a reconnaissance run for Saturday's long run.  It was a nice easy run for the first six miles.  After that, I took a different route back up a hill that led me up a six percent grade for three-quarters of a mile.  It was pretty scenic, though, and well worth the extra effort.  Following the run, I met up with the wife at the hotel to watch the Serbia-Switzerland game.  It was a pretty good one and a great lead-in to the next day's Germany-Sweden game.  After the game, we headed down to Old Quebec so I could practice some French (and to grab an ice cream).  It was pretty much a chill day.  We chose that, as we had big plans for Saturday morning.  We woke up at about 7 and caught enough of the Belgium-Tunisia game to know how that one was going to end, put down a little bit of food, coffee, and water, and headed out the door for a long run.  We headed out on the same route as I took on Friday and merged onto the longer route that we had run in the past.  It was an absolutely fabulous day, and by three miles in I was feeling pretty good.  A little past the 9-mile mark, I turned around and picked up the pace.  I caught the wife on her way back as I passed through the 14-mile mark, and I kept pushing for one last mile until I reached our link-up point.  I turned around to jog back to her and help pace her in before we headed up the 150+ stair climb back up toward our hotel.  I felt pretty good on the run, considering that I only had a gel at the 11-mile point and turned a sub-1:30 half-marathon during the run.  It was also a visually pleasing event.  Check it out at https://www.relive.cc/view/1657268544.  Being that this run had some pretty good up-and-down portions, some tourist dodging, and a bit of wind, I'm pretty happy with where my run is.  Also considering that my shoes are completely shot, I'm fairly confident that I can hold a similar power level during the race in Odense.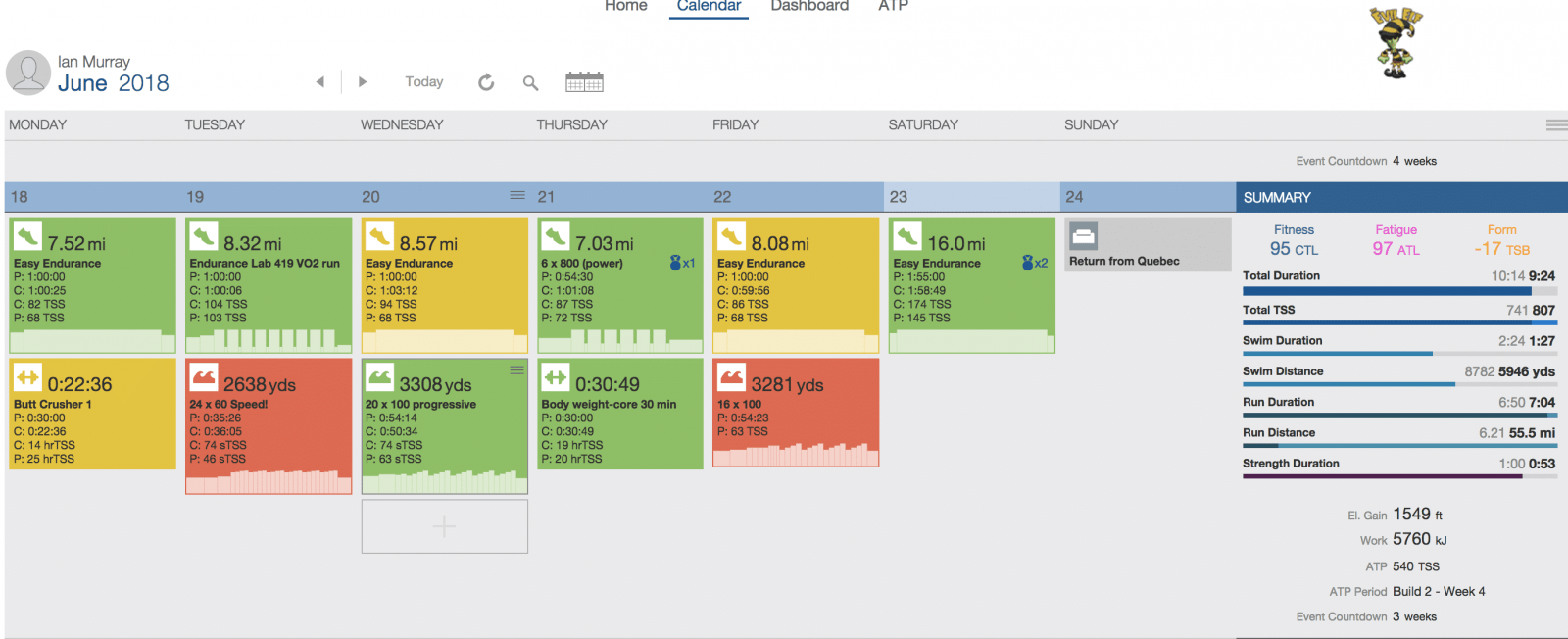 TSS Planned – 741; TSS Completed – 807
One More Week
We'll be back in the DC area next week, so I'll get back on the bike and in the pool more often.  I'm going a little higher on the TSS this week than I originally planned because I need some more pool and bike time.  I'll hit some pretty hard intervals just to get a little intensity, but the only really long days will be the 3 x 1K swim and the 120K bike.  I'll keep running to a minimum to ensure that I get fully recovered.  The most important part, though, is the my Air Relax boots will arrive on Tuesday, so I'll get to spend some time in them before I head out to Denmark.

Planned TSS – 712
Well, time is not on my side now.  We're at two weeks to go plus race week.  Getting back home, I'll fortunately be able to clean up my diet and get back to my routines.  I still don't have my Zwift setup, so I won't be up on Zwift again before the race, but I am looking forward to jumping back on after I return.  Anyway, it's time to get some much needed sleep.  Until next time, Ride On!