Editor's note: Ian Murray is using Zwift to train for the International Triathlon Union Long Course World Championships held in Odense/Fyn, Denmark July 2018. His weekly Zwift Insider series discusses the previous week's training and the plan for the upcoming week.
---
Well, the move is upon us.  It is time to leave the Dominican Republic and return back to the US.  I have my race bike and race wheels with me, but my Kickr and my training bike are somewhere between my old house and my new one, along with my whole Zwift set up. 
Let the craziness begin
I had no idea what to expect from this week.  To say the least, it has been difficult.  Well, the first half, at least.  Monday morning started with a quick strength workout.  Really, it was two strength workouts.  The first was a real workout that I did in the hotel gym.  After that, I had a series of shorter strength workouts loading and unloading the ten suitcases, including the bike and wheels, into and out of vehicles and onto carts and luggage belts.  I must have done about 1000 deadlifts of suitcases.  Finally, though, we made it through security and onto the plane. Yes!  Freedom!  Or not.  No, we sat on the tarmac for an extra 30 minutes waiting for a passenger to have his bag unloaded and searched and then another 60 minutes due to a mechanical issue.  The delay meant that we would miss our connection in Atlanta, but I was able to get on the airplane's wifi to rebook us on a later flight.  Instead of a 7:30 PM arrival, we landed in DC at 11:30 PM. 
After a brief sleep, it was time to get the keys to our new place and start figuring out what we needed to get.  Tuesday was jam-packed with figuring out the lay of the land, conducting a housing inspection and buying a few essentials.  By Wednesday, I really felt the need to do something.  In the early afternoon, I finally dug out the workout gear and got in a short run along the Mt. Vernon Trail, heading from Alexandria toward Mt. Vernon.  It was spectacular.  I put in a few hard efforts, or at least they felt hard, given the previous week, but only one of the eight miles was sub-7 minutes.  That's ok.  The run was really about knocking off the dust and getting the legs moving.
By Thursday, we had gotten as settled as we could be and moved everything out of the hotel into the new house.  I had reassembled the bike on Wednesday, so I loaded it up in the rental vehicle and made my way to Haines Point, a park on the edge of Washington, DC, with a very lightly trafficked 5K loop.  After loading up the Endurance Lab 1053 Tempo workout, I got to work.  A quick 90 minutes later, and I felt like a new person.  Since I would be without my bike for the next two weeks, I opted for another ride on Friday, knocking out the Endurance Lab Road Race Simulation workout before running an easy 5K.  I really enjoyed the workout, and my body responded well to the efforts.  The 5K flew by, as I held almost a 250W Normalized Power, which equated to just under a 6:30/mile pace.  I didn't feel like I was back in top form, but I was pleased.
Saturday started another leg of the journey.  At 3 AM, the wife and I got up, threw some bags in the rental, and headed to the airport again.  I have two weeks of French training in Quebec, so things continue to be nuts.  We arrived at our hotel a little bit after noon, but we were both too tired to do much.  We ended up taking a nap and then walking to and around Old Quebec.  Unfortunately, I did not record the activity on my watch, but we ended up walking nearly five miles, and it is crazy hilly here!  We went to bed early and got up on Sunday ready to run.  The weather was still a wee bit chilly for us, so we decided to eat breakfast first, and then run later in the morning.  At about 10 AM, we headed down toward the St. Lawrence River and climbed down what seemed like 250 stairs to the path along the river.  Based on what I am accustomed to, the run along the river was absolutely amazing.  The path got a little crowded, but it just went on forever.  At the 6.5-mile mark, I finally turned around, heading back to link up with my wife.  Unfortunately, we somehow missed each other, and I thought that she had returned to the hotel.  So I ran back to the hotel, climbing the 250 steps, and running down the big hill.  She wasn't there.  I grabbed my cell phone, which I didn't have with me on the run, and gave her a quick call.  Turns out, she was waiting for me at the bottom of the giant staircase.  So, I ran back up the hills as fast as my tired legs would allow and found her just after she finished climbing the stairs.  From there, we walked back to the hotel, both pretty wiped out.
Following our long run, we had the opportunity to link up with a teammate from TeamODZ at his place outside Quebec.  During dinner, Stephane and I made plans to ride during the week, as he offered to loan me his wife's bike.  After dinner, he proceeded to stuff me with ice cream, only to find out that this was a ploy on his part that I would discover later.  We had a great time with Stephane and his family and then headed back to our hotel to get ready for my first day of class.  All in all, it was not a very productive week from a training standpoint, but I do feel a little bit more rested.  Well, I feel a bit less stressed, at least.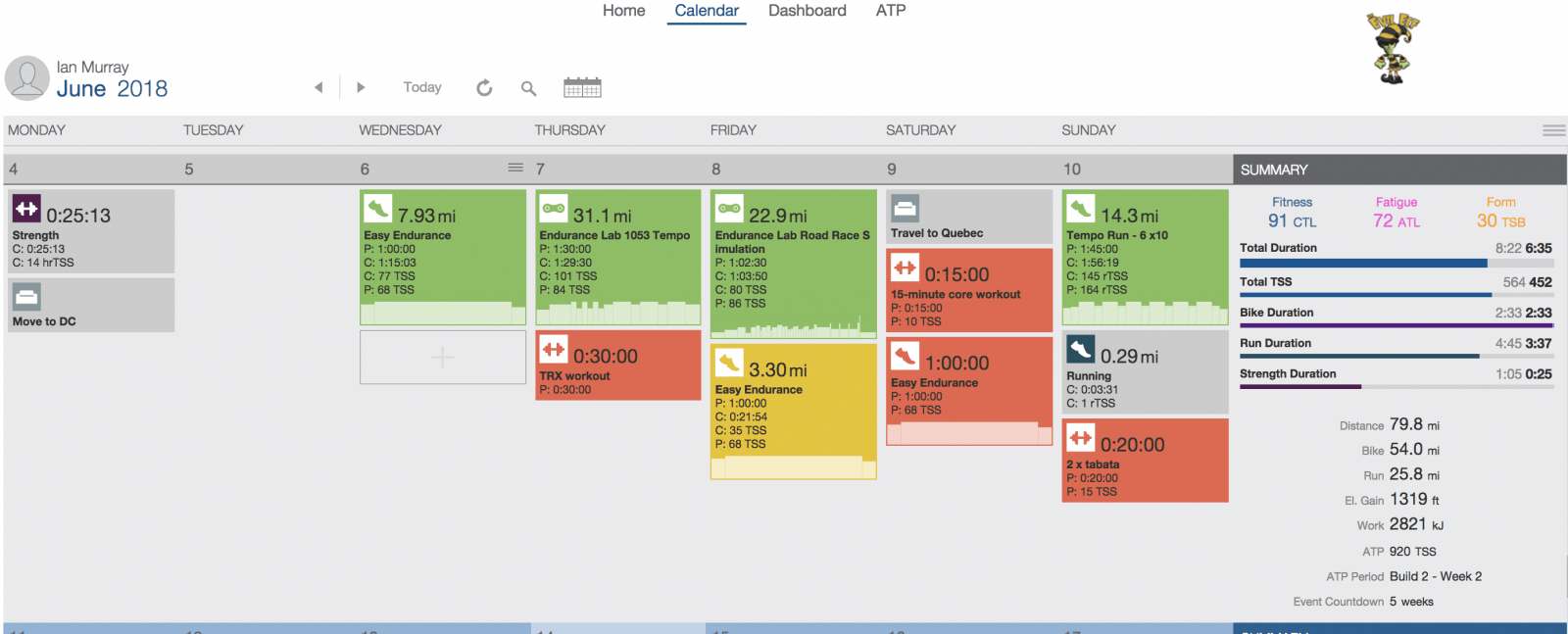 TSS Planned – 564; TSS Completed – 452
Taking it day by day
Being that I can't figure out the weather in Quebec, I am taking things day by day.  Ok, it's not that I can't figure out the weather.  I have an app on my phone that tells me what the weather will do.  It's just that it's frickin' cold here!  I can't swim right now because the pool by the hotel is not yet open, and I prefer to ride when Stephane is available.  So, I am pretty much focused on running for the most part for these two weeks.  I plan on taking these next two weeks day by day, based on how I feel, how much homework I have, and what the weather allows.  We'll see how it goes.
TSS Planned – Somewhere around 650-750
Well, this is not how I would have planned to have my training at 3 and 4 weeks to go, but it's what I have.  Keep following on Strava if you can, since I will not be on Zwift, and I hope to have some good runs and rides for you.  Until next time, Ride On!