Editor's note: Ian Murray is using Zwift to train for the International Triathlon Union Long Course World Championships held in Odense/Fyn, Denmark July 2018. His weekly Zwift Insider series discusses the previous week's training and the plan for the upcoming week.
---
It's race week!  Ok, it's not THE race week.  It is a race week.  I got roped into doing a local sprint triathlon, so I figured that I would take advantage of the opportunity to knock the rust off of the transition skills and blow out the pipes.  Prior to the race, though, I had plenty of training to get through.  You see, this was not a taper week for the race.  It was just another training week with a really hard effort at the end.
Getting On the Gas
Monday started out great.  Despite having legs that were a little tired from the weekend, they actually felt pretty good.  They didn't have a ton of top-end snap, but there was definitely some pretty good responsiveness.  To test them out, I joined the ODZ Magnum MOnDayZ race.  My whole goal was to work for teammates as long as possible until I hit my targeted TSS.  Unfortunately, the early work that I did just before the first hard climb put me out of position to respond to attacks that I did not think were going to come on lap 1 of 3.  Very early on, I was spit out the back and quickly found myself too far down to play any role.  I continued to push on before hitting my TSS mark and pulling the plug.  Well, I wouldn't really call it pulling the plug.  I switched over to the treadmill for a quick 35-minute run.  I spent some time at well below a 6 min/mile pace, so I knew I was ready for the weekend.  Tuesday was almost a waste of a day, though, as work issues caused me to cut my swim in half.  Of course, I thought that I would have time to finish the workout in the afternoon, but the gods of chaos made sure that wasn't possible.  Wednesday and Thursday were pretty productive.  On Wednesday, I did the Endurance Lab Short VO2 workout before riding to work and later riding home to do the ODZ SkillZ and DrillZ Ride.  Thursday was a pretty decent swim, and I made up a little of the yardage that I missed on Tuesday.  I kept Friday pretty easy, knocking out 5.25 miles in 40 easy minutes.  Like most days before a race, I did a little brick workout with some pickups to make sure that the legs were ready to fire on all cylinders.
Finally, Sunday arrived, and I would like to say that I had a restful night.  I didn't.  It rained like crazy all night until 6 AM, including the requisite thunder and lightning.  No big deal, the weather moved on, and it looked promising for the race.  The one thing that remained, however, was the waves.  Four to six-foot waves.  Awesome.  I don't want to sound like I was afraid of the waves.  Fear generally resides in the unknown.  I have raced in waves like this before.  I had no fear.  I had complete knowledge that I was going to get hammered a bit.
At 8 AM, the gun sounded, and we took off.  Turns out, I was very correct in my assessment of the waves.  I got beat up pretty bad getting through the break, but I eventually made it through… with goggles full of water.  I made it out another 200 meters or so before popping up to clear out my goggles in a failed effort to find the buoy.  With waves towering over the orange buoy, I had little hope of actually spotting it during one of my momentary sighting episodes.  Eventually, I caught a bit of luck and looked at the high point of a wave.  That's when I realized that my timing was the only bit of luck that I had in the water.  Yeah, I was a bit to the right of the course…about 80 meters.  I made a hard few pulls to get back on course and made the turn around the buoy.  You can see below that my swim course looks a lot more like Gandalf's hat than a pretty triangle.  I finally dragged my sorry butt out of the water and sprinted into T1 in about 30th place.  Not the amazing swim I had envisioned.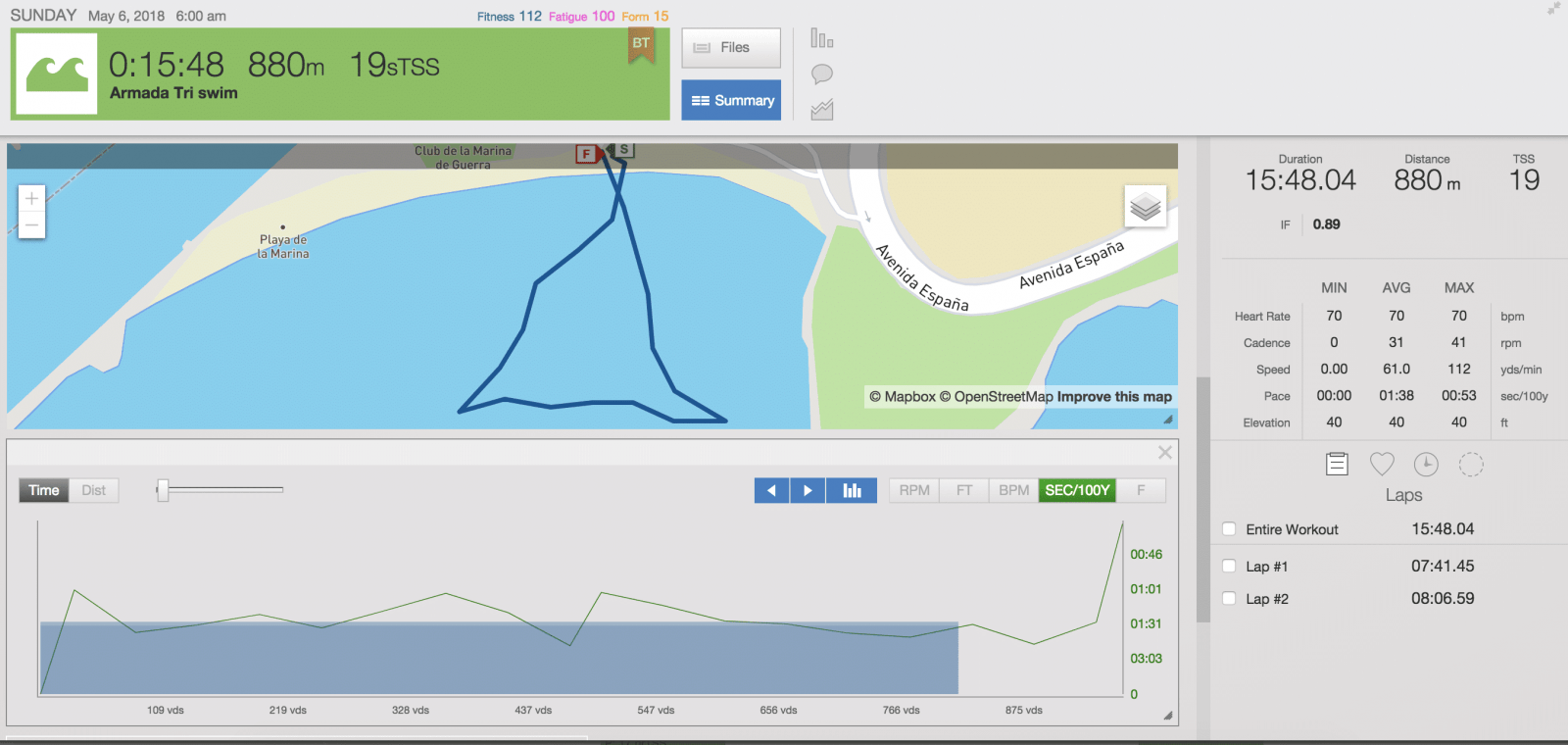 I quickly strapped on my helmet, grabbed my bike, and ran through T2, executing a perfect flying mount and making my first pass.  I immediately jumped on the power, blowing by riders who had had a better swim.  A few minutes into the bike leg, though, I learned that the race was "draft legal".  Ok, it wasn't really draft legal, but there were no race marshals, so it's just accepted here.  Despite the race information stating that riders should avoid drafting, I soon found six riders on my wheel who had apparently not read that part.  I tried to put in some surges to get away from them, but the course was flat with a bit of headwind.  Thus, the numbers worked against me.
Well, I figured, if you can't ride away from them, you might as well punish them.  I then set about to make the ride the most miserable 20K ride that they had experienced.  I went to the back of the group and softly spun my legs.  Every so often, usually when the pace dropped or the strongest two riders finished their hero pull, I would attack from the back of the group.  I didn't sprint off the front like a real attack.  No, I simply hit the gas just enough to create a gap.  After a few seconds, the weaker riders would sprint across the gap, forcing the stronger riders who had just finished pulling to respond.  Each time, I stayed at the front for about a minute or so, pulling at around 5 W/kg.  As I pulled off to rotate to the back, I barked orders at the other riders to start riding harder and not be lazy, as we had riders up the road.  I did this for the entire 20K.  Well, that's not 100 percent true.  At the 15K mark, I let loose a pretty hard surge for a lot longer.  My legs were feeling good, and I still was a bit angry that the race was draft legal, and our group had grown to about 15 including lapped riders.  This time, I got away for about 2K because the weaker riders had been at the front and were unable to chase me.  I pretty much threw a grenade into the small pack.  One rider came across, and I immediately yelled for him to go to the front.  I saw a small group chasing on, so I yelled for him to go faster.  I'm not sure why, but he listened.  The small group of five caught and overtook us.  My new partner was sucking wind pretty hard and couldn't get on the bunch.  He asked me to pull through and help him up to the bunch.  Um, yeah, that wasn't going to happen.  The kid looked like he might be able to run, and he wasn't paying me to work for him.  So, I attacked him and bridged to the group of five, placing myself nicely at the back, where I sat until we arrived at T2.  The bike was a pretty solid one for me.  I didn't hammer out a ton of power from a Wavg perspective, but we clocked just a hair over 30 minutes for 20K.  Not too shabby.  It was now time to get to work.
Coming out of T2, I was in 13th place, which was a big jump from my "awesome" swim, but still not where I wanted to be.  In the first 200 meters, we had to tackle a short but steep climb to get up to the road.  I quickly thought about how I should approach the 5K, tactically speaking.  Ok, just kidding.  My group of six was pretty bunched up, so I figured I would break them early, attacking on the climb.  I wanted to leave no doubt that the race for 8th place and the winner from our group was over.  So, I hammered the short climb and hit the road.  I didn't want to go too deep, so I started out a 5:55/mile pace for the first mile to see who could go.  It's not my best time by any stretch, but the humidity was in the mid 90-percent range, making it a bit punishing.  Coming through the 1.25K mark, I looked back briefly, and I had a huge gap.  At the turnaround, I had a huge gap of approximately a minute.  My plan had worked.  The other runners had given up on pulling me back.  I picked it up a little over miles 2 and 3 just to pad the lead, cruising in about 40 seconds behind 7th place and 2 minutes up on 9th.
I ended up winning my age group by about 5 minutes.  After a quick bottle drink of water and receiving a few congratulations, I grabbed a fresh cold bottle and headed back out on the course to cool down and look for the wife, who was running the 5K leg of a relay team.  While I didn't win the overall, I was pretty happy with my result, other than my swim.  With about eight weeks left to work on things, at least I know that I am in the right ballpark.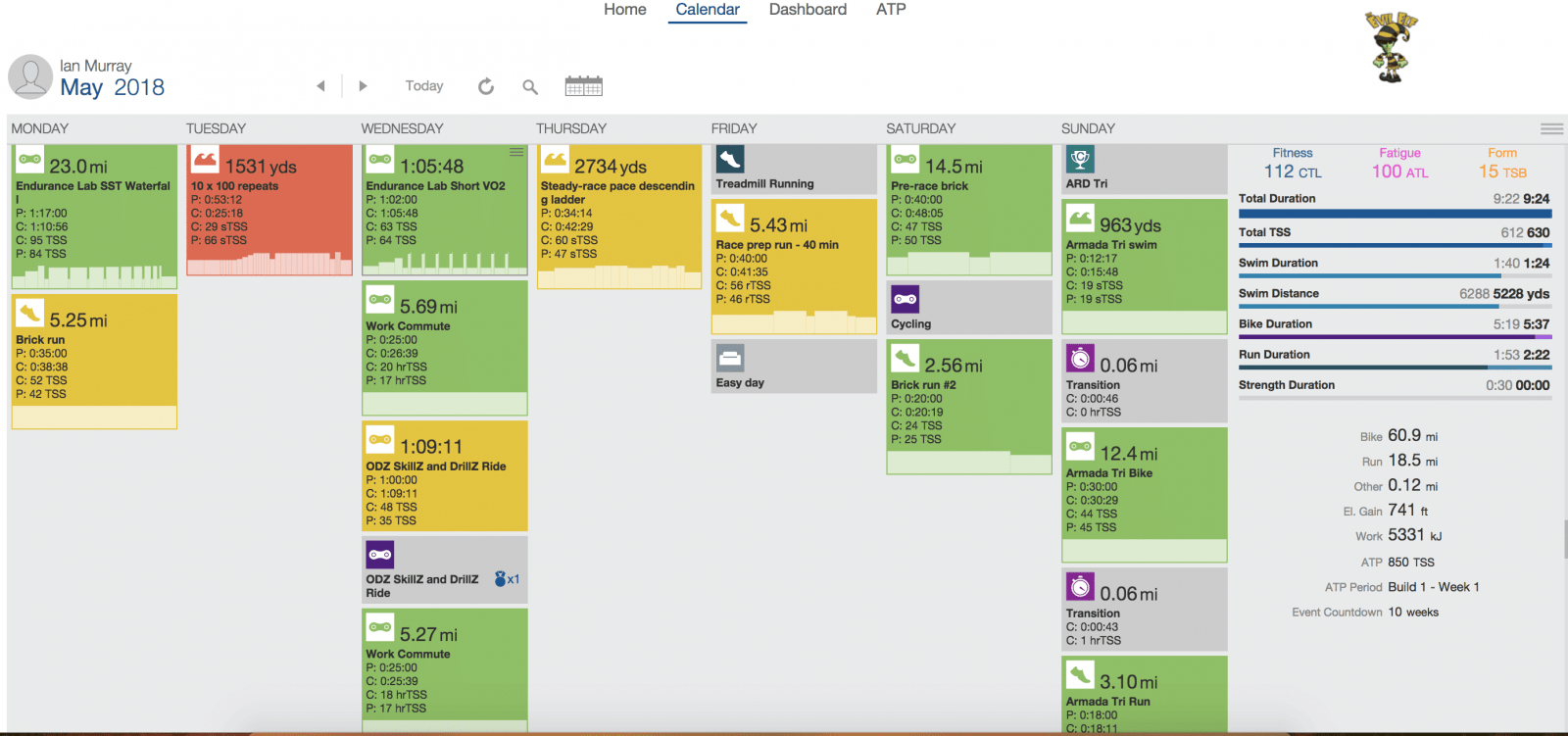 Planned TSS – 612; Completed TSS – 630
Getting Ready to Pack Out
After the race week, things are going to be a bit hectic.  This week is a big week for work, and I have to start planning my move.  We'll see how the training goes.  I feel pretty good coming out of the race, but the hell week of work is not too appealing.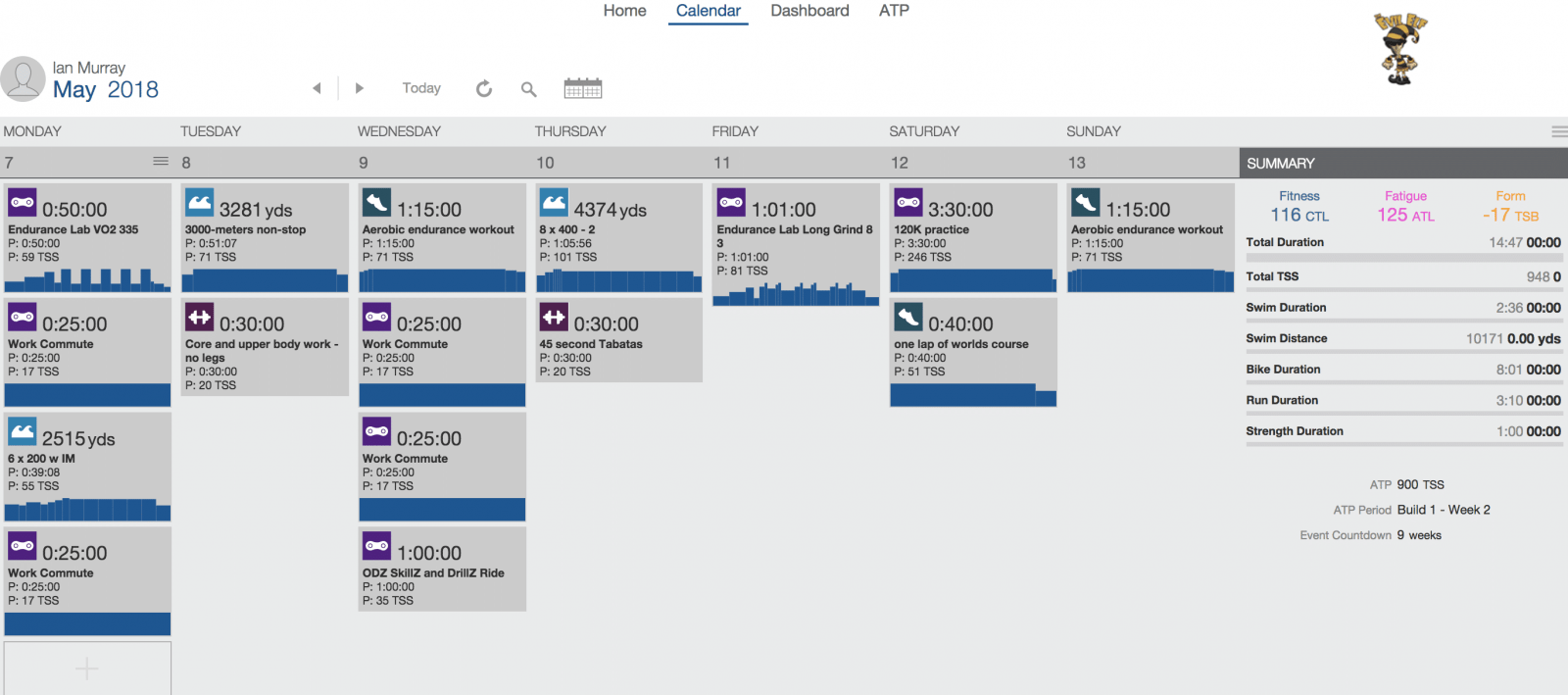 Planned TSS – 948
Like I said, it's about eight weeks left of preparation.  It's serious time now, and I need to fine tune some things.  I'll be out on Zwift in a couple weeks doing a 30K run on the treadmill.  Hope to see you out there.  Until then, Ride On!