Editor's note: Ian Murray is using Zwift to train for the International Triathlon Union Long Course World Championships held in Odense/Fyn, Denmark July 2018. His weekly Zwift Insider series discusses the previous week's training and the plan for the upcoming week.
---
The last last thing I needed was to have my legs turn into jello.  Well, that and a crazy week at work.  Seriously, I just wanted one more big week of training before a recovery week.  Yeah, that didn't happen.
Impromptu Recovery
After the great long ride up to Las Terrenas at the end of Week 19, I started the week off on fire!  My run was a little slower than normal on Monday, but I didn't expect much.  The swim that afternoon, though, was pretty awesome.  I hit my marks perfectly, hitting the 3K mark in under 52 minutes.  The next day's swim was another tough one, but I felt even better with each 1K interval being faster than the previous.  At that point, I thought that it was going to be a great week.  Two days in, and I was already at 350 TSS.  Oh yeah!  Let's just say that the awesome week ended right there.
Yeah, I was blown up.  Unfortunately for me, I happened to be the last one to know.  For some reason, my work seems to know just when I really need a low-stress week where I can get home at a normal time and get adequate sleep.  Then, it makes sure that I have exactly the opposite kind of week.  On Wednesday morning, I utterly failed the Endurance Lab Short Grids workout.  In fact, I shot the moon, 0 for 24 stars.  I couldn't even hit the warm-up power targets.  It was a disaster.  The subsequent rides to work and ride home were way harder than usual, and I had very little gas for the ODZ SkillZ and DrillZ Ride.  Fortunately for me, I get to determine how much effort I put in to the ride as the leader.  Thus, I just stayed in the middle of the group and provided instruction.  Thursday was another failed attempt at a workout, so I just did what I could.
The week was really catching up to me.  Every night this week was a late one with work.  I didn't get home before 10 PM except on Wednesday, but I still got up at 5 AM to train.  Well, that was M-TH, at least.  On Friday, I got up at 3:50 AM to take someone to the airport.  I had to go back to the airport later that day to pick up the wife who was returning from a trip, and I barely had the energy to make the drive without falling asleep.  Thus, I bagged the plan for Friday and just did a short, easy run.  The legs hadn't returned by Saturday.  On the bright side, I was scheduled to commentate for the ODivaZ race https://www.facebook.com/ZwiftLIVEbyODZ/videos/641074259570233/  , so I was able to just spin the legs out while chatting with the other race commentators.  By the end of Saturday, I really started to feel better, and I thought that I might do something on Sunday.  Fortunately, my wife had to run for 90 minutes, so I decided to accompany her as the support bike.  Well, I actually changed a spoke and trued the rear wheel of my mountain bike first, then I went out to give her some water and play some musical support (Spotify not me singing).  We finished off the workout with some Kodiak Powercakes and put our feet up.  The pancakes had blueberries in them, so that made them healthy.  Don't judge me.
TSS Planned – 839; TSS Completed – 599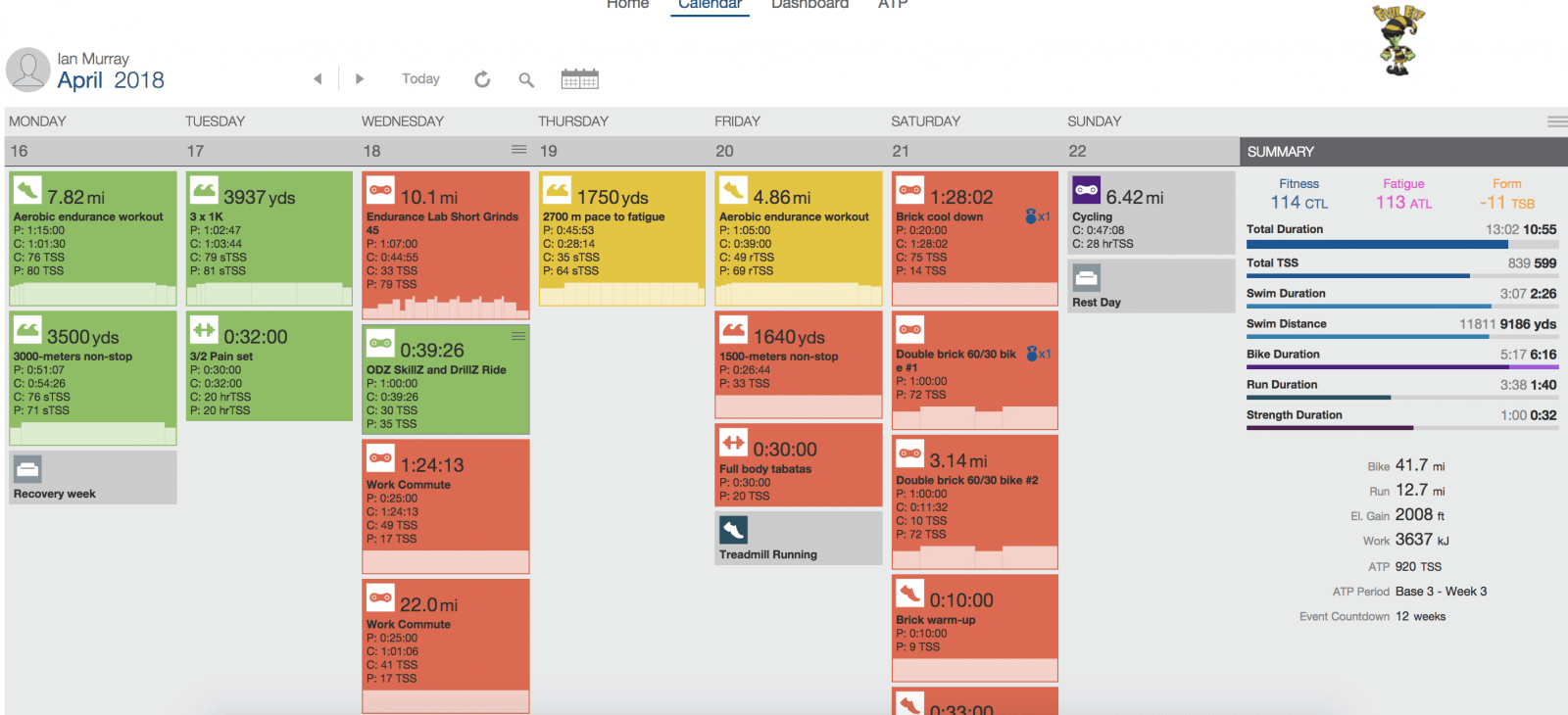 Getting Back to Work
After the week of goofing off, I don't have the luxury of taking a second recovery week.  No, I have to get right back at it.  I have only about six weeks left before I have to pack up and move, so I need to make sure that all of the prep work for Denmark is done.  Yes, it's not ideal to move five or six weeks before a big race, but my bike will be going with me as checked baggage.  Anyway, this week is going to be a bit of a big week, as I got roped into racing a sprint tri the following week.  I'm really looking forward to the brick work over the weekend.  It will give me some good idea of where my legs are coming off a bit harder bike effort.  The other key effort is the 8 x 800m run on Wednesday.  That's going to be a whole boatload of fun.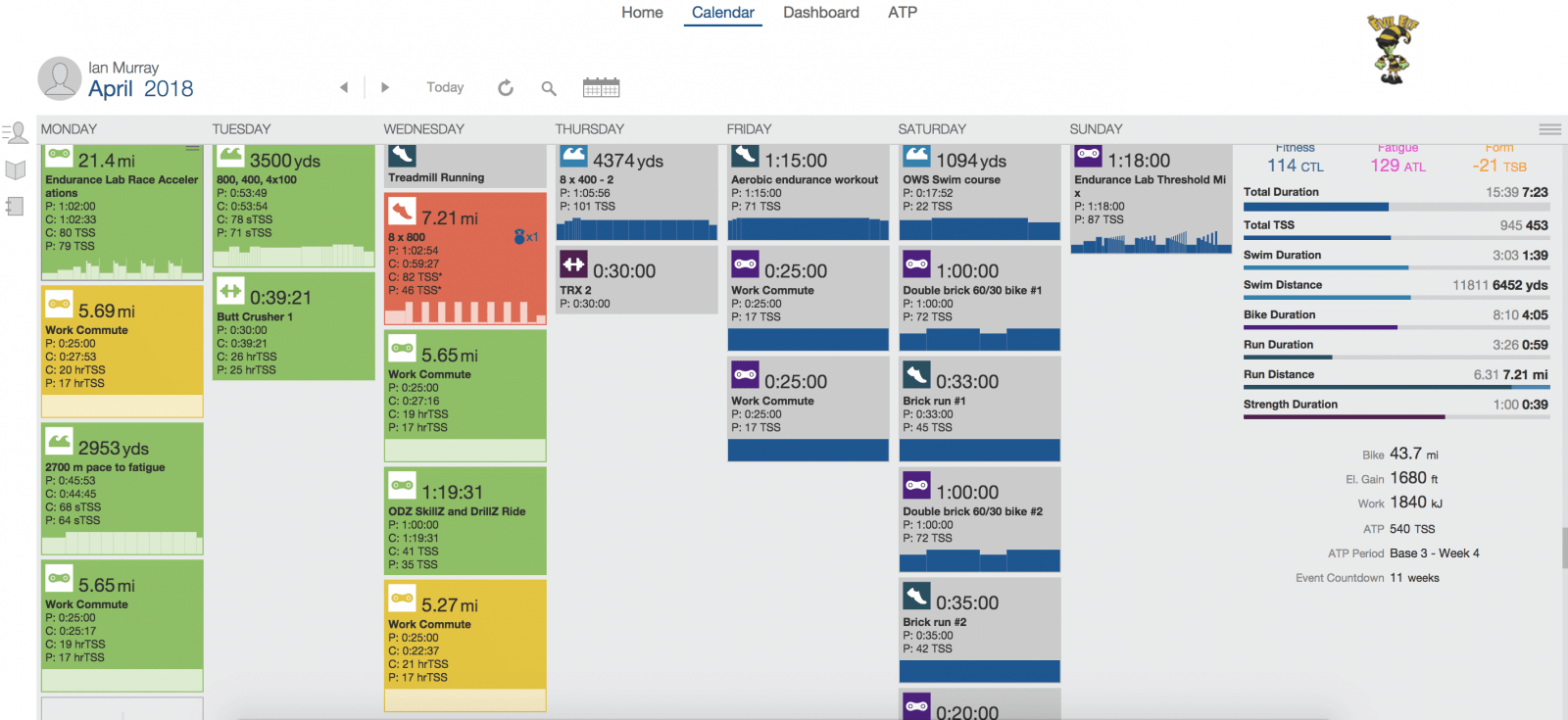 Planned TSS – 945
Like I said earlier, the clock is ticking.  On paper, I still have plenty of time.  In fact, USA Triathlon just released a training program starting 23 April for the 14 July race.  That's a bit ridiculous in my mind, but hey, it's not mandatory to use.  Right now, I am not feeling particularly sharp, but I know that I can easily handle all of the distances.  As we move forward, the sharpness will come.  I'm not worried about that.  I just hope that the movers don't accidentally pack my helmet and bike shoes.  I'm pretty sure that I will have nightmares about that all next month.  That's it for now.  I will be outdoors more over the next week, as I need some time in the heat for the sprint tri, and I want to put more time on the tri bike.  The week of 30 April, I will go back to being on Zwift more, so I hope to see you out there.  Until then, Ride On!