Editor's note: Ian Murray is using Zwift to train for the International Triathlon Union Long Course World Championships held in Odense/Fyn, Denmark July 2018. His weekly Zwift Insider series discusses the previous week's training and the plan for the upcoming week.
---
Coming off a recovery week, it was time to get back in the swing of things. I still lacked some volume on the bike and swim, and I still needed to get a little bit of run distance in before it's time to wind down the training.
Calling all fishes!
The swim is my least favorite event of a triathlon. Thus, I need to work on it… a lot. This week was the first real step at the final preparation for ITU Long Course Worlds, which starts with a 3K open water swim. Yes, I will get to wear a wetsuit, but 3K is still 3K. It's not something to take lightly. The race can't be won in the swim, but it's tough to complete if you gas out and drown in the swim. We'll get to that, though.
I opened the week with a nice Endurance Lab Over/Under workout and a relaxing 2K swim on Monday. It didn't feel like a hard day, but it was a 200 TSS day. The next day, I hit the 20 x 100 progressive workout, which is deceptively hard, and a quick strength workout. The light day was in preparation for the next day's tough plan. A quick half-marathon in 1:30 started the day off, and the TeamODZ SkillZ and DrillZ Ride capped it off. Unfortunately, I did not eat like I should have when I got to work. No, I got behind on the calories and never caught up. I paid for it on Thursday, as I was barely able to get through 400 meters in the pool. I was toast, and I was starving. The rest of the day was a wash, and I focused on trying to get in a few calories. Friday and Saturday more or less went as planned, and I got mentally prepared for Sunday's swim.
I set the goal at 6600 meters. However, I did not get out of the house early enough. I didn't get in the water until almost 9 AM, and the sun decided that it wanted to punish me for my Scottish-Irish heritage. I started out with 4000 meters straight, and I was very happy with that. I went through 3000 in under 52 minutes and 3800 (an Iron-distance swim) in 65 minutes. After a quick recovery, I planned to knock out the remainder of the workout and got underway. Shortly after starting, though, I felt a sensation that I have felt before. My back started feeling crispy. Being that I can sunburn simply by thinking about the sun, I knew where it was going. I kept at it, working through the set, but the sensation just kept getting more and more pronounced. In an effort to avoid the "I told you so" conversation with the wife, I pulled the plug on the workout. Besides, 5000 meters was still over-distance, so I didn't feel too bad about it. Overall, I hit the week close to target but not quite on target.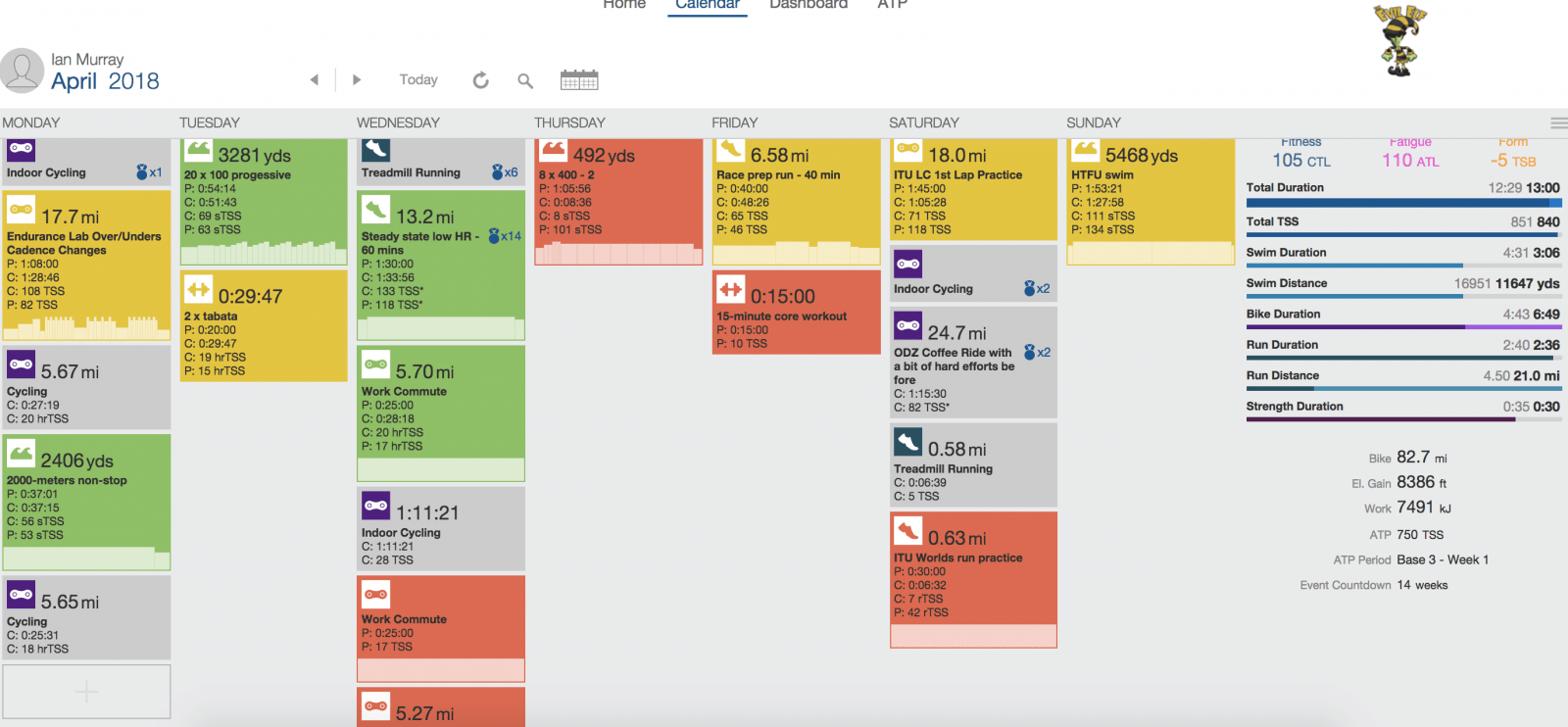 Planned TSS – 851; Completed TSS – 840
Going for goals, part 2
Not being able to hit my goal in the swim was a bit disappointing, but I did hammer through the 3K in a pretty solid time. Moving into Goal Week 2, I plan to focus on the run and bike distances. I know that I can do both distances without a problem. However, I want to see if I can hit my goal pace/power target based on the plan I have for putting all three events together. This will definitely be a tough week.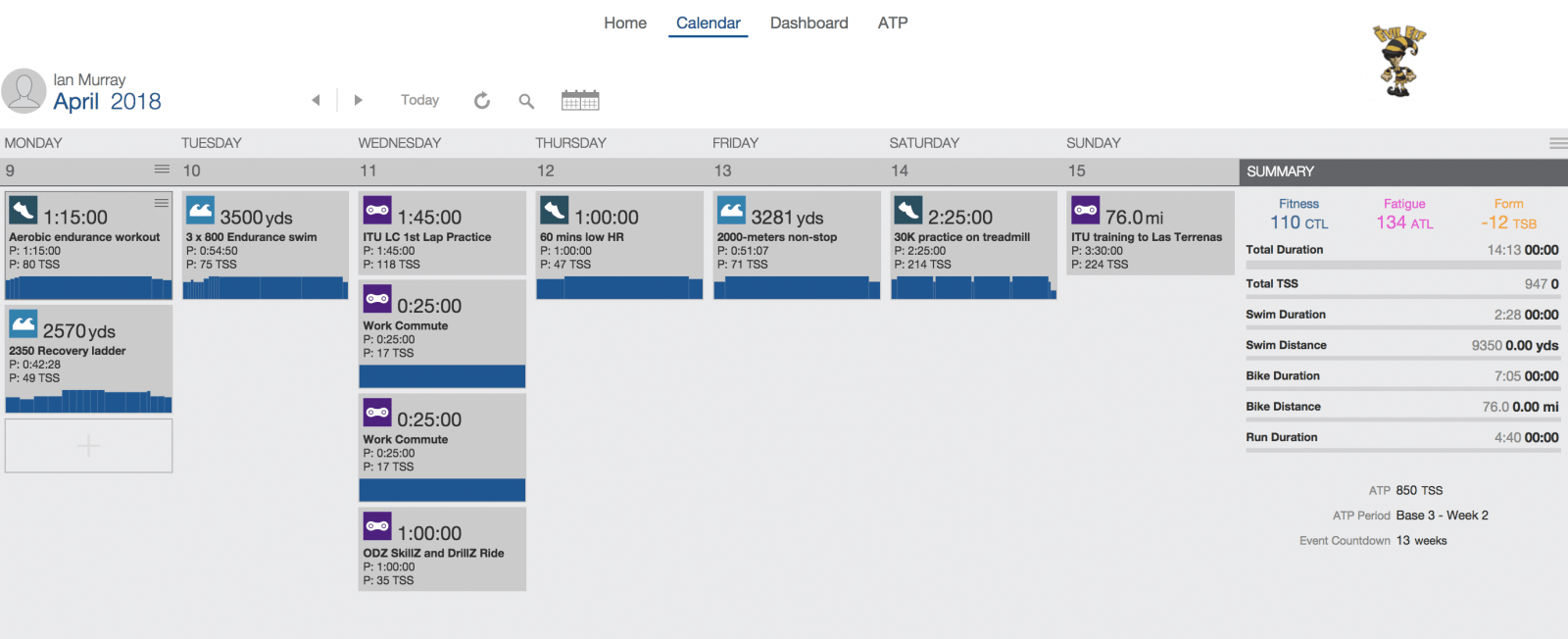 Planned TSS – 947
The closing window
With about ten weeks of training left, the window to make improvements is quickly closing. I hope that this upcoming week of training yields the benefits that I want and shows that what I have been doing proves to have been a good plan. That's it for this week. I hope to see you out on course. Until then, Ride On!
(Follow me on Strava at https://www.strava.com/athletes/11654372 and Instagram @evil_elf_racing to see the detailed workouts.)