Editor's note: Ian Murray is using Zwift to train for the International Triathlon Union Long Course World Championships held in Odense/Fyn, Denmark July 2018. His weekly Zwift Insider series discusses the previous week's training and the plan for the upcoming week.
---
Like I said in the preview of this week, I had some work travel this week. It was only a short trip, though, three days and back home. I have figured out that I don't like short trips. I much prefer trips that take me out of the office all week. When I got back to work, I found that all problems that could be delayed for a day or two until my return were. Of course, had I been out until Monday, the problems would have been resolved without me. Such is life. Being back in the office also gave plenty of opportunity for other things to go wrong.
I Thought the Travel Portion was Bad
After a good long run on Sunday, the 5:30 AM pickup to head to the airport came early. Being a bit of a pro at this travel leg, I am well aware what my food options would be, so I got up early to eat a good breakfast. I wanted to grab a light lunch at the airport in Miami before arriving in Key West, where I would get in a nice 60-minute run. Yeah, that didn't happen. Well, the light lunch turned into a heavier lunch, and the quick flight to Key West turned into a flight there with a return to Miami, followed by an hour wait and a return flight to Key West. We weren't able to land the first time due to weather. Nobody's fault, but it screwed with my day. By the time we landed, I had just enough time to drop my bags and head to a meeting, followed by dinner with the group. We had a good time, and everybody agreed to call it an early night because most people were going to join me at the track the next morning. Not sure why they thought it was a good idea, but no complaints from me!
The next morning, we met in the hotel lobby at 5:20 AM and headed to the high school track for some 400 repeats. It'd been a while since I had the opportunity to hit a good track, and it was awesome. I ripped off 12 x 400 all in the mid-to-low 70-second area. The others did 8 x 400, and I was pleasantly surprised at how well they did. After meetings that day, we hopped back on an evening flight to Miami to grab a few hours of sleep. The next morning it was back at the travels, as we headed back home. I was a bit dehydrated and tired, as I had been kept up late Tuesday night and was obligated to have a few adult beverages, so my pre-SkillZ and DrillZ Ride workout was a flop. The ride turned out well, though, as the usual crew lifted my mood, which helped lift the legs. By the end of the ride, I was pumped for Thursday's swim.
Here's the thing: you guys should have picked up by now that I am rarely pumped for a swim. That should have served as a bit of foreshadowing. Thursday morning came, and I was ready to go, early even. Yeah, the car decided it wouldn't start. Grrr! Dead battery. Had to jump on my bike to get to work; thus, my swim did not happen. The rest of the day was a disaster, resolving all of the problems that arose during my absence, so the entire day was a wash. Friday was a little bit better, although I had to endure three Zwift crashes while trying to complete my workout. Alas, the weekend arrived, and I was able to salvage a little bit of self-respect with a 200+ TSS Saturday ride day, a mix of indoor and outdoor, and a 17-mile run on Sunday, again a mix of indoor and outdoor.
It wasn't the week I wanted, but it was the week I got. Zero swim time was not exactly helpful, but it happens. There's always next week. Planned TSS – 871; Completed TSS – 667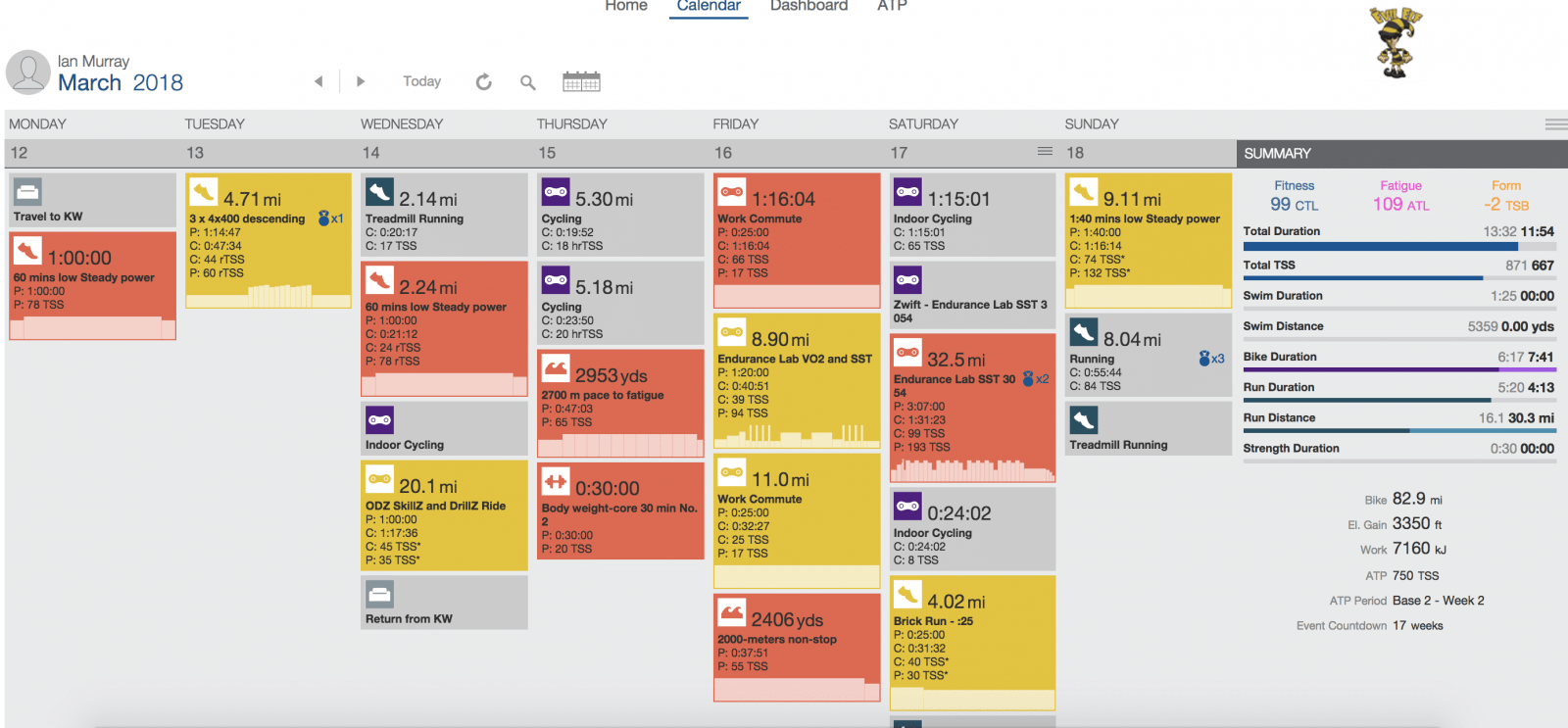 Recentering Myself – Focusing on the Nutrition
Being that we're only a few short months away from the race, it's time to dial in the nutrition. Right now is the perfect time, in fact. Volume is high, and the race-pace efforts are coming fast and furious. Thus, it's time to get at figuring out what will work with my stomach and what will help my legs keep moving quickly. This is the last big week before a recovery week, so I'll have to work through a little down time and keep myself sane. Planned TSS – 911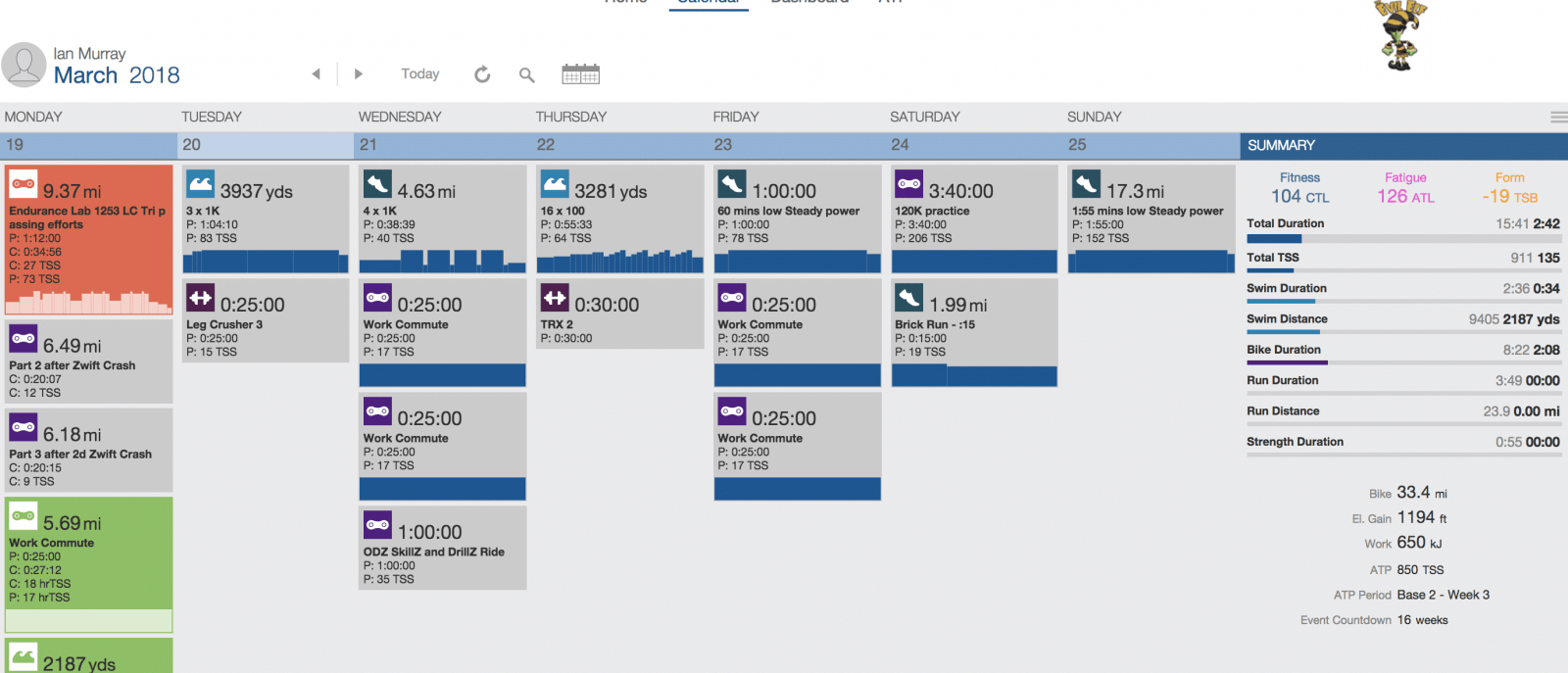 Time continues to run. I am looking forward to the next few cycles of building my swim volume and ramping up some intensity. It's going to be a busy next two months, so the focus will be on staying healthy and resting as much as possible. As the heat builds here in Santo Domingo, I'll transition back into full indoor riding and running. In that vein, I hope to see you out on course during my training!