Editor's note: Ian Murray is using Zwift to train for the International Triathlon Union Long Course World Championships held in Odense/Fyn, Denmark July 2018. His weekly Zwift Insider series discusses the previous week's training and the plan for the upcoming week.
---
Coming off of the recovery week, I was anxious to get back to work. Sure, I had hit the run on Saturday pretty hard, but the rest of the week had been pretty easy. Getting back to increasing the volume would have to wait one more week, though, as the first week of the build cycle was still relatively easy from that perspective. With a little over three months left to prepare, it's time to get the body ready for what it will face.
Why Won't They Just Respond!
Here's the thing. My body doesn't take well to recovery weeks. Yes, I know my body needs it. Yes, I know that recovery is important. Vegetables are important, but that doesn't mean I have to like them. Heck, I know that beets are a great source of nutrients. But, I hate beets and won't eat them or drink the juice.
Unfortunately, unlike the vegetable scourge that beets are, I have to deal with the recovery weeks to prevent overtraining. The reason I don't like recovery weeks is actually pretty simple. It makes my legs feel weird. What I mean by that is it confuses my body. It gets so used to pushing that the down time sometimes throws it off, and it gets hard to get it back into hard training mode. I often lack what I call "snap." Lacking snap means that I may not be able to get into that top-end gear, or I lack acceleration, or something along those lines. Sometimes, the recovery week leads to a lack of mental snap, too, meaning I just can't mentally get through a grinding interval. At various points throughout the week I experienced different versions of these feelings intermixed with some snap. That inconsistency is what I dislike about the recovery weeks.
Now that I've laid out how I feel about this type of week, let's get into it.
Week 14 Summary
Things started out pretty good. The legs felt ok, a little dull, but normal for the day after a recovery day. The follow-on swim that afternoon was awesome, as I negative split my 2K continuous swim, coming in at just about 34 minutes. The swim the next morning was also pretty good, and then I hit the gym for a strength session. It was only 30 minutes or so. Pretty simple. Three sets of a five-exercise circuit. I thought I felt pretty good going into it. No, I did feel pretty good. That was the problem. I let my brain take a break when choosing the weights for the shoulder press exercise. For fifteen reps, I think I was ok. The problem ahead was that I still had two more set to go. I was not ready for that, and the interest payment on that charge would last for days!
I more or less made it through Wednesday unscathed, even turning out some good 20-minute intervals during my tempo run, averaging about 6:00/mile (maybe just a hair under). By SkillZ and DrillZ on Wednesday, though, I could feel it coming on. Yeah, the DOMS was getting ready to make an appearance. Thursday was horrible. I could only manage 2000 of the planned 3000. My shoulders were absolutely shredded. The subsequent strength workout was not really any better. I got through it, but I could barely get my arms up to shower afterward. Brutal.
Friday went off pretty successfully, and Saturday was filled with a partial workout and the ODZ Coffee Ride, where I served as a domestique for one of our long-time ODZ riders. I couldn't help myself, as we had a few knuckleheads on the ride who didn't really want to follow the ride description and then proceeded to talk a lot of smack. I spent a bunch of energy launching attack after attack on the climb to make the gentlemen chase. They ended up blowing up, and I helped my teammate to the third step of the podium. A quick run off the bike finished the week off. Not a bad one, but I could have done without the shelled arms on Thursday. Planned TSS – 752; Completed TSS – 751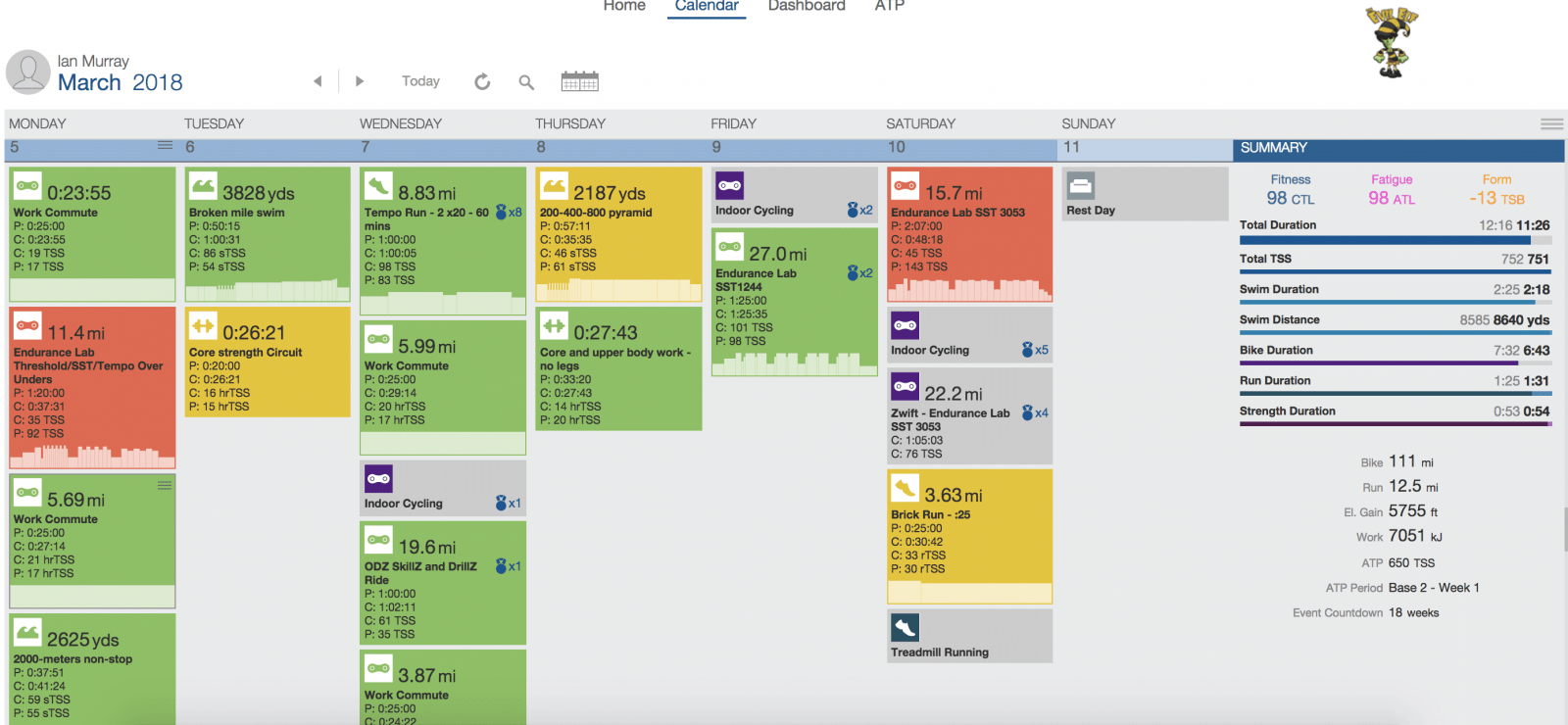 Travel Threatens the Training – Planned TSS – 838
Week 15 starts with a three-day whirlwind trip with flights on Monday, Tuesday, and Wednesday. Plus, I will be escorting folks, so there will be a bit of mandatory socializing along the way. We'll see how it goes, but I am not super hopeful. I am looking forward to getting back to my old stomping grounds to run on the Key West High School track. I love that thing.

So far, everything seems to be on track as far as training is concerned. It's time to increase the bike volume, and I need to start spending some time on my tri bike. The trusty Dimond has had a bit of an off-season, as I have been mostly working on the road bike on the trainer. Time to break out the rollers! That's it for now. More to follow soon. Until then, Ride On!