Editor's note: Ian Murray is using Zwift to train for the International Triathlon Union Long Course World Championships held in Odense/Fyn, Denmark July 2018. His weekly Zwift Insider series discusses the previous week's training and the plan for the upcoming week.
---
So, after three solid build weeks, it was time to take a recovery week. Here's the thing. I don't do recovery weeks very well. I do them better than taper weeks, but they aren't my thing. I like training. I like to feel a bit thrashed. (I really like thrashing others more, but that's a different topic). Thus, my recovery weeks tend to have at least one really hard day in them… sometimes two.
Recovery Week Fun
I really was trying to behave this week. Seriously. I told myself that I would keep the week really easy. I would match the 540 TSS recommended by TrainingPeaks. Well, maybe just a little more. I have to say that I only went over it by 64 TSS, so I think that's pretty good.
Anyway, the week started nicely. I did the Endurance Lab 2110 High Cadence workout. Boom. Done. Easy. Felt good. Then, I got on my mountain bike and headed to the office. I didn't hammer any hills. I chilled while riding as opposed to other days that may involve rage-filled tirades at people who almost hit me. I didn't even swim after work. (To be fair, it doesn't really take that much of a push to get me to not go to the pool.) On Tuesday, I cut my swim a little short, as I helped out my friend's teenage son with his swim technique.
So far, so good.
On Wednesday morning, I went out to the park by my house for a run. Yes, I should have run on Zwift, but the wife wanted to get outside to the park, so you know how that goes….we went to the park. I took it easy, clocking a slow 7.86 miles in 60 minutes, rode easy to and from work, and capped off the evening leading the SkillZ and DrillZ Ride. Man, I was crushing this recovery week.
Then came Thursday. I felt really good when I got to the pool. I even grabbed my swim toys from the locker in my office. [Sidebar – Yes, I have a locker in my office. Yes, it has all of my swim toys… and my TRX bands… and extra workout shoes… and some other training gear. It also has clothes for work!] I thought that I would change up the workout a little, adding just a bit more distance than originally planned. After all, I cut Tuesday's swim short. About two miles later, I climbed out of the pool a bit more tired than when I started. I threw in my lunch time strength workout, and all felt right with the world. I stuck to the plan on Friday, keeping everything nice and easy. Then came Saturday.
Whoa nelly. Saturday was planned as a big day. My one big day of the recovery week. Pretty simple, 8 x 1-mile at 6 minutes per mile on 2 minutes of rest. That was the plan. Remember when I said that I deviate from the plan now and then? Yeah, that's where I found myself. My wife wanted to go to the park rather than have me run on the treadmill. So, she jumped on her cruiser bike with a couple bottles of water and a bluetooth speaker in the basket, and we headed out. Now, before you judge me for having her accompany me, she is a seasoned pro and amazing sherpa, timing when I need to drink and encouraging me to push when I am suffering.
We hit the park and found the road a bit crowded but not too bad. After all, it was a little later in the morning, and the heat of the sun was coming into full effect. As each mile passed, we went faster and faster. Up and down the small hills in the park, weaving around the walkers, roller bladers, and slower runners. By mile four, we were under 5:40 per mile, and we held that for the next four miles, coming slightly back above for miles seven and eight. Like a trooper, she hung with me despite having her own workout planned immediately following mine. After mile eight, I was tapped. I hadn't gone full gas, but the heat and humidity had exacted their respective tolls. We got back to the house, and I jumped on my bike to join the TeamODZ Goats & Bears event mid-way through, only to get dropped on the mountain. Yeah, I had nothing left.
Planned TSS – 614; Completed TSS – 604; TP Recommended TSS – 540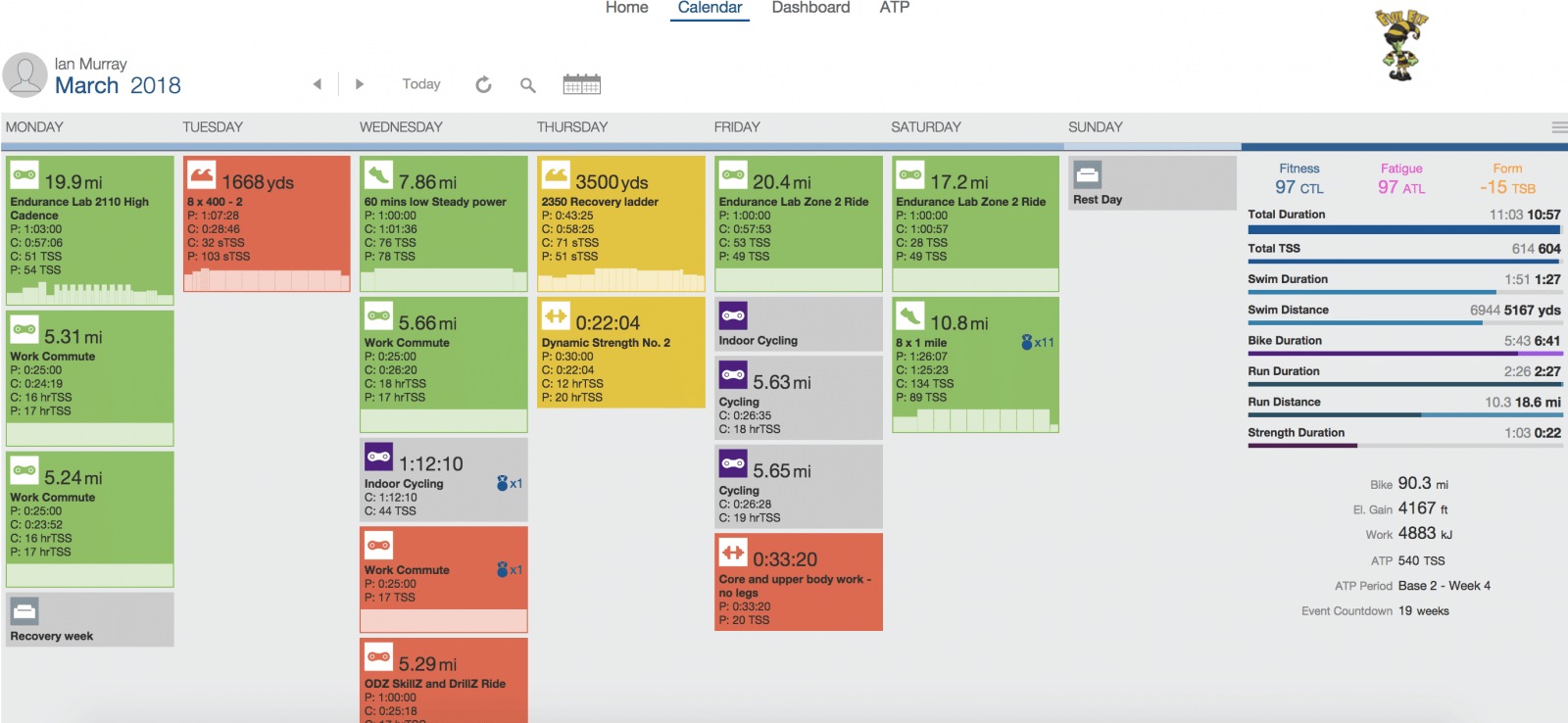 Back to Work! Time is Starting to Run Short
We're down to 18 weeks until ITU Worlds. Really, though, we are down to 14 weeks including taper, race week, oh, and moving. Yes, I will actually be moving in late June, so Denmark will fall in between the time I leave here and arrive at my next assignment. How's that for a little pre-race stress! We'll cover that more a little further down the road. On to the build week!
With three months of good training left, it's time to start getting the volume up in the swim and the bike. Fortunately, this week isn't all that bad. The next two weeks will be much worse, though, so I'll just have to deal. The goal moving forward is to start getting at least 10K of swimming each week and 100K minimum on the long rides. Like I said, this week isn't bad, and I don't hit those minimums this week. Had I not had plans this weekend, I would probably have gone a bit overboard, but other life commitments will keep me in check.
You will notice some tougher runs from here forward, as well. Wednesday's run is especially tough if there is any fatigue in the body.
Planned TSS – 786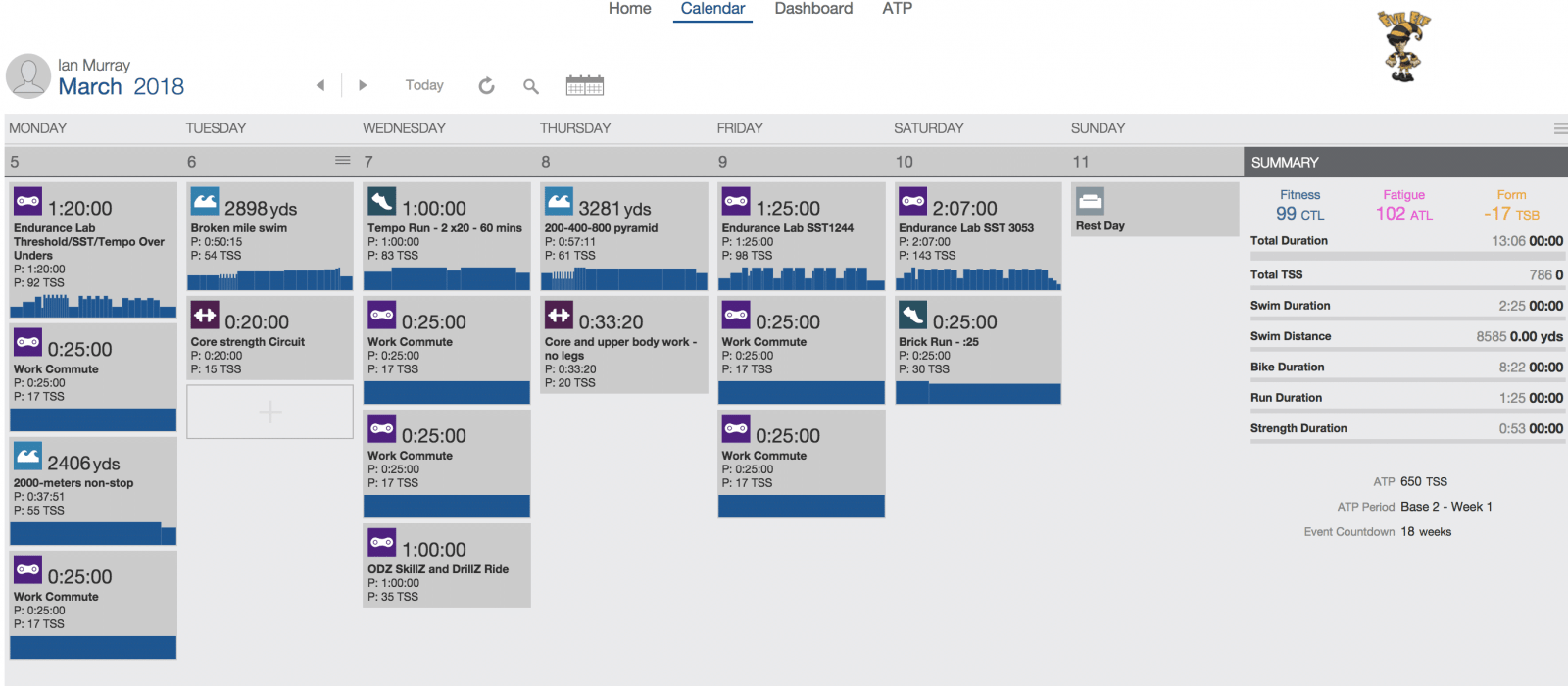 Well, that's it for now. I look forward to seeing you out on course. Maybe drop in to run with me on Saturday morning after my ride. Until next time, Ride On!