It's going to be a busy day in Watopia this Saturday as thousands of riders don their World Bicycle Relief kits, pull their Buffalo bikes out of the garage, and put in miles to raise support for WBR!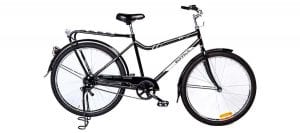 This is the 5th year Zwifters have pedaled to support WBR, and our community has already helped raise over $500,000 since 2015.
This year's WBR day is being spearheaded by Team 3R, a large Zwift team that rides in support of WBR.
While Zwift isn't giving a "Zwiftathon" mileage challenge to the community like we've had in years past, riders are being encouraged to put in big miles as they work with WBR and Team 3R to help meet two of the goals for this one-day event:
To break a World Record: Chris Hoppo, Kurt Pauwels and Marko Baloh will be attempting to cycle 1000km in 24hr on Zwift. That's fast!
To raise funds and awareness for World Bicycle Relief: the goal is for WBR to smash their 500,000 bike milestone (currently at ~482,000). We will hit the magic marker when we raise $147,000 – the same amount as WBR raised at last year's Ride On for WBR. (See below for info on how you can help fundraise through using WBR's tools)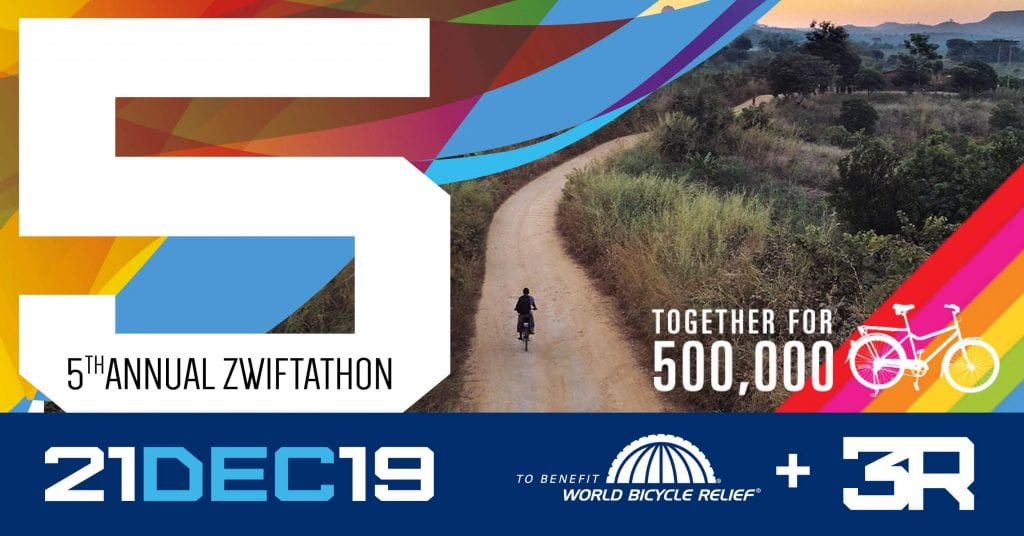 Calendar of Events
Events kick off Friday at 11:45PM Pacific time when Chris Hoppo, Kurt Pauwels, and Marko Baloh begin their attempt to break 1000km in 24 hours. Join them and lend a helpful draft! (You can find them on Tempus Fugit throughout the day and join their pack whenever you'd like.)
After that, 3R is hosting an hour-long social ride every two hours on the Watopia's Waistband route.
Fundraising and Prizes
The purpose of this event is to bring awareness and raise funds for WBR. You can easily register to fundraise on WBR's event page. You'll get your own fundraising URL which you can share with family and friends via social media.
You can just send the link out and ask for donations, but traditionally, Zwifters give themselves a big mileage challenge for the day and ask others to donate to support the effort and WBR's cause.
Here's the coolest part–your fundraising efforts will be doubled, since Trek is contributing up to $40,000USD in matching funds for donations made to this campaign!
The top 10 fundraisers over $500USD will have the opportunity to win a variety of incredible prizes!
Trek Domane frame
Saris MP1 Nfinity Trainer Platform
2019 Limited Edition Zwift Kit from CUORE
Saris H3 Direct Drive Trainer
Saris M2 Wheel-On Smart Trainer
Zipp disc wheel
Saris MTR One Bike Platform Rack
Saris Bones EX Trunk Rack
Framed Tour de France Image by Jared Gruber 
WBR Swag Bag: T-shirt, hats, water bottles and more 
Limited Edition Kit
Cuore of Switzerland is the exclusive apparel supplier for the 5th Annual Ride On for WBR 2019. Proceeds of the kit benefit WBR. Order by 12/31!
Purchase the limited edition kit here >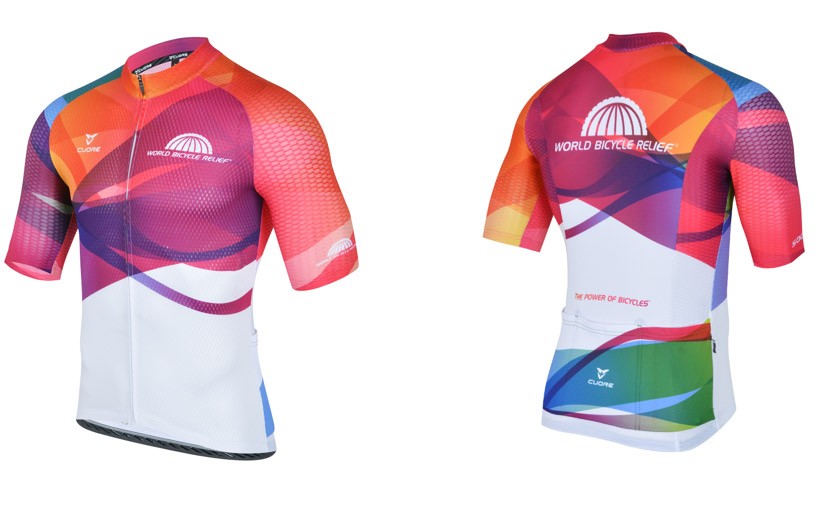 About World Bicycle Relief
World Bicycle Relief mobilizes people through The Power of Bicycles. They envision a world where distance is no longer a barrier to independence and livelihood.
Learn more at worldbicyclerelief.org >