Like most of my bad ideas, this ride was a last-minute spur of the moment decision. I wanted to ride all the roads in Watopia in one ride.
I race for Team USMES C1 in the WTRL TTT Latte division, and the day before we came in with a 3rd place overall finish. (Not thanks to me, but rather some very strong teammates. I was the fifth man and more of an insurance policy if one of the top four riders had a mechanical issue.) So my legs weren't exactly fresh, but I was feeling OK. The goal was to cruise the route around 2.5 w/kg.
Getting Started
The day started off with Christmas presents and some breakfast. Once all the kids were focused on their new toys, I headed to the pain cave to start my journey. My real-life triathlon team is Base Performance and I use many of their nutrition products. I filled two water bottles with their drink, Rocket Fuel, and thought that I'd take a short break once I ran out and could also use that as a pee stop. I opened the basement window and turned on the fan, blowing 7-degree air into the room (a wise decision). I didn't have a specific route in mind, but started on Tempus Fugit. I figured I would watch the map and make turns to allow for the least amount of backtracking.
After the flats, I headed to Titans Grove so I could go to the start of Repack Ridge and when I exited, I would turn left to finish going through the Sequoias and end up on the North side of the flats. I hadn't done Repack Ridge much before and it had been a while since my last attempt. Getting used to the phone steering took a little bit of practice.
It's a Trap!
I used a little backtracking to cover the route from my start point, did a U-turn, and headed towards the beach and Zwift KOM. After a loop around the Italian Villas using one of Watopia's newest roads, the Bridge/Islands Bypass, I cut back East to head up the Epic KOM.
About halfway up I was joined by fellow Base Performance teammate Matthew Stepaniak. He immediately texted me that this was a trap – he was on an 8% grade with no warm-up! I assured him that we were heading down soon… after the Radio Tower. The "I hate you" response really made me feel the Christmas spirit.
A Welcome Break
Coasting down from the Radio Tower and most of the backside of the Epic KOM was a welcome breather. At the bottom, we took a right turn to hit another new Watopia addition, the Epic KOM Bypass. The next left was downhill as we went back towards the beach, south on the rollers, before the Watopia sprint and headed to the Volcano. Matthew only needed to get 14 miles in and his time was up so I was back on my own. This was a good time for my first break, which lasted just long enough to refill water bottles and visit the bathroom.
The nice thing about only filling up two water bottles is that the next bottles are a little colder than if they had just been sitting there. Also, you can choose what you want in the moment. Rocket Fuel is a mix of Base Hydro, Base Amino, and Base Salt. There are five flavors of Hydro and three flavors of Amino. I went with mixing Strawberry and Watermelon.
First I did a loop around the Volcano Circuit before going up the Volcano Climb. At this point I was still feeling pretty good and knew that I only had the Jungle and ADZ left to complete. When I hit the dirt in the Jungle, I stopped and got off my Tron bike and moved to my mountain bike. I took a left at the entrance and thought the best route would be to go halfway, turn at the Mayan Bridge, loop South in the Jungle and back across the Mayan Bridge before going up the Alpe. I'd hit the last section of the Jungle on the way out after a nice rest of coasting down the mountain.
Tackling the Alpe and Leveling Up
At this point I was around 70 miles in with over 5,000 feet of elevation and I was starting to fade a little. Before I started up ADZ, I once again stopped to change bikes. This time I went for the Specialized Tarmac Pro with the Lightweight Meilenstein wheels. When stopped I noticed an orange bubble on the companion app and knew another friend was close. This time it was USMES teammate Kevin Davis. I knew he raced for our B team and told him if he stayed in front of me the whole way up the Alpe, I'd be his friend forever, and that's just what he did. There is not much of a draft going up, but I think it was just the motivational push I needed. I was able to hold 200 watts on each leg, but I was bouncing around a bit on my power as my legs were worn out.
This wasn't going to be a PR day, but that wasn't the point. I was so close to covering all the miles. Speed or power weren't a concern. ADZ went pretty well and I didn't start to complain too bad until we had three turns left. Kevin gave me some encouragement and reminded me that we were almost there and only had to sprint the last leg. I thought "sprint is such a strong word." It actually did push me though as I stood up and gave it pretty much everything I had left. At the top I got the wheels on the spinner and since I already have them, I got a 1,000XP bonus. This was nice as I made level 34 at the bottom. We had made it and now got to enjoy a long coast down.
Hearing Voices
This is when Kelly Ryan jumped on and we decided to all get on Discord. Kelly is also a USMES and Base Performance member. It was awesome to actually chat with them both instead of just texting through the Companion app. The last leg was just the exit out of the Jungle, but by the time we got there was I sitting at 89.5 miles. It's pretty hard to put that much in and not get a century ride in, so I continued. It would only be a short climb out and a nice downhill heading back towards the flats.
At this point, my watts were falling off significantly. Talking on Discord helped keep me going and I didn't mind the power drop because I was still moving at a decent speed either downhill or on the flats.
So Close, But So Far Away…
The second I hit the 100 mile mark I was done. I clicked the menu button and End Ride. The map pops up and goes over all the roads you hit. I watched with excitement to see all of them filled in. However, my heart sank as I saw that I missed doing a loop on the Zwift KOM. I had missed the new KOM Bypass! All those miles, all those hours (over six hours by now) and I failed to hit all of the roads. I was just sick. I clicked the OK button and thought that I had a great ride, hit a century, and completed almost all of the roads, but just didn't quite get it done.
When the save screen came up I noticed that there was a back button in the upper left corner and I wasn't sure which screen it would take me to, but I clicked it. It was such a good feeling when it took me back to my ride and let me continue. At this point I was completely shot and in the middle of the flats. I knew that it was only 4 miles away and that I had to get there. Barely pushing 100-150 watts the three of us slowly made our way to the KOM Bypass. I quickly crossed it, saved my ride, and went straight to Strava to make sure everything was there.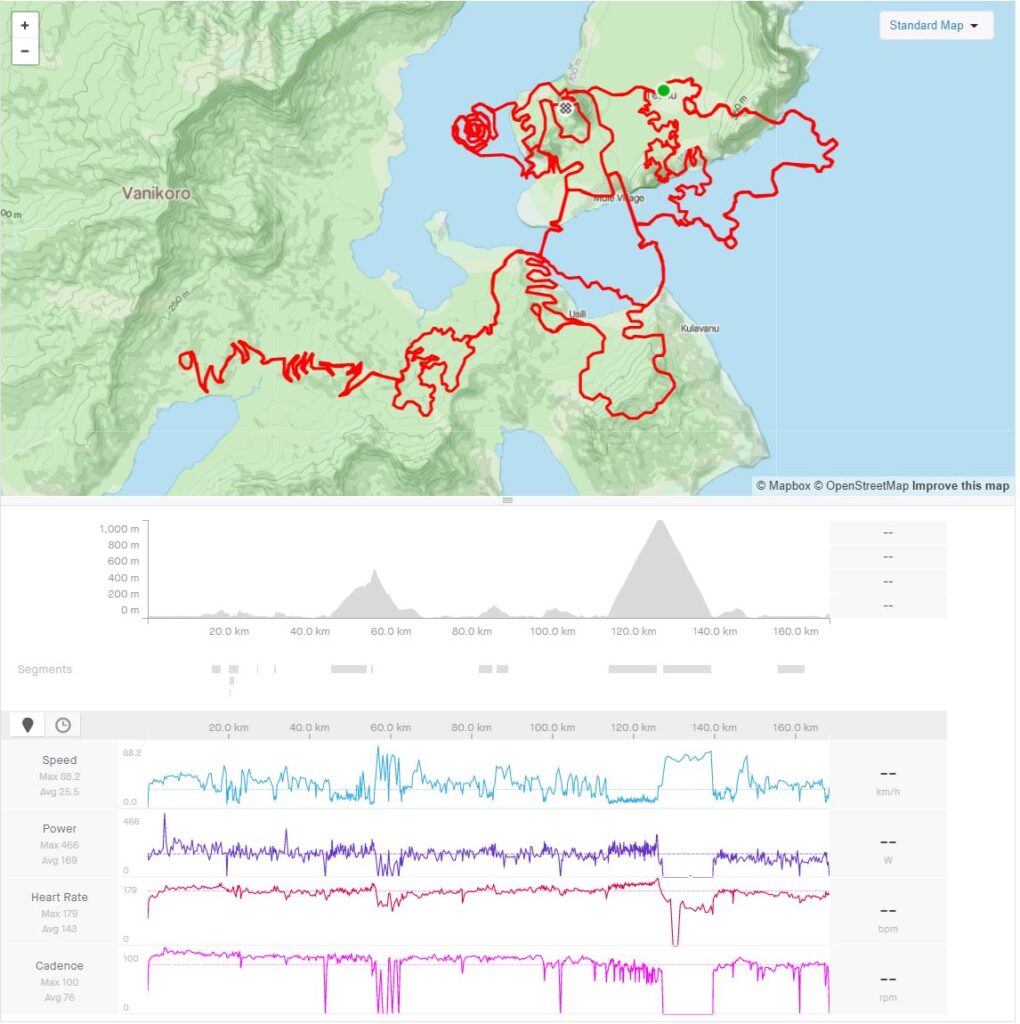 Wrapping It Up
The route ended up being 104.62 miles with 9,160 feet of elevation and took 6 hours and 45 minutes to complete. The only nice thing about having to do a few extra miles at the end was that it pushed me over 9,000 feet of elevation. When I first stopped at 100 miles, I was at 8,990 feet.
Unfortunately, all of the pictures I took using the Companion app came up all black, so I don't have those to share. Kevin got one of us riding together in our USMES kits and sent it my way. Today was quite the journey and I'm thankful for my teammates' help getting me through. I think I'll try to hit all the miles in the other worlds as well, but for now I'm going to enjoy the rest of the holidays. Merry Christmas and Happy New Year, everyone.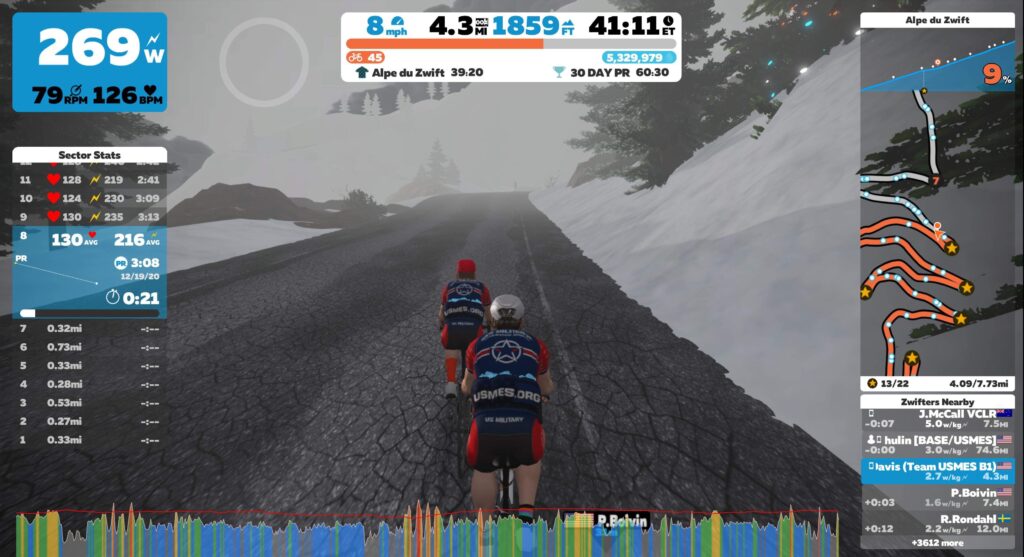 What About You?
Have you ever ridden all of Watopia in one go? That was a much easier ride a few years ago, compared to today. Share your experience below!