From the editor: although Wahoo just announced the next version of their KICKR (the V6), we wanted to publish this review on the V5 for three reasons:
There are still plenty of new KICKR V5 trainers for sale
There are still lots of used KICKR V5 trainers in the marketplace thanks to "Covid buying"
After extensive reviews and hundreds of hours of riding, we believe the KICKR V5 is one of the best trainers ever made, and in fact rated it as the #1 trainer over $900
Wahoo's KICKR is the most popular trainer on Zwift for good reason, and we believe the V5 is worthy of a bit more review coverage before being overtaken by the V6. I hope you find this review useful…
---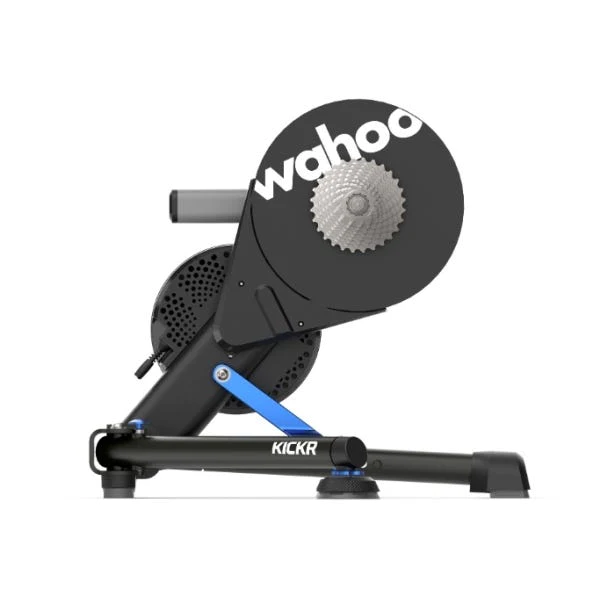 Origins of the KICKR
The Wahoo KICKR V5 is the fifth generation of Wahoo's flagship smart trainer. The first version launched in 2014, and it has since undergone revisions every year or two. The V5 was released in August 2020, and just this month Wahoo announced the release of its successor.
The KICKR's development and Wahoo's growth as a company is all rather impressive, given that founder Chip Hawkins only started the business in 2009. Wahoo now has a range of hardware including ELEMNT GPS Cycling Computers and sport watches, TICKR Heart Rate Monitors, SPEEDPLAY Road Pedals, smart trainers, and indoor accessories including the KICKR Climb and Headwind. In addition, they sponsor many of the leading teams in Men's and Women's pro cycling, including Trek-Segafredo.
Design Notes
The first point to notice is that the trainer is very minimal in its construction, with an ergonomically designed handle to enable you to position the trainer into place and an exposed belt and pulley giving it an "industrial" feel.  This look is further enhanced by its robust steel construction, as seen with its matte black legs and polished blue centre support, which ensures the KICKR stays firm and stands up to thousands of hours of heavy use while you crank out the watts.
Due to the minimalistic design, it takes up less space than many other trainers. The lack of plastic used in its construction is noticeable and its footprint is 51cm by 71 cm.
Overall, it appears and feels like every part of the design has been very refined.
Technical Specifications
The trainer offers high specifications, notably with its maximum power output of 2200 Watts, which far exceeds anything the majority of people will be able to generate. Details include:
Weight: 47 lb // 22 kg
Product Dimensions: 20x28x17 in // 51x71x44 cm – Legs open configuration
Drivetrain: Belt Drive
Resistance Type: Electromagnetic
Accuracy: +/- 1%
Connectivity: ANT+ FEC, Bluetooth
Max User Weight: 250lbs // 114 kg
Power Requirements: 100-240V~1.5A 50-60 Hz
Flywheel Weight: 16 lb // 7.3 kg
Maximum Simulated Grade: +20%
Minimum Simulated Grade: -10%
Maximum Power Output: 2200 Watts
Rear Wheel Size: 24″ RD / 24″ MTB / 650c RD / 26″ MTB / 700c RD / 650b MTB / 29″ MTB
Cassette: Included 11 Speed with 11-28 ratio
Hub Types: 130/135mm QR, 12×142, and 12×148 Thru Axle
KICKR CLIMB: Compatible
Disc Brake Clearance: Yes
Setup
Setting up the Wahoo KICKR V5 is easy as it comes fully assembled. There is a detailed instruction manual to assist, but it is very straightforward.
Simply take the trainer out of the box and move it to your desired location and position as required. While the trainer is hefty thanks to its all-steel construction, moving it is easy thanks to the integrated handle.
Next, fold out the legs, which clip into place, and adjust the height of the trainer, depending on the size and type of the bike you are going to use. This simple feature, not available on any other smart trainer that I know of, lets you optimise the position/tilt of your bike, depending on what you use and prefer.
Once you have selected the height, be sure to lock it in position with the screw.
Now you need to adjust the feet to ensure the trainer is level, which is only really required if you are cycling on an uneven surface. The integrated AXIS feet can be removed and replaced with larger or smaller feet, depending on your weight. (The middle, default-sized feet are installed and cater to riders that weigh between 63-81kg.) The feet are designed with some "give" to let the trainer move a bit and give you the most comfortable ride.
It comes with a 11-speed cassette installed, so if you pedal an 11-speed bike, no adjustment is required. Otherwise, it's easy to swap out if you have the proper tools.
The final two steps involve selecting the relevant adapter to mount your bike and connecting your bike. A standard quick release skewer is included.
Plug in the power and away you go because no configuration is required.
It's all rather simple.
Ride Experience
How does the trainer feel?
The feel of the trainer is smooth.  Really smooth. Whether you are on the flat or going uphill, the resistance of the trainer smoothly adjusts accordingly and you can pedal your required power or cadence.  One of the noticeable features of the trainer is that when you change your cadence or apply power, the trainer responds.  This has given me confidence when racing on Zwift because I know, if I respond to a certain move, the trainer will react. The limiting factor is now my own ability.  In my opinion, this is one of the most responsive trainers that I have ridden, and I have extensively ridden a number of different ones including the main ones from their competitors such as the Tacx Neo 2T, Tacx Flux Smart S, Elite Justo, Elite Direto-XR, and Wattbike Atom. 
Talking of resistance, when starting your ride, there isn't a big effort required to start moving the flywheel, despite its 7.3kg weight. I attribute this to the pulley which is smaller than some competitors'. It's easy to get up to the required speed and cadence. 
When cycling on Zwift, appropriate resistance is applied. For example when climbing on the Volcano, the trainer increases and decreases the resistance as the gradients change, ensuring that the climb is smooth. This is also noticeable on undulating courses, in fact, this trainer is one that I feel mimics closely the resistance of cycling outside. The trainer can imitate gradients of up to 20% and can handle any climb on Zwift.
Couple this with the KICKR's AXIS feet, which allow you to customise your ride feel. According to Wahoo, these feet "offer a more realistic training experience" which means not only a smooth ride, but a comfortable one since they allow for a slight 5° of movement from side to side. This also makes the ride feel more natural.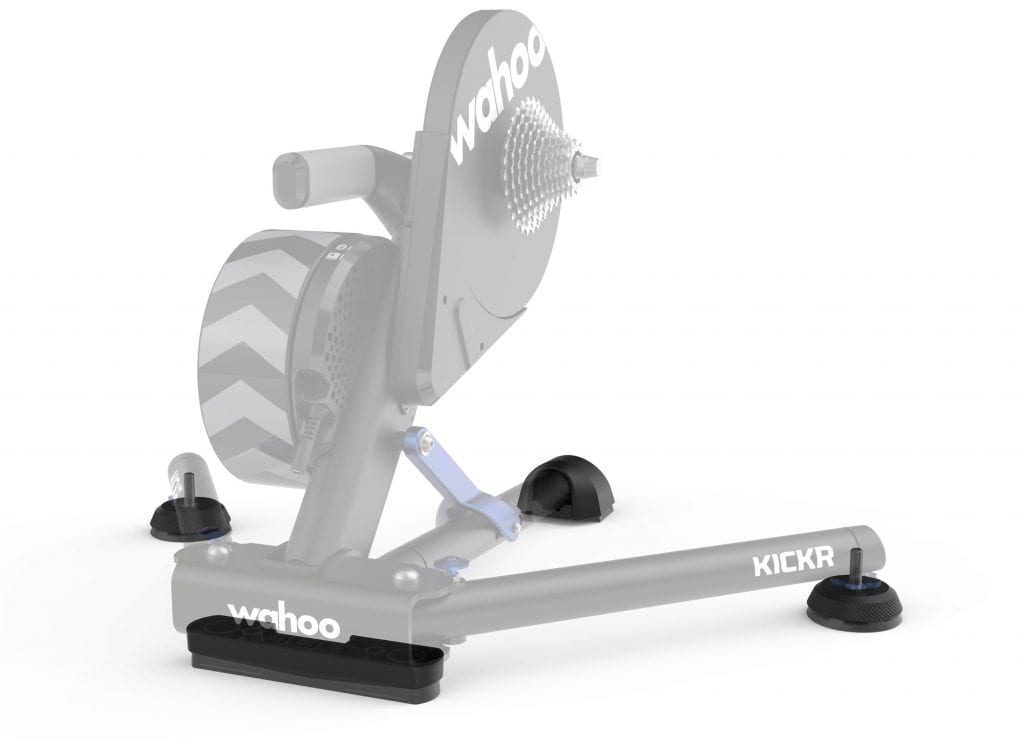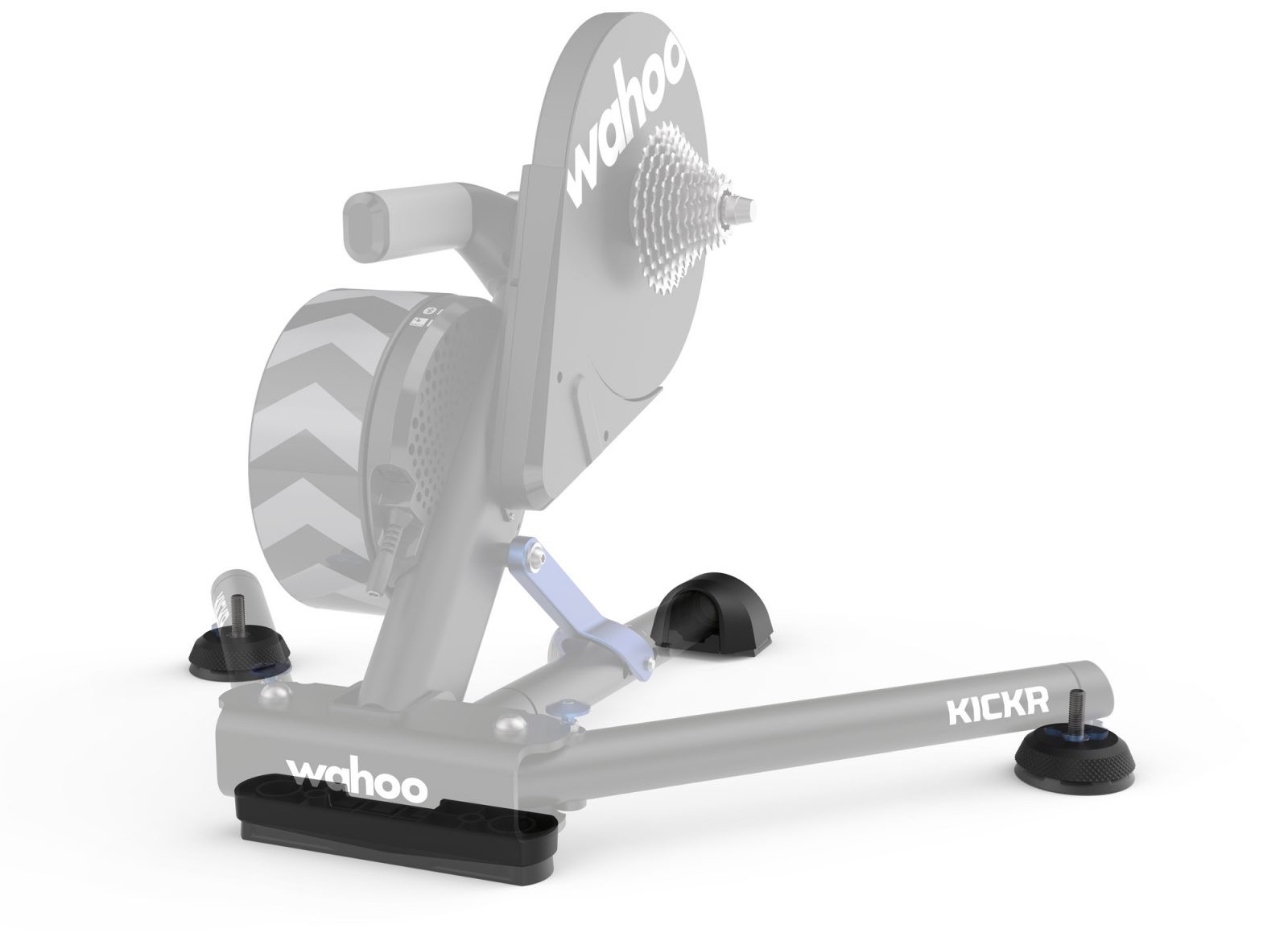 Reliability
How reliable is the trainer? Very, is the short response. I've not experienced any issues with connectivity, and a considerable number of hours have now been logged using it. Once connected to Zwift on my iPad, via Bluetooth, it stays paired and I have not experienced a single technical glitch. This has been noticeable and, in an age where we have become increasingly impatient with resolving tech issues, this is most welcome.
If you are concerned about experiencing wireless ANT+ or Bluetooth dropouts, Wahoo have released the KICKR Direct Connect which allows you to connect the trainer directly into your internet router, via its RJ11 socket situated in the rear of trainer, above the power lead. This is only compatible with the new KICKR V5 and V6 smart trainers.
Accuracy
I used my Garmin Vector 2S pedal to compare the accuracy of the trainer. The difference in readings is minimal. Given I used only single sided power pedals, I would think that the trainer is more accurate when reading power. As you can see from the data table, the average power percentage difference between the two is minimal (around 1%) and over a race and 20-minute period we are talking the difference of 3 watts. It's worth noting that the maximum wattage output of the trainer is 2200, and so my 806 watts never go close to reaching its maximum capability.
During a Zwift race, this breakdown of the data shows the comparison between the Wahoo KICKR V5 and the Garmin Vector 2S pedals.
| | | | |
| --- | --- | --- | --- |
| | Wahoo KICKR V5 | Garmin Vector 2S Pedals | Difference |
| 1 Second | 450 watts | 447 watts | -0.67% |
| 5 Seconds | 412 watts | 417 watts | 1.20% |
| 15 Seconds | 397 watts | 402 watts | 1.24% |
| 30 Seconds | 393 watts | 394 watts | 0.25% |
| 1 Minute | 382 watts | 386 watts | 1.04% |
| 5 Minutes | 355 watts | 360 watts | 1.39% |
| 10 Minutes | 333 watts | 338 watts | 1.48% |
| 20 Minutes | 323 watts | 326 watts | 0.92% |
If you'd like to dig into my dual recording test data, here are the ZwiftPower links:
I was able to post a time of 7:12 on the Volcano climb, which feels right for the effort that I expended based on my current fitness levels.
The only noticeable difference in data was when sprinting. The Garmin Vector 2S pedals had me generating a difference of 30 watts on the positive. However, sprinting is not my strength and would therefore consider the readings from the Wahoo KICKR V5 to be a more accurate reflection.
(This is further supported by the fact that when I undertook the same test using the Tacx Flux Smart S trainer, the trainer recorded 630 watts compared to 656 watts of the pedals, a variance of +3.96% in comparison to +4.06% of the Wahoo KICKR V5, leading to the conclusion that it is my Garmin Vector 2S pedals that are the limiting factor in this sprint test. However, to make any firm conclusions, additional pedals/power meters would need to be used and compared against the trainer.)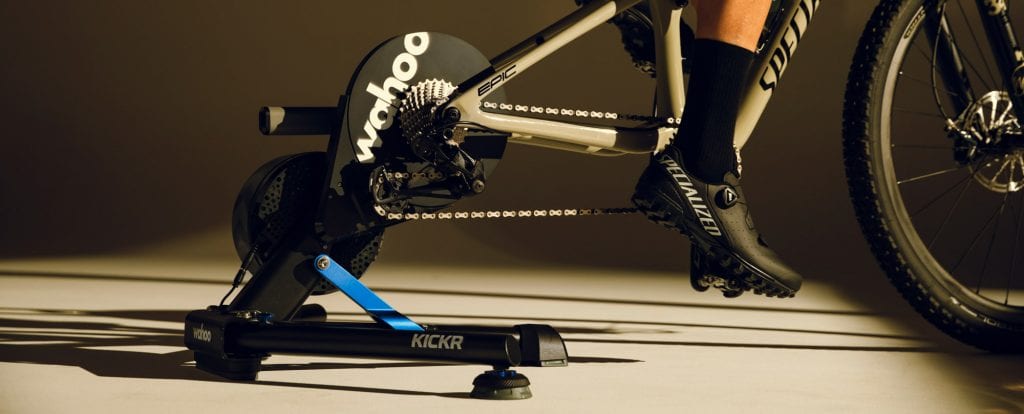 Noise Levels
This trainer is quiet, one of the quietest I have tried. In fact, more noise comes from my drivetrain than the flywheel and pulley actually turning, and this really does highlight the need to maintain your drivetrain to a good standard!
You can easily have a conversation whilst using the trainer, without being drowned out. If you are using a fan, I can assure you any fan is louder than the KICKR V5.
ERG Mode
ERG mode is consistent and reliable as the trainer itself. The resistance changes in accordance with the effort that is required and the change in resistance is smooth, easing on and easing off when appropriate. It just feels natural and I have not experienced any issues in ERG mode.
Cost
As Wahoo's leading direct drive smart trainer, the V5 was priced at £999.99 / $1,199 / €1,199.99 / AU$1,799.95. However, the new V6 has been announced, and Wahoo and their distributors have been selling off V5 stock at discounted prices.
At the time of this review, the V5 is for sale from Wahoo for just $899.99, which is a solid deal.
Summing Up
Having used the Wahoo KICKR V5 trainer extensively, it is clear why this was selected as the "go-to" trainer for the UCI Esports World Championships. The KICKR simply delivers one of the best, if not the best "all-around" experiences of any smart trainer on the market today.
The trainer is a stable and comfortable platform, it is quiet and is extremely responsive. When I increase my effort, this is instantly reflected in the increase in wattage, similarly, when I increase my cadence, the trainer responds.
In terms of resistance, it has what I consider to be appropriate levels of resistance and inertial feel. This is evident both and flats and when climbing. It's as close to recreating the outside riding experience I have encountered.
The minimal design, ease of setup, reliable connectivity, and overall performance means this is certainly a trainer to seriously consider if you are looking at upgrading.
Questions or Comments?
Share below!