Wahoo KICKR owners: have you noticed Zwift prompts you with multiple connection options on the pairing screen?
If you only use Bluetooth (AppleTV, iOS, Android) then you'll only see one option. But ANT+ users will actually see two different ANT+ profiles: one that begins with "WAHOO FE-C" and another that begins with "KICKR".
ANT+ users who also have Bluetooth (or Zwift Companion) enabled will see a total of three profiles: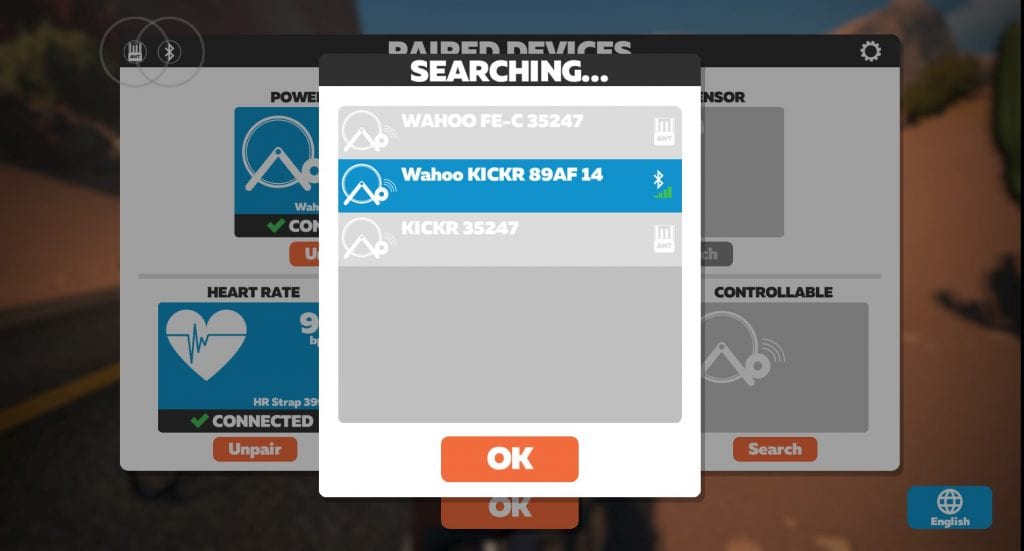 What's going on here?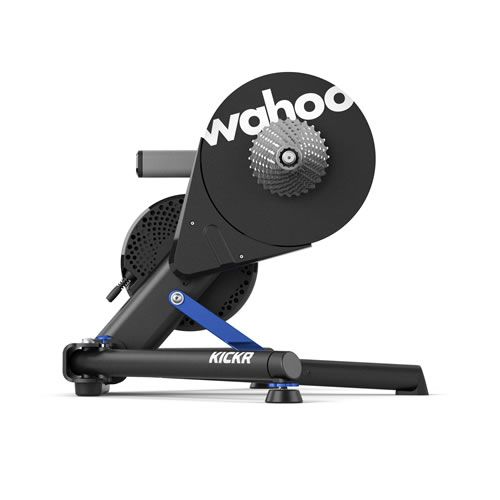 The ANT+ connection which doesn't include "FE-C" is a legacy (older) connection that uses an ANT+ scheme developed by Wahoo prior to the FE-C standard being adopted. (Wahoo wasn't unique in this–all the smart trainer makers had their own proprietary communication methods in the early days.)
The FE-C connection uses the ANT+ FE-C standard, an open standard for controlling a variety of fitness devices (FE-C stands for "fitness equipment control").
The Bluetooth connection uses a proprietary Bluetooth Smart implementation since the KICKR, like many smart trainers, doesn't yet use the newer Bluetooth FTMS standard.
Legacy ANT+ Weirdness
There are two strange issues we've noted with the legacy ANT+ connection.
First: we've heard from other Zwifters (and experienced ourselves) that connecting to this profile as a power source can cause dropout issues. (We note this in our ANT+ Dropout Troubleshooting post.)
Secondly: here in the Zwift Insider Lab, we've noticed that this legacy ANT+ profile is always found first on the pairing screen's "Controllable Trainer" box, which means Zwift automatically pairs with that profile. Sometimes the FE-C profile won't show up for a minute or more, in fact!
Resistance Differences Between Connection Methods
Sometimes, we've used the legacy ANT+ connection for the controllable trainer just because we were in a hurry and couldn't wait around for the FE-C connection to be found. When using the legacy connection, we noticed that the base resistance seemed lower. That is, we would be spinning one or two gears higher in the legacy connection than we would with the FE-C connection, but holding the same cadence and power.
Not that the power accuracy was wrong. Just that the "base resistance"–the amount of resistance the trainer gave us at 0% trainer difficulty (like riding a flat road) varied between each connection method.
Or was it all in our heads? We decided to do a little testing.
We headed out to Fuego Flats, turned our Trainer Difficulty down to 0, and rode for a minute or more at a steady cadence of 90 without shifting. We did this for each of the three connection methods. Here's what we found:
ANT+ (non FE-C): 184 watts average
ANT+ FE-C: 215 watts average
Bluetooth: 182 watts average
Interesting results. There is definitely a significant resistance difference between the industry-standard ANT+ FE-C protocol and the older one which Zwift implemented for the KICKR back before ANT+ FE-C became a standard. A difference of ~15%!
Interestingly, the legacy ANT+ method tests out to almost the same average watts as the proprietary Bluetooth method. Which makes sense, because both were proprietary implementations from Wahoo. The important takeaway here is: connecting your KICKR via Bluetooth results in significantly lower base resistance than connecting via ANT+ FE-C.
Implications
This isn't an industry-shaking revelation or a huge deal in the grand scheme of things. But it's worth knowing if you, like us, get close to running out of gears on descents or while sprinting. You may be able to switch to the ANT+ FE-C connection and get a little more resistance, making your setup work just a bit better for you.
In the bigger scheme of things, isn't it time for industry-wide standards to be implemented on ANT+ and Bluetooth? Make it happen, Wahoo and Zwift!
What About You?
Have you noticed a difference between resistance levels when connected via ANT+ FE-C compared to Bluetooth? Share your experience below!
Note: the original version of this post referred to Wahoo's Bluetooth implementation as FTMS, but we later learned that the KICKR (mostly) uses a proprietary Bluetooth Smart implementation. We've updated the post above to reduce confusion.