Many Zwifters are hungry for social interaction these days. Group rider numbers are skyrocketing, and Meetups have suddenly become one of Zwift's most popular features because they allow anyone and everyone to create a Zwift event for their friends.
Some Zwifters want more interaction, though. Discord is the community's default app for voice chat, and it works well enough. But what if we could take it one step further? What if we could see live video from our friends as we rode together?
Here's the great news: we've got the tools we need to make it happen, and they're free! All you need is a mobile phone.
Let's look at what exactly video conferencing adds to the Zwift experience, then we'll talk about recommended video chat apps and precisely how to use our favorite app in the bunch.
The Test Rides: On Your Left!
In the name of science and social sanity, I decided to set up some video conferencing test rides with various friends and DIRT teammates. We used our phones for video conferencing, then hopped into Meetups, official events, or just did free rides together. And you know what: it worked!
Subscribe to our newsletter
Everyone agreed that it was actually really cool to see the other riders' faces and hear their voices live. It felt like we were really riding together as we interacted in real-time, sweating and joking with one another.
Here's a screenshot of my view from one of these rides – a "keep everyone together" Meetup which included one teammate's 10-year old son: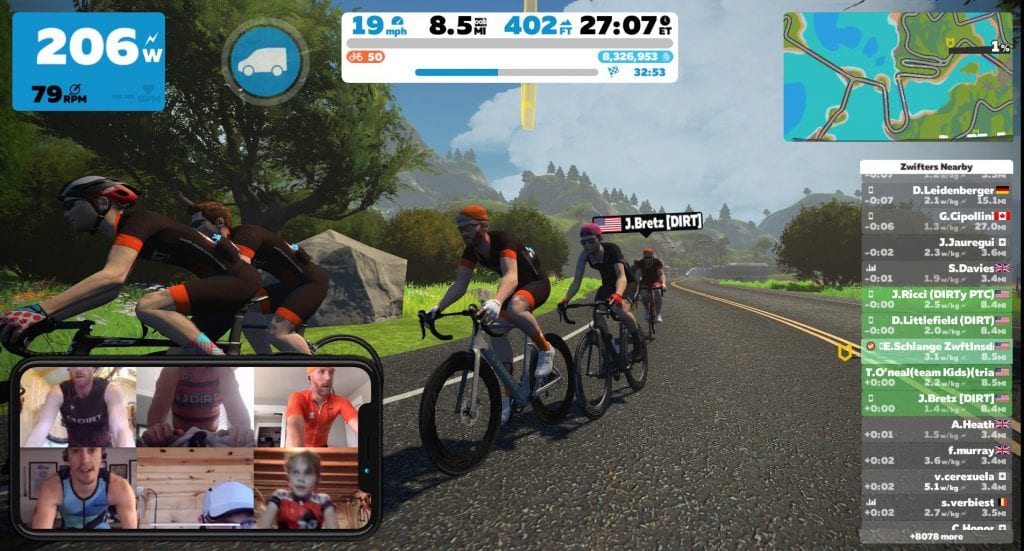 My attempts to record that ride properly didn't go so well, but here's a quick glimpse of a ride with me and fellow DIRT rider Joe Ricci on Zwift while using Facebook Messenger video chat. (Pardon my voice quality – I turned up my mic gain a bit too high and it clipped when I started yelling after losing the sprint!):
So how do you set up a video conference for Zwifting with your friends? I'm glad you asked. First, let's look at which apps work best…
Recommended Video Conferencing Apps
Zwift doesn't have video or voice chat baked in, so third-party apps must be used. Fortunately, there are several free, powerful, and easy to use video conferencing services available today! We researched and tested a variety of popular video conferencing tools for this post. Those who made the final cut had to meet the following requirements:
Free: businesses pay for video conferencing. Zwifters do not!
Easy: because if it's too complex, nobody will use it
Must support 4 or more participants
Cross-platform: must work on Android and iOS phones plus Windows and Mac computers. (Note: this is why we didn't include Apple's popular Facetime tool – because it only works on iOS and Mac.)
Given those restrictions, we settled on just four video conferencing tools which we can recommend for Zwifters. Here's that list, with a few notes for each service:
Any of these apps will do the job nicely, but let's look at exactly how to host a video chat using our favorite app from the list above: Facebook Messenger.
How To Video Chat with Facebook Messenger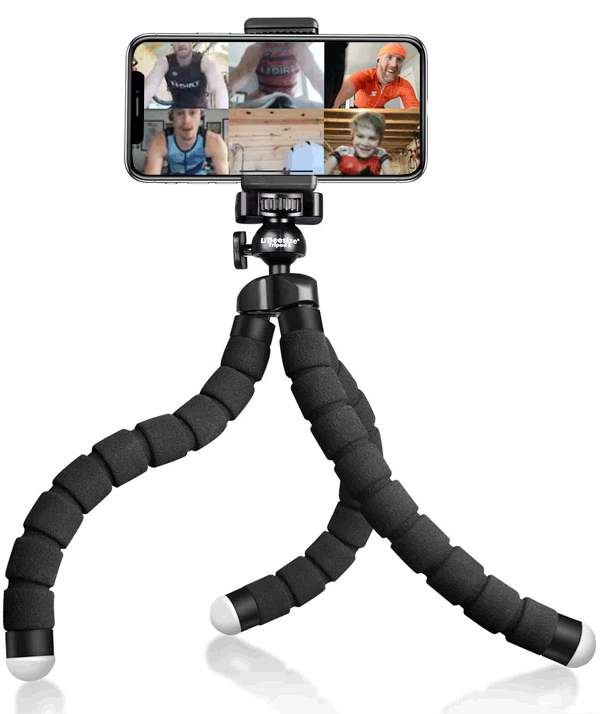 Setting up a video chat in Facebook Messenger is quite simple, as long as you're prepared! Here are three important things to address before the call begins:
Make friends: everyone on the call needs to be on your Facebook friends list.
Earbuds required: make sure everyone has earbuds/headphones so you don't have echo/feedback issues. We recommend a decent set of wireless Bluetooth earbuds – every Zwifter should have some!
Figure out your phone mount/stand: tilting your phone against a water bottle may do the trick, but it's nice to have a simple phone tripod like this one from UBeesize so you can get your phone placed perfectly for the video chat.
Once you're prepared, it's easy to initiate the video chat in just two steps!
Creating the Video Chat session:

First: Click to start a new chat group. This is where you enter/select the names of your participants.

Second: Initiate the video call by clicking the video camera icon.
You can add people to the call after it's initiated. You can also mute your own microphone or turn off your video easily whenever you'd like.
Conclusion
Video chatting while Zwifting takes Zwifter interaction to an entirely new level. And the good news is, there are four video chatting apps which will do the job quite well, at zero cost!
If you're looking for more social interaction with others on Zwift, I highly recommend trying a Zwift session with a video chat.
Have You Tried It?
Have you tried video conferencing with other Zwifters? What tools did you use, and how did it go? Share you experience and tips below!