Your Vortex is a computer, and sometimes the code which runs that computer needs to be updated. Keeping your Vortex's firmware updated helps to ensure your trainer is functioning optimally.
Note: you don't need to check for firmware updates on a regular basis–the free Tacx Utility app does this for you when you run it, so whenever you calibrate your Vortex it will also check for updates.
Required Update
While firmware updates are somewhat "optional," your Vortex won't work with Zwift until you install at least firmware version 3.1.7, which is the update that allows Zwift to talk back to the Vortex to adjust tension to simulate inclines.
Note: most Vortexes being sold now already have this firmware version installed, since it was released July 2015.
Updating Your Firmware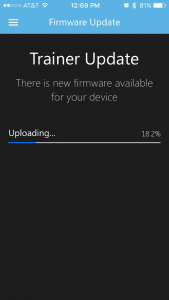 Updating the firmware is an easy process. The app may prompt you to update the firmware, or you can click the menu bar (3 lines) at the top-left and choose "Update".
If an update is available the app will reboot your trainer, upload the firmware, then prompt you to unplug the power cord and plug it back in.
Once you've done that you should see a screen confirming that your trainer is running the latest firmware.