The latest Zwift update has been announced and will be released in phases over the next few days.
This release's big new feature is virtual shifting for Zwift Hub, which delivers a host of benefits to users. There's also a pile of bug fixes included in the new build. Let's dive in!
Virtual Shifting for Zwift Hub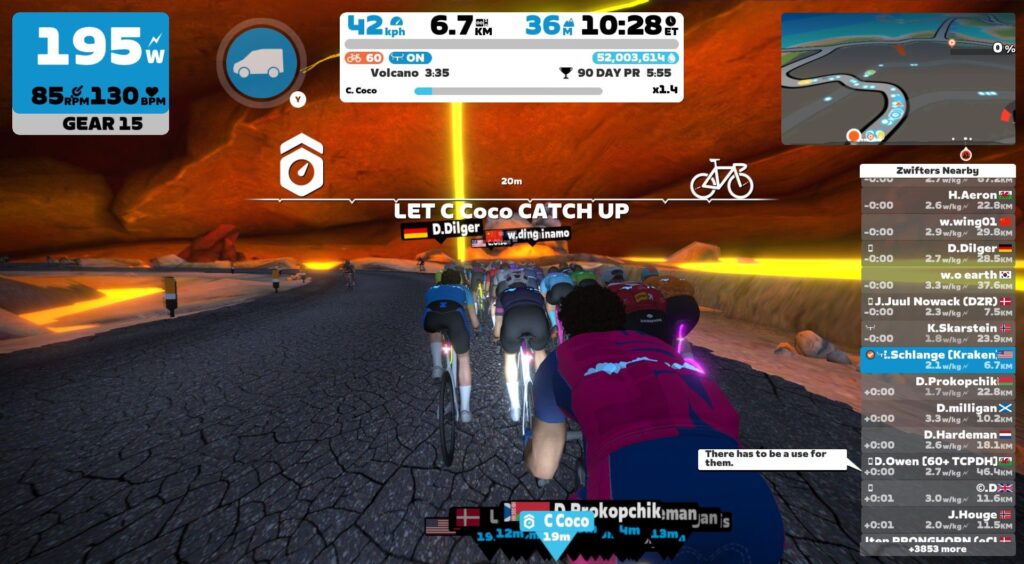 Today's update brings virtual shifting to Zwift Hub owners who have Zwift Play and/or the new Zwift Click controller. Use the Companion app to make sure your controllers have all their firmware updates installed, and make sure your Hub is on firmware 5.2 or higher, and you should be good to go!
Start up Zwift, pair your controller(s) and Hub, then make sure Virtual Shifting is enabled on your main settings screen: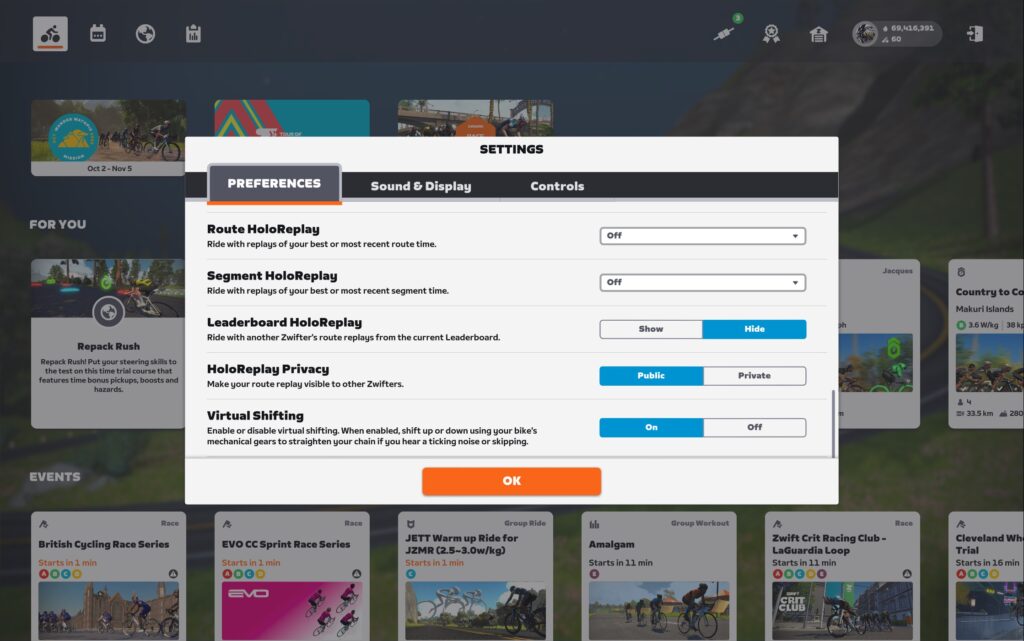 How does virtual shifting work? The same way it does with any smartbike. You can read more about it in today's Zwift Hub One post, but basically you've got 24 virtual gears, and as you shift between them the resistance on the Hub changes to mimic a mechanical shift.
You cannot currently set up custom virtual gearing, although Zwift says that may happen. Instead, the Zwift Hub auto-detects your physical gearing when you first start pedaling, then auto-calibrates resistance so you'll have plenty of gears to work with. (Zwift calls this "'real gear ratio calibration", and in our tests it works flawlessly.)
Virtual shifting may be one of those features few asked for, but everyone loves. Benefits include:
Fast, smooth, quiet: with no chains skipping between cogs, your shifts are completely silent, perfectly smooth, and lightning-fast.
Less wear and tear: reducing mechanical shifts means your chain and cassette/chainrings won't wear as quickly.
Shift under full load: no need to ease off the pedal when shifting under power, as your chain isn't going to "skip" when virtual shifting like it can with mechanical shifting.
Compatible across many bikes: no more spinning out on your low-geared mountain bike, or needing to swap cassettes if you swap bikes. The Hub auto-calibrates to your physical gearing.
Expanded shifting: at launch Zwift supports a virtual 24-speed setup, which is more gears than most riders have on their outdoor setups. Additionally, the gear ratio range is very wide (from .75 to 5.49), meaning everyone should find that virtual shifting offers more easy gears and more hard gears than your mechanical gearing.
In-game gear visualization: with Zwift's virtual shifting, you can always see what gear you're in on screen.
Read Zwift's virtual shifting FAQ >
Pack Dynamics Bug Fixes
Zwift's release notes include two items dealing with bike behavior in packs:
Improved bike movement behavior in worlds with left-hand traffic.
Fixed an issue that could potentially cause Zwifter's bikes to sway left or right in a pack and lose draft in Pack Dynamics 4.1.
Zwift continues to stomp out bugs when it comes to pack dynamics and steering using Zwift Play. While the experience still isn't flawless, it's quite good and much improved from a few months ago, so kudos to Zwift's developers on this front!
More Release Notes
Zwift provided notes on additional tweaks and bug fixes in this update:
Zwift Play: Fixed an issue which could cause reconnection issues or game crashes on the Pairing screen.
Fixed a crash that could potentially occur when starting a Coffee Stop via the Zwift Companion app.
Fixed an issue which caused the roadway and water to flicker in the cave on the Jungle Circuit route in Watopia.
Fixed an issue which caused water to be missing on some routes in Makuri Islands.
General game stability improvements.
Windows
Fixed a crash that could occur on the pairing screen
Fixed a crash that could occur when saving a video screenshot
Android, iOS
Fixed an issue where password reset emails were not sent if the account's email address contained a "+".
Discuss this release on Zwift's forum >
Questions or Comments?
If you spotted any other changes or bugs in the update, please comment below!