The latest Zwift update has been announced and will be released in phases over the next few days. This is a minor update, but it includes some fun new HoloReplay functionality. Let's dig into the details…
Leaderboard HoloReplays
Zwift's HoloReplay feature launched as a FutureWorks project back in October 2022. Since then they've been tweaked and upgraded steadily, and many Zwifters now use them to play training games as they try to match or beat their previous segment times.
Today, Zwift launches Leaderboard HoloReplays – a feature that lets you compete against someone else's HoloReplay!
This is how it works in basic terms: if you enable "Leaderboard HoloReplay" in your settings, then whenever you start a segment with a leaderboard, the game will pick an entry from the leaderboard that feels "just challenging enough for you to chase down." You will see this HoloReplay and can chase it for the duration of the segment.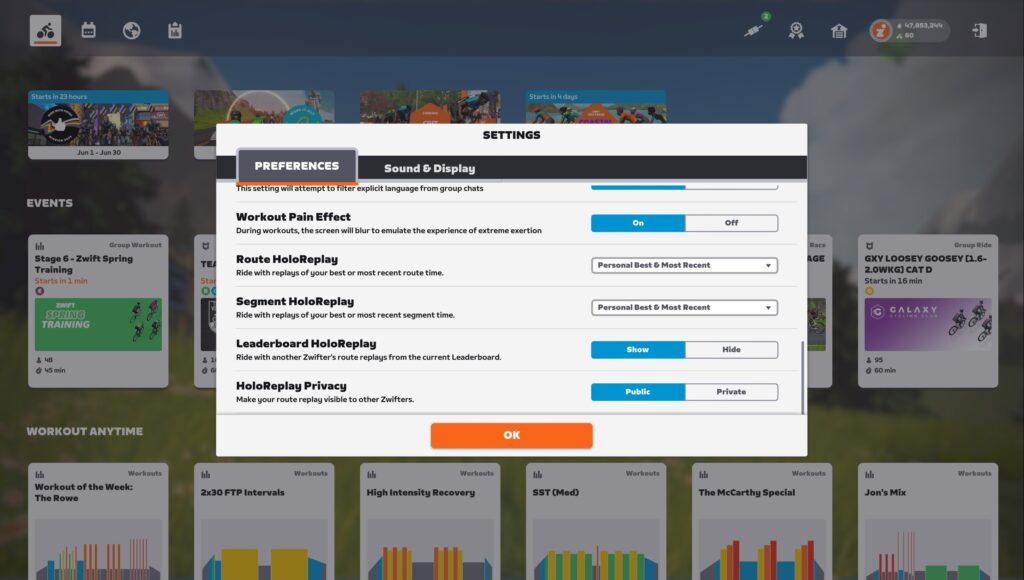 To be a bit more precise: the game selects a leaderboard entry that is slightly faster than your predicted finish time for the segment. Zwift predicts your time based on your 60-day power curve and current speed into the segment.
Don't want other riders to see your segment efforts in a Leaderboard HoloReplay? Set "HoloReplay Privacy" to "Private" in your settings. (By default, everyone is set to public.)
Learn all about Leaderboard HoloReplays in this forum topic >
Note: currently you must have at least one type of HoloReplay enabled via the "Segment HoloReplay" setting in order to see Leaderboard HoloReplays. Zwift tells us this is a bug that will be fixed soon.
Coffee Stop Tweak
The Coffee Stop feature was introduced on May 10th, and today's update modifies it a bit for events. Where the Coffee Stop's 30-minute timer previously began when you joined the event start pens, it now begins when the event starts… as it should!
PC & Mac Launcher Update
Zwift updated their launcher on PC and Mac to v1.1.8 a few weeks back. While it doesn't provide any new features you'll notice, it includes "Incremental updates and performance improvements for macOS" and "Minor bug fixes for the PC launcher".
For whatever reason, the launcher doesn't get updated forcibly with today's Zwift update. While it's unclear what parts of the game the launcher handles vs the actual game code, our advice is to always have the latest Zwift launcher version. If you don't have the latest version (on PC, right-click the Zwift icon in your system tray to find your current version), you can download the latest launcher from Zwift to force the upgrade.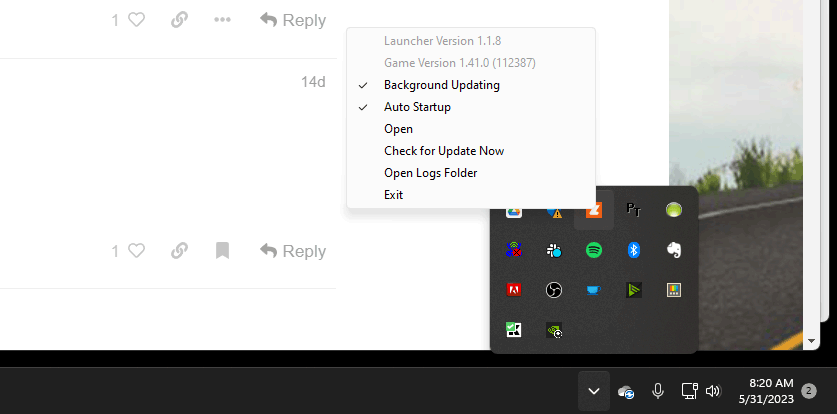 Zwift Companion Deprecation on iOS 12
While not strictly a part of today's game update, it's worth noting that Zwift is deprecating iOS 12 for Zwift Companion starting today (May 31). That means if you've been running Companion on an older iPhone or iPad running iOS 12, it will no longer work as of today.
More Fixes and Tweaks
Here is the list of fixes/tweaks Zwift included in their release notes:
Fixed issue that impacted navigation within certain text fields with mouse or keyboard (including garage scrolling and workout editing).
Fixed an issue where other riders occasionally weren't shown in the "Zwifted With" list after an activity.
Apple TV: Fixed an issue with Apple TV remotes not selecting the game menu button when the Back button was pressed.
PC & Mac: Fixed not being able to paste text within in-game chat.
See notes on this update release in the Zwift forum >
Known Bugs/Undocumented Changes In This Release
Popup detail text not showing on ride summary power curve chart (carried over from v1.39)
Riders nearby list not scrolling reliably (your listing is often at the top of the list, and sometimes not even on the list) (carried over from v1.39)
KICKR Bikes lose steering ability after taking a Coffee Break (carried over from v1.39)
FTP no longer editable via text box on workout picker/detail screen (slider still works)
You must have at least one type of HoloReplay enabled via the "Segment HoloReplay" setting in order to see Leaderboard HoloReplays. Zwift tells us this is a bug that will be fixed soon.
Clicking to join a RoboPacer occasionally places you incorrectly (carried over from v1.39)
Questions or Comments?
If you spotted any other changes or bugs in the update, please comment below!