Announced as a "coming soon" feature back in April, Zwift's Coffee Stop is now available in game. Let's dive into the details of how this feature works…
What It Does
Have you ever been riding with a great group on Zwift, but do you need to hop off the bike to grab a towel, refill a water bottle, or take a nature break?
Coffee Stop lets you cease pedaling and hop off your bike for a quick break, while your avatar keeps pace with the group you're in so you don't lose the fun of riding with that great group once you return to the bike.
Taking a Coffee Stop
To take a Coffee Stop, simply tap the Coffee Stop icon (coffee mug) from the action bar or within the Companion app.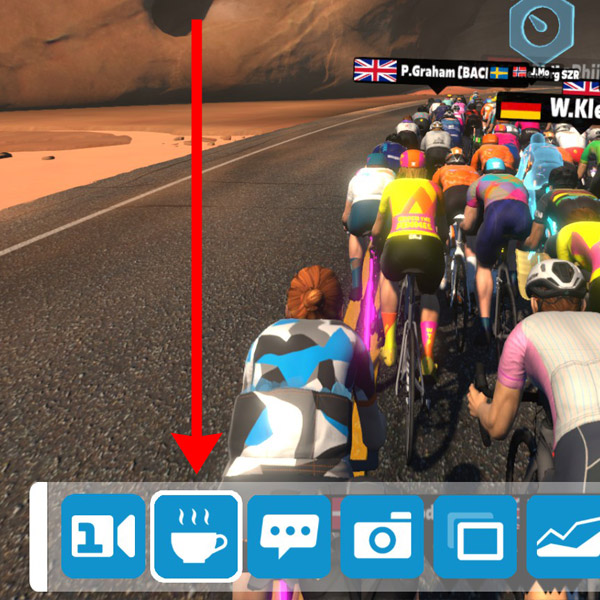 Usage Limits
If you activate the Coffee Stop in the first 5 minutes of your ride, you will only get a 30-second break
Once you activate a Coffee Stop, a 30-minute timer begins. Only after these 30 minutes elapse can you trigger another Coffee Stop.
Coffee Shop is disabled in race events, group workouts, and individual workouts. Tip: during individual workouts you can just hit the "Pause" button in Companion or the Action Bar if you need to take a break for any reason.
Coffee Stop is available in group rides, except in the last 5km of distance-based group rides and the last 15 minutes of time-based group rides.
Coffee Stop is disabled if you aren't moving, or are riding alone (no nearby riders).
Our favorite Aussie, Shane Miller, put together a quick video digging into all the Coffee Stop details:
Two Sneaky Coffee Tips
Entering event pens early lets you accumulate time toward that 30-minute window, so you can use a 3-minute Coffee Stop right when the event starts. (This is probably something Zwift should change.)
Need to know how long you must ride before taking another Coffee Stop? Click on the disabled Coffee Stop icon in the action bar and a countdown timer will appear!
Questions or Comments?
While this seems like a simple feature, there are lots of questions surrounding it. What does my activity look like on Strava? Will I get credit for finishing a route? Etc, etc.
If you have questions, check out Zwift's Coffee Stop forum topic which includes an extensive FAQ.
Feel free to post comments or questions in that forum topic, or share below!