The latest Zwift update is now available on all platforms: Mac, PC, Android, iOS, and AppleTV.
Not sure if your Zwift install is up-to-date? Here's how to check >
This update doesn't include much that's newsworthy, but Zwift assures us "… we've mostly been busy working on game features and behind the scenes technical improvements you'll see soon." Here are the details of today's update…
New Bike Frames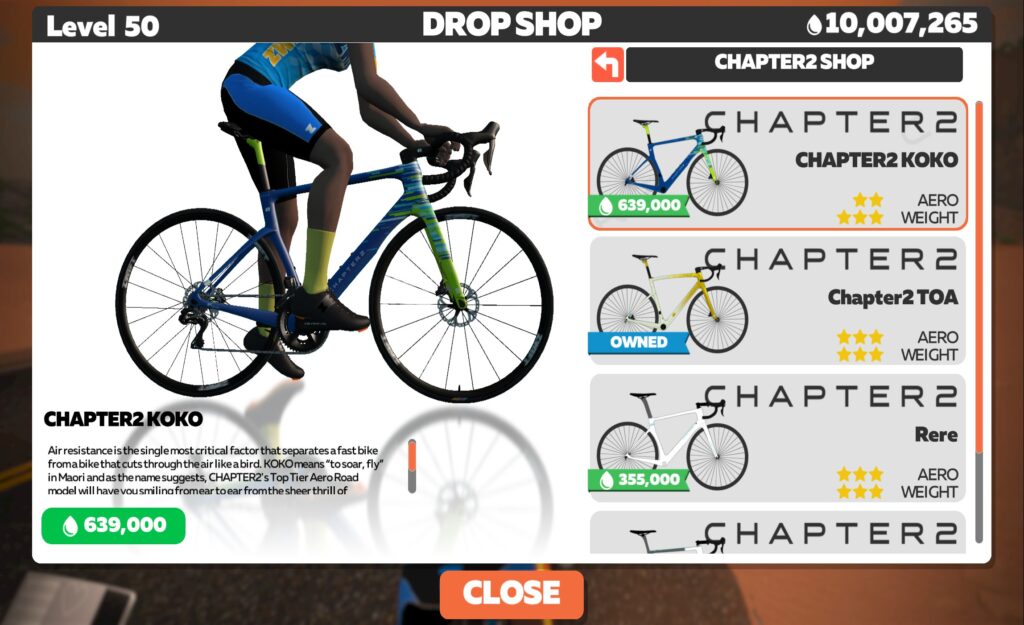 Two new frames have been added to the Drop Shop:
Chapter2 KOKO (Road): 639,000 Drops, Level 11+ required, rated 2 stars for aero, 3 for weight
Scott Foil 2023 (Road): 816,500 Drops, Level 22+ required, rated 3 stars for aero, 3 for weight
While none of these new frames look to be top performers, we're testing them now and will publish results when available.
OS Deprecation Update
Back in May Zwift announced they would be removing support for certain devices stuck on old operating systems. Today's update makes this much more obvious, turning the game black and white while displaying a message at the bottom of the screen: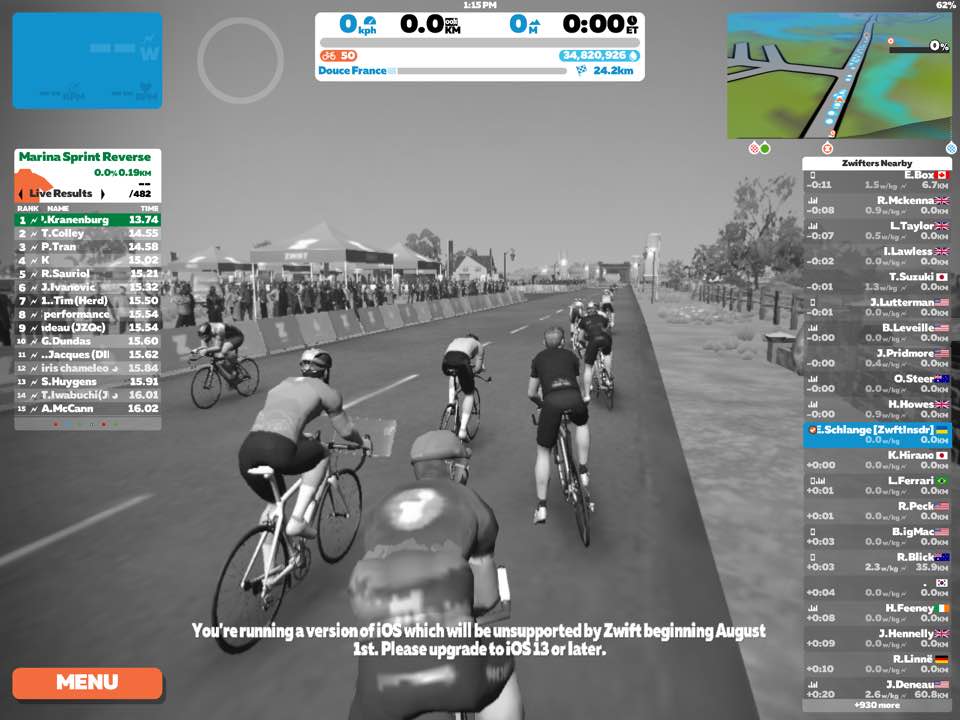 One interesting tidbit Co-Founder Jon Mayfield recently shared with us: while there are many reasons Zwift is removing support for older hardware and operating systems, one big reason is that certain devices (including the original iPad Air) shipped with only 1GB of memory (RAM).
With iOS only allowing apps to use a portion of the device's total memory, this puts a hard limit on the size of maps such as Watopia. In summary: potatoes need to be tossed out so Watopia can be expanded!
New Encryption Protocols
This isn't mentioned in Zwift's release notes, but based on posts we've seen from ZwiftHQ and reports we're hearing from some Zwifters, Zwift has begun rolling out a new data encryption protocol they announced several weeks ago.
More from Zwift: "In July we are rolling out a new encryption protocol that will affect all UDP and TCP communication between client and server, and also between client and the Zwift Companion app (ZC), in order to meet a new requirement from Google Play (they recently changed their user data safety policy). The rollout will span several days and you may see both encrypted and unencrypted clients running concurrently during that period. It is expected that by July 20th we will have all our communication fully encrypted."
Essentially, Zwift is beginning to encrypt data sent and received in network packets by the game client. Once this encryption is fully enforced, popular community-developed apps like ZwiftMap, Zwift Activity Monitor, and the almost-released Zwift Sauce add-on will be nonfunctional. The only way they'll work again is if Zwift sets up some sort of scheme to approve app developers and give them access to the encrypted data stream.
"Share to Club" Dropdown Fixed
A new dropdown menu was added to the End Ride screen in last month's update, but it didn't always work. Today's update seems to have fixed it: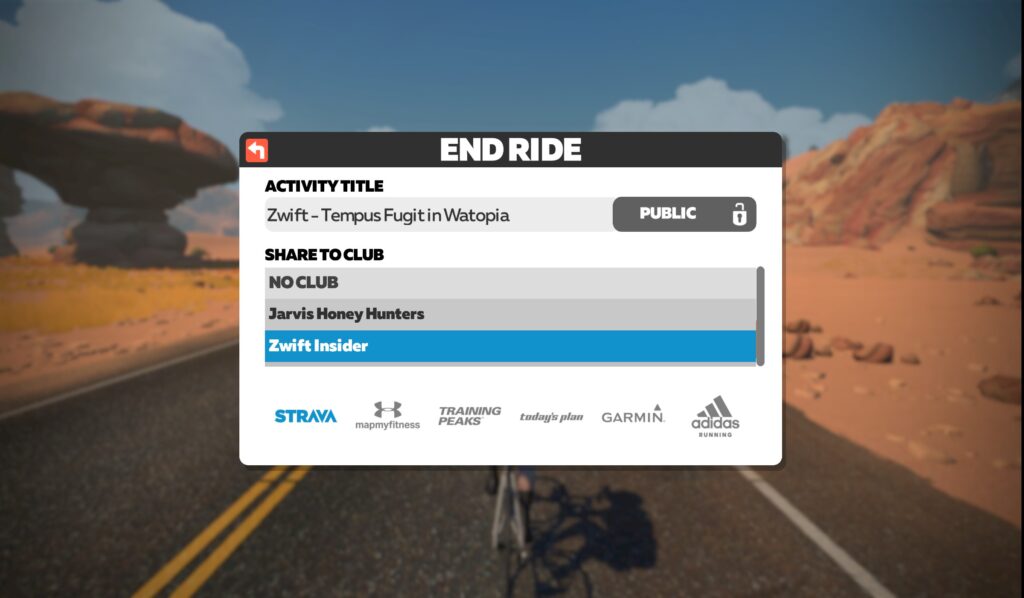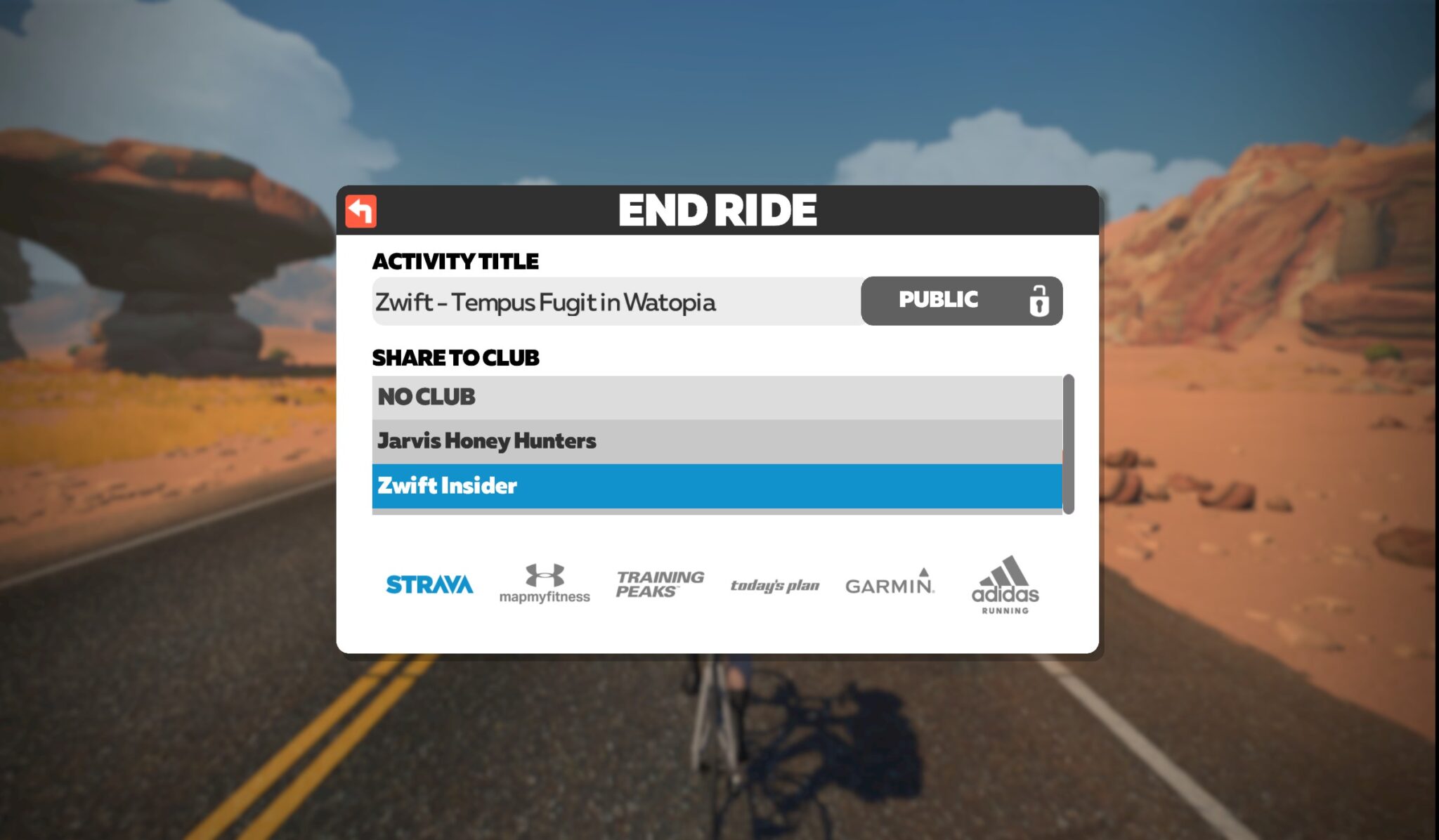 "Sharing" your ride with a Club essentially tags that Club in the activity, giving the Club "credit" for the activity.
Bug Fixes and Misc Improvements
With Jon Mayfield back at the helm, our release notes have become much sparser when it comes to the list of bugs fixed. For better or worse, Jon seems to prefer mentioning big bug fixes without listing every bug squashed in each release.
Here's Zwift's list of fixes and improvements included in this update, with notes in italic from us:
Fixed Alpe du Zwift segment timing.
Fixed issue where fit files could become corrupted.
Fixed several locations where road surfaces weren't joined up nicely: our guess is this includes the Makuri Islands intersection bridging Neokyo and Yumezi, among other things.
See notes on this update release in the Zwift forum >
Questions or Comments?
If you spotted any other changes or bugs in the update, please comment below!