The latest Zwift update is now available on all platforms: Mac, PC, Android, iOS, and AppleTV.
Not sure if your Zwift install is up-to-date? Here's how to check >
This update delivers some much awaited upgrades to the route selection process. Read on for details!
Route Badge Checkbox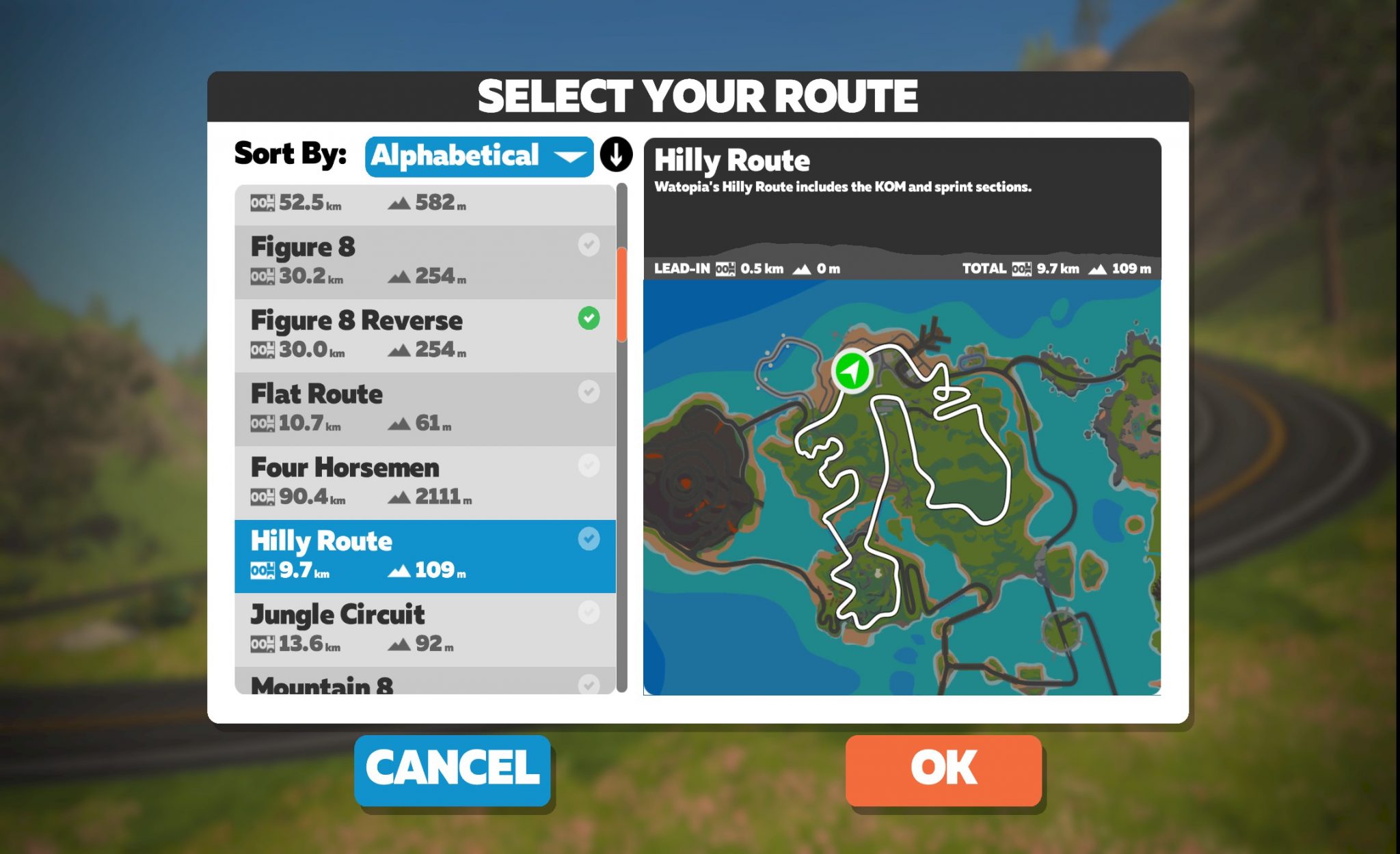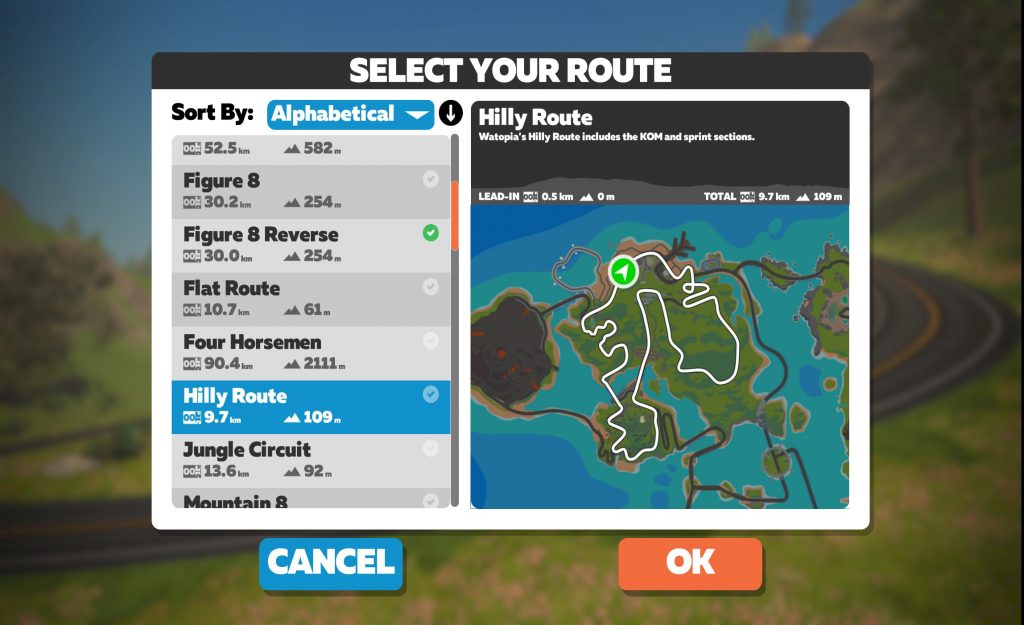 Badge Hunters, rejoice! You no longer have to log into the game or use a third-party checklist to figure out which route badges you've earned. Now it's built into the route picker – a simple green checkmark shows up next to a route if you've earned the badge.
Of course, if you're looking for a helpful schedule to get through all the routes in 12 weeks, or a list of routes sorted by difficulty – we've got you covered.
Lead-In Details
If we had a nickel for every time we've heard, "I rode the length of the route but didn't get the badge" or "Why doesn't Zwift tell us how long the lead-in is?" we would have… lots of nickels.
The route selector screen now shows the lead-in length, and the total distance shown includes the lead-in.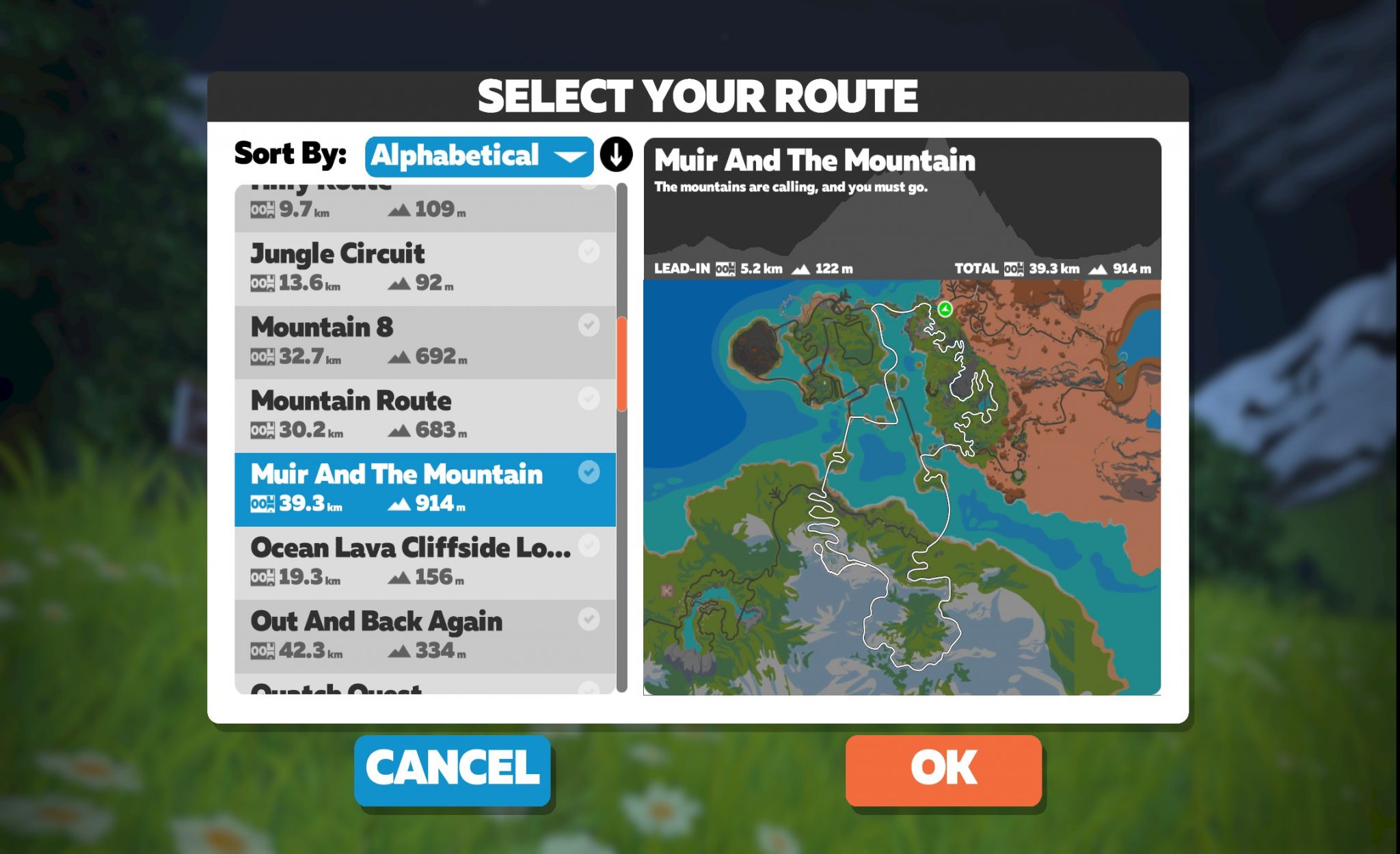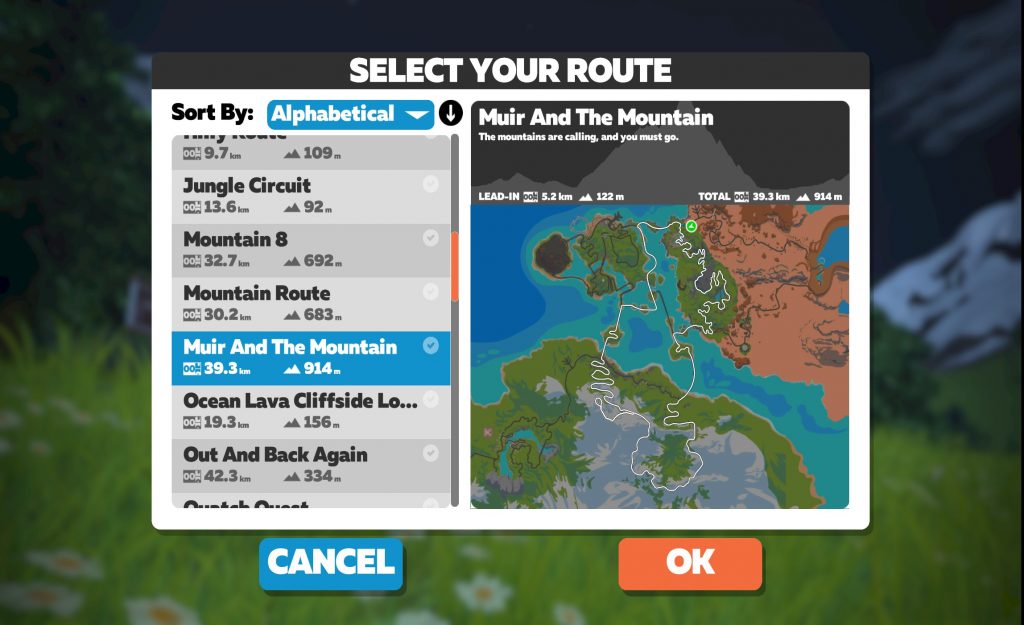 For example, Watopia's Muir and the Mountain route is 34.1km long, with 792 meters of elevation. But it begins with a 5.2km lead-in with 122 meters of climbing. So now this route displays as 39.3km in length with 914 meters of climbing.
Better Profiles
One thing not mentioned in the update notes, but clearly an improvement, is the route profile shown behind the title and description at the top of the route map.
These profiles aren't new, but they're more prominently displayed now, giving you a better picture of what you're signing up for.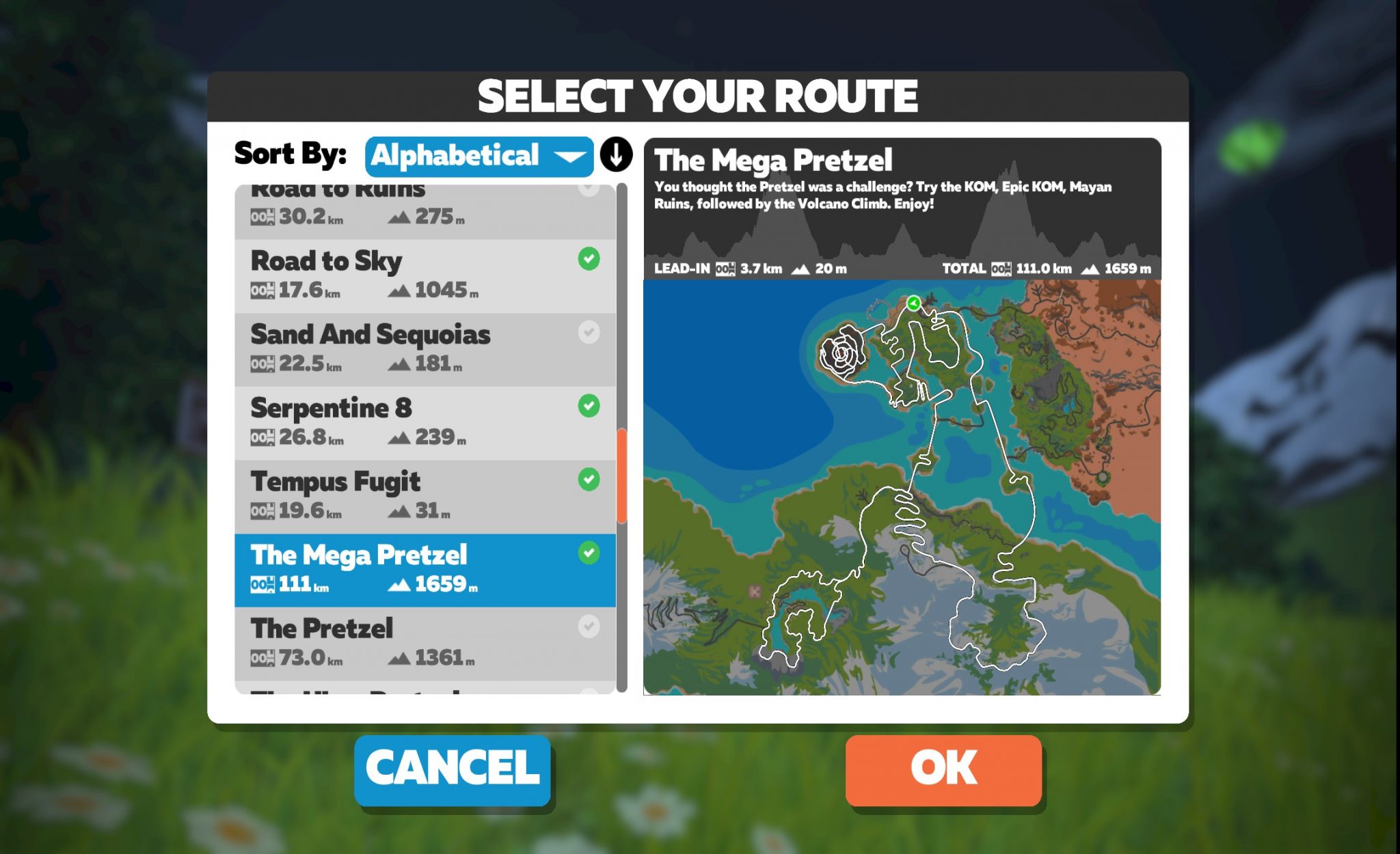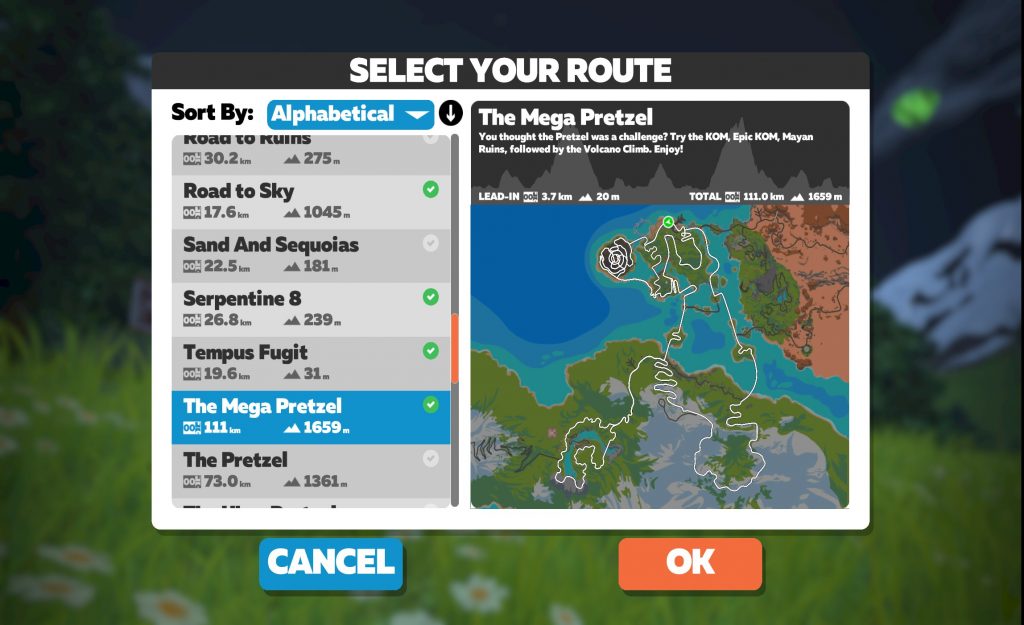 KICKR Bike Button Upgrade… sort of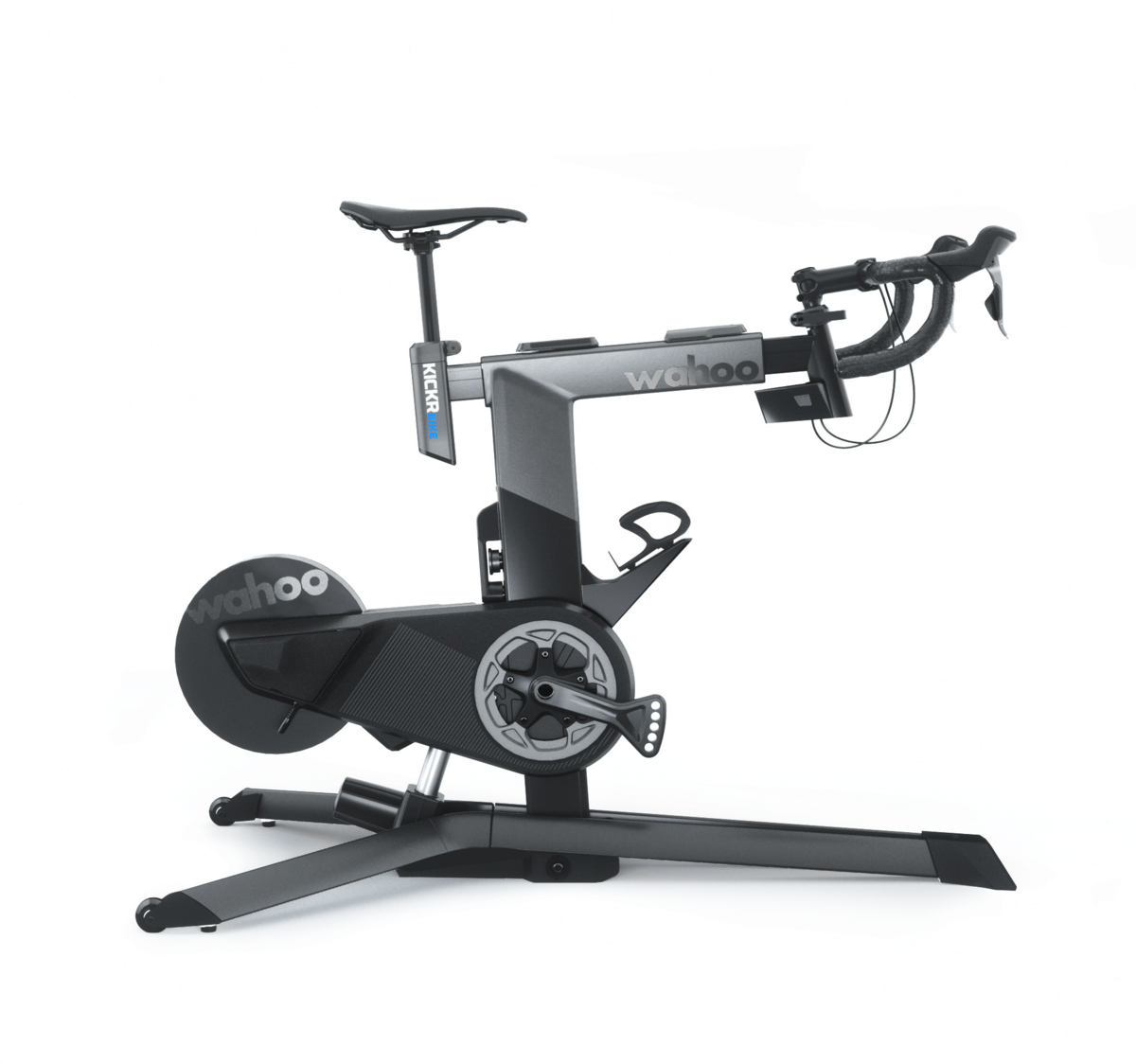 The list of improvements in this update includes this line: "Updated the Wahoo Kickr Bike button input. The right top brake hood now triggers Powerup from the upper button and U-turns from the lower button."
This is a welcome upgrade, putting useful controls at a rider's fingertips. The only problem is… we can't get it to work!
In fact, we can't get steering to work on the KICKR bike anymore, either. We tested it on two different Zwift PCs, where steering previously worked. We tested a variety of pairing scenarios, including all ANT+, all Bluetooth, a mix of both, and steering paired or not paired. Our friend Shane Miller (GPLama) is seeing the same issue on his Mac setup, so we don't think it's isolated to just our KICKR bike.
Is the broken steering related to the recent Elite steering firmware update? Seems likely…
Please comment below if you're able to get the right buttons and/or steering to work with your KICKR bike on this new update!
Bug Fixes and Misc Improvements
Here's the list of fixes and improvements, with some notes in italics from us where warranted.
Improved steering when drafting in a large group to make it easier to assimilate into the pack and hold a draft: recent pack dynamics changes made it so that, in steering mode, it could be tough to get back into the draft of a large tight group like the one surrounding C. Cadence. This should now be fixed.
Improved steering collision to allow riders to ride shoulder to shoulder and move riders into the pack when no steering input is given: if steering is paired by no steering input is given for a while, the game will now auto-steer you back into the pack more smoothly.
Added Bluetooth pairing support for the Wahoo TICKR: not sure what this means, since the TICKR could already pair via Bluetooth.
Improved the PC Zwift Launcher update experience.
Numerous cycling and running assets (kits, shirts, etc.) have been added or updated.
The exit button on the Home menu updates to read "Exiting…" during the shutdown process on Mac and PC.
Fixed an issue that would cause riders to swerve into the center of some roads: we've got IRL riding buddies with this problem… can you fix them, too?
Fixed an issue that would prevent PowerUps from being awarded randomly on Mac, iOS, and ATV.
Fixed an issue that would not unlock the sock reward for completing the Back to Fitness training plan: what do we want? SOCKS! When do we want them? NOW!
Fixed an issue that would cause text to extend past the Event Audio volume slider box.
Made visual improvements to the scenery on Makuri Island: we didn't know any improvements were needed on Yumezi, but keep up the good work!
Fixed an issue that would improperly display the Makuri Island lap leaderboard in the Countryside Tour route: this is a weird one. So, the lap leaderboard for Makuri Islands was titled "Country Loop" before this update… which doesn't correspond to any actual Makuri Islands route. Through experimentation, Zwifters figured out the "Flatland Loop" was used for the lap leaderboard.

But there was/is a bug on this route so it didn't make all the turns correctly in the forward direction, meaning you couldn't get on the forward leaderboard without making a manual turn. (If you flipped a u-turn and rode the Flatland Loop in reverse with no manual turns, you could get on the reverse leaderboard.)

With today's update, the lap leaderboard seems to have completely disappeared from the leaderboard list. And the Flatland Loop still routes you two different ways. So it appears Zwift has some fixin' to do!
Fixed an issue where the incorrect jersey text would appear after winning a Temple KOM in Makuri Islands.
Fixed an issue where paved roads were incorrectly kicking up dirt in Makuri Islands: Thanks for keeping things clean for us roadies…
Fixed an issue with the spindown calibration reporting incorrect speed when set to metric units for JetBlack and Elite trainers.
Ended support for Zwift on MacOS Yosemite 10.10 devices. For more information please visit Ending support for macOS v10.10 [June 2021] 8.
See Wes Salmon's notes on this update release in the Zwift forum >
Questions or Comments?
If you spotted any other changes in yesterday's update, please comment below!