The latest Zwift update is now available on Mac and PC, with Android, iOS, and AppleTV releasing soon.
Not sure if your Zwift install is up-to-date? Here's how to check >
This update is pretty minor, containing mostly bug fixes apart from the new "Hide the Display" feature. But don't despair – word from ZwiftHQ is that May's update should include something fresh and new that Zwifters will love!
Hide the Display
This new viewing mode was teased a few days ago, but now we get to use it for real! Here's a quick demo video:
A Companion app update will drop soon which lets everyone who is not on a Mac or PC access this fun feature. Until then, it's only available to Mac and PC users via the "H" keyboard shortcut, or by pulling up the action bar and clicking the button to hide the display.
Hiding the Display hides the chat dialog, so make sure you've got Companion running if you still want to read and send chats. It also hides rider name bars which appear above avatars.
Note: Hide Display Mode can be activated in most situations in Zwift, with a few exceptions. Zwifters cannot Hide the Display in workout mode (solo or group) since it's important to see your intervals. Additionally, Zwifters cannot turn the display ON for "Hide the Display" event types.
Interesting in riding in a "Hide the Display" event? Click here to see upcoming events tagged with "No HUD" >
New Wheels: ZIPP 353 NSW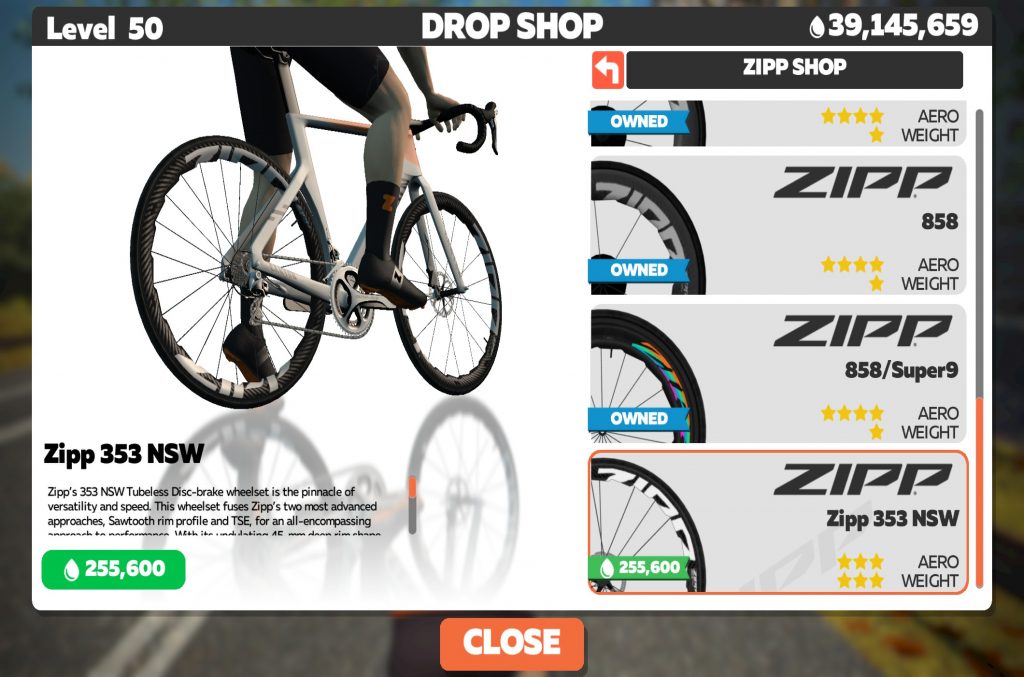 A new set of wheels is always fun! We're testing these now, and will release a post with our findings ASAP.
New Frame: Giant TCR Advanced SL Disc
We've also got a new frame from Giant! We're speed testing this bad boy as well…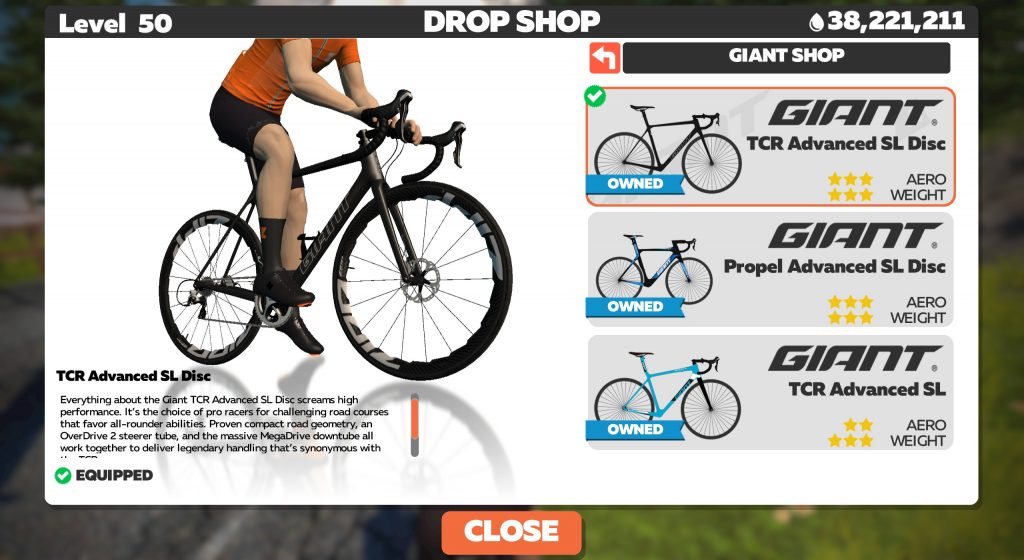 "Everything about the Giant TCR Advanced SL Disc screams high performance. It's the choice of pro racers for challenging road courses that favor all-arounder abilities. Proven compact road geometry, an OverDrive 2 steerer tube, and the massive MegaDrive downtube all work together to deliver legendary handling that's synonymous with the TCR name."
New Workout of the Week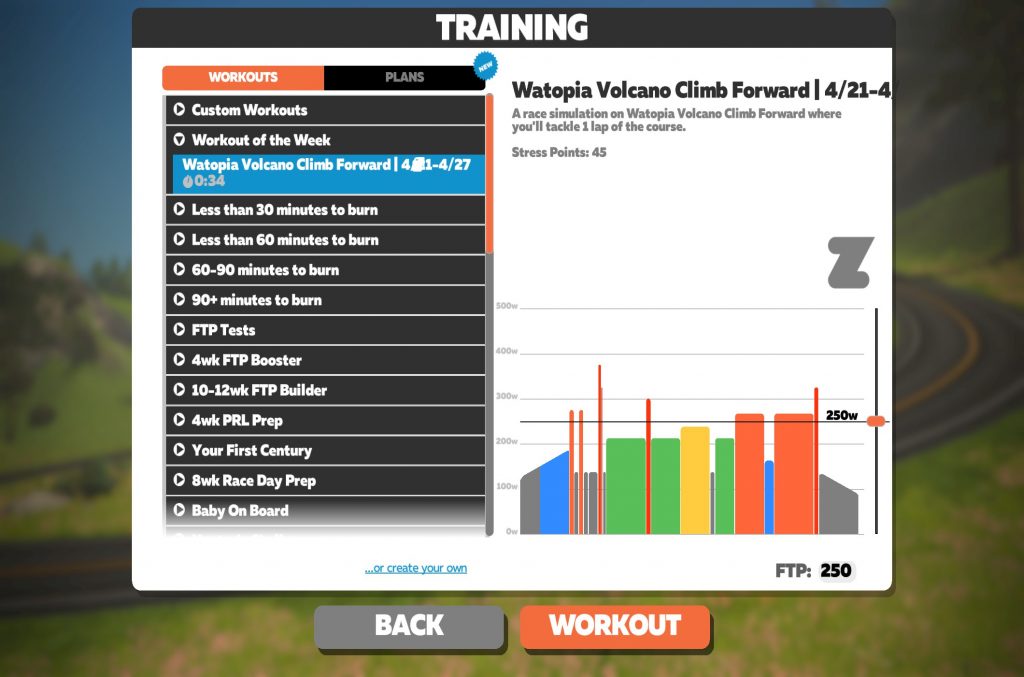 The "Workout of the Week" category was added in the last update, and today's update gives us a new workout for this week.
Workouts of the Week are available as group ride events (several daily, see schedule) or you can tackle them on your own. These are specifically designed for time-crunched athletes, and usually last 30-45 minutes.
Launcher Update
For the first time in a long time, this update includes an update to the Zwift Launcher program, at least for Windows users. (If you haven't re-installed Zwift in the past year or so, you've been using an older version of the launcher, since the only way to update it was to re-install Zwift.)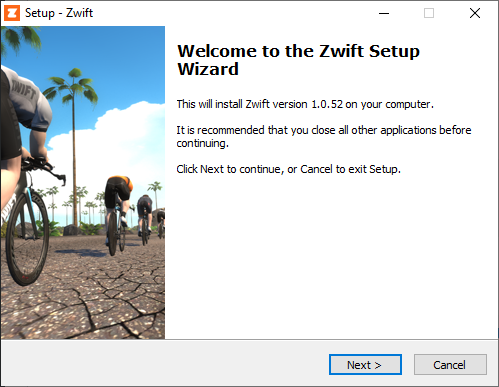 The newer launcher (current version 1.0.52) allows for multi-threaded downloads, meaning Zwift updates will happen much more quickly. Additionally, we're hopeful this launcher fixes recent issues which were causing Mac users to get "Forbidden" errors on the startup screen (an issue released to the web browser and caching).
Bug Fixes and Misc Improvements
Numerous cycling and running assets (kits, shirts, etc.) have been added or updated.
Fixed an issue with some road decals going missing in Watopia and London.
Added the AMD Radeon RX 6800 series to the list of 4k compatible video cards.
Added a retry function for PC and Mac when saving your activity fails for some reason.
Created a new workout category for running named Distance Based workouts.
Fixed a bug that would cause trainer difficulty to fail to reset after participating in an event with a minimum trainer difficulty value set.
Fixed a bug that would cause steering to be disabled in events with the steering only value set.
Fixed a bug that would cause the Wattbike gear display to show the wrong gear.
Fixed a bug with Pace Partner UI where the wrong route would be shown.
Fixed a bug with the Steering pairing UI where it would appear to be paired after unpairing a smart bike.
Fixed a bug that would cause riders in Richmond to go off road.
Fixed a bug that would cause some player names to appear as NVALID.
Fixed a bug where the steering rating prompt would not appear for new riders on iOS and Android.
Fixed a bug where the Join Event button would not appear for some users when joining a steering only event without steering device connected.
Fixed a bug where riders in the event paddock would slide backwards.
Fixed a bug that would cause small groups to move erratically in group workouts.
Fixed a typo in the Resume Activity UI.
Fixed a bug that would cause some UI to appear behind the home screen when returning to home while fanviewing another Zwifter.
Fixed a bug causing some buttons to overlap in the End Activity screen.
Fixed a bug with the navigation UI when following a Pace Partner.
Fixed a bug that would cause screenshots from a previous activity to appear in the End Activity screen for your next activity.
Fixed a bug that would cause Meetup tiles in the Home screen to be shorter than they should be.
Fixed some typos in the TT Tune Up workouts.
Fixed a bug that would cause some riders to crash when crossing the finish line in Zwift Racing League events.
See Wes Salmon's notes on this update release in the Zwift forum >
Questions or Comments?
If you spotted any other changes in yesterday's update, please comment below!