I first ran into Trapper Markelz when he posted on the Zwift Riders Facebook group about his KOM Hammerfest stage race. This race caught my attention for reasons: first, it was a different sort of race concept from the typical one-hour Zwift slugfest. Secondly, Trapper said he was working on software to make streamline running these sorts of races both on Zwift and in the real world–as a web developer, this kind of work always intrigues me.
Read below to find out more about Trapper's background and race organizing philosophy. Also, be sure to check out his upcoming Spring Hammerfest which happens in early May!
Tell me a little about yourself–how long you've been riding, what sort of riding you do, when you discovered Zwift, where you live, etc.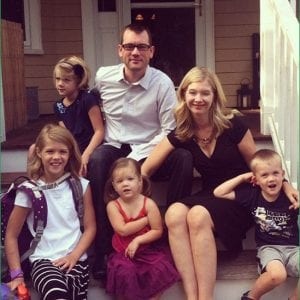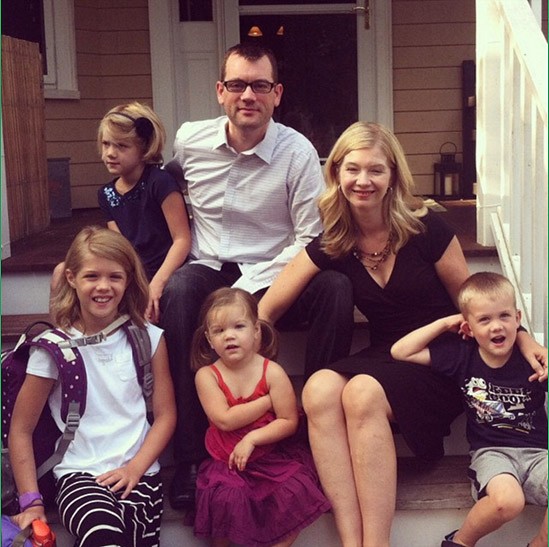 My name is Trapper. I was born in Alaska, went to school in Rochester, NY. I lived in Chicago for almost 10 years. Met my wife Maureen and moved to Boston, MA in 2008 where we now live with our four kids, Hannah, Lucy, Jack, and Alice.
I grew up doing a ton of mountain biking. Started out riding Cannondale and moved to a GT Avalanche LE that I cherished and thrashed on the mountain trails around the Kenai peninsula of southern Alaska. When I went off to school, the cycling lapsed. I tried to pick it back up in Chicago, but everything was too flat. You can't really mountain bike without mountains.
After a couple of Internet start ups, I was noticing that my weight wasn't what it use to be. I had four kids, was working long hours, and wasn't making time to exercise. So in 2012,  I bought a single speed Origin 8 and started riding that back and forth to the train station. About this time, my brother Todd, who was a college running star, had hurt his knee and had started cycling. He told me about Strava. I started tracking my rides there, seeing his longer rides, and that pushed me to ride longer as well. I soon bought a GT Series 2 aluminum road bike and the rest is history. I never thought I'd be one of those spandex roadies, but here I am, riding my Wilier Izoard XP about 4,000 miles a year.
The New England winters are brutal, so when I first heard of Zwift I applied for the beta. I got in on the first round when they opened it up to people with power meters. I've been riding Zwift ever since!
In 2014, I competed in a few road races in the New England area. They were a blast, but with a family full of weekend kid sports obligations, I just don't have time to regularly make it to the starting line. At the end of 2015, I participated in a local event called the Fall Five put on by a local bike shop Ride Studio Cafe. There were five stages, and the participants had 48 hours to complete each stage. I found this to be a perfect race experience for a busy athlete like myself. Not only that, it provided an entire week of obsessing, and strategizing, and talking about the event with friends! It was one of the most fun weeks I had ever spent cycling.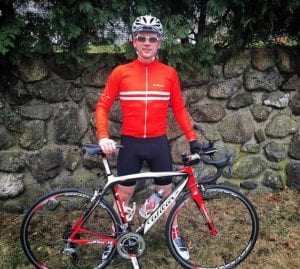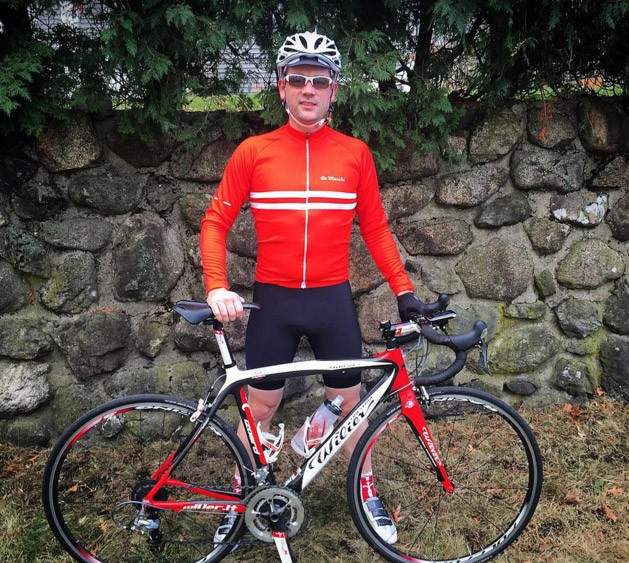 Coming off that event, I was determined to build some software that made the designing and running of such an event easy and applicable to anywhere GPS segments existed. Given that I was working on this in the middle of winter, Zwift seemed like the perfect place to validate the multi-day stage racing concept.
How would you describe your philosophy as a race organizer? What is most important to you when organizing Zwift races?
I want to make racing as convenient for people as possible. At the same time, I want to extend the opportunity for people to connect, share, and tell stories about their experiences. There is a very real energy to a mass start live race. But it all happens in a few hours, and then it is done. I really want something that can appeal to a large number of hard core and casual cyclists, and get them celebrating and connecting over the course of the many stages.
I also want to keep the stages short so that they can be completed in 45 minutes of total effort. That means no more than 8-12 miles per stage. Short, intense stages that hover around a 20 minute FTP style effort. And the stage design will stay fairly varied. The course might be a certain number of laps over a defined segment, or a single longer segment, or a couple different segments.
What race(s) are you currently organizing on Zwift, and how long have you been doing them? What makes these races different than other Zwift races?
I'm calling these races "Hammerfests". When I googled around for a definition, I saw it mentioned somewhere as "A brutally fast ride or race, typically with friends." That seemed to fit perfectly for what I was going for. All of the races will be multi-day stage races. You sign up, ride the stage in the date/time window that is given, upload your results to Strava, and Hammerfest will pull in the activity, parse out the qualifying segments, and tabulate the stage winners and overall winners. I'm trying to approximate the great tradition of the shorter multi-day cycling tours like Tour Down Under or Dubai Tour.
What suggestions would you give to someone interested in joining your races for the first time?
Given that you can ride them when you want, I think that joining a Hammerfest is a really great intro to racing in general. Because you are out there on your own, riding when you want, on your terms… it is just you against the clock. You can dispense with all the anxiety of doing something wrong or not being in the right place at the right time, or all of the etiquette necessary to ride in a group. At the same time, you get all the thrill of pushing yourself to beat those on the leaderboard around you and see how you stack up. My hope is that people who start racing with Hammerfest build the confidence in racing to go and compete in some of the live races.
It is also worth mentioning that I am building the software to work both for Zwift, but also for any Hammerfests that can be configured and run in the real world. My ultimate goal is to not just introduce people to racing on Zwift, but to create a convenient way of racing in the real world as well.
If the folks at Zwift HQ could add one feature to Zwift to make your job easier, what would it be and why?
In the short time I have been doing this, it seems like there continues to be an issue with inaccurate power numbers coming from people's zPower configurations. As a community, we need to be gracious in understanding that for most people riding on Zwift, it is their first time riding with the concept of power numbers or W/kg. They aren't going to know if their power is being overstated. I think Zwift needs to do a much better job either tamping down zPower (perhaps setting a zPower W/kg ceiling) or proactively emailing a participant when their power numbers (on zPower) are outside of a certain range to let them know something might be up.
I've already met many people who are racing on Zwift, and I ask them about their power numbers and they end up being surprised that their numbers aren't correct. If Zwift wants to continue to encourage an environment of learning and competition, it needs to tackle the issue of zPower education head on.  
That said, Zwift is one of those rare products that instantly becomes indispensible in your life. For that they should be commended. They've made huge gains since the beta. They have a great team over there working on this stuff, so I am confident every release will get better and better. I'm excited to see where it goes, and I'm excited to play a small part in the community as a race organizer bringing a convenient style of racing to the Zwift masses.